This afternoon we are looking at more ways you can bring the Boho styling into your day. Last week we talked about the Essentials for a Bohemian Style Wedding. Today we are talking about food, one of my favourite subjects! Specifically the way you can display your wedding food, so it fits in with your Boho styling. Food is such a big part of your wedding, feeding your guests will be one of your biggest expenses so why not make sure your food not only tastes delicious but looks divine as well. Presenting your food in an aesthetically pleasing manner can add so much style to your day. Think levels, textures, props, there are so many ways to bring your food to life and make sure that it is the star of the show…well after you of course!
Unique Food Display Ideas for Your Wedding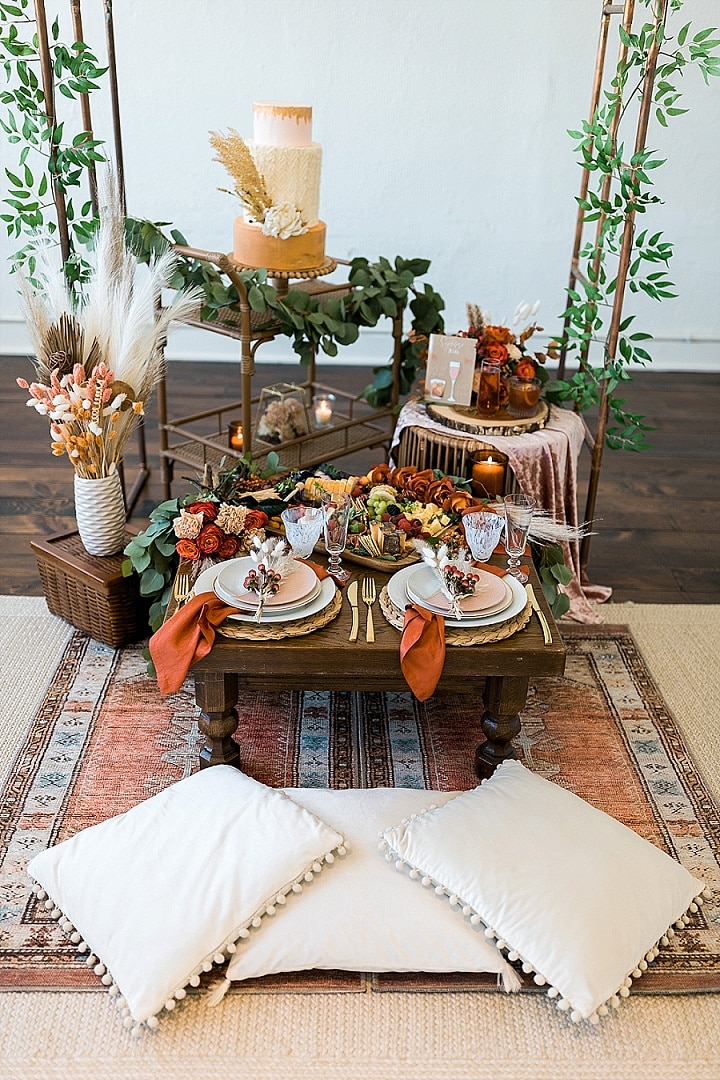 The boho vibe speaks to modern retro, elegant nonchalance, curated casualness and stylish messiness. It's that high/low mix—boho chic—that makes it so beloved and visually compelling. From lacy tops and layered necklaces to faded jeans, afghan fashions and flowing maxi skirts, the boho aesthetic is everywhere at music festivals. In décor, boho can lean coastal, mid-century modern or even glam. For those who love the look, a boho wedding is a natural extension of the easygoing style.
Clothing is just one aspect of the perfect wedding tableaux. Don't forget about the food—well, not the food per se (is there even such a thing as boho food?), but the tabletops, guest chairs, bars, serving stands and other food-centric areas of the venue. Bring together the basics to create the perfect boho look:
Natural fabrics – The boho look is built on a foundation of natural, flowing fabrics such as linen, cotton, hemp, sisal and lightweight denim in muted, earthy tones. These are the neutrals of the boho palette.
Handwork – Lace, crochet and knitting add texture and bring in vibrant colors.
Printed cloth – Often with a tribal vibe, prints are a staple of boho, especially on flowing maxi dresses, skirts, scarves and bags. Geometric patterns, paisleys and florals are fair game, too.
Tassels and fringe – Both add a casual element and bring out hippy aesthetic that partially informs the look.
Vintage pieces – From the textiles to the serving dishes, vintage pieces with an artistic or world-traveler sensibility, preferably a bit rough around the edges, complement the style well.
The heart of the look is relaxed, eclectic and well-traveled with a hint of artist. Here are a few ideas for the food-related aspects of a boho wedding.
Serving table
Perhaps more than any other food space, the serving table where people pick up their food needs to be designed with simplicity in mind so no one accidently knocks anything over. If the table itself is in good shape, a simple burlap table runner spanning the length of the surface, then draped at the ends and tied with creamy linen may be all you need. If the table is standard-issue rent-a-table, first add a tablecloth layer, perhaps in an earth-toned cotton (a bit darker shade, if you're worried about spills and stains) frayed at the edges, then put the runner atop it. For a bit of sturdy boho creativity, stack old hardcover books to raise the height of serving dishes that don't need sternos, or use a mismatched collection of carved wooden boxes. Stash a flower or some silverware in a carved bust. Handwrite the names of the dishes on rough-edged linen cardstock. The trick is to mix earthy shades and textures for a serving table that is beautiful yet functional.
Cocktail tables (standups)
As with the serving tables, take care not to use anything too long or flowy on the cocktail tables since people will be milling around them. If you want to match the aesthetic of the serving table, you can simply use a shortened version of the same fabrics, securing them to the table with table clips then obscuring the clips with the linen. Another option is a small, lightweight woven throw with fringe in a natural fabric, alone or layered at angles with others. Or, for that matter, layered ethic, paisley or geometric prints, if that's your boho jam. The center of the cocktail table is prime real estate for displaying hors d'oeuvres and adding a pop of color, which is perfect if you're leaning toward a mid-century or world-traveler boho feel. Consider a stacked tray in your favorite mid-century accent color or in an ethnic pattern for added punch. And if you're not finding what you like, a plain serving tray, some textiles and Mod-Podge can go a long way toward getting exactly the look you want. For a more eco-chill boho appeal, consider wood table rounds or turned wood vessels set atop woven scraps of a textile.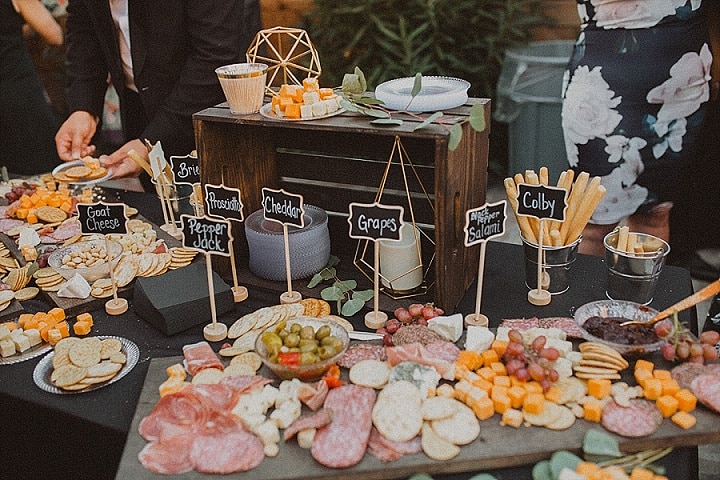 Dining table
Since people will be seated at the dining table, there is more opportunity to utilize décor to showcase shared meal accompaniments, such as breads, condiments, butters, oils, side dishes—whatever complements the menu and your serving preferences. Layering works well here, too. Start with the foundation—a natural table or an earth-toned table cloth, or a patterned, ethnic-inspired cloth. Add the table runner in a contrasting texture. Give it a more elegant feel with some lacy pieces. Continue layering until you get the look you want, then drape and tie off the fabric at the ends. What you use to tie it also influences the look: linen or frayed denim, vibrantly colored tassels or woven vines and twigs, printed scarves or strands of shells. Once all that's in place, add the central serving elements. Varying the height with acrylic display risers makes for a more interesting line, but take care not to obstruct the view; people want to be able to see and talk to each other across the table. Drape whatever's holding the serving items with colorful fabrics. Restaurant-style food service pieces can be incredibly useful. Obscure them with textiles or, for the mid-century modern boho vibe, use clear acrylic displays with clean lines, like these.
Whatever your choice, when it comes to the serving items themselves, don't get too matchy-matchy; vintage, casual or handmade glasses, serving dishes, plates, etc., are much more in keeping with the boho aesthetic than fine china.
Trees
With boho, you can get really creative when it comes to displaying food. If you have a lot of trees around, consider using macramé hanging baskets—the type you usually see plants in—to hold individually wrapped treats, extra napkins, gum and breath mints, crazy hot sauces, pretty much anything. You can also use everyday hanging baskets draped with scarves, burlap or other flowing fabrics to similar effect. Baskets made of natural materials dangling from ropes entwined with colorful fabric strips are another option. Don't have a tree? Use a trellis festooned with baskets.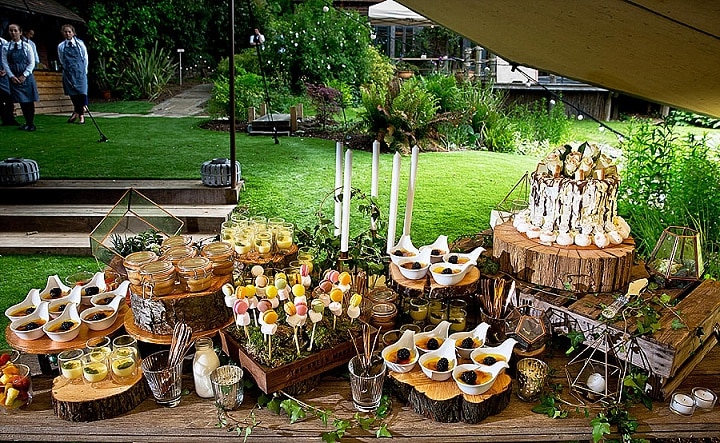 The boho aesthetic is a mix of natural and glam, artist and world traveler. It's '60s hippy and mid-century modern all rolled into one funky, casual vibe. The elements you can add to your wedding are endless, and with a little creativity you can include the food serving and dining spaces in the boho mix for a cohesive—yet still whimsical and a bit mussed—look.
This is a collaborative post