As I'm sure you can imagine I LOVE a bohemian style wedding. It seems pretty obvious I guess but today I wanted to look closer into the 'Boho style' and really get to grips with what makes a wedding Boho and how to achieve your own Boho wedding. From the clothes to the decor, flowers to the cake, there are so may aspects of planning your wedding that you can make bohemian. From full on bohemian styling to just a few touches, it's totally up to you how far you want to push the theme or explore your inner goddess! So read on for some fab ideas on how to make your wedding day a beautiful Boho affair.
Essentials for a Bohemian Style Wedding

The Bohemian style has been very popular for several decades now, but over the last few years it has become incredibly popular with weddings, this blog is proof of that! Many people love it for its carefree and natural vibes, it offers so many variations, so much choice and is always the starting point of a super stylish wedding day.
Considering this, it should come as no surprise that many couples want to ditch formal wedding traditions and choose to go for the Bohemian theme for their special day.
Inspired by nature and the beautiful outdoors, Boho takes you to simpler times. Ethereal dresses covered in lace, perfectly imperfect hair, and hand-made accessories. All of those things can give your wedding a soft and romantic vibe.
However, if you want that special day to be perfect, it has to be well-thought-out. Luckily, we are here to help you out! Check out our short guide, and soon enough, you will know how to have a flawless Bohemian wedding.
Hair and Makeup
The best part about the Boho style is that it brings out the natural beauty in every woman. There is no need for overdoing it with too much makeup and complicated updos that will require your hairdresser to pull their hairdressing scissors out of their hairdressing scissor case.
Taking this into account, you should go for a messy hairstyle and relatively subtle makeup.  For instance, you might want to give the Boho braids or crown braids a try or put a stylish ribbon in your hair. There are many different options that you can choose from.
Nevertheless, if you find this task to be way too challenging, you might want to talk to your hairdresser about it. They should be able to help you choose a pretty hairstyle in no time!
Wedding Food
When it comes to wedding food, there are quite a few Bohemian dishes out there that should be able to satisfy both you and your guests. Think low seating, scatter cushions, grazing tables and sharing platters.
Now, do not forget about the dessert! Due to the fact that most people really like chocolate, you should go for a chocolate-based dessert, like chocolate souffle or chocolate cupcakes.
If you do not want them to turn out to be way too sweet for your taste, use unsweetened chocolate. Finding the best unsweetened chocolate out there should not be that difficult. After all, there are many online stores selling chocolate that you can get it from!
Wedding Invitations
If a Boho-themed wedding is what you want, you need to choose proper wedding invitations that will match it. When choosing the design, you can opt for lots of flowers and a vintage look. There are many other things that can help you make the invitation fancier, such as a special poem. What you will end up choosing depends on what you and your partner are interested in!
Guest Book
Nowadays, guest books tend to get replaced by photo booths and social media updates. Nevertheless, if you want to make your friends and family feel special, you can have the guest book at the table. Make sure that it matches the theme of the wedding, just like the invitations.
Wedding Dress
The most important part of preparing for a wedding is choosing the dress. You should make sure that it fits the theme of the wedding and that it matches your body type. For example, if you are looking for a lace wedding dress, make sure that it has a soft skirt instead of puffy layers of tulle. Additionally, you can go for puffed sleeves and an off-shoulder neckline instead of traditional shoulder straps.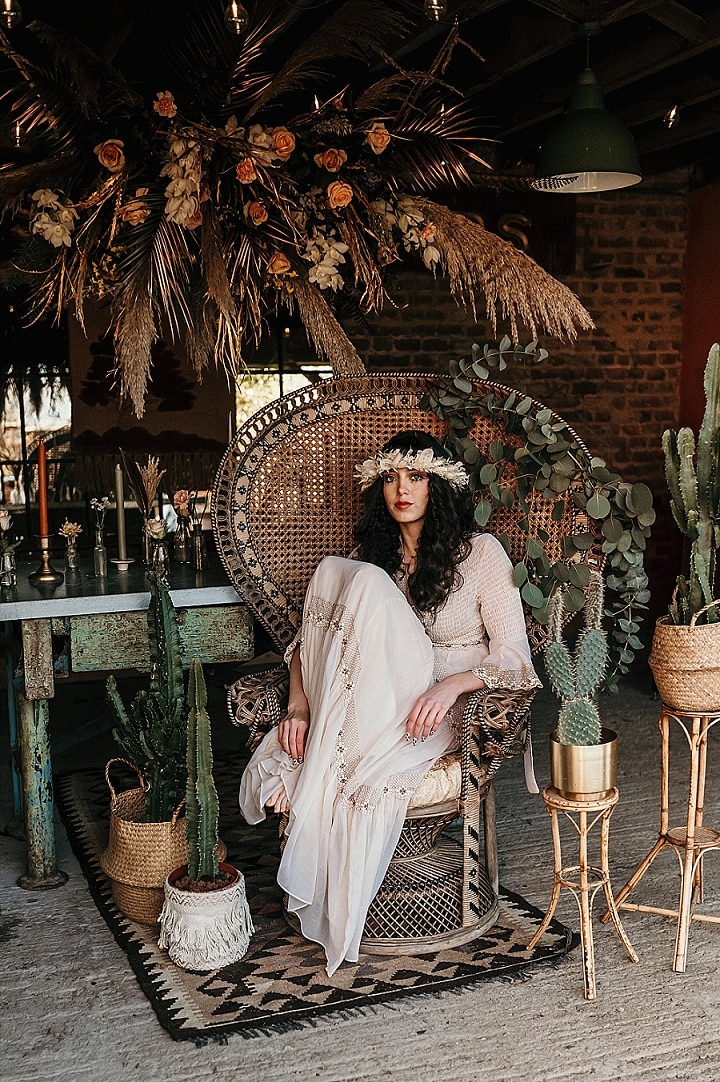 Wedding Cake
While most brides tend to opt for a traditional cake, having a special Bohemian wedding cake made should not be that difficult. If you would like to keep it simple, you can order a plain white cake covered in beautiful floral details. If you feel more adventurous, try going for something more artistic, such as an abstract cake decorated with bright colors.
If you are really in favor of ditching wedding traditions, consider having cupcakes or doughnuts instead of one large wedding cake. It is quite practical because it allows you to order cupcakes in a variety of different flavors that will appeal to everyone at the table.

Wedding Rings
Like any other wedding theme, the Boho style has its own rules when it comes to jewelry, and they are quite unique. Ideally, you should go for very simple jewelry pieces without too much bling. All you have to do is make sure that they are high-quality and aesthetically pleasing.
Wedding Favors
The last thing that you will need to think about is the wedding favors! If you want your guests to remember your special day for a long time, we suggest going for something unique and memorable.
For example, if you love candles, you could make your own for a super personal touch.
If you really like nature, you can give your guests pretty plants. Ideally, you should go for low-maintenance ones, such as succulents, or gift them flower seeds, with a 'let love grow' theme.
As you can see, there are quite a few things that you will need to take care of if you want to have a Bohemian wedding, starting with a messy hairstyle and subtle makeup, through a wedding cake covered with floral designs, to unique wedding favors.
It will definitely be worth it. You will get to express yourself on your wedding day, surprise your guests with a unique theme of the wedding, and ditch a few wedding traditions in favor of something more memorable and exciting.
If you have no idea where to start, don't worry. You don't have to take care of your wedding on your own. After all, you can always hire a wedding planner and have your perfect Bohemian wedding set up in no time!
this is a collaborative post