Today I would like to introduce you to one of my very lovely sponsors Lauren Grassi Delpech from French Made
'French Made offers Anglo-French custom-made cakes, sweets, favours and styling. We specialise in alternative/ rustic/ shabby chic/ vintage inspired design. Based in Woodford, London-Essex borderline, we also cover neighbouring areas such Herts and Cambridgeshire'
I'm a big fan fo this shabby chic style of cake making, the desert tables are unusual and original in design. Lauren shows us that she has a versatile eye and can create any sort of desert from rustic to elegant but always adding in her own unique french style to each one of her creations.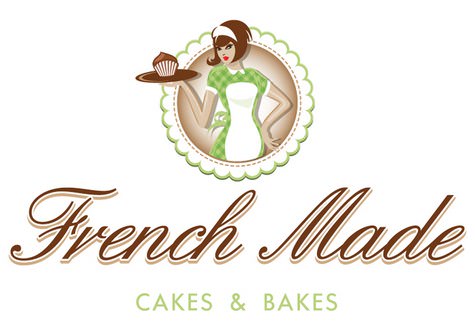 Running until the end of this month Lauren is offering a FREE wedding cake (worth £300) to anyone booking a complete dessert table.

A bit more about Lauren and her lovely cakes
I was born in Marseille, in the south of France. I started baking as a teenager and haven't stopped since. Celebrating in style with good food has always been paramount for members of my French family. So for me it's almost innate. Also, as well as being quite creative, I've always been attracted to what's fashionable in a quirky way. For me, French Made has allowed me to combine it all tradition, creativity and quirkyness as well as my love for the shabby chic/ rustic/ vintage style. My cakes and bakes are mainly French inspired but I have been living in the UK for 15 years, so I learnt to adapt them to the British public too. What attracted me to this country the most are the following 2 things: the music(indie/ rock/ Goth) and its lifestyle and the liberal character I found in many aspects of the British culture. I offer a bespoke, dessert buffets service, including styling, props hire and favours.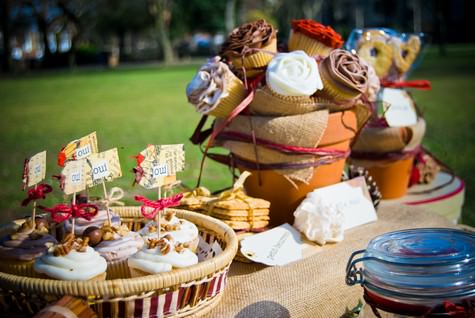 I started making favours at my friends and family weddings and Christenings. They are very traditional in France. You can't really get away with not giving one of them to your guests. Then I also did all the styling 3 years ago for my sister's wedding. Then, I did the same at my best friend's one. I fell in love the way you can adapt to the different styles and themes.
In 2010 I started attending the odd local fairs and market but my goal is now to devote 100% of my time to it and target the wedding industry. I am very determined as I am truly passionate about what I do.
What makes you different to other cake makers
The fact that I offer something rather 'quirky' and 'different' The fact that I combine my French background with my passion for the British culture. I travel to France a lot and get some of my inspiration from there. And also, buying French products whether food ingredients or fabric and ribbon.
The fact that I not only offer cakes and bakes but also styling.
What do you enjoy most about your job?
Planning new styles and themes. Hunting for props and fabric. Meeting people from the industry.
Pricing
Prices for my dessert tables start from £300, depending on how much clients want to put on it. They include a great selection of cakes and sweets such as madeleines, macarons, pies, tarts, tiered cakes, cupcakes, mini cakes, cannelés, biscuits, chocolate mendiants and financiers. We offer free consultation.
Clients may also want to order celebration or classic cakes separately (starting £15: chocolate fudge, a coffee and walnut or a carrot cake, a lemon drizzle or a Victoria sponge, a clafoutis, a strawberry shortcake or a black forest etc…
Or sets of favours (Starting £1.50). we can fill them in with sweets such as mints, jelly beans, mini marshmallows, sugared almonds, chocolate dragees etc… we design bespoke tags with names, date of the event, messages if any. We adapt ribbons, colours and charms to the theme.
Fore More information go to  
www.frenchmade.co.uk
[email protected]
FAEBOOK and FACEBOOK
TWITTER
07950674947
Photo Credits:
www.carlathomasphoto.com and http://my-lovestory.co.uk/
* This is a sponsored post *