This afternoon we are looking at more ways you can bring the Boho styling into your day. Last week we talked about the Essentials for a Bohemian Style Wedding. Today we are talking about food, one of my favourite subjects! Specifically the way you can display your wedding food, so it fits in with your Boho styling. Food is such a big part of your wedding, feeding your guests will be one of your biggest expenses so why not make sure your food not only tastes delicious but looks divine as well. Presenting your food in an aesthetically pleasing manner can add so much style to your day. Think levels, textures, props, there are so many ways to bring your food to life and make sure that it is the star of the show…well after you of course!
Unique Food Display Ideas for Your Wedding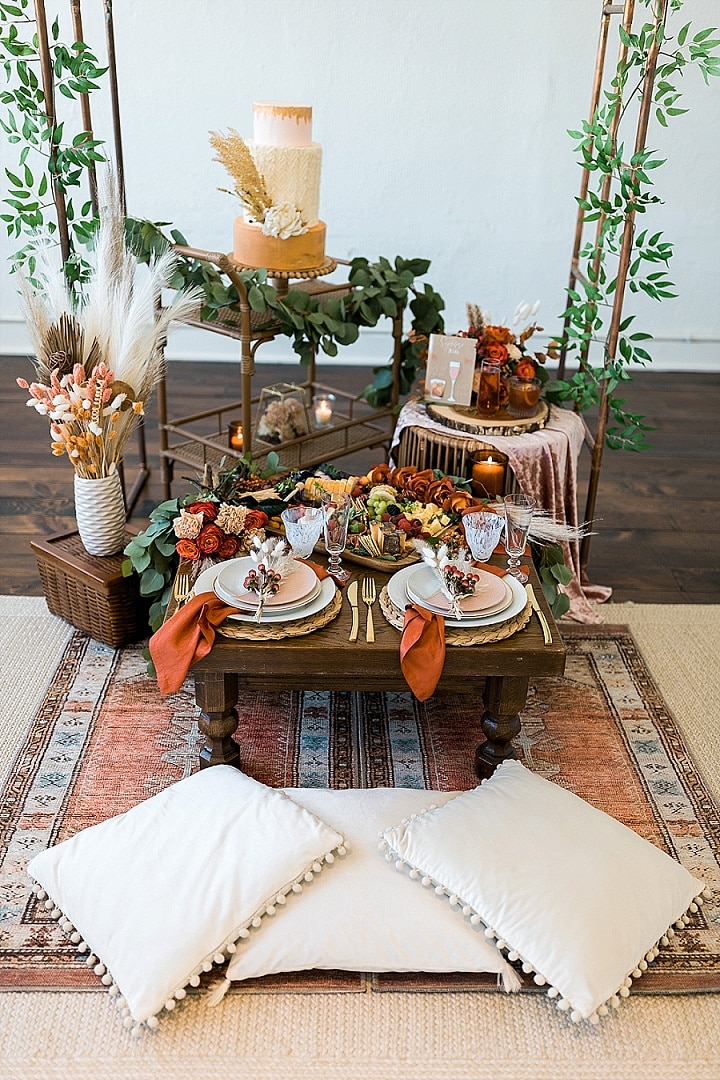 The boho vibe speaks to modern retro, elegant nonchalance, curated casualness and stylish messiness. It's that high/low mix—boho chic—that makes it so beloved and visually compelling. From lacy tops and layered necklaces to faded jeans, afghan fashions and flowing maxi skirts, the boho aesthetic is everywhere at music festivals. In décor, boho can lean coastal, mid-century modern or even glam. For those who love the look, a boho wedding is a natural extension of the easygoing style.
Clothing is just one aspect of the perfect wedding tableaux. Don't forget about the food—well, not the food per se (is there even such a thing as boho food?), but the tabletops, guest chairs, bars, serving stands and other food-centric areas of the venue. Bring together the basics to create the perfect boho look:
Natural fabrics – The boho look is built on a foundation of natural, flowing fabrics such as linen, cotton, hemp, sisal and lightweight denim in muted, earthy tones. These are the neutrals of the boho palette.
Handwork – Lace, crochet and knitting add texture and bring in vibrant colors.
Printed cloth – Often with a tribal vibe, prints are a staple of boho, especially on flowing maxi dresses, skirts, scarves and bags. Geometric patterns, paisleys and florals are fair game, too.
Tassels and fringe – Both add a casual element and bring out hippy aesthetic that partially informs the look.
Vintage pieces – From the textiles to the serving dishes, vintage pieces with an artistic or world-traveler sensibility, preferably a bit rough around the edges, complement the style well.

---

---

---

---