---
---
---
Happy Monday everyone, how are you all? Did you have a good weekend? Mine was restful and chilled, spent with my gorgeous family. I'm now ready for a very busy week ahead. It's a busy time here at Boho HQ, so I am starting the week fresh, and 'on it'. I have the most gorgeous wedding to share with you this fine Monday. Llew-Ann and Steve held their beautiful destination wedding in Florence in Tuscany, against the stunning backdrop of Castello del Trebbio. With the help of their amazing wedding planner Wedding In Wonderland they chose a bright and colourful theme and set to work creating a plethora of ribbon ties to bring their vision to life. They mixed the ribbons with plenty of beautiful flowers, all working perfectly against the old stone walls of their stunning venue. I just love the pops of colour that really stand out. We need to see more colour back in weddings, this is really gorgeous. Rosapaola Lucibelli was there to capture the day.
The actual best day of our lives and sharing it with our favourite people in the world. A day truly full of laughter and love!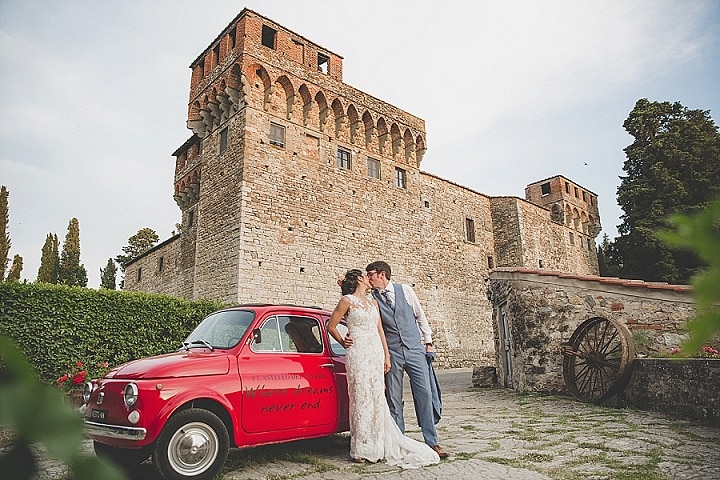 Llew-Ann and Steve were married on 18th June 2019 at Castello Del Trebbio, Pontassieve in Florence, Tuscany. 'Steve is from the UK and I am from Australia so it was always going to be a destination wedding. We love travelling and so we thought it would be great to make our wedding one big holiday that we can enjoy with our closest family and friends. My family and friends were coming from all over the place; Australia, Malaysia, Singapore and the U.S so we definitely wanted somewhere memorable to share with those that came from afar and an adventure for those who lived in Europe, we love Italy, And then we met our Wedding Planner Rosy she really helped us finalise the location!
After looking at a few venues in Tuscany that Rosy presented to us, we decided on Castello Del Trebbio because it could accommodate all guests in one place.  A proper Tuscan dream location! We felt this was a really special place and wanted to be a part of its history! We had 45 guests and it took
about 9 months to plan. This would not have happened as smoothly as it did without the help of our Wedding Planner, Rosy Strati from Wedding In Wonderland.
---