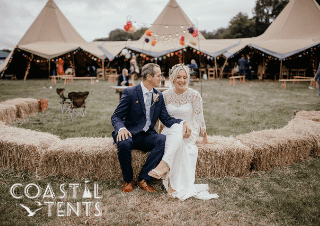 ---

---

---

---
Happy Monday everyone, how was your weekend? Did you get a chance to enjoy the glorious weather? My weekend started on Friday as I had the day off to spend with Dexter, we met up with friends and had a wonderful day. Saturday we went to magic school, the cinema and a playcentre and yesterday was family day! He's back to school now, so normal service has resumed at Boho HQ! Today we are looking at Boho Festival style weddings. As you know, here at Boho, I just adore a festival style wedding. I feature so many here on the blog as so many of my lovely readers choose to have a loose, unstructured festival style day. Choosing to hold a festival style wedding means that you can really inject a huge dose of personality into your day. You can opt for a more relaxed outdoor ceremony, eat under the stars, spoil your guests with various street food options, have wed-fest themed stationery, amazing boho style decoration and of course a whole host of entertainment options. If you are currently planning your own festival style wedding, this post is just for you. So here are some fantastic ideas on how to turn your festival wedding into a VIP affair!
Throwing The Ultimate Boho-Festival Wedding
Venue 
Before anything else, if you are hosting a boho-festival wedding, you must get the venue sorted. The venue is the foundation on which you will build the rest of the day, so you must get it right. 
With that in mind, it's essential to consider what type of venue is best suited for a festival atmosphere. In particular, outdoor venues such as fields, forests, or woods can work well. Especially if there are rustic style buildings nearby that can provide cover in inclement weather. 
Another option you should give serious consideration to here is choosing to put up yurt or tipi style tents outside. There is a range of benefits with these, including cover from the sun, wind, or rain should the weather not behave.
With a  yurt or tipi, you get all the advantages of using a marquee, but in a much less formal way. You can even choose to fit your yurts with fire pits, benches, and fake furs for seating too. Something that makes them the perfect chill-out areas for later on in the day once the temperature drops.