I haven't shared a DIY with you for quite a while now, so when I was sent this gorgeous and pretty simple Photo Display idea I knew it would be the perfect DIY tutorial to share with you. I am seeing more and more photo display walls at weddings, so this wooden embroidery hoop idea is the perfect way to incorporate this fab trend into your wedding day. You can decorate it with flowers or with anything that goes along with your wedding theme. You could paint them to match your colour scheme or leave them minimal, it's totally up to you.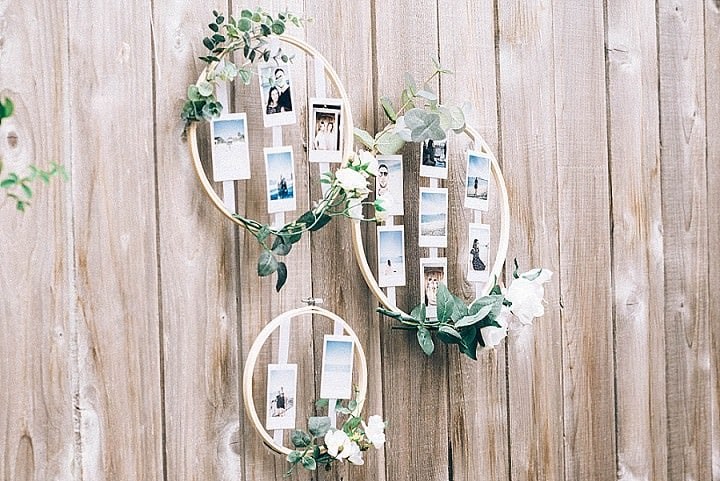 Liya Bulanov from APK Bridal is here to tell us how to make these super cute photo hoops. 
As the age of 'do-it-yourself' all of us crafty people rejoice. Not only does this popular trend save us money, but it also gives us the ability to express ourselves creatively and work with our hands.
Something fun that always brings a personal element to any wedding decor is a wall or area for a photo display. The variety of how photo walls are made is vast, so the direction you can take for hanging photos on your wedding are endless.
One fun idea is using embroidery hoops of different sizes to hang on a wall at your wedding. It is a sweet and creative way to highlight your picture so that when guests wander through they can stop and admire all the special moments you wish to remember forever.
Displaying pictures in hoops is an easy project that isn't super tedious and time consuming. It can be done in one evening. The end result is super cute and you can really add your own spin to it.
The materials you will need are:
Wooden embroidery hoops 6' 9' 12'
White ribbon
Scissors
Poloroid photos
String (to hang it at the end)
Tie wire (to hold florals)
Florals
Hot glue gun
Glue Dots (to hold the photos)

---
---
---
---