Good Afternoon to you all!  I hope you are all well and had a great weekend.  Now most of the trees have shed their leaves and before we hit the winter months, Kelly and I thought it would be a great time to share with you this gorgeous Spanish Autumn Wedding Inspired shoot.  The colours are simply beautiful at this time of year.  Stephanie and Celeste from Love & Memories have styled this shoot to perfection.  I love it and I am sure all you Boho readers will love it too.

More about the shoot
On Monday, the 5th of October 2015, we set up a styled shoot in Spain. "Bohemian" is so "hot" right now, and we thought that it was very interesting to combine this style in a different way with different colors. So, why not combine Boho with the autumn season and add some magic to it?
We started to investigate beautiful locations in Spain and asked different providers if they were willing to collaborate. We succeeded in finding vendors, which fitted best with the style of the shoot. Many of them have a lot of experience in weddings and other similar activities and events.
The main colours we wanted to use were garnet red, mustard, and grape purple (in this case we called it "figs purple", because of the season).
The place had to be a forest with lots of nature, such as big trees and green plants to add a warm, mysterious and magic touch to the styled shoot. The ideal place to do this shoot was Mas Terrats in Pontós (approx. 1,5 hour from Barcelona, at the Costa Brava).
Mas Terrats is an old Catalan country house from the 16th century that got refurbished in 1996. Since then, it's a spectacular venue of almost 100 hectares where they organize weddings and events during the whole year. This location has many unique places in the garden, between the olive trees, at the swing hanging in a big tree, in the woods, at its natural pool with a little cave and a very old fountain. There are many special hidden corners, which are like a fairytale!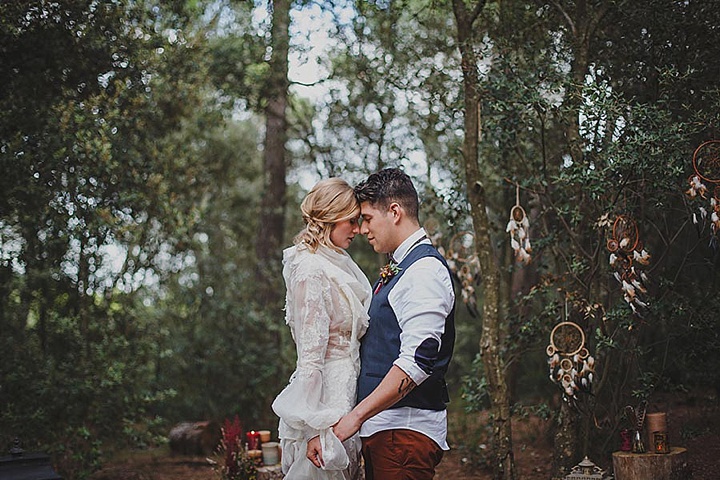 The amazing suppliers who made this shoot possible
For more information about Love and Memories go to