Today we are talking about one of my favourite subjects, wedding food! The food you serve your guests at your wedding will play an enormous part in how they remember the day. It sets the tone for the level of formality of the wedding and will be something that your guests will remember for a long time. However, these days it isn't just about the choice between a sit down meal and a buffet. There are so many other choices. This is fantastic as variety can really personalise your wedding although it can also make your decision that bit harder. Today I have invited catering experts Goose and Berry onto the blog to break down your food options and make your decision that bit easier. Goose and Berry have featured on the blog a lot now as our in house experts and always have excellent advice.
What Food to serve at your wedding?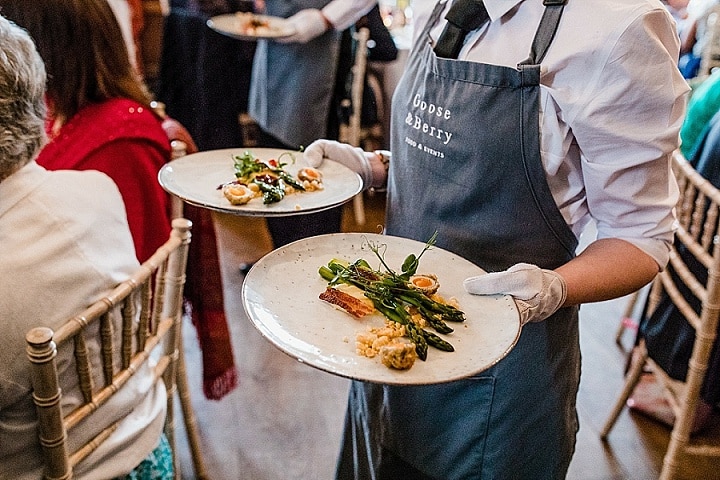 I'll pass you over to Goose and Berry
So you're getting married! You've found the venue of your dreams, a dress to die for and who you want to capture the most magical day of your lives. So what's next? Your wedding breakfast. In any wedding  reception, the food plays a major part – in fact, the cost of food at a reception usually consumes 35-40% of the total wedding budget and your guests usually remember your wedding on how good the entertainment was and how delicious the food tasted…
Nowadays there are so many different options on how you can serve your food and what to serve and catering is not just seen as means to feed your guests, but also a way to show a little personality, so let us talk you through some of your options.
Formal Dining
Keeping it traditional with a formal three course sit down, you can't go wrong and traditional doesn't necessarily mean boring. Plated food can look stunning and taste just as delicious. People eat with their eyes so wow your guests with something fabulous!
Formal dining will never go out of fashion, it just can't. Food is trendy and considered a piece of artwork now, long gone are the days of eating and leaving, your guests want a show and a beautifully presented plated starter of beet cured salmon gravlax with candied beetroot, edible flowers and microherbs will most definitely do it.
Tasting Menus
Similar to formal dining, but taking it that one step further. Why stop at 3 courses when you can have 5 or even 12 plates of utterly stunning food. Not necessarily a budget conscious option, but a way to give your guests an insight into your caterers and chefs brilliant minds and take them on a journey.
Tasting menus are far from an everyday indulgence, so this is a fantastic opportunity to make your day magical for everyone. Add to the already buzzing atmosphere of what is going to come next and keep the element of surprise there, your guests will be talking about this for the next year.
Buffets & BBQs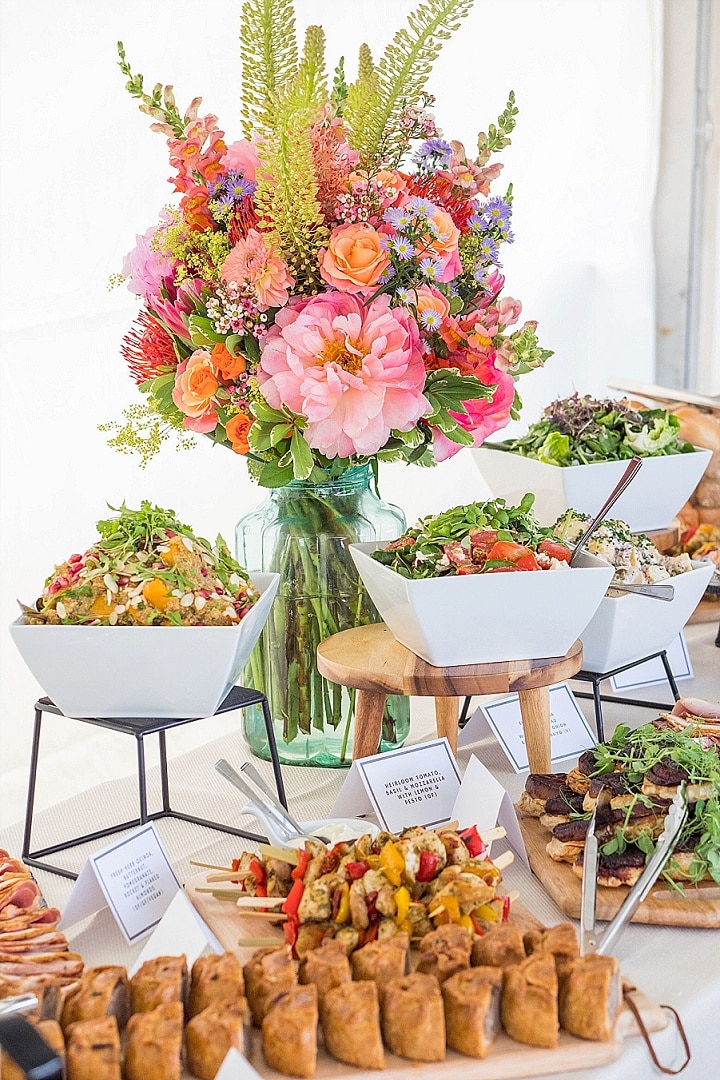 Everyone's favourite, the classic buffet. We are seeing more and more couples opting for a relaxed style of food for their big day and a buffet or BBQ is a great way to do it, as well as getting your guests on their feet and mingling with one another whilst deciding which yummy dish they want to put on their plates first.
Buffets are such a great way for you to really show off and create an epic buffet table celebrating you and your partner's favourite dishes, as well as adding a touch of personality and character.
On a bright July afternoon, get your guest's mouths watering with the smell of a Texas BBQ beef brisket sizzling away on the BBQ right in front of everyone's very eyes.
In this day and age there are so many types of allergies and dietary restrictions that opting for a buffet or BBQ wedding breakfast will kill two birds with one stone and make it a million times easier to cater for everyone!
Sharing Menus
Choosing this style of menu is becoming ever more popular, sharing menus are such a great conversation starter and gets the whole table involved and talking. It is such a simple concept but really does add a touch of something special having the dishes all laid out on your tables – you may not even need a centrepiece!
If you're having your wedding on a beautiful summers day then pair your rosemary and garlic marinated leg of lamb with a fresh herb cous cous, rocket and flaked almonds and Greek feta salad, cherry tomatoes, red onion and mint, or if you're thinking of a romantic, cosy winters wedding day, take your pick of duck fat roast potatoes with buttery Tenderstem and seasonal greens.
Having a family style sharing menu can also add an element of fun to your day by having a carver at the table option with a dedicated carver of your choice, making it that little bit more relaxed.
Food Stations
Whether it be something savoury or a sweet treat, food stations are a really up and coming innovative way to display and serve your wedding food. You can have so much fun with a food station and make your wedding truly memorable to your guests. Bring the wow factor and take them to Italy for the night by having a gorgeous Antipasti grazing station laid out. Think bountiful amounts of charcuterie, pickled veg, fruit, cheeses, artisan breads and then dress your station with herbs and green foliage; add a splash of colour with beetroot dips and various delicious fruit. Taking influences from the wider foodie cultures, street food has had a big impact on wedding catering and this is reflected in guest choices.
You can also look at really switching up your wedding by having a food station instead of canapes, out with tradition and in with food stations is absolutely what we are here for! From flowers, to back drops and props, the possibilities are endless, and we definitely don't want them to end.
Bowl Food
Bowl food for your wedding just screams cool, calm and collected. Why not dine like Harry and Meghan did by having an informal wedding breakfast, if it's fit for royalty, it's fit for you! Just because the portions are smaller, it doesn't mean they're packing less punch, everyone's tummies will definitely be full.
Choosing this type of menu won't impose on you or your guests either, having the waiters walk around to each guest to offer them a bowl means easy eating and allowing your guests to continue catching up with one another, chatting away about the weather and showing pictures of their dogs over a mini beef bourguignon. Heaven right?
FORE MORE INFORMATION ON GOOSE AND BERRY GO TO
www.gooseandberry.co.uk / [email protected] / FACEBOOK / INSTAGRAM / TWITTER
Goose & Berry was founded from a love of food and entertaining, recognising that there was a gap in the market for high quality London standard catering and events. Using the highest quality produce, the award-winning caterers deliver fabulous taste, seasonality and dedication in every bite to the Home Counties and beyond.