Weddings come in all shapes and sizes these days, from micro weddings to large scale affairs. As a result, more and more couples choose to organise the wedding themselves. But one of the trickiest parts of planning a wedding is catering. Preparing food for wedding guests can be pretty challenging. Remember, one of the highlights of your wedding celebration is the food, so you've got to do it right, no matter how big or small your wedding is.
Here's a few things to help you plan your Catering.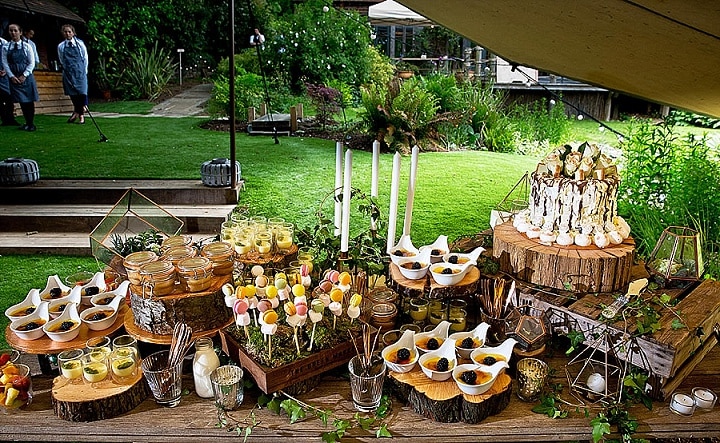 Choosing a Wedding Caterer
Remember, food plays a huge role in setting your wedding reception. It can make or break your celebration. That is why you must choose the right caterer who can help you curate the perfect menu.
To find the right caterer, you must first figure out the kind of services you require. Aside from the food menu, you also need them to provide the waiters, bar attendants, etc. Take time to do some research. Refer to the vendor directory to look for any wedding caterer near you. Refer to review sites or ask your wedding venue for any recommendations. Once you find a potential caterer, check if they have a website. Refer to their website for actual photos of the food they serve from past weddings they have catered to. Find out if they offer free menu tasting. More importantly, determine how long they have been in the business.
Once you have narrowed down your choices, it's time to call them. The best way to reach out is through email and follow it up with a phone call. Sending an email is a good option since you can write down exactly what you're looking for before talking to them on the phone and meeting in person.
When meeting the caterer in person, begin by explaining the menu you have envisioned for your wedding and see if they can accommodate this. Find out how far in advance they will prepare the food and if they offer free tasting of the menu options. This is also a wonderful opportunity to ask what other services they can provide and see if they can bundle them with the catering to save money.
Luxury Wedding Catering
A wedding is a once in a lifetime experience, so you might want to make your wedding extra special by choosing luxury wedding catering. You can opt for bespoke menus with luxury catering and not settle with whatever is available.
When you hire a luxury wedding caterer, they will consider your personal preferences and the overall wedding theme when creating a food menu. You can opt for a three-course meal to feed your guests. The foods that they will serve are those that you have personally chosen. Luxury weddings do not necessarily need to have huge extravagant cakes. You can have a small but glamorous wedding cake. What matters is that the cake will go with the overall theme of the wedding and will be presented as though it's part of the wedding decor.
The drink is another important aspect when planning your wedding food menu. With luxury wedding catering, the caterer will present you with classy and upscale beverages, and you are free to choose whatever it is that you like. If the drinks you want are not on the list, they would be happy to source them from another supplier.
DIY Wedding Catering 
If you're fond of cooking and have plenty of extra time, you are probably tempted to opt for DIY wedding catering. Planning a DIY wedding will allow you to have full control over every aspect of your wedding celebration, especially the food. But be warned – tackling DIY wedding planning is a pretty massive task.
Before you dive into your DIY wedding planning, take a moment to learn the basics of wedding food catering. Take time to learn about food hygiene and consider doing an online course for food hygiene. Create a vision board that will serve as your guide. It can be too easy for most DIY brides to get caught up with the smaller details and overlook the bigger picture. So, keep everything on track by creating a dedicated vision board.
Consider going eco-friendly to save more money. But while an eco-friendly wedding can be integrated easily, setting up sustainable catering can be tricky. Your best bet is to go local and save yourself from the costly overseas wedding packages. Another way you can go eco-friendly is to serve vegetarian meals. Removing meat from your wedding menu might interest your guest and will inspire them to go eco-friendly as well.
You might also want to go for a plated option instead of a buffet to reduce leftovers. But if a plated dinner is not possible, be mindful of the portion sizes and the number of food courses.
Wedding Catering Abroad
Planning a destination wedding is no easy feat, especially food catering. Before you jet off to a foreign land and marry the love of your life, there are many important things to consider.
Your wedding menu abroad will be more exotic than a wedding back home. It will probably consist of seafood and fish fresh from the ocean or some authentic local cuisines. When it comes to planning your wedding catering abroad, the first step is to arrange a tasting. Foods served on your wedding abroad will be made from fresh, locally sourced ingredients resulting in truly amazing meals. But before hiring a catering service, it's important to ensure that they do great food. Therefore, request a tasting menu from the caterer.
It's also worth knowing the local order of proceedings of weddings in the country. For instance, weddings in Italy are usually whole-day affairs that begin midday where foods and drinks are served until late at night. In this case, you need to ensure that you have enough food and drinks to feed your guests for the entire celebration. In some other countries, such as Malta, wedding celebrations start late in the afternoon. Local wedding customs and the order of the day may differ from what your wedding guests are used to, so make sure you are aware of this.
this is a sponsored post