Some weddings come along in this job where you can really get a feel for the couple. It seems like an obvious thing to say when writing about a wedding that the couple are SO in love and SO made for each other but believe me when I say today's couple Matthew and Joseph are a real match made in heaven. Just looking at them together really makes me smile, there is so much warmth and humility between them, so natural and so in love! The whole day is completely effortless, they kept the day informal and relaxed and it looks like so much fun. Thanks so much for sharing your day with me boys, and big thanks to Matt + Lena Photography for the beautiful photography
Relaxed, Sunny and Ours. I think the day captured us both perfectly; extremely relaxed and un-stuffy
Matthew and Joseph were married on 31st August 2019 at Casa Da Rocha, The Algarve in Portugal. 'Casa Da Rocha is my families holiday home. The wedding couldn't have been anywhere else in our eyes although it did take some persuading for my dad to let us use the house. We had 130 guests and it took about a year to plan.'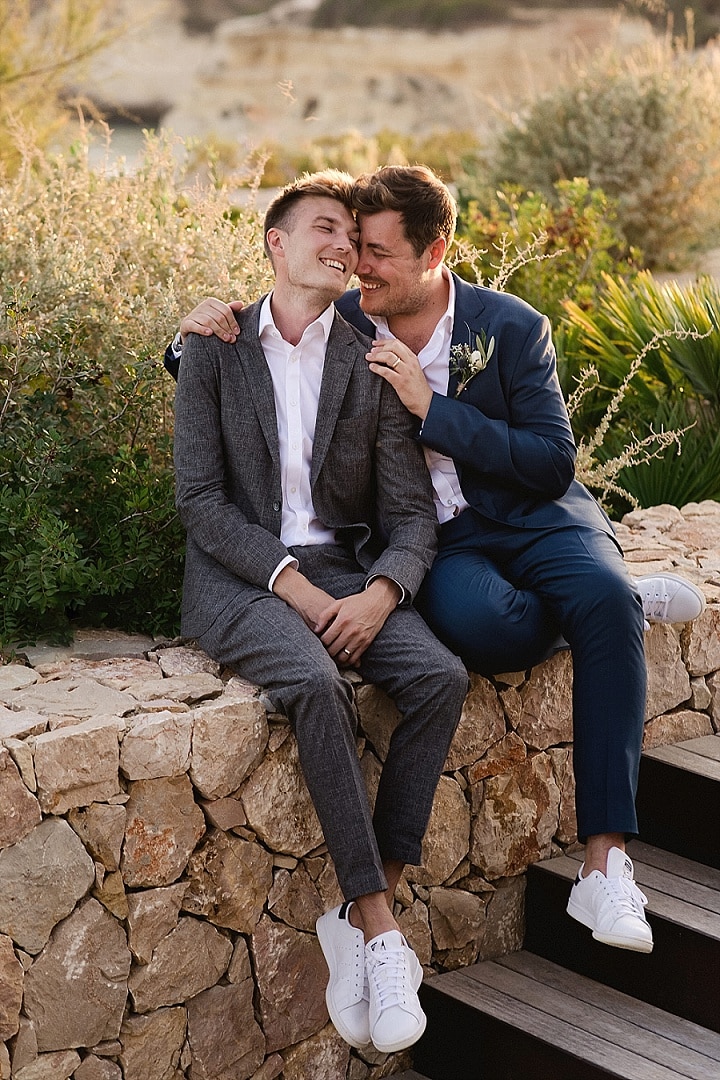 How they met 
We went on a walk for our first date, meeting at Marble Arch. We instantly hit it off. We walked and talked for hours ending up in Earls Court where we stopped for a drink. We were pretty much inseparable from that day on. We have been together for 4 years.
The proposal
The engagement all happened quite quickly. I had decided to ask Joe to marry me about 4 months before but wanted to ask his family first. Once I had their blessing I realised that I had better start planning before the secret got out!
I booked a room in a really lovely hotel in Tetbury in the Cotswolds. We had been away there before and had great memories of the place. Joe and I took Colin, our cockapoo for a walk around Westonbirt Arboretum. I'd decided to attach a ring that I'd made to Colin's collar before we started walking so I was quite nervous that Joe would notice and catch on.
We took a turn off the beaten track and walked into this lovely clearing among the trees. Joe wanted to take a photo of me and Colin in the middle of the clearing, and I realised that this was my moment. After the photo was taken Joe walked over – I was already on one knee to cuddle the dog for the photo so the timing was perfect – and asked the all-important question. He (thankfully!) said yes and after a minute to ourselves realised we now had to somehow get the ring off of a very muddy and excitable Colin!
How did you choose your photographer?
We found an amazing photographer husband and wife duo, Matt & Lena who are based out in the Algarve. We loved their photography style and they captured the wedding beautifully.
The suits 
Joes suit was bespoke Hugo Boss after seeing one he fell in love with and having it custom fit to him. I left finding my suit to the very last minute as I was sure I could find one off the shelf. When I struggled to find what I was looking for I turned to Zegna and had a bespoke suit made.
We wanted a casual summer edge to our outfits so chose to wear matching Stan Smith's which complimented the relaxed style of the wedding perfectly. Joe had also bought me a rose gold Rose pin to wear on my lapel, as they're my favourite flowers.
The bridesmaids and groomsmen
The best men and groomsman wore Richard James Mayfair suits in a light grey linen and brown brogues.
We had the bridesmaids and maid of honour dresses made in Barcelona and London by local dressmakers. After sourcing the fabric we let the bridesmaids design their own dresses. We felt that this worked really well as they were happy with what they were wearing, and they all tied in nicely with the same fabric.
Working in jewellery there was plenty to choose from for the bridesmaids and maid of honour. They got to take their pick of jewellery from my own collections.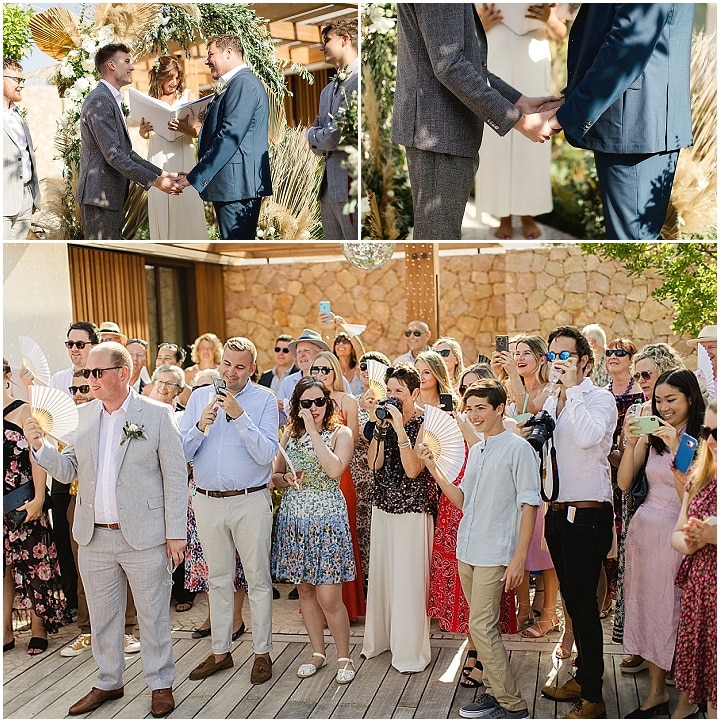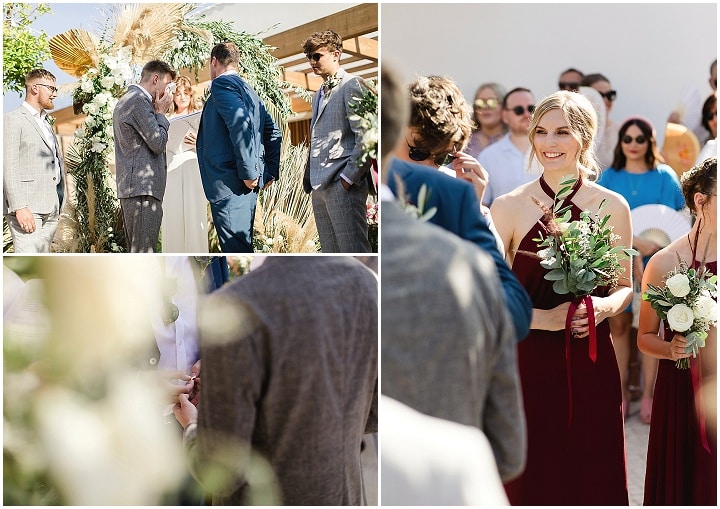 Theme or colour scheme 
We decided on greys, blues and deep reds for our colours all in dusty shades. We felt this would work well in the afternoon sunshine and carry on into the evening nicely.
Flowers 
Beth recommended a friend Emily for our flowers. We couldn't have been happier. We met with Emily a few times and discussed the look we were going for. She matched the eucalyptus nicely with white roses and natural greenery found locally we went for an understated but elegant look.
Decoration 
Emily and her assistant Shalena created a beautiful arch for the ceremony adorned with more white roses and orchids for us to get married in front of. They also used huge palm fronds and other foliage from the trees in the garden which really helped to pull the decoration and the setting together.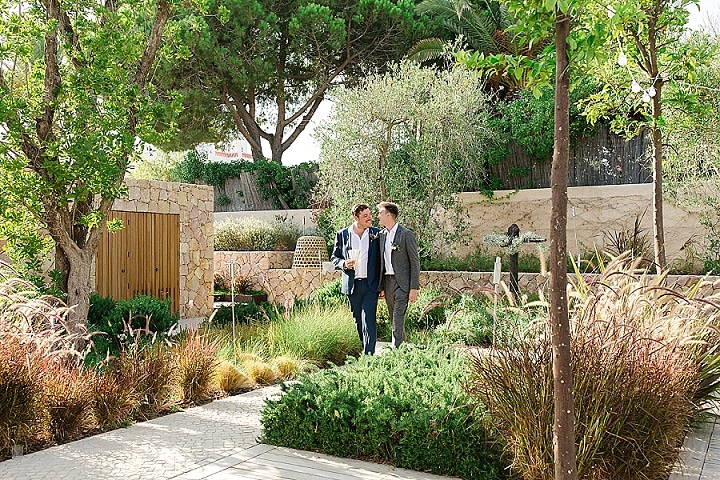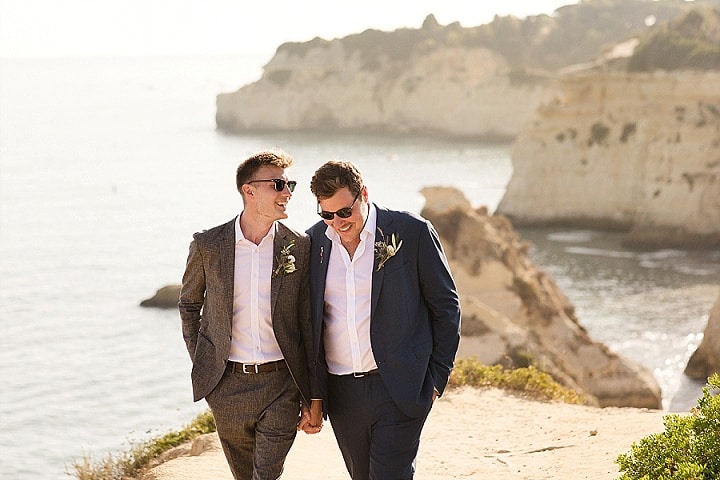 Food 
We had a mixture of local contemporary canapes created by Casa Do Marques followed by a selection of live kitchens where the food was cooked in front of the guests. Dishes included Cataplana (a local seafood stew) and a flambeed beef tenderloin which was definitely the show stopper.
We served a local rose espumante which went down a treat in the baking afternoon sun.
The wedding cake
We opted for a tower of pastel de natas, also made by Casa Do Marques. The wedding flowed so casually that we never had a cake cutting, the tower of the pastries went out with the rest of the desert and was eaten before we even realised.
Entertainment
We found a great band in Lisbon called 24 Robbers Swing Band who were perfect. We asked Kristina, the bands singer, to perform some relaxed swing music during the canapes and dinner service.
Kristina then joined the rest of her band to perform some classics on the dancefloor.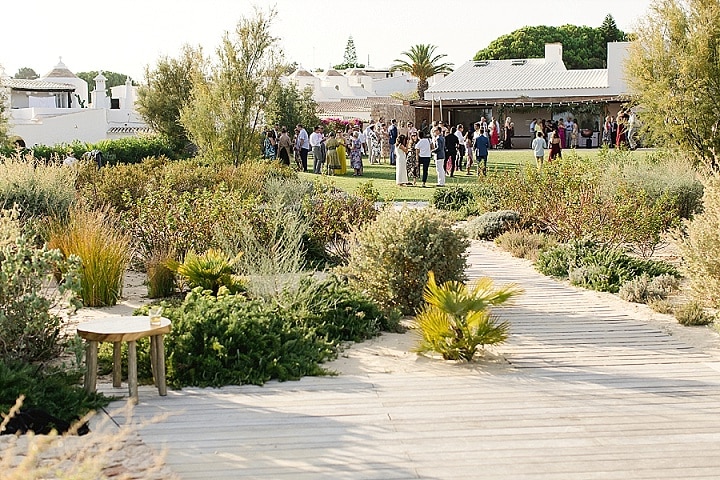 Who supplied the stationery?
We decided to keep the wedding invites purely digital. We felt it was much easier to keep track of and a great way to save on printing and postage costs.
We decided not to have a fixed tables and instead have casual dining with plenty of smaller tables dotted around the garden which the guests could sit at if they wished. We wanted to make sure we spent time with everyone so we didn't want to be stuck on a head table.
Personal touches
I made both our wedding rings in solid 9ct gold. We both have jobs which are hard on our hands so 9ct was always the best option being more hard-waring. We both went for a classic D shape with a subtle hammered texture to make them more unique and personal.
We had a joint stag do about a month before the big day where 35 of our closest friends and family members had a really fun afternoon of life drawing followed by some questionable karaoke. There were so many life-drawings left at our apartment we decided to ship them to Portugal and make a mural on the glass entranceway. It was a great reminder and fun for some of our guests to see some of their great (or no so great) artistry.
Portugal is famous for lots of things but one of our favourites are the typical tiles which cover the traditional houses in cities. We chose some of our favourite patterns and had the backs corked and stamped with our names and wedding date for our guests to take home.
Beth framed all four styles of our favours, which we used as a guestbook for people to sign through the night. We have it hanging on the wall at home and it's a really lovely keepsake from the day.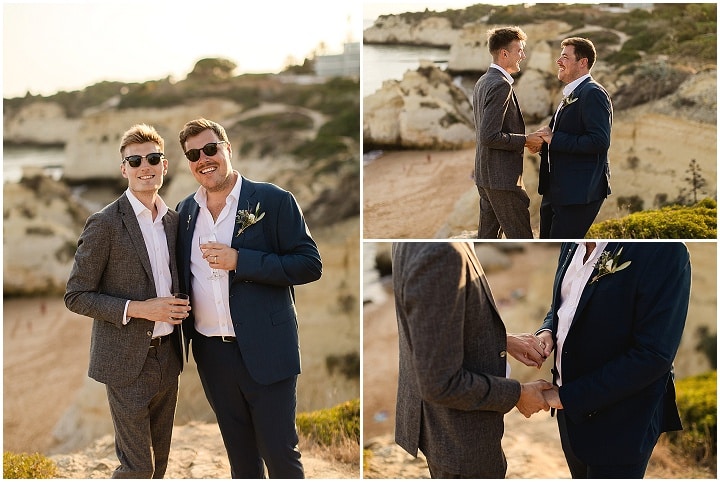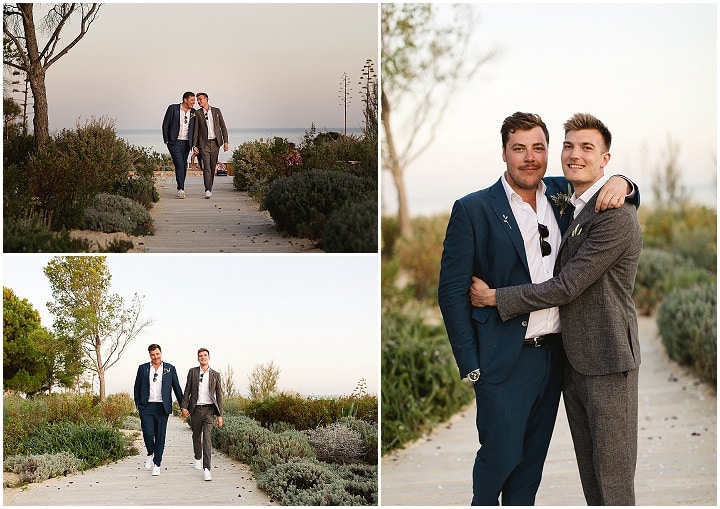 Special moments 
Our good friend Rosie married us so we got to spend a lot of time with her in the run up to the wedding deciding on what we wanted we say and how we wanted the ceremony to go.
Our ceremony was particularly special as Rosie did an amazing job at delivering her lovely words, some of which she had kept secret which was a nice (and emotional) surprise.
Joe and I thought it was important that we had a few moments to ourselves during the day. A favourite moment for us both was just before the ceremony where we popped a bottle of bubbles and peeked out at our guests through the window.
Advice for other couples  
About a week before the wedding I was getting really stressed trying to plan and re-plan, making sure everything was in order even though it already was. My dad saw I was worrying and simply told me to relax and enjoy the lead up. This was really great advice as otherwise I think I would have missed some really special moments by worrying. Thanks dad!
Also a wedding planner makes things so much easier. We attended a friends wedding back in July 2018 where we met Beth Allen, their wedding coordinator . We instantly hit it off and knew that she was the right fit for our own celebration. We can't sing her praises enough; the wedding ran so smoothly and she was so helpful and attentive for the entire weekend.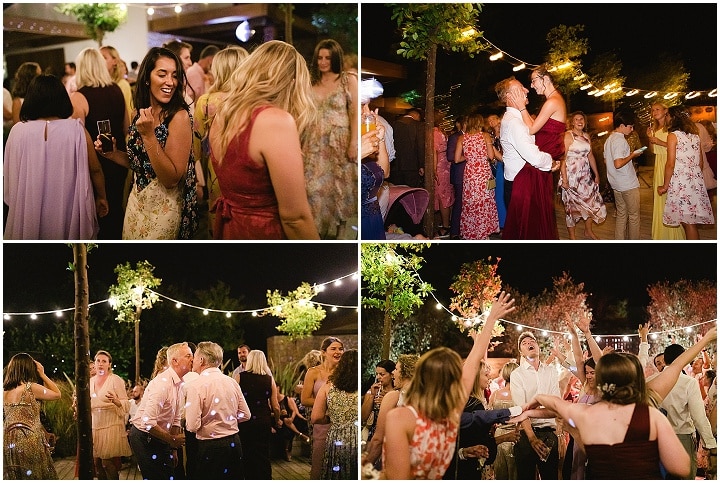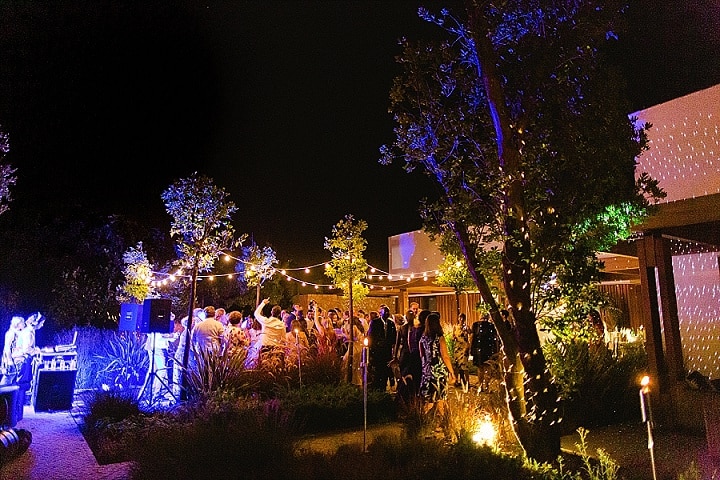 Supplier Shout Outs
For more information on Matt and Lena Photography go to
www.mattandlenaphotography.com / www.mattandlenaphotography.com/blog / [email protected] / FACEBOOK / INSTAGRAM / PINTEREST 
We are a husband and wife wedding photography duo based in Algarve, Portugal. Our photography is moment driven. We use natural light, simplicity, and instinct to capture the life and the spirit of the wedding day. We want to capture genuine moments and details of the day that are full of life and playful energy.