As you know I am a BIG fan of all things Boho here on the blog, It has become such a BIG look in the wedding world over the past few years. I love featuring Boho style weddings, from the dresses to the decor, flowers to the cake. But how do you inject a cool Boho vibe into your wedding catering and table set up? There are many ways to make your food, cake and drinks more Boho friendly, so I have enlisted a Boho food expert to tell you more and share some fab ideas.
If you plan to host the bohemian wedding, here are some tips on how to create a beautiful boho dining table:
Desserts
There are a lot of classic low-fat desserts that can replace donuts, ice cream, muffins, and creamy cakes. Consider ordering cheesecake, pudding, gelato, or cupcakes in the beautiful bohemian style. Serve different types of desserts at once so that your guests can have freedom of choice. All the desserts can have the same decoration.
You can decorate your wedding cake with pink chocolate, fruit, roses, decorative feathers, and dreamcatchers. Make sure to remove all non-edible decorative elements before you cut the cake.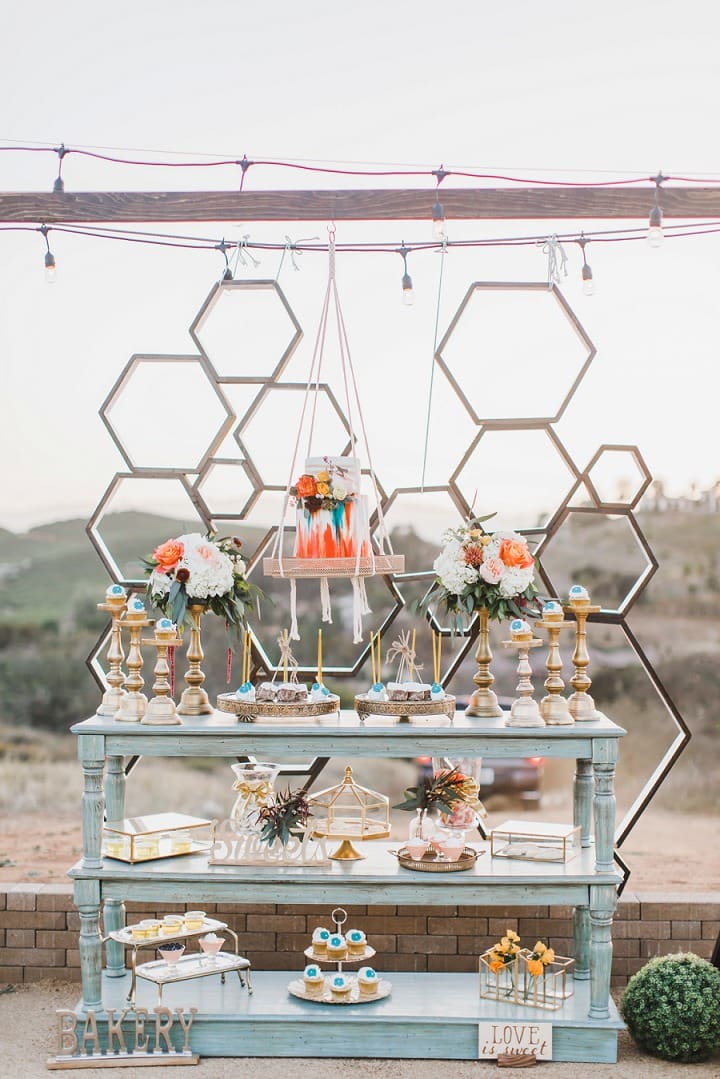 The main course
Boho weddings are held in a non-traditional way, so feel free to choose non-traditional menu options.
If you plan to have a sit-down dinner, you can plan a seafood menu. Serve fresh figs and Tuscan garden salad as an appetizer. For the main course, you can have salmon with bread crumbs, lemon, and garlic; seasonal vegetables and classic rack of lamb.
Consider these options for the buffet wedding: miniature crab cakes, smoked salmon display, artichoke mousse puffs, wild mushroom turtles, spinach dip with toasted pita triangles, melon wrapped in prosciutto.
Your Boho chick wedding can also have some cocktail party elements. In this case, your menu should include grilles coriander with a chili-lime sauce, mini lobster rolls, bite-size chicken fajitas with avocado salsa, and dumplings with dipping sauces.
Also, consider including international cuisine into your menu, especially if you have a multinational wedding.
The table setting
Planning a relaxed and colourful Bohemian wedding requires attention to details: from cutlery and pillow for rings to the wedding arch and the dining table. Taking care of details will help you create an unforgettable impression.
Bohemian style implies celebrating outdoors. That's why you should plan your wedding for the summer season. Find a quiet and green place where you can celebrate your love. If you don't have many guests on your list, consider using pillows and boho rugs instead of chairs. In this case, you might want to warn your guests about low tables and pillows – so that your friends and family members can prepare their comfortable outfits.
This idea can bring your guests closer. However, it might be not convenient in case you plan to invite more than twenty people to your wedding.
If you have a lot of guests, make sure to rent rustic wooden tables and chairs. You can decorate wooden chairs with flowers or macramé backdrop. Avoid putting wedding tablecloth – it might only ruin the natural boho atmosphere. Instead of a tablecloth, decorate your dining table with long colourful candles, flowers, and white macramé.
Consider matching the colour of plates with the colour of flowers and candles on your table. Also, you can match it with the colour of the vintage wine glasses (usually they come in different colours as well).
Think beyond the box: when decorating your wedding table, don't forget about the space above your table. If you are sitting under the trees, consider putting the lights and dream catchers on the branches.
There are different ways to serve dinner at your bohemian wedding. You can sit formally. Or, you can create a buffet and rent a vintage food track. It will give your guests the freedom of movement and encourage them to walk around instead of sitting in one place. Keeping your guests entertained will help to avoid long lines at the buffet.
Cocktail Bar
Are you afraid that a bottle of tequila might not fit your perfect boho dining table? Don't worry, there are a lot of ways to place and present alcohol at a boho wedding.
You can keep all the bottles out of the table. For instance, you can put them into the wooden boat filled with ice and flowers. Another idea is to create a boho cocktail bar – set up a vintage table or antique bar cart. You can pour alcohol into the transparent glass bottles with the signs. Spend some time decorating the bottles – fill them with natural bohemian elements such as rosemary, lavender, mint, and tarragon.
Also, you can hire professional bartenders. They can make classic cocktails on your wedding upon request. Ask them to make edible flower ice cubes and serve the drinks with feather-topped stirrers. The bartenders can welcome your guests with the bohemian cocktails (with the petals inside) at the entrance.
Don't forget that there are no strict rules when it comes to bohemian weddings. So, it is just impossible to do it wrong! Creating a perfect boho chick dining table might be a bit challenging at the beginning. Make sure it reflects your taste and live up to your expectations. And don't you ever forget – you deserve to have the wedding you dream about!
This is a sponsored post