Photo booths have been a thing of joy at weddings and parties for a long time now. I remember when they first emerged in the wedding world, we all thought they would be a flash in the pan, but years on guests all around the world are still loving the concept of a photo booth, whether it be a big full scale sit in and pull the curtain type photo booth, a magic mirror, or a fancy themed backdrop photo booth. The price can vary from company to company, or you can spend a bit of time and create your own. Today we are going to show a DIY option that may be just what you are looking for.
Best Photo Fun 2021: How to Create Your Own Wedding Photo Booth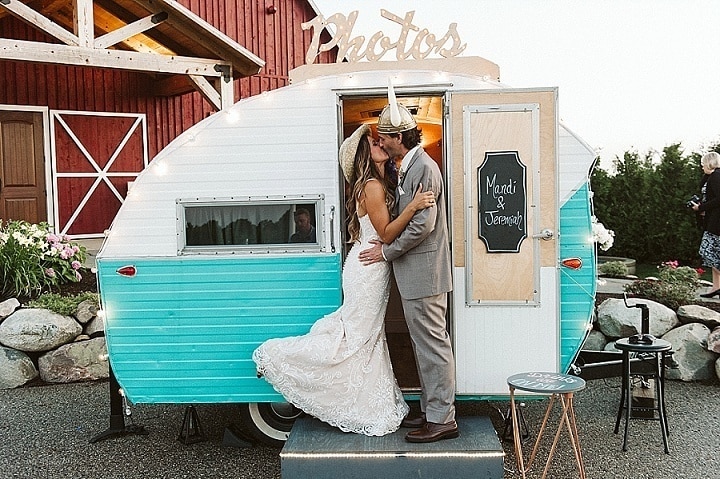 Why a photo booth?
The first reason is that most people love to pose for pictures and will probably want to have not only virtual pics from the wedding but also real photos that can be framed, placed in an album, or simply attached to the wall. As a rule, such a zone is the most rocking spot at a party (after the dance floor, of course).
The second big advantage is that a photo booth doesn't require a real photographer. People won't get diffident, therefore, the pics will be lively and carefree. Moreover, in the booth, they can take dozens and hundreds of photos, and then choose the ones they like.
A few rules to make your Photo booth super effective and fun
The place for the photo zone should be as convenient as possible. The minimum area is two square meters.
No one should feel uncomfortable in the location designed for the photo session. The photo booth shouldn't interfere with the routes for guests and block the lanes.
If the photo zone is designed outside the room, cafe, or restaurant, then you should take care of signs to notify the invitees about a photo booth.
How to create your own photo booth?
So, what does a photo booth actually consist of? The main components are:
a camera
a printer
a laptop with USB modem
software for controlling the camera and printer
a monitor for displaying the current image from the camera
remote control
an illuminator
a frame
Now let's talk about everything in detail.
Camera. You'll need a DSLR camera that supports the function of broadcasting the current image to the monitor and saving pics to the laptop. Canon 550 is a great option.
Because pics will be transferred to the monitor in LiveView mode, which is very power-consuming, the camera may need an extra battery.
Printer. Photo booths for rent are usually equipped with sublimation printers that provide a high print speed of 8-9 seconds. For sure, they are expensive, so you can use a regular inkjet photo printer.
Monitor. A laptop with software is the "brain" of the construction. It needs to be connected to a camera, display photos on the LiveView monitor, and send them for printing. Another option is to use a tablet instead of a monitor. 
Illuminator. You can use a LED panel as an illuminator. Someone uses simple lamps in photo booths.
Frame. The body can be made of wooden lining, plastic panels, chipboard, or plywood. You can even use off-the-shelf enclosure solutions.
The body should be high enough so that people can take pictures while standing near the photo booth.
The entire set of elements is placed in a pre-assembled box with a large set of shelves for storing all the components. To keep the box stable, provide weights at the bottom.
Photo booth backdrop ideas
Slate board. This solution is cost-effective, but at the same time very unusual: everyone will be able to depict their background, and the photos will not be repeated. Slate boards give a lot of room for imagination; every guest who is being photographed will be able to write a wish, draw a cartoon, or a huge heart. To have more opportunities, you should stock up on a couple of packs of white and colored crayons. One of the greatest ideas is reproducing the vows of the newlyweds (or it can be one of the famous wedding vows from movies and TV), where the guests show their thoughts on slate boards. It will turn out very touching.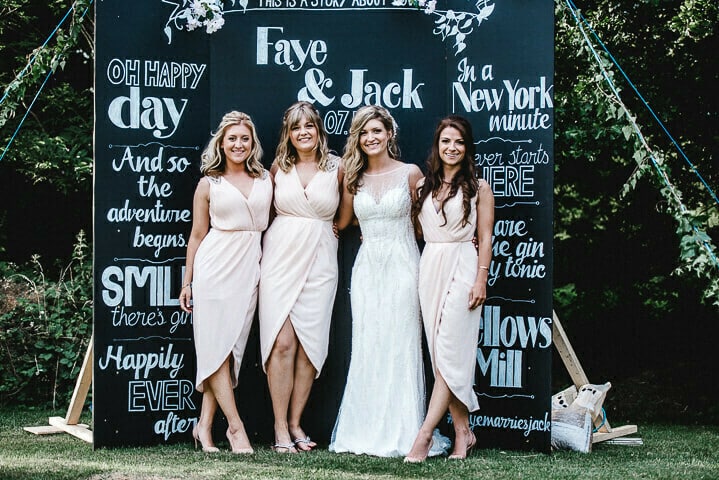 Flower wall. A floral backdrop is the most common option, which can be obtained using a combination of artificial grass rolls and natural flower compositions. Such an installation is one of the most troublesome, but the complexity of its creation is generously compensated by the beauty of the pics.
Bright background from ribbons of different textures. Boho is all about ribbons that can be of several shades of the same color, three tints, or all colors of the rainbow. You can play not only with shades but also with texture, using different patterns and materials. This will create bright and very festive photos.
A wall made of a luminous garland. LED curtains are often used as a backdrop for wedding photoshoots. Photographers use them when they want to make a magical photo session that leaves the feeling of a fairy tale. Garlands create an atmosphere of celebration, luxury, enchanting joy, delight. These are the emotions that wedding photos should trigger.
Solid background and a thousand props. These can be crowns, lips, moustaches, glasses, or butterflies attached to sticks. Another current trend is "talking" props for a wedding, such as garlands with inscriptions, volumetric wooden letters, cardboard flags, slate boards, and paper clouds with words. If photos look too dark or have any other issues that require fixing, you can use a professional photo retouching service to improve them.
Photo booth frame. Try to make a huge Polaroid frame: use white cardboard or wrap one with white paper. Write down everything you want or your wedding date, for example. Add some creative input: cut a frame out of cardboard, then decorate it with artificial flowers, ribbons, and other decorations suitable for your wedding day's decor.
Wedding photo booth party
Make sure your camera has enough battery power and memory card space for the party, and keep a reserve one handy. Tell the guests about the photo booth when they join your party and show how it works by taking a few relaxed, fun, natural wedding photos with each guest. Then let your guests get creative and experiment with photo booth props and poses.
After the party, create an online album of all the pictures from the photo booth or create a video clip using free video editing software like ShotCut, VSDC, or Movavi. Then send it to guests as a souvenir. Boffo reviews won't keep you waiting long. Or if you would prefer an actual wedding photo book for yourself instead of a digital one, you could also use an online photo book creator as well"
this is a collaborative post