This afternoon I have a real treat for you as I am delighted to introduce you to Neil Davis from Type1 Photography. Neil who, like me, is based in Sheffield is a wedding photographer who brings a wealth of experience to the table. He is laid back, loves the natural elements of photography and will be a wonderful addition to your wedding day. Neil has a real love of weddings and that can be seen in his amazing work. He takes a candid approach to his work, capturing moments that you may have missed, moments that you don't want to forget and moments that you will cherish forever. If you are looking for a laid back, no nonsense photographer, who is up for a laugh, who you will love spending the day with, then Neil is the photographer for you.
I'm a wedding photographer, with a natural, relaxed style based in the vibrant city of Sheffield and covering weddings across the country.
My wedding photography style is laid back, relaxed and natural. I help take stress away, I won't add to it. You can expect me to capture all the beautiful and fleeting moments that you don't get a chance to see on the day, so that you can get on with enjoying your wedding.
Couples that book me value good, natural photography, and the last thing they want is a boring photographer who makes them pose all day and takes over their wedding day.
My favourite part of the wedding day is the chilled in between bits, the vows, the party, the food ;) – pretty much the whole damn day. I Love all of it – especially if you feed me too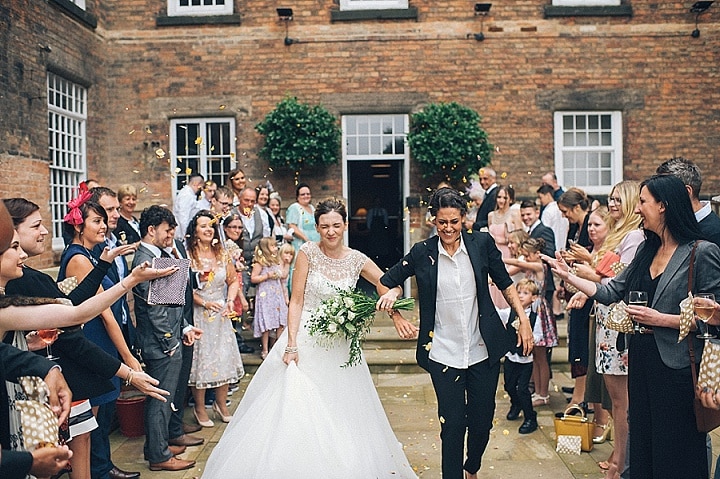 Neil has been kind enough to answer some questions for me and to share with us a few of his favourite photos
How long have you been taking photos for?
10 years
When did you start your photography business and what made you start
My love of people watching is what got me into wedding photography and gives me a real advantage with the natural, documentary style of images. I used to do a lot of motorsport photography and then I took photos for a couple of friends at their weddings and enjoyed it so much, I decided to do it properly. Best. Decision. Ever.
Where are you based?
Sheffield
How far will you travel for a wedding?
Well, to be precise 11,273 miles.  That's from when I photographed a wedding in Auckland, New Zealand.  So, I guess no distance is too far!
How would you describe your style?
Relaxed, fun, natural with a little bit of creative flair
What is your favorite bit of technical kit?
Without doubt my 35mm lens. The images taken with that are just so damn beautiful.
What makes you different to your competitors?
What I see. Intuition. The ability to know what is going to happen before it happens and being in the right place to capture it.
What do you enjoy most about your job?
The freedom to express myself though the camera.  Being a part of some of the most fantastic days you could imagine. The ability (most days) to just get up and take my dog for a walk.
What is your biggest achievement so far?
Work wise – still being in business after 10 years.  Personally, my kids.
What sort of couple do you think you attract?
Couples who are not too hung up on all the formalities, traditions or having all the material "things". They just want to have an amazing time with their favourite people and don't particularly like having their photo taken.
What would be your ideal wedding to work on? 
I don't think I have an ideal wedding.  One where people are having a good time is all I ever want. That said, I would love to work on a mountain top elopement, a forest fantasy, an Italian Riviera – I guess it's just the different ones!
Which celeb would you like to photograph?
Guy Martin
Who is your favorite photographer and why?
Tyler Wirkin from the USA because he gets it. He knows about the relaxed, natural style and how to do it the best. If you can afford him, book him for your wedding.
Who took the pictures at your wedding
Well, I am married and have been for 10 years. I didn't really think about the photos too much and so I know the pain of choosing the wrong photographer. This is why I always encourage people to look around and speak to the photographer who will be there with you all day to make sure you get along with them. If I were to do it now then definitely Tyler Wirkin would be the number one choice.
What in your opinion makes the perfect photo?
Well there are the obvious technical bits like light and composition but for me, for a photo to become a perfect image, you need emotion and context too.
What is your favorite photo that you have taken?
It's not a wedding photo. It's one of my dad lying underneath my old 1979 MGB fixing the exhaust.
What advice would you give couples when choosing their wedding photographer?
Don't just base it on price, don't just email them asking what the cost is. Talk to them – call them or ask them to call you, meet them in person if you can and make sure you get along with them. Your photographer is going to be with you all day, if they annoy you then it's going to show in the photos.
Can you give me some information on your pricing structure?
It's very simple. I offer 3 packages, well they are more guides than rigid structures. 1. Full day with a pre wedding shoot and album.  2. Full day. 3. Short day.
That being said, I'm happy to flex these as much as my couples need to.
What is your ideal way to spend a day off?
Riding my motorbike up into the Peak District then walking along the ridgelines until the sun goes down.
What can you never leave the house without?
These days, a mask! I'm generally fine with going out with nothing but my keys and wallet.
Who would be your 5 dream dinner guests dead or alive?
Robin Williams. Jesus of Nazareth. King Arthur. Boudicca. Me as a 20 year old.
What would you do if you won the lottery?
Buy lots of houses in lots of countries and spend my days flitting between them.
If you weren't running your business, what would you be doing?
Forestry or running a small farm.
For more information on Neil's work go to
 www.type1photography.co.uk / FACEBOOK / INSTAGRAM / PINTEREST 
this is a sponsored post