Happy Monday everyone! I hope you had a festive filled weekend? Are you excited? It's exactly one week till Christmas day, woo hoo! I cannot wait! I have so enjoyed the last few weeks celebrating Christmas and getting in the festive spirit, and with only one more week left of festive activities, I know I'm going to miss the celebrations when they are over. However, I'm super excited about Christmas day and Boxing day, and then a full week off work spending time with friends and family.
Back to this week on the blog. We have a super packed week for you, starting off with the gorgeous summer wedding of Faye and Jack. They went for an English country theme and really went to town on the amazing decorations. With over 150 meters of greenery and the most gorgeous flowers, this wedding is absolutely brimming with rustic decor and amazing details. Every aspect is SO pretty. I just love the table plan, the table decor, the cake and all the signage. Big thanks to Gary Nunn for the lovely images.
Magical, beyond my wildest dreams. It was a whimsical, fairy-tale English Country Garden wedding; romantic setting that felt like a midsummer night's dream.
Faye and Jack were married on 15th July, 2017 at St Mary's Church, Bellows Mill, Eaton Bray, in Bedfordshire. 'My mum and dad live in this picturesque village and I wanted to keep the wedding as local and traditional as possible. We got engaged on my birthday on the 3rd of June and began planning the big day once we had returned from a family holiday in August, so roughly 11 months with 130 day guests and an additional 30 to the evening.'
How they met
Jack and I actually went to school together. He was in the year above and our brothers were close friends. It wasn't really until Jack had gone to university that we got to know one another. He returned for the Summer between his second and third year and we met in our local pub in Berkhamsted – at the time people assumed it was just a summer fling but we have now been together over 10 years.
The Proposal
It was like being the star of a movie!
We flew to New York for my birthday and so many things that happened prior to the proposal I thought were just significant because it was my birthday.
On the morning of my birthday, at a diner in NYC, Jack gave me a birthday card and inside it read "Faye's Central Park Scavenger Hunt!" He explained that he would be giving me clues at each point of interest that would lead me to the next point. And when I got the clue right I won scrabble tiles. By the time we had reached our final point (the famous Cherry Tree fields) I had dozens of scrabble tiles each with a stickered number written on the back.
We sit down for a picnic and out comes champagne and the food we had recently bought for the picnic I knew we were having… and a scrabble board… and the scrabble board has stickered numbers on certain tiles on the board… you guessed it, I had to match the tiles to the board…
First, Faye and Jack… then, New York City…3rd June 2016 and then I twigged the few spaces that remained free on the board…. WILL…YOU…MARRY…ME?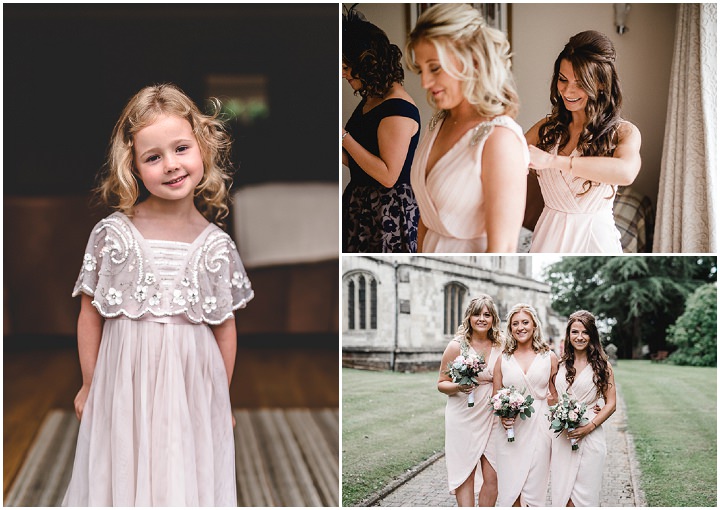 How did you allocate your budget?
For us, it was so important that we had something very relaxed, laid-back and fun. We LOVE our food, and LOVE a drink and do enjoy a good party too – so food, drink and a band was very important to us.
Where did you splurge and how did you save?
Amberjack, the band we selected were something we were keen to spend money on. We thought they were brilliant and knew that they would get everyone up and dancing. The photographer was high on our list of priorities as they document the memories that you want to keep forever. And the rings, we will keep these forever (along with the photographs) and wanted to have ones that we will treasure for always. We saved money by doing a lot of the décor ourselves, including napkins…who knew these were so expensive to hire? 
Why did you choose your photographer?
At first, our photographer was chosen purely on recommendation but once we met with Gary Nunn we knew he was the guy for the job. We keenly expressed our need to candid shots and a much laid back style to match our relaxed day we had planned and that's exactly what he captured.
I look at the photographs (in some capacity) everyday – he captured the true feel of the day.
The Dress
I purchased my dress at Brides of Berkhamsted, in Hertfordshire. I couldn't have asked for a better experience and revelled in any opportunity to go back into the shop to see my dress and the girls there. My dress was by Sottero & Midley and wasn't your typical styled wedding dress but that's exactly what I wanted. No structure or bodice made it so very comfortable and the embellishment was divine.I wore a beautiful veil, also from Brides of Berkhamsted that was as long as my dress.

The Suit and Bridesmaids
The boys rented full Ted Baker morning suits from Moss Bros. The bridesmaids dresses were from ASOS, which we had a few alterations made with a seamstress in order to get them fitting the girls perfectly. They had shoes from Mango to match the dress colour. Both our flower girl and the pageboy had outfits from Accessorize.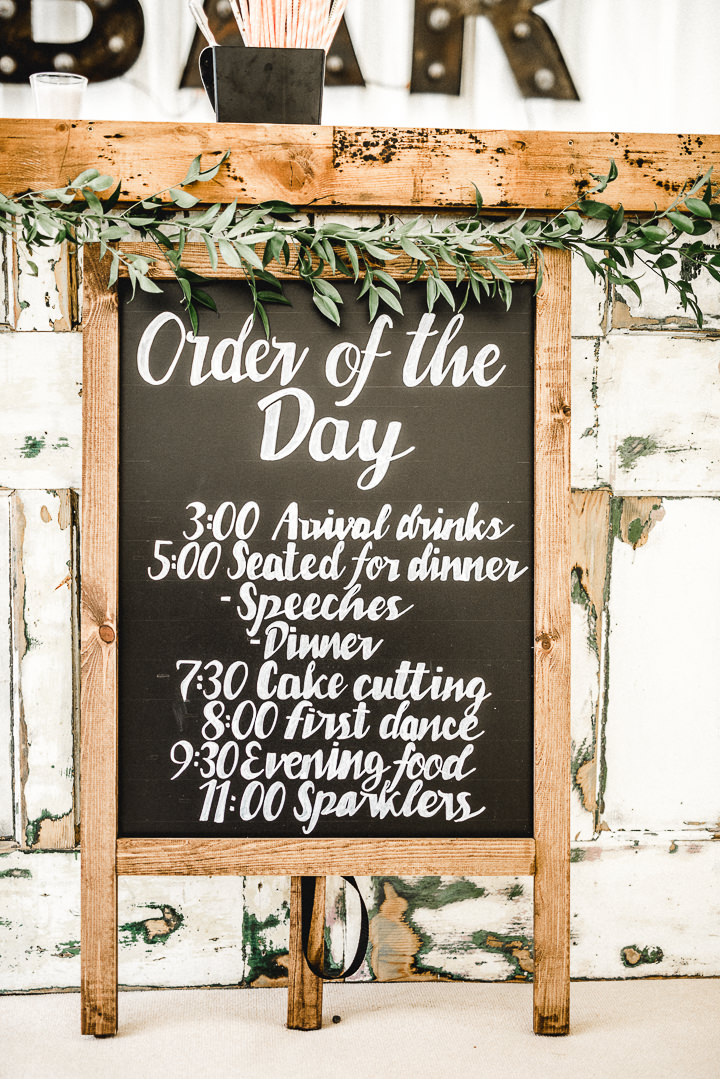 Theme or colour scheme
We had an English country garden theme, predominately pale pink with lots of greenery and hundreds of candles and fairy lights. We had a very rustic feel with ivy and eucalyptus everywhere, it smelt incredible in the marquee.
Flowers
Peonies and roses… hundreds of them! We had so much greenery too – over 150 feet of it. We have to be so thankful to our florist, David at Petals. He produced the look that we were after and created hundreds of feet or garlands that transformed the tables and the setting within the marquee. Flowers were so important to me, I LOVE them!
Decoration
We were very aware that everything in a marquee is white… white ceiling, white walls, white carpet; the last thing we wanted to do was add more white. That's why we were so keen to have bare rustic wood tables to add character and personality. We chose to have long wooden tables placed in lines through the marquee (we described it much like Hogwarts) as we felt this to be more sociable and also that way you couldn't be accused of putting someone on a "bad table".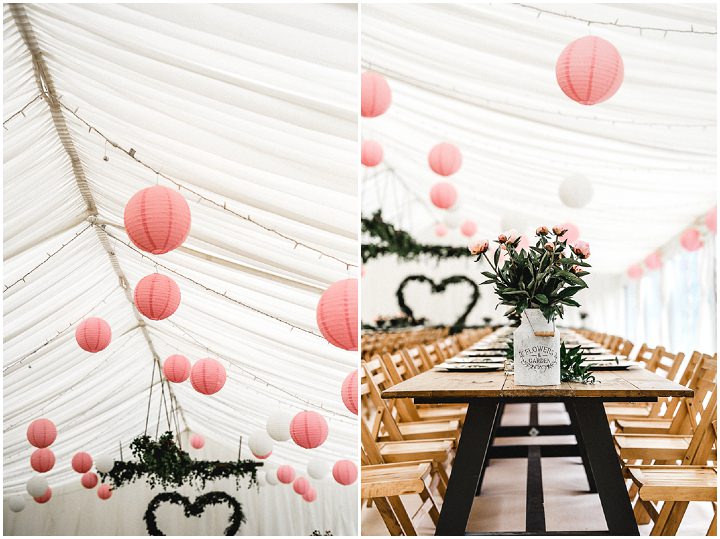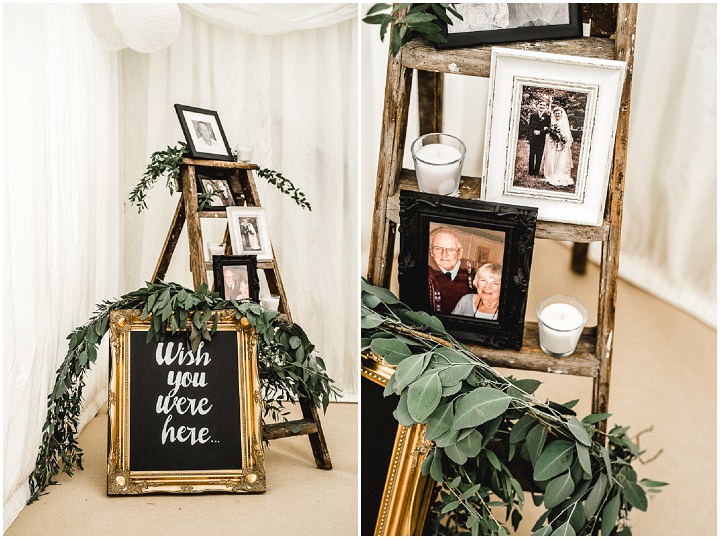 Food
We had canapés during our arrival drinks followed by a three course seated meal. For starter we had Warm Chorizo Salad or Goats Cheese Salad, then Feather blade of Beef with Bubble and Squeak or Medley of Mushrooms with Potato cake and leeks. And for dessert we had a Trio of puds, Chocolate Brownie, Lemon Posset and Eaton Mess! Our caterers actually ran the day for us. Lee, at Lisa Roberts catering was so laid back and organised despite us running almost an hour late for our meal. The day would not have ran as smoothly as it did without him.
Wedding cake
We had the wedding cake made by a local lady called Victoria, from Sweet Treat Cupcakes. The cake was a semi-naked cake that was dressed with flowers from the florist to match our theme.
It was gigantic, made of four tiers that each consisted of 4 sponges each and it was DELICIOUS!
Entertainment
Firstly, we had a saxophonist who played during our drinks ceremony. Thankfully we had good weather so this was all able to be outside. For the evening we had an amazing band, Amberjack who provided us with a music playlist between sets so there was never a quiet moment and they certainly had everyone up on the dance floor.
Who supplied the stationery?
We did! I made the invitations, place settings, menu boards, sign posts… you name it we did it.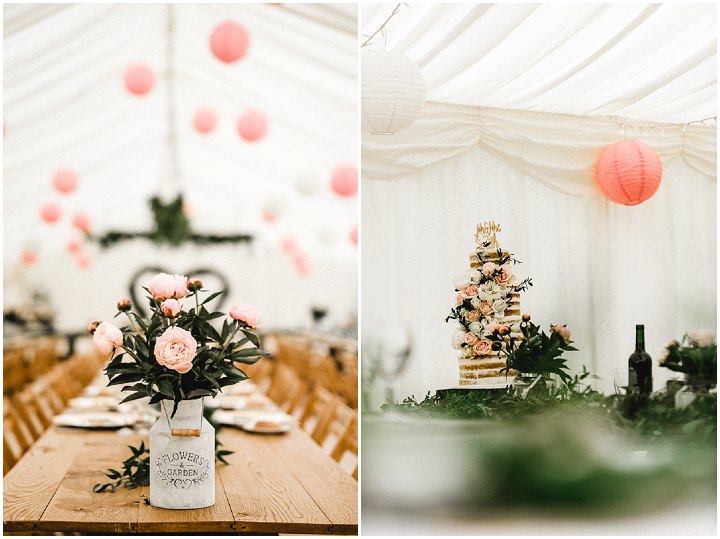 Personal Touches
I think partly what made the day so individual is that we spent so much time personalising everything. We made a huge photo board for people to use to have their photos taken which took us two weekends alone. I hand wrote all the blackboards and signs that were used at the venue myself. I must have spent months making and creating things but everything looked so perfect and everything got noticed and recognition for all our hard work. For our wedding favours, we had filled 130 mini jam jars with tequila to do as shots during the wedding speeches – this seemed to go down very well with all the guests.
Special Moments
The church service was the bit I was anxiously anticipating the most. Waking up and not having Jack to reassure me made me uneasy but that moment that we looked at one another in the church is something I'll never ever forget. After the dinner and the speeches, Jack and I went for a walk around the lake and looked at the marquee and all our amazing guests from a distance. We just sat underneath this tree and took a moment to appreciate the day and recognise that all these people were here for us. It really was the most magical day.
Any advice for other couples?
Just remember, it's about the two of you – no one else. We would have days when we would wake up and say, "Let's not talk about the wedding today". It should be happy and exciting, don't let the organising stress you out, buy a planner, document your ideas and enjoy every moment.
Biggest Surprise
As someone who prides themselves on being so "together", I couldn't believe how emotional I was – neither could my bridesmaids. Jack, very kindly had a gift sent to the house for me that was a Monica Vinader engraved bracelet with our wedding date engraved inside it. And, he also arranged for my bouquet to have a locket attached with a photograph inside of both my dear Nan, and beloved Uncle – crying again, as I type this.
SUPPLIER SHOUT OUTS
For more information about Gary's work go to:
www.garynunn.co.uk / www.garynunn.co.uk/blog / [email protected] / 07984 866 444 / FACEBOOK / TWITTER / INSTAGRAM / PINTEREST
I am a full time professional wedding photographer in Milton Keynes covering weddings across the UK and beyond. I am perhaps known for bringing fun, creativity and professionalism to your wedding day. I provide you beautifully photographed wedding stories that celebrate you….