Happy Thursday everyone and how are you all? I am taking you to Kent for today's wedding and what a charming wedding it is. Hayley and Sam chose to get married at The Secret Garden and held a super romantic outdoor ceremony, with the most amazing DIY ceremony arch attached to the pagoda. They wanted an 'Enchanted Forest' feel to the day and this they did with lots of handmade projects and a gorgeous colour scheme of sage green, peach and rose gold. Food played a big part in their day. so they had the most delicious sounding wedding breakfast that any guest would be delighted to eat, followed by a super tasty semi naked cake. Grace Elizabeth was there to capture the day for us.
The happiest day of our lives! The entire day felt so full of love and gratitude and happiness.
Hayley and Sam were married on 31st May 2019 at The Secret Garden in Kent. 'We had been engaged for several years and it was just the right time. We had been to look at venues a year or so before and not found the right one for us, but this time when we saw the Secret Garden we knew straight away. We had around 50 guests. I think we booked the venue in November 2017 and started planning around summer 2018.'
How they met 
We met at work.
The proposal
We were on holiday in Paris in February, and Sam asked me what my favourite building was. I told him that ever since I was a child it was the Notre Dame. One evening we went on a dinner cruise along the Seine and saw the Eiffel Tower all lit up in lights. Then he told me the next destination was a surprise, and took me to the Notre Dame. Lights lit up the beautiful building, showing off the gothic architecture. It had been lightly raining and the cobbles were shining in the light, and as people milled about the square, he knelt (in a puddle!) on the steps of Notre Dame and proposed. I was completely speechless and hadn't seen it coming at all. I said yes and everything seemed like a blur. Even on the Metro back to the hotel I still hadn't said anything else! It was February 15th and Sam said he had waited an extra day so that it wasn't a Valentine's cliche, which made me laugh.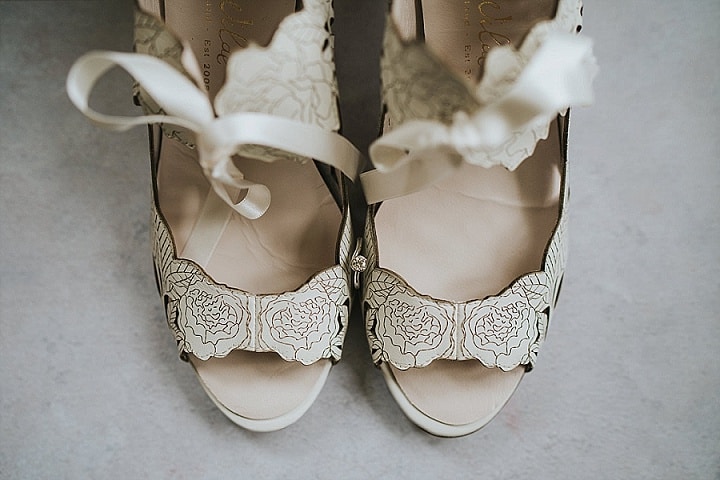 How did you allocate your budget?
We listed everything we could think of that would be needed for the wedding, then each ordered it according to what we prioritised. Then we compared our lists and figured out what was important to each of us, and budgeted accordingly.
Where did you splurge and where did you save?
It was really important to me that everyone could have fun, so I knew I wanted to splurge on the food and the transport/accommodation, so a large part of our budget went on the venue and on a B&B and cottages for the long weekend, and taxis and coaches for the guests.
We saved on invitations, decorations, entertainment and music because we knew we could DIY most of that. I did my own makeup and got the bridesmaids dresses and groomsmen suits from high-street stores (with 6 bridesmaids and groomsmen each, getting traditional dresses/suits would have cost a fortune). We also chose a venue with so much natural beauty, so it didn't feel like we needed much in the way of flowers, just poseys for the bridesmaids and buttonholes for the groomsmen.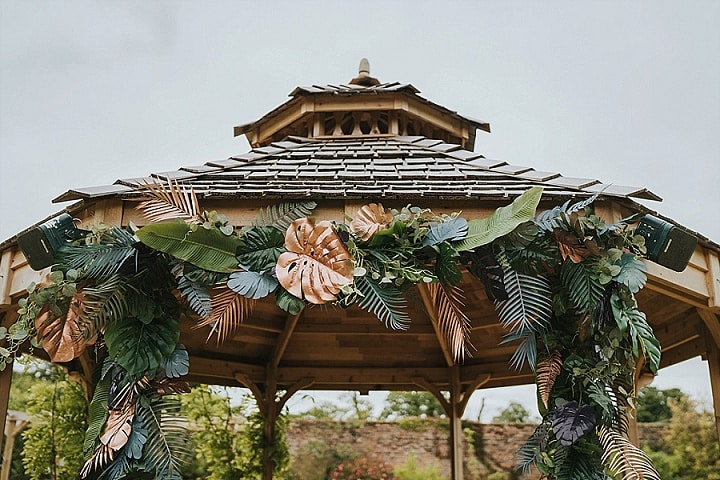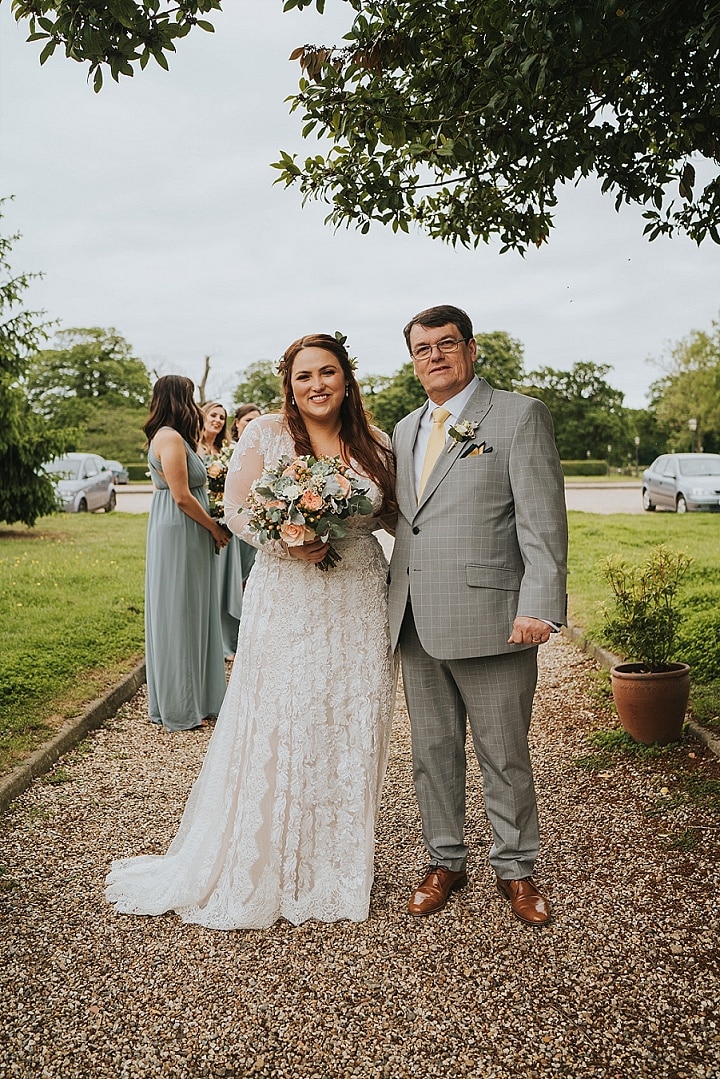 How did you choose your photographer?
My mum found Grace actually! She had been looking at photographers for us and said there was something about Grace that she just connected with, and that she felt that Grace would be right for us. And boy was she right!
The dress 
Dress from David's Bridal (Designer Melissa Sweet). Shoes from Harriet Wilde.
The suit and bridesmaids
Bridesmaids dresses were from ASOS and Sams's suit was from Burton. I cannot praise our seamstress (Karen at the Secret Wedding Studio in Upminster) enough, she altered Sam's suit trousers into shorts, tailored my dress brilliantly, and did amazing work on the bridesmaid dresses and her pricing was excellent.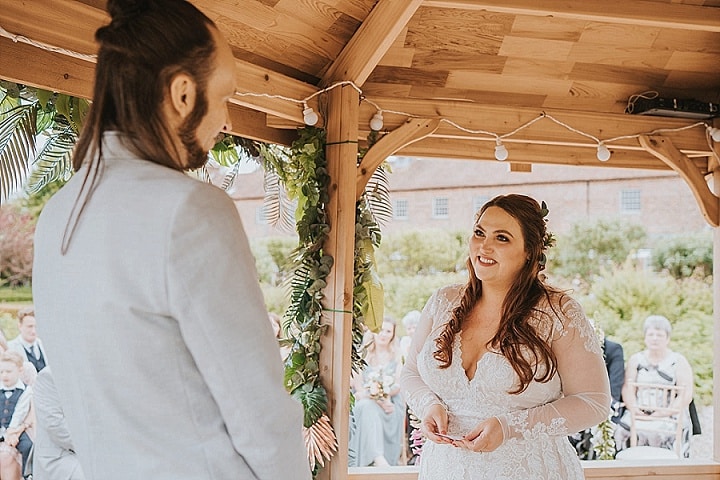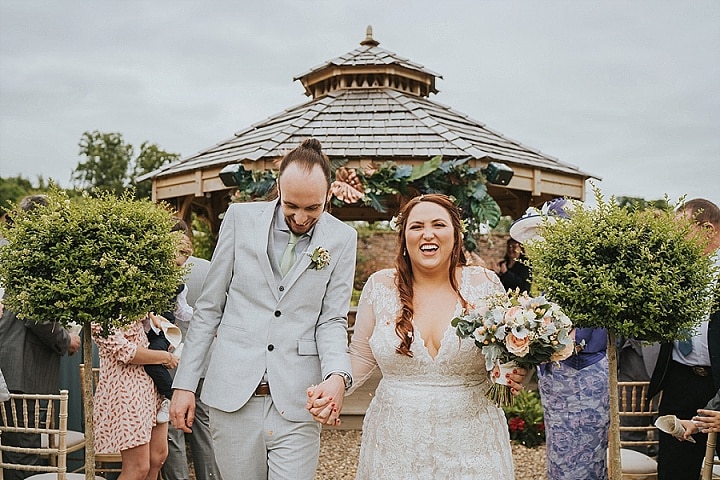 Theme or colour scheme
Colour scheme of sage green, peach and rose gold, which has now trickled through into some of our house decor!
Flowers
Our flowers were from Anemone Blue florist and they were brilliant. Succulents, peach roses and lots of greenery. I kept the succulents from my wedding bouquet alive and they're still going strong. They've even had little succulents! And the rest of the flowers were pressed and now hang on the wall.
Decoration 
We rented tabletop trees and bought lots of glass globes, strung them with clear wire and filled them with tealights and hung them in the trees. We tried to keep the trees as the main decoration, and covered the tables in antique-style tealights and dried flower petals. We were definitely trying to go for an 'Enchanted Forest but on a budget' vibe! The venue had lots of trees and we strung more globes and lights in them.
My sister made us a photo wall of artificial tropical foliage spray painted in vibrant colours, and we used a friend's instax camera and made this our guestbook. She also decorated the ceremony gazebo with garlands of the same foliage, and made a beautiful welcome sign and mirror seating plan for us.
We made fans decorated with the Emily Bronte quote 'Whatever our souls are made of, his and mine are the same', and saved on flowers by decorating with vases full of origami flowers made from the pages of our favourite books.
Food 
We put so much thought into the menu, and our venue was so accommodating. We designed several dishes ourselves, to include little references to the Spanish food that has always featured so prominently in my family. Menu:
Starters:
Griddled asparagus, Serrano ham, confit tomatoes & soft boiled quail egg, sherry vinegar dressing. Pan seared mackerel, chorizo braised leeks, & crispy shallots. Potato terrine with manchego cheese, chorizo, & deep fried egg
Mains:
Red Onion & Goats Cheese Tart, Sundried Tomato Pesto (V). Iberian pork cheeks slow-cooked in red wine, with celeriac puree & parsnip crisps. Roasted chicken thighs with pine nuts in garlic & white wine, & crispy herb potatoes
Dessert:
Plum Frangipane Tart, Almond Brittle, Clotted Cream. Rhubarb & Custard, Oat Crumble, Basil. Hot Chocolate Fondant, Jaffa Cake Ice Cream, Orange.
Evening food was a delicious BBQ.
Wedding cake
The cake was made by the Cake Witch in Faversham and if you are getting married in Kent, I honestly cannot recommend her highly enough. Nicola is so lovely, we went for a tasting and it was more like having a chat with an old friend. We loved the area so much that we moved there! Her baking is so good that if you told me it was magic I'd believe you. We had a 3-tier semi-naked cake decorated with macarons in our wedding colours, rose gold leaf, and flowers that matched the wedding bouquets. The flavours were: two tiers of honey cake with orange blossom honey syrup, vanilla buttercream and Madagascan vanilla caramel sauce; and one tier of pink velvet (raspberry and elderflower) with fresh raspberries and cream cheese frosting.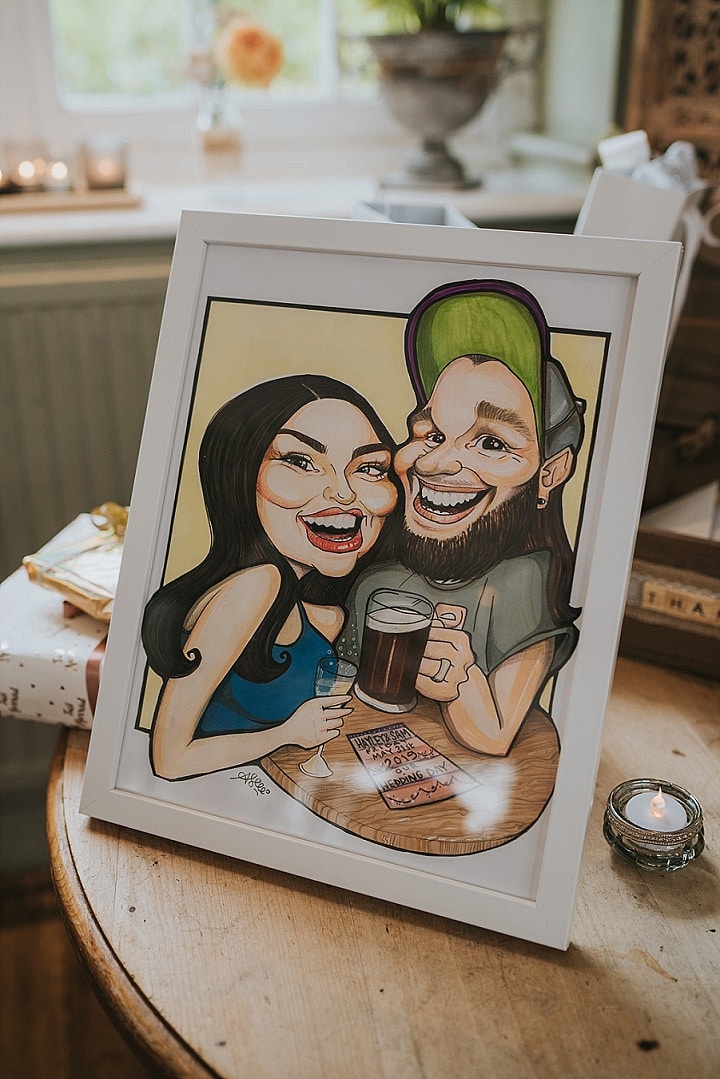 Entertainment
We saved money by doing the music ourselves. It took a long time and a lot of effort, but I still regularly listen to the playlists now so it was totally worth it!
Where did you go on your honeymoon?
We had planned to go to Japan for our honeymoon, but a year later (for our first anniversary) so that we would have time to save up. Luckily, we hadn't booked anything when the pandemic hit so hopefully we will be able to go in the future. We went away for a week after the wedding, on a mini-moon to the Isle of Wight. It was only supposed to be a little break but I can honestly say that week was the best week of my life. The two of us and the dog and nothing but beautiful countryside, good food and happiness. It felt like all those good feelings from the wedding day just kept going for the whole trip!
Personal touches
One thing that Sam wanted to incorporate into the day was his love of walking our cocker spaniel Quinn in Epping Forest. After one walk he came home with a huge tree branch, and my dad cut and shaped it into slices that we used as name card holders!
We also used Pokeballs to hold the wedding rings and wrote our own vows, which turned out to be the perfect choice for us. They were emotional and heartfelt and reflected the 8-year journey we'd had together so far, full of ups and downs but ultimately more connected and in love than ever.
We both also wanted to include our love of literature, so Sam made about 75 origami flowers from the pages of each of our favourite books, which we used as table dressing.
Special moments 
Sam: My highlight of the day was managing to get through reading my vows, because I'm quite emotional and I knew I would end up crying! I also had to ask my best man Barney to keep telling me terrible jokes when Hayley walked down the aisle, because I didn't want to start the ceremony with tears in my eyes!
Hayley: My highlight of the day would be the vows, for sure. They were intense and just so special.
Advice for other couples
Sam: We wanted to make the most of having all our friends and family together, so the evening before the wedding we had our guests over to our accommodation for a barbecue. It was a brilliant way to enjoy some additional time with everybody in a more relaxed setting. There aren't many opportunities to have your nearest and dearest all in the same place, so make the most of it if you can!
Hayley: Embrace every moment of the day. It goes by so quickly! And don't be afraid to do something you want to do, or have something unusual. We had an English garden themed wedding with a multicoloured tropical photo wall and it worked for us! I did a speech as well as Sam, because it felt right for us. There's no right way to do things, just the right way for you.
Biggest surprise 
Sam: For me the biggest surprise was how little we had to micromanage, as I was expecting there to be things that didn't go exactly to plan. But actually I couldn't believe how smoothly everything went!
Hayley: For me it was how the day felt. Everyone was so happy, it was like being in a little bubble of joy. Even people who hadn't spoken to each other for years were reconciling! It was everything I could have wanted, to celebrate our relationship with the people I love most in the world.
Supplier Shout Outs
For more information on Photography by Grace go to
www.grace-elizabeth.co.uk / www.grace-elizabeth.co.uk/journal / FACEBOOK / INSTAGRAM