Happy Friday everyone and how are you all? How is it Friday already? This week has just flown by. A full week in the office now Dexter is back at school has meant that I have got so much work done, it's been amazing! That hasn't happened since mid December! And now it's nearly time for wine o'clock and the weekend. Of course it's Mother's Day this weekend, I have ordered Tapas which is being delivered today and I am very excited. Nik's Mum is coming over, so hopefully it will be a good day! Moving on to today's wedding and my oh my have I got a treat for you! If you love colour, you are going to LOVE this wedding, as it is absolutely bursting with every colour in the rainbow. Tyler and Karim were married on 29th December 2018 in Houston, Texas. They are a fun loving couple who wanted to reflect their care free personalities in their wedding day. They filled their day with am amazing display of colourful balloons and the most amazing ribbon backdrop which looks AMAZING!! They are also big fans of games, so they had board games, blackjack tables and arcade games. Big thanks to Nate Messarra Photography for the awesome photos.
Nate the photographer tells us more about the wedding
Tyler and Karim's colorful wedding was simply magical! Since Tyler and Karim love games of all kinds, they wanted to incorporate that into their wedding. The reception was filled with not just an incredible dance floor decorated with balloons, but each area had arcade games and classics like Connect 4 and Jenga and there were more high stakes craps and Blackjack tables. From a gorgeous ribboned backdrop of the ceremony that was then transformed to their head-table, the decor was whimsical, colorful and fun! You don't want to miss viewing this wedding!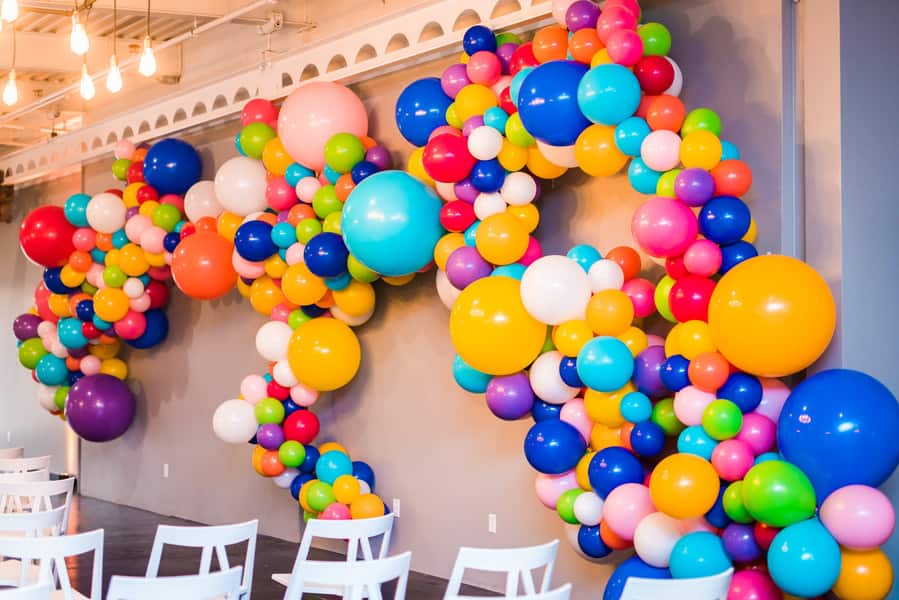 Supplier Shout Outs
For more information on Nate Messarra Photography go to