The world of bridal fashion is vast and varied. With an array of styles and silhouettes available, selecting the perfect dress can sometimes seem like an overwhelming task. However, understanding the different types of wedding dress designs can aid in simplifying the decision-making process.
The dress you choose can speak volumes about your personal style and the ambiance of your wedding. From regal ball gowns to the chic sheath style, there's something for every bride. This guide delves deep into the quintessential styles of wedding dresses, shedding light on their unique characteristics and the body types they best flatter.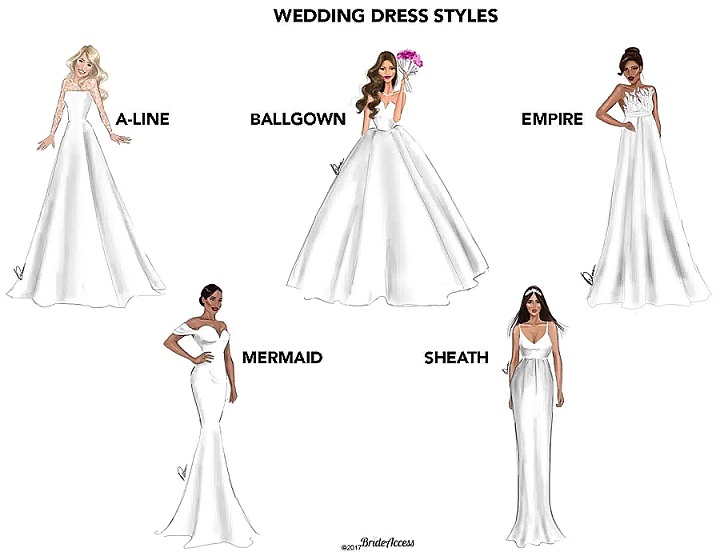 Ball Gowns: A Tale of Grandeur and Grace
Ball gowns are the stuff fairy tales are made of. Characterised by a fitted bodice and a voluminous skirt, these dresses make an undeniable statement. They often come with layers of tulle or crinoline to achieve their signature fullness. For brides seeking that classic Cinderella feel, ball gowns are an ideal choice.
While ball gowns are undoubtedly stunning, they best complement brides with a pear-shaped body. The voluminous skirt effortlessly balances out broader hips, lending a harmonious silhouette. Additionally, those with a rectangular or straight figure might find the ball gown style advantageous, as it can create the illusion of a defined waist. However, petite brides might feel overwhelmed by the grandeur of ball gowns, making them appear shorter.
A-Line Dresses: Versatile Elegance for Every Bride
A-line wedding dresses are renowned for their universality. They are named 'A-line' due to their resemblance to the letter 'A'. These dresses taper at the top and flare gently towards the bottom. The balanced silhouette offers a blend of sophistication and simplicity.
The beauty of A-line wedding dresses lies in their ability to flatter almost any body type. Their cinched waist defines the narrowest part of the torso, creating a slimming effect. The gradual flare of the skirt can accommodate wider hips, making it a favourite for brides with pear or hourglass figures. Moreover, tall and slender brides can benefit from the elongating aspect of A-line dresses.
Mermaid Gowns: The Epitome of Glamour and Curve Embrace
Mermaid gowns are a bold and modern choice for brides who want to showcase their curves. As the name suggests, these dresses mimic the shape of a mermaid's tail. They are snug around the bust, waist, and hips, and flare dramatically from the knee downwards.
This style, with its emphasis on the curves, is perfect for brides with an hourglass figure. The dress accentuates the waist while highlighting the bust and hips. Those with a rectangle or apple-shaped body might find the mermaid style challenging, as it can accentuate the broadness of the waist. However, with the right fit, mermaid wedding dresses can make a powerful statement of confidence and style.
Sheath Dresses: The Understated Beauty of Streamlined Simplicity
Sheath wedding dresses, sometimes referred to as column dresses, follow a straight cut from the neckline to the hem. These dresses are unadorned, without flares or dramatic volume, embracing a minimalist charm. Their linear design draws a vertical line, creating an effect of elongation.
Given the nature of sheath dresses, they are particularly flattering for tall, slender brides. The dress skims the body, drawing attention to a statuesque frame. Brides with an apple or rectangle body shape might also find the sheath style appealing, as it doesn't emphasise the waistline. On the other hand, those with a pear or hourglass figure might feel the sheath style lacks the desired definition at the waist.
Empire Waist Gowns: Classic Romance with a Regal Touch
Empire waist gowns are distinct due to their raised waistline, which sits just below the bust. The rest of the gown flows straight down, often in a soft, flowing fabric like chiffon. This design harks back to the early 19th century, embodying an ageless romance.
Empire waist wedding dresses are versatile and can flatter a variety of body types. The raised waistline can create the illusion of height, making it a suitable choice for petite brides. Additionally, for those with a smaller bust, the empire style can offer a flattering fit. Brides with a round or apple-shaped figure can benefit from the gown's ability to camouflage the midsection, drawing attention upwards to the bust and face.
Selecting a wedding dress is more than just a shopping experience; it's a journey of self-expression. It represents a moment in time, capturing the essence of a bride's aspirations, dreams, and identity.
As brides navigate this intricate world of fabrics, designs, and embellishments, they are not just selecting a garment but embracing a reflection of their inner selves. Understanding the various silhouettes and how they interact with different body types is crucial in making an informed decision. Your wedding dress should not only resonate with your personal style but also celebrate and accentuate your unique beauty.
The joy of this experience culminates in that pivotal moment when you walk down the aisle, embodying elegance, grace, and authenticity. Here's to finding that perfect dress that will stand the test of time in memories and photographs.
this is a collaborative post