Yay for Friday! I hope you have all had a great week so far and are looking forward to a lovely sunny weekend. My weekend starts now as I have taken today off to spend with Dexter. We are off to meet up with friends and enjoy this wonderful weather. I can't wait! To finish off the week I have this gorgeous 'Dreamy Boho' styled shoot to share with you. The shoot took place on 3rd November 2020 at Crabapple Barn in Sussex. It was put together by Megan Donati Photography and Wild wood weddings and events and it's totally magnificent. The overall feel of the shoot is laid back, relaxed vibes, filled with the most gorgeous boho decor with an elegant twist. The macramé, the light up letters, dried flowers, all look amazing. The dresses are stunning but the star of the show has to be the dog! How blooming cute!
A dreamy boho wedding with a touch of elegance. With soft colours and florals to make you feel relaxed and with a touch of golden light.
Megan the photographer tells us more about the shoot
I teamed up with a wedding planner and together Tiana the wedding planner and I the photographer wanted to create a gorgeous boho dreamy shoot with other amazing suppliers who had the same vision. We wanted to create a relaxed, warm and elegant wedding shoot for boho loving couples to take inspiration from and show couples what they can create for their own wedding.
The inspiration behind this shoot was to create an Elegant Boho wedding with a warm and natural feel. We wanted to take a lot of inspiration from the light and how the light flows in through the beautiful big windows of the venue and creates a perfect golden warm feel which really added to the style of the shoot.
We wanted to have a chance to get a bunch of creatives together after a long break of weddings due to lockdown. For Tiana and I it was a chance to get experience in styling and photographing something with a more whimsical boho feel. It was really great to see all the suppliers having a great time on the day doing what they love with people who are interested in the same/similar things.
Another goal was to get the shoot featured to be able to showcase everyone's hard work they have put in so it's a great opportunity that we are very thankful for to be featured on Boho Weddings.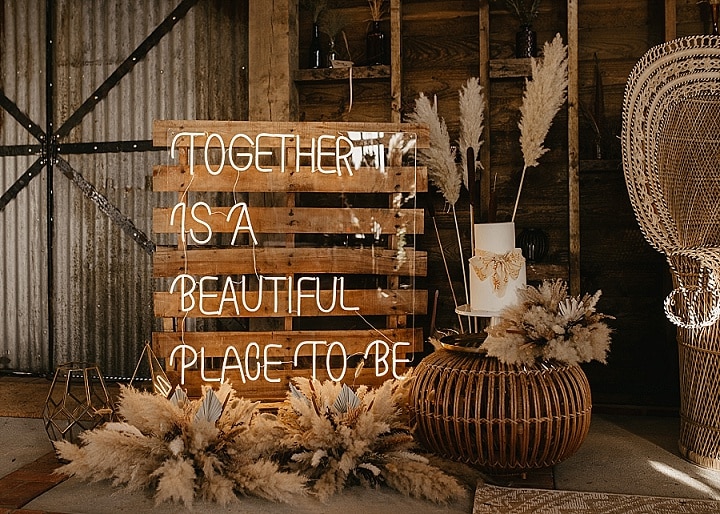 Supplier Shout Outs
[jprel]