As a bride, choosing your wedding dress has to be up there as one of the most fun things to do when it comes to your wedding planning jobs. Whether you are looking to play princess for the day, want something sleek and modern, or want to mix it up with something completely out of the box, there is SO much choice these days, there really is something for every bride (or brides.) So today I am delighted to introduce you to the brand new Bridal collection from Elbeth Gillis. The Grace Collection is fresh, modern, sleek and full of the most stunning silhouettes and fabrics. It is Feminine, Elegant and Timeless and perfect for so many different brides. I just know you are going to love it.
Elbeth's collections are elegant and timeless, marked by her signature sophistication and remarkable attention to refined detail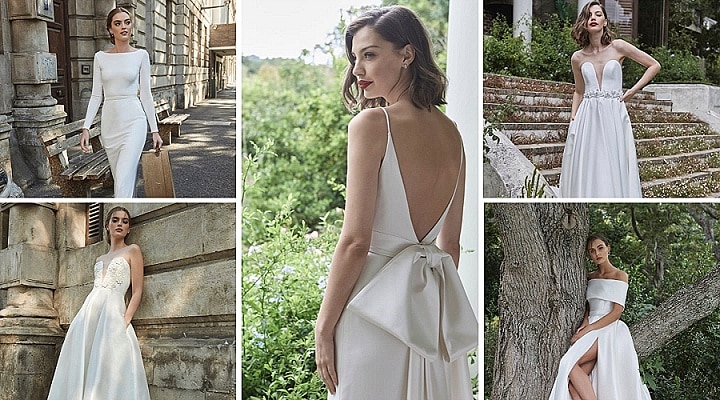 Can you tell me a bit more about the new collection?
The latest collection is GRACE 2021. This bridal collection emphasises simple silhouettes and features off-shoulder dresses, bell sleeves and beautiful shimmering fabrics. Each gown features sensuous touches of femininity which, empowers the brides making them feel sensational and elegant on their big day. Each wedding dress can be uniquely restyled and personalised to bring a hint of drama for a bride that wants a little more va-va-voom.
What were the main influences when designing it?
Elbeth is known for gowns that are ethereal and feminine, the clean lines of the new Grace Collection compliment the sensuality of women. This collection, specifically, was inspired by a sense of optimism and opulence. Each collection is created with style, sophistication and uncompromising luxury in mind. No matter the collection, an Elbeth Gillis gown is forever.
Elbeth is driven by quality, subsequently, each gown is designed and handcrafted to ensure impeccable fit and quality. "I'm pretty relentless in my standards, and so I use only the best French laces, silks and chiffons. Actually, I use the same company that supplied lace for Princess Grace Kelly and Princess Kate's gowns."
Can you tell me a bit more about your company
The brand was founded in 1997 by South Africa born Elbeth Gillis. As a young girl, Elbeth inspired by the magical creations of her mother and aunts as they crafted the most beautiful and magical garments. Now many years later, Elbeth Gillis is internationally renowned for her bridal and evening couture.
Elbeth designs for the modern bride who wants to stand out from the crowd. While the bridal industry isn't influenced by trends as much as the fast fashion industry, there are still elements and styles that come and go. Each of her gowns are timeless and unique much like the Audrey Hepburn chic, timeless aesthetic. Each collection features elements and styles that will transcend trends making each gown a classic piece that can be passed down for generations.
Where are you based? And how long have you been designing for
The Elbeth brand is well established in South Africa, where the designer and HQ are based. Nevertheless, her designs are internationally showcased and stocked in boutiques both online and instore.
Elbeth knew from a young age that she was intended to study fashion. Brought up in a family of creatives who designed, and hand crafted their own clothing, Elbeth was destined for a rewarding career in fashion.  Now with a career spanning over 23 years, her beautiful creations are a testament of her love and dedication to her craft.
Price range for your dresses
The prices are £1500 to £3500.
Where can they be purchased?
Elbeth Gillis Bridal Collections are available in boutiques around the world. Elbeth, herself, takes private appointments at the Elbeth Gillis Atelier in Cape Town, South Africa.
For more information on Elbeth Gillis go to
 www.elbethgillis.com / FACEBOOK / INSTAGRAM / PINTEREST / TWITTER
this is a sponsored post