Here at Boho we are BIG BIG fans of Grace Loves Lace. Many of our real wedding brides wear Grace Loves Lace, the brand fits the Boho brides' style perfectly. So today we're so excited to share Grace Loves Lace's new collection ICON with you, which launched globally today! You lucky lot are getting an exclusive look at the new designs and I have to say there are some real beauties in this collection! ICON plays to the strengths of Grace Loves Lace – with a comfortable fit, effortless silhouettes and unique laces. The gowns just ooze bohemian goodness, with the gorgeous lines, the off the shoulder styling and the magnificent attention to detail. I just know I will be seeing these beautiful dresses gracing the pages of the blog in the coming years. I would love to know which is your favourite!
ICON is a collection inspired by the most iconic and influential women – past and present. The range is progressive, liberated and adventurous. Not to mention stunning, textural and comfortable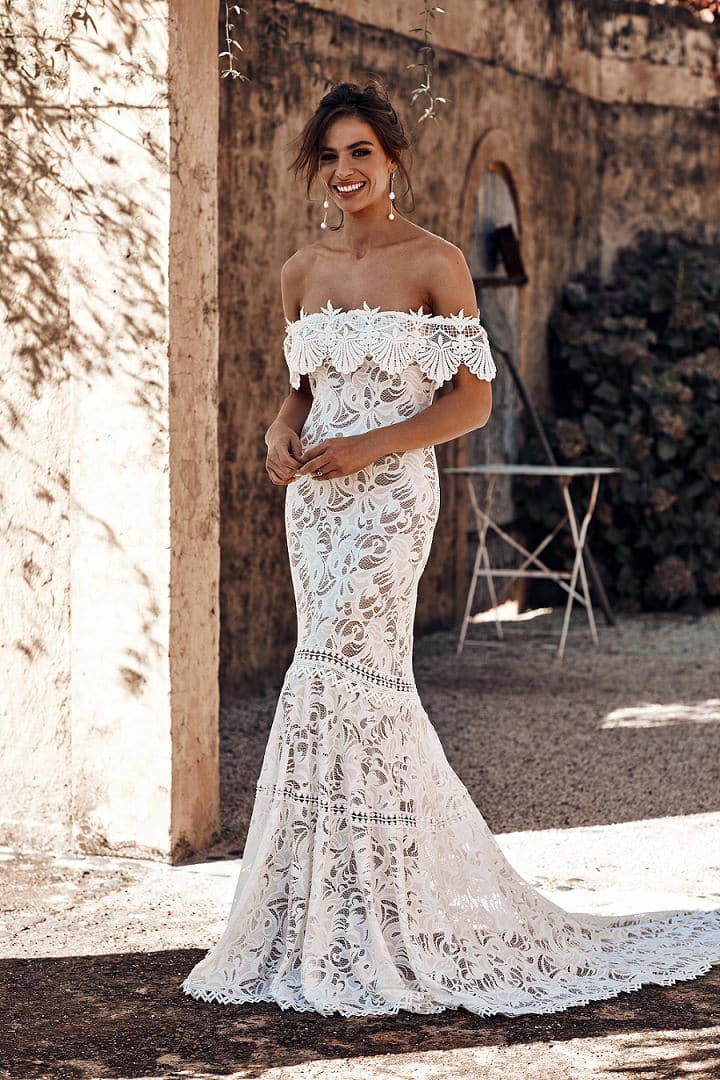 Grace Loves Lace, the original innovators of modern bridal and creators of 'The World's Most Pinned Wedding Dress', are releasing their 2018 collection titled ICON. Motivated by iconic and influential
women, past and present, the range is progressive, liberated and adventurous.
Renowned for challenging the status quo and refuting against restrictive, uncomfortable dresses that don't allow women to move freely, Founder and Creative Director Megan Ziems says the collection is an exciting interpretation of what women want in 2018. "We design for women with a strong sense of self," she said. The range plays to the strengths of Grace Loves Lace – comfortable fits, effortless silhouettes and unexpected fabric combinations. Each dress is treated like a work of art and tells a unique story. Hand cut and sewn from start to finish using artisanal and traditional methods by an Australian team of seamstresses with over 100 years combined experience.
"The collection first and foremost celebrates self expression as a form of personal freedom," said Ziems. "Our dresses are an extension of a woman's substance – they make you FEEL something," she continues.
FRANCA –  £2,370.00
COCO –  £2,540.00 GBP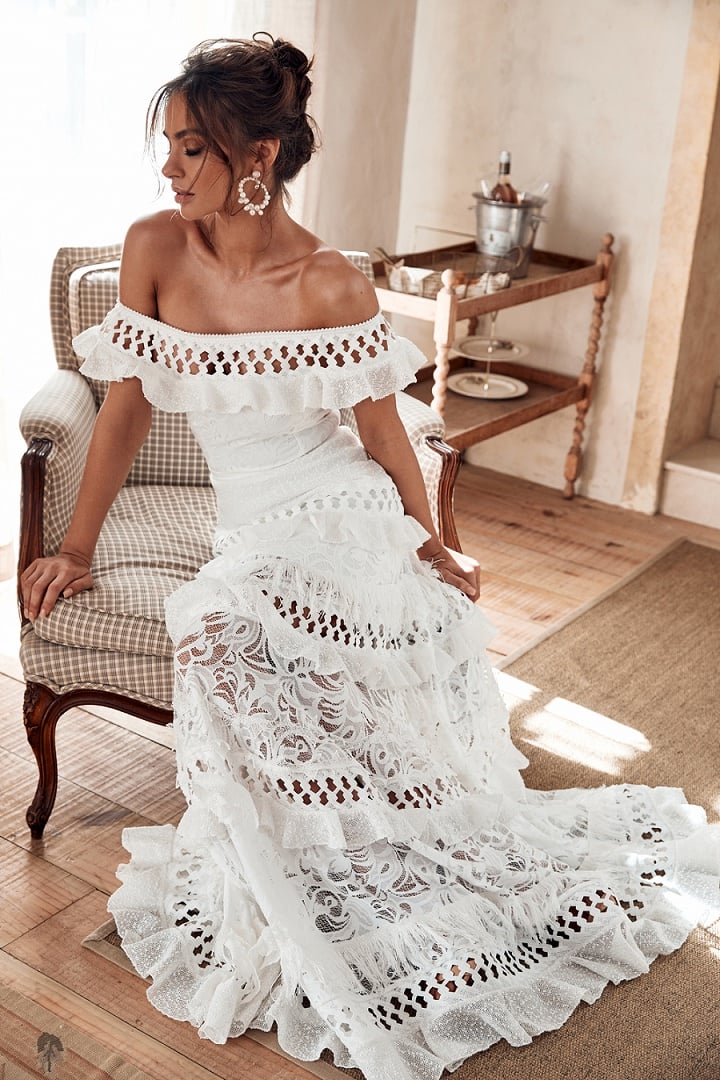 SILK SHIRT – £180.00 GBP 
CIEN – £1,740.00 GBP 
DOMINGA – £600.00
HARRI –  £1,580.00 
Disillusioned with the structured, traditional wedding uniform that dominates the market, year
after year Ziems sets out to change the industry while still lending a gentle nod to tradition, coupling fresh ivory tones and exquisite laces. Created for the woman of style, substance, and passion, ICON is a celebration of women wearing their souls proudly on their sleeves. Handmade in their Australian studio and delivered worldwide, the highly anticipated ICON collection will be available from June 21,
exclusively via the Grace Loves Lace website and Grace Loves Lace showroom destinations.
The supermodels of the 90s photographed by Peter Lindbergh inspired a new mood in fashion and were also a key inspiration to Ziems during the design process. "The notion that wild women should not be tamed is the very reason we refuse to hold them back with restrictive, rigid elements like boning,
corseting and heavy fabrics," she said. Candid, natural and down to earth, the gowns have soul, originality and authenticity. Grace Loves Lace revel in the excitement, creativity and adventure
also introduces a champagne-toned fabric which glimmers like stardust and amps up the luxury
with the finest French Guipure lace.
LEON –  £1,510.00
MARLOE – £2,300.00
LAKE –  £1,190.00
MENHA – £2,300.00
SOL –  £1,980.00
FOR MORE INFORMATION ABOUT GRACE LOVES LACE
www.graceloveslace.com.au / FACEBOOK / INSTAGRAM / PINTEREST / TWITTER 
this is a sponsored post