Today I am back with my regular feature 'Advice from the Married Side,' real life wedding planning advice from all the lovely brides and grooms I have featured on the blog.
I get to feature so many amazing real weddings here on the blog and with each wedding I ask the couple to share with us their wedding planning knowledge and experiences. This post is a super useful collection of wedding wisdom from those who have just got married, to help you on your own wedding planning journey. I hope there will be something amongst these experiences that help you. Happy Planning!
General Advice
The best bit of advice I was given was don't have evening guests-the same people all day! It works really nicely, everyone's got to know each other by the evening and you as a couple have got round to see everyone and say thank you meaning your evening is just time to relax and party!
If you have to hire plates and cutlery, get return dirty so your family don't have to do loads of washing up. I was so glad I found a good company that offered that service.
There's no right or wrong way to get married – the most important thing is that you are happy.
The day will be perfect as long as you have invited your people. Everything else can go wrong, but if the crowd are your people, it will still feel like the perfect day. It's easy to get wrapped up in inviting the people you think you 'should' invite… but the power of a wedding is in the energy and love that comes from the people who attend, so focus on inviting the people you know are going to be part of your journey going forward, and who are going to be truly happy to witness you and your partner marrying each other.
Your big day is the most fun ever – just enjoy. Eat your food! We've heard so many other couples say that they didn't get a chance to eat, but your food is going to be so good so make sure you eat some.
have your ceremony and reception in the same place, having this all in the same location makes things so much easier.
you will be amazed by the love and support of everyone there- they all show up for one reason and it's the best feeling in the world.
Music sets the mood for the whole party, and a live wedding band can make your reception an event that everyone will remember. Our live band made the atmosphere electric, kept guests interested, and filled the dance floor.
Planning
Get a wedding planner if you have an out of state wedding. Our team truly made it a stress free event
Remember that this is your special day.
The minute details of what colour sage the napkins are, or how many tealights should be on each table really do not matter.
Make the most of every moment. ESPECIALLY the wedding planning!
When times get stressful during the planning, always remind yourself that the day is about the two of you and if some things don't work out or go the way that you would have wished, you have each other and your wedding day is about being together for the rest of your lives. It's not about the small things!
Go for an all-inclusive package! It makes the whole planning process an absolute breeze and we literally didn't stress the entire process.
Don't overthink it, it is the people that make it! All the planning stress is absolutely worth it.
Make the day your own
Stick to what you would like to do! There may be ways you can compromise but try to keep it inline with what matters to you!
Just do whatever it is that you want to do! People will always have an opinion about what you do/don't do/spend/ don't spend but as long as it's what you want then you'll always be happy with your choices!
Not worry so much what others think and to enjoy YOUR day.  Do not feel the need to cater to others, it is your one day that is all about you!
Do it your own way. Don't worry about following tradition – ultimately, this is your day, and you should make the day reflect who you are as individuals and as a couple. You'll feel more comfortable and more relaxed, and the day will be far more memorable for you.
Don't lose yourself in the planning, and don't do what doesn't feel authentically "you" as a couple.
Also.
Getting organised
Our advice is to entrust their celebrations to a good wedding planner, especially for destination weddings and rest assured that their day will come out perfect!
Make things yourself where you can! It's great fun being crafty and you can save loads of money.
Hire a wedding planner, it will save you time, money and keep you calm even when times are not going as originally planned.
Make your wedding as personal as possible and ask your guests to video and take pictures of parts of the day. It makes a lot of difference having lots of peoples different perspectives of the day.
On the day
Just have fun and be in the moment! It goes so fast!
 A piece of advice someone gave to us was to take a step back from the reception for 3 minutes and stand in the back and just watch everyone enjoying themselves. Take it all in. Watching everyone dancing and laughing makes all the planning, stress, and money all worth it!
As soon as you wake up on the day of the wedding, let it go. You've done all you can so just enjoy it and don't worry about it.
Remember to take it all in by stepping back and watching everyone you love celebrate your love because it will go past in a flash.
Brides- if you can, try look at your loved ones as you come down the aisle as that was a very special moment for me.
When people say it goes so fast… it is true. Be present, be joyful, and be persistent!
Throughout the day, take a few moments where you take yourselves out of the party/goings-on, stand back a little bit, and take a few deep breaths together. The day moves so fast, and it is true what they say that it is over in a flash. Taking a few little pauses together throughout the day creates a sort of 'mental photograph', it gives you space to feel all the emotions you are feeling, and it helps to slow down time.
Every now and again, just look around the room and have a moment to absorb it all—everyone is there because they love you, and that's incredibly special.
Enjoy every moment – the day flies by!
if anything goes wrong, no one will notice and you won't care on the day!
If something goes wrong put it in perspective- are your guests still having fun? Does it matter in the long run?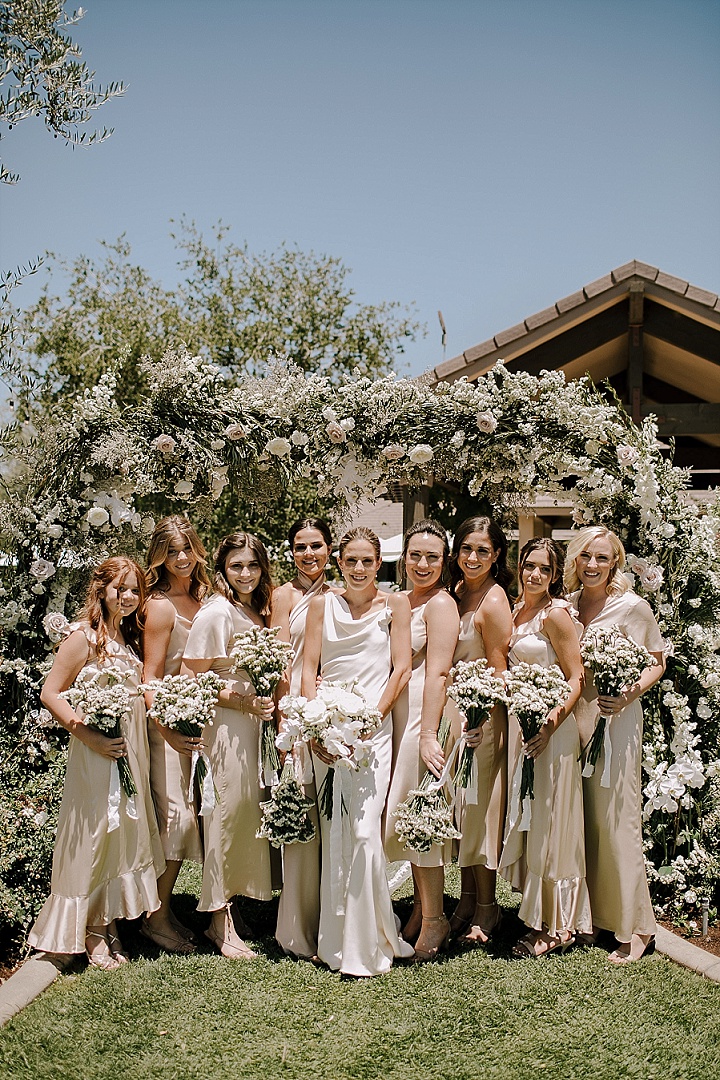 I hope you found these pieces of advice helpful. If you are already married is there anything you would like to add ? Was there anything in these words of wisdom that has resonated with you?
Is there something you would particularly like to ask me  for advice? any questions just email me [email protected]
BIG BOHO LOVE
KELLY XX