Today is a two post day starting off with the gorgeous wedding of Diego and Ryan who were married on 4th September 2022 at New Hope in Pennsylvania. This couple are totally besotted with each other, their love oozes through the photos, they even wore the same outfits and had the same manicures. The attention to detail in this wedding is first class, from the stunning ceremony to perfectly put together reception decoration. As for the party, Diego and Ryan sure know how to let loose on the dance floor, as do their guests! What a fun filled, loved up wedding it is! Big thanks to Ashley Griffin Photography for the fab photos.
"We took a chance and swiped right on each other. Over the next three years and a half years, our bond grew stronger through our mutual love of cookies, Taylor Swift songs and our dog. On September 4th, we officially tied knot and started our happily ever after in a fairy-tale wedding. We stand together proudly now as Diego and Ryan Hernandez-Hennessey."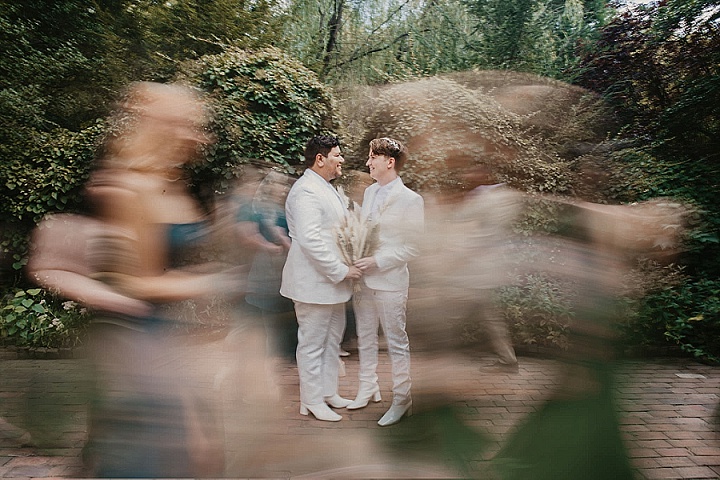 Ashley the photographer tells us more 
Ryan and Diego found me through a mutual friend and immediately it felt as if I had known them for years. From our very first phone call we bonded over all things Taylor Swift as they told me the different little Easter eggs that would be in their wedding. Diego is a graphic designer and Ryan is a Taylor Swift impersonator and the closest I'll ever get to meeting Taylor Swift. In that moment I had never felt like I needed to photograph a wedding more in my entire life. This wedding was made for me!
Holly Hedge Estate was the perfect backdrop giving off Folklore vibes from the ground up. The vines that covered the gate and the old stone building paid tribute to a Love Story written by her majesty, Taylor Swift. A little stone house sat nested in the woods surrounded by beautiful ferns below a natural pond. The sunlight was shining golden onto the grooms as they declared their vows to one another. The bridesmaids wore cardigans atop their green jewel-toned dressed that blended so perfectly with the scenery around them. It was like they belonged there and it was truly a fairy-tale.
From their perfectly pressed white suits, which were similar despite the fact that they wanted to surprise each other, to their astrological manicures and Ryan's snake clasp belt; every detail was strategically planned and perfectly placed. Just as Ms. Swift would do so herself! Every detail accounted for.
Instrumental music played through the courtyard as the ceremony began. The soft sound of water from the fountain gave a calming energy to the guests as they waited for guests of honor to enter. Their flower girl tossed dried petals from a bouquet given to them the night they got engaged, lining the aisle with memories and love. Diego and Ryan walked down the aisle in high heels and cobble stones accompanied by their loving parents. I think it's safe to say every guest had diamonds in their eyes during the ceremony.
After the ceremony, hugs and cheers were exchanged among guests and the grooms. There was laughter and love that radiated through the venue. They truly made that whole place shimmer! Champagne was sprayed and the party was about to get started! After a few photos of course…
I stole Ryan and Diego away for a few moments to capture their love now that they were married! There was so much excitement, so much happiness, and so much more fun to be had. We popped champagne, walked in the woods, went to the spot they had their engagement photos taken and just thrived in this beautiful venue.
Their reception left not a single person sitting in their chairs. Every tune that came on radiated energy and fun. You could feel Diego and Ryan in the music. They crafted the perfect playlist to be a reflection of the two of them and their lives together. As if the ultimate playlist wasn't enough, two of their friends performed by singing songs for their dances with their mothers and a dance with each other. Their voices sent shivers down my spine as the lyrics radiated through the room.
Ryan and Diego danced the night away and I was sad when it was time to leave one of the best weddings I've ever photographed. I'll never forget their wedding day as I'm sure none of their guests will either. What once was the beginning of a Tinder romance, will now be forever and always, a life full of love…and epic dance parties!
Supplier Shout Outs
Ashley Griffin Photography