Happy Friday everyone! and welcome to another (hopefully) sunny bank holiday weekend here in the UK! And if you have children it's also the start of half term, so a week of fun ahead of us all! Do you have much planned for the week? I have just about recovered from last weeks wedding! It was such an amazing day, everything went to plan which is always a bonus. This weekend I am planning on making the most of the sunshine, getting out with family and friends and enjoying the bank holiday! Today I have this gorgeous Yorkshire woodland wedding to share with you and it's a real beauty of a day. The sun shone, the bluebells were plentiful, the flowers were stunning in their pastel glory and the tipi looked amazing with the internal draping. Michelle and Adam held an awesome day, and they look so happy, what a perfect wedding it is! Big thanks to Laura Calderwood Photography  for these beautiful images.
Absolutely perfect. Our hearts were completely full.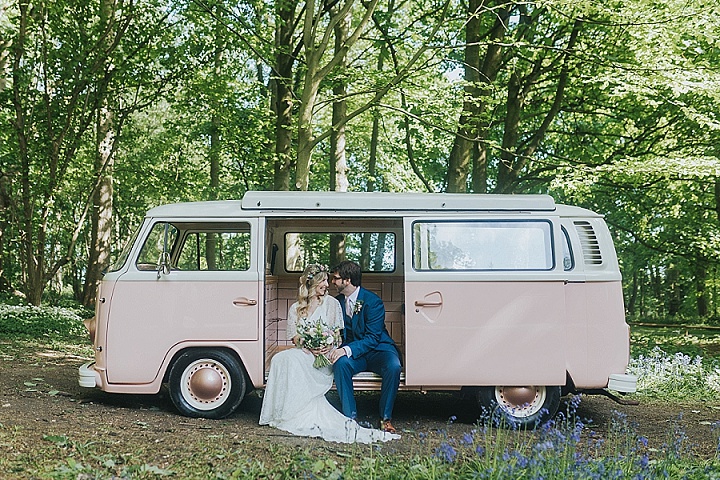 Michelle and Adam were married on 14th May 2022 at Hazlewood Castle (woodland venue) 'We'd always thought a woodland wedding would be ideal for both of us as we both love going for woodland walks (especially in spring), and it just felt more "us" than any other venue as we didn't want a really formal wedding. And the castle backdrop was a nice nod to Adam's interest in history, too. We had 65 day guests, with an extra 20 for the evening do. We gave ourselves the best part of two years to plan everything and save up, to avoid unnecessary stress.'
How they met
We've been together for 6 years, and we actually met online. As Michelle is originally from York and Adam is from London, that might not have happened any other way, so thank god for dating apps!
The proposal
It actually happened during the first lockdown. We'd been out for a walk (in a woodland in Surrey) and we'd just got back home. We were both feeling very content and it just happened very spontaneously and very organically. There wasn't a big reveal or a huge amount of planning beforehand, it just happened when the time felt right.
How did you allocate your budget?
We didn't have a specific figure to refer to, but we were very conscious that we wanted to pay for the wedding ourselves and that we'd need to live within our means. The budget wasn't huge (by modern wedding standards), but it was enough to get everything that we wanted.
Where did you splurge and where did you save?
The biggest expenditure was the venue, but the wedding package we were offered was incredibly good value and helped us to save money by not having to source food and drink from elsewhere as it was all included in the price. We also saved simply by not having a huge wedding. We only invited our closest friends and family.
How did you choose your photographer?
We looked at lots of different websites and compared styles. We didn't want our photos to look staged or formal; we wanted them to be as natural as possible so they would reflect the laid-back, informal vibe of our wedding. Once we had our initial meeting with Laura, we knew that she would be a perfect choice as we felt very comfortable with her.
The dress
The dress was hand-made with luxurious eco-friendly fabric from Rolling in Roses in York. Wedding trainers were from Kate Spade. Accessories were from Oliver Bonas and Lace & Favour.
The suit and bridesmaids
The groom's suit was from Modigliani Tailors in Kingston-upon-Thames. Adult bridesmaids' dresses were from Coast. Junior bridesmaids' dresses were from Next.
Theme or colour scheme
We didn't have a formal theme or colour scheme, but it was inspired by spring wildflowers with pastel shades to fit with the woodland setting.
Flowers 
We had a selection of wildflowers, including wax flower, lavender, eucalyptus leaves, lots of greenery and vintage blush roses.
Decoration 
We didn't go overboard with decoration as the setting was already so beautiful. The decorations we did choose were adornments; In the tipi we had rustic bunting and garlands, wood slices and gin bottles as vases for the tables (with more wildflowers). Outside we had a flower arch around the pagoda where the ceremony took place, a selection of hanging wooden hearts and fairy lights among the trees, wooden signage, a vintage bicycle with a basket full of confetti, and the back end of a classic mini which was used as a serving station for drinks.
Food
We had a barbecue with a selection of rustic breads and salads for the main meal. In the evening we had wood-fired pizza, all provided by the venue.
Wedding cake
The cake was a three-tier sponge (with three different flavours), with a white-chocolate ganache. Locally-sourced edible wildflowers were pressed into the ganache. The cake was made by Where The Ribbon Ends at Jervaulx Abbey.
Entertainment
We hired a folk band called Nashville Heat to provide entertainment throughout the day. One of the band members performed a solo acoustic set during the drinks reception prior to the meal, then we had a full-band set in the evening, followed by a DJ set to close out the night. We were aiming for a bit of a festival vibe with the reception, and were very happy that the band helped us to achieve that.
In addition to the band, we hired a campervan for the day that we used for our wedding photos, and which later doubled as a photo booth for guests and ran the wedding guestbook. The van was provided by Birdie, who also provided the Mini and bicycle as part of the package.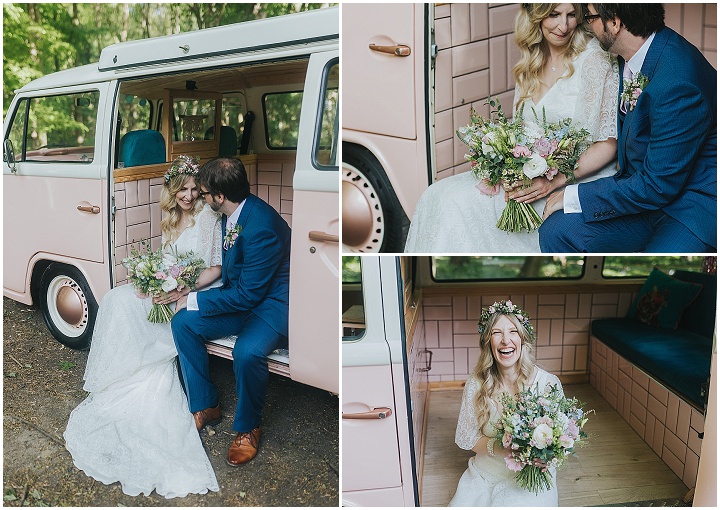 Who supplied the stationery?
Poppy Forrest Kraft provided our wedding stationery.
Where did you go on your honeymoon?
We went on a mini-moon to Malham in the Yorkshire Dales (the first place we went to on a mini-break as a couple) for 3 nights, but we are still planning our honeymoon.
Personal touches
We provided a vintage tea set/station ourselves, and Michelle hand-made the table plan. We also provided wildflower seed packets as a wedding favour, and activity sheets and pencils for the younger guests.
As a personal touch, we chose our own music for the wedding ceremony, which was a selection of songs that mean something to us from our relationship, and avoided traditional wedding music.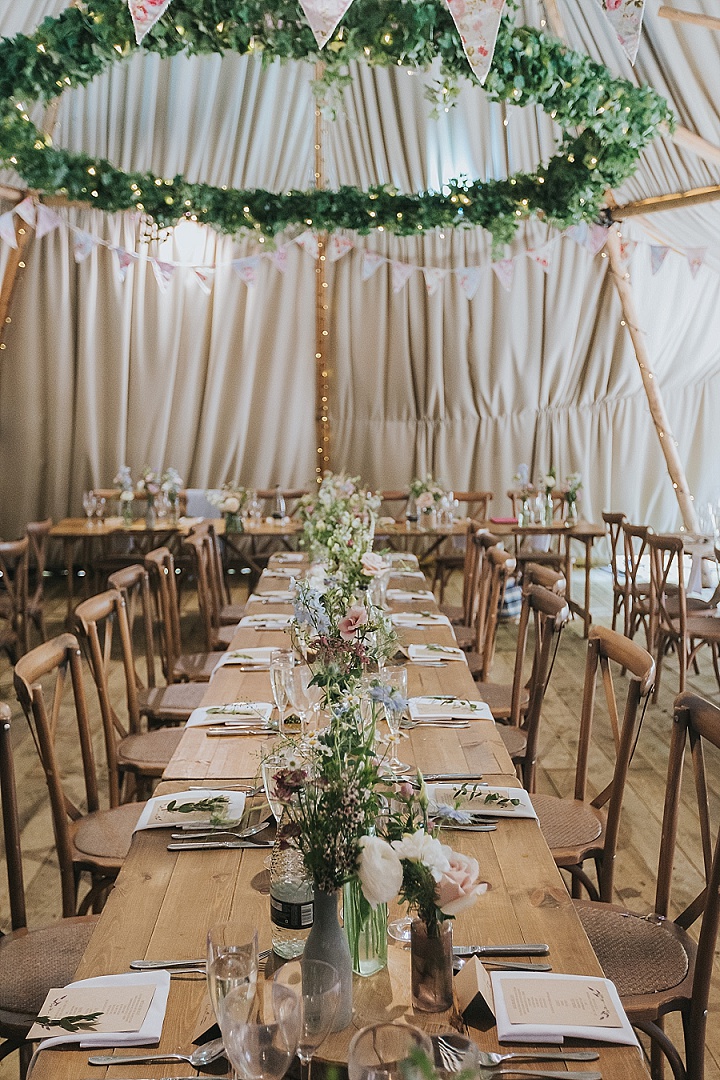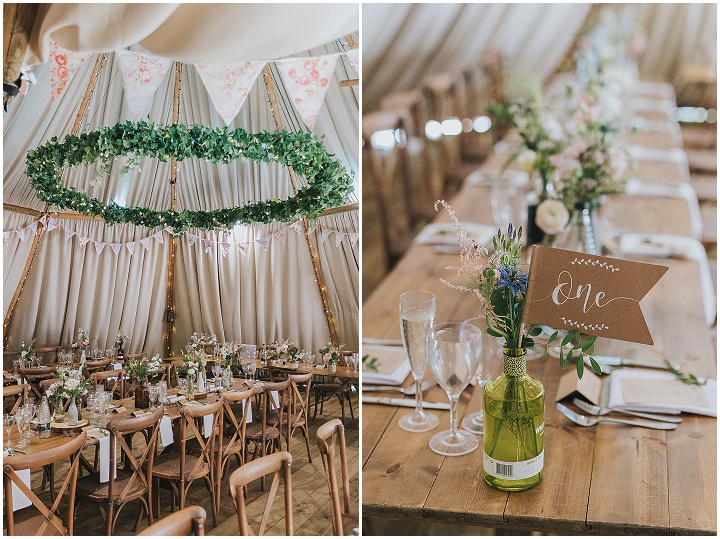 Special moments
For Michelle, the most special moments of the day were seeing her mum and dad's first reaction to seeing her in her dress, the moment we made our vows, having our photos taken with the campervan and among the bluebells in the woodland, and the all-important speeches.
For Adam, in addition to the moments Michelle has chosen, the most special moments of the day were first seeing Michelle arrive at the pagoda, turning around after the ceremony to see his dad give him a discreet thumbs up, and getting through his wedding speech without embarrassing either himself or Michelle.
Advice for other couples?
Do it your own way. Don't worry about following tradition – ultimately, this is your day, and you should make the day reflect who you are as individuals and as a couple. You'll feel more comfortable and more relaxed, and the day will be far more memorable for you. There's no right or wrong way to get married – the most important thing is that you are happy.
Biggest surprise 
The weather. We had the most perfect, beautiful, sunny spring day that you could imagine, after a spell of bad weather leading up to the wedding. And also, how quickly the day went. Following on from the question above, and bearing this in mind, we'd advise all couples to savour the day as much as you can, because it really does fly by.
Supplier Shout Outs
LAURA CALDERWOOD PHOTOGRAPHY 
www.lauracalderwood.co.uk / www.lauracalderwood.co.uk/blog / FACEBOOK / INSTAGRAM