There are truly many things that a bride has to consider for her wedding day. Wedding dress, bridal shoes, all bridal accessories, bridal bouquet, and, of course, flower decorations. Flowers are the stars of any wedding design and conjure up a romantic mood in every season, especially so if you plan a stylistic wedding, like Boho, in autumn! There is so much choice when it comes to an autumn wedding the colours are AMAZING! You can really go to town on the decoration and bring the outside autumn colourways into your wedding design. Today we are looking at what is on offer and how you can incorporate these gorgeous autumn flowers into your wedding décor.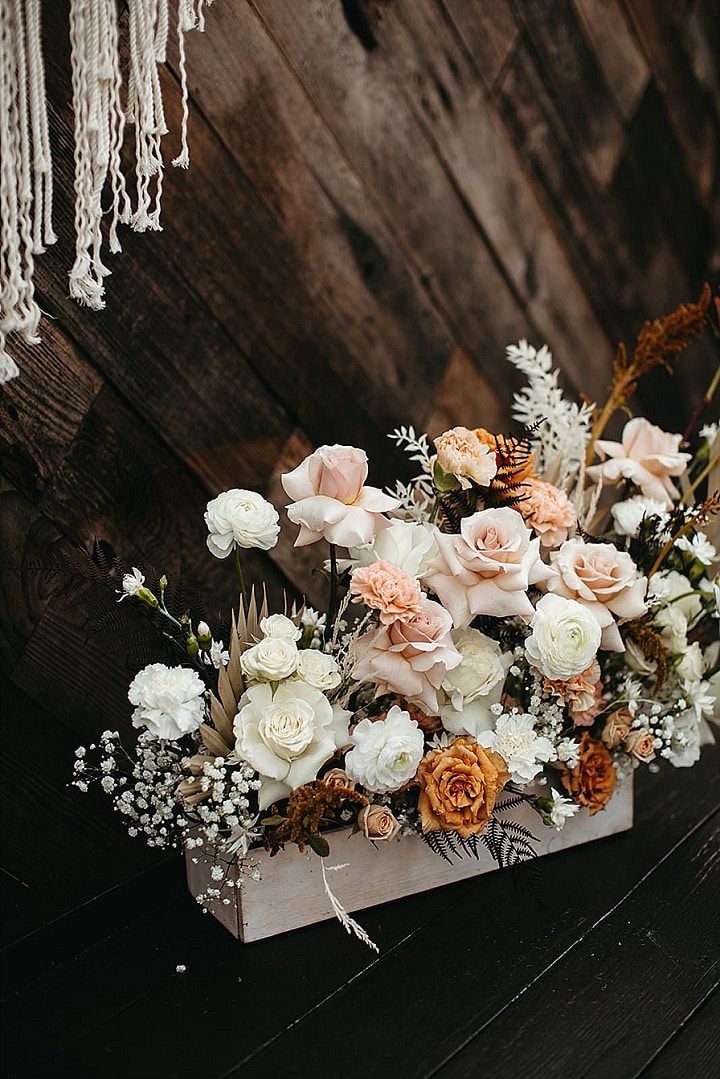 Flowers – as colourful as autumn
By "autumn" florists mean the months of September and October. This is a time when nature offers a breath-taking spectacle. As the days are slowly getting shorter, it's even nicer to be able to bring this magical mood to a wedding.
There is a wide range of flowers to choose from. The most popular options are celosia, chrysanthemums, thistles, autumn asters, rosehip branches, pincushions, and physalis.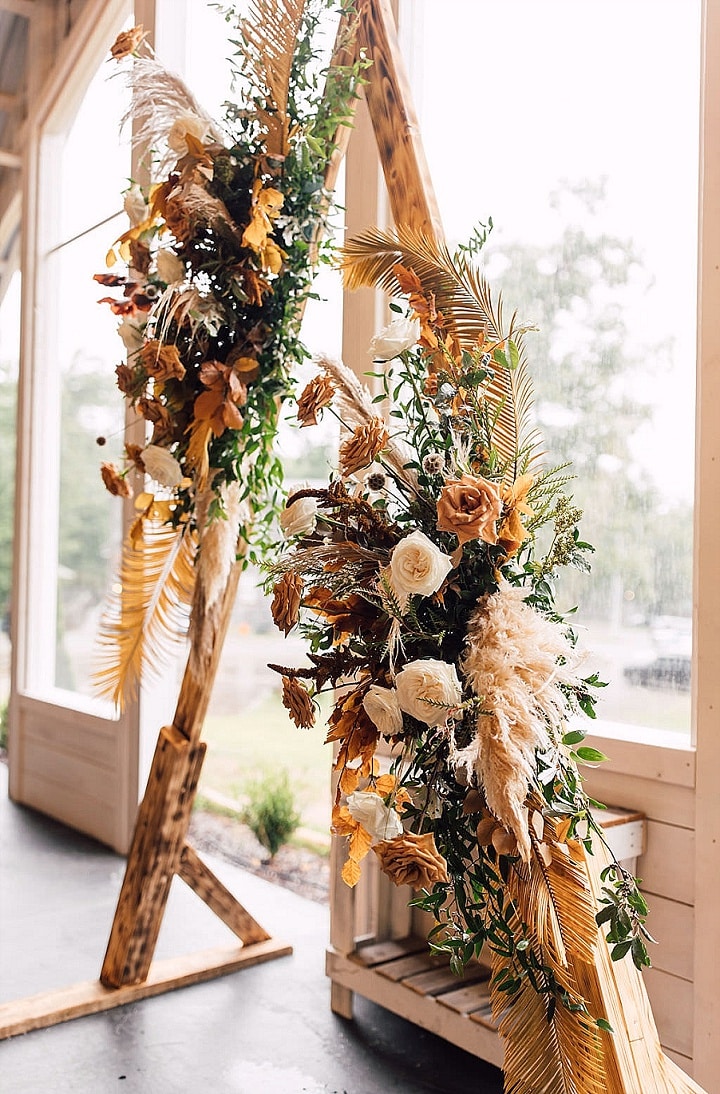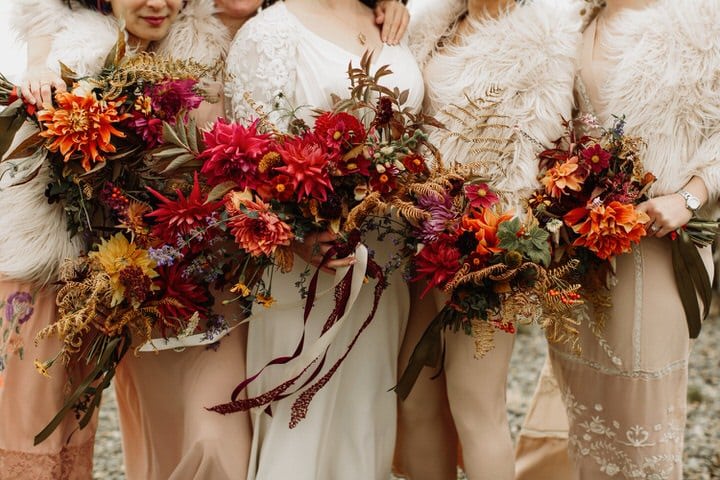 Chrysanthemums and autumn asters – colourful and long-lasting
The chrysanthemum bouquet is colourful, beautiful, and the flower itself is considered to be a symbol of happiness. Among chrysanthemums, decorative varieties with their flowers up to 8 inches in size are particularly eye-catching.
But the intensely bright shades of autumn asters, ranging from pink and red to purple and blue, too can not be overlooked. In short, chrysanthemums and asters keep you in a good mood even on foggy days, and they last a long time. Chrysanthemums are usually available from September to early November, and autumn asters from mid-August to late November.
Thistles – extravagant
If the term "extravagant" doesn't mean anything to you, you should take a look at the blue noble thistle in autumn. You might even become a fan of this flower from the first look. True, the blue thistle has spiny bracts but it is very special with its steel blue flower. In the flower store, the blue thistle is available from the beginning of August until the end of December.
Rosehip branches and physalis – bright colour accents
After the lush blooms in the summer, rosehips make their second big appearance in the fall. This is when the orange-red and sometimes even almost black fruits emerge and provide color. This also applies to the physalis. There, the orange lanterns make the branches something special. Especially because in the small lantern sits an orange sweet berry, which you can eat.
But whether you choose rosehip branches or physalis, they not only look good in bouquets but are also a wonderful decoration in the vase. Rosehip branches are available from mid-August to the end of December, and physalis from mid-August to the end of November.
Celosia – striking in shape and colour
Fiery colours and lush flower shapes, are the characteristics by which you can recognize the celosias. These extraordinary flowers come in white, red, yellow, pink, purple, orange, green, or multi-coloured.
Celosia is considered a symbol of boldness. So, if you want to give courage to someone, this is the right choice. Celosias are available from early August to late November.
Pincushion – pure joy
With their bright colours ranging from yellow to red, South African pincushions add a lot of life to bouquets. They have very long, narrow stamens that rise up like needles, earning the plant its name. As cut flowers, pincushions are a beautiful addition to autumn bouquets, because their bright colours express a zest for life. Pincushions are available from mid-August to late December.
What else is available in autumn?
While a bridal bouquet of peonies looks adorable, you'll still have a hard time getting these flowers in the autumn season – unless your florist can somehow find them. Therefore, autumn flowers are the best options to decorate according to the season. Mix them with individual leaves, cones, branches, and elements made of wood. This will create wonderful centerpieces for the wedding banquet or stunning floral arrangements for the wedding ceremony.
Roses in various shapes and colors are always available. They, of course, are the classic, after all, they are the symbol of love. They are also particularly popular for weddings in red, pink, and white. The choice of varieties is wide and, accordingly, the price range. In addition, various fruiting plants are also can be found. In early winter, the amaryllis in different colors, the first anemones, or even Christmas roses are available.
Many people choose a cooler colour palette for a Boho wedding. White and créme tones combined with sage green, soft gray-blue, and gray-green. This can be decorated both very classy, but also goes very well with warm wood tones and a more rustic ambiance. Also very nice are warm dark reds, such as Marsala or Bordeaux red, combined with old pink and purple foliage or leaves. This combination also blends well with the golden autumn foliage tones.
Whatever flowers you choose, just make sure that you like their look, everything else does not really matter.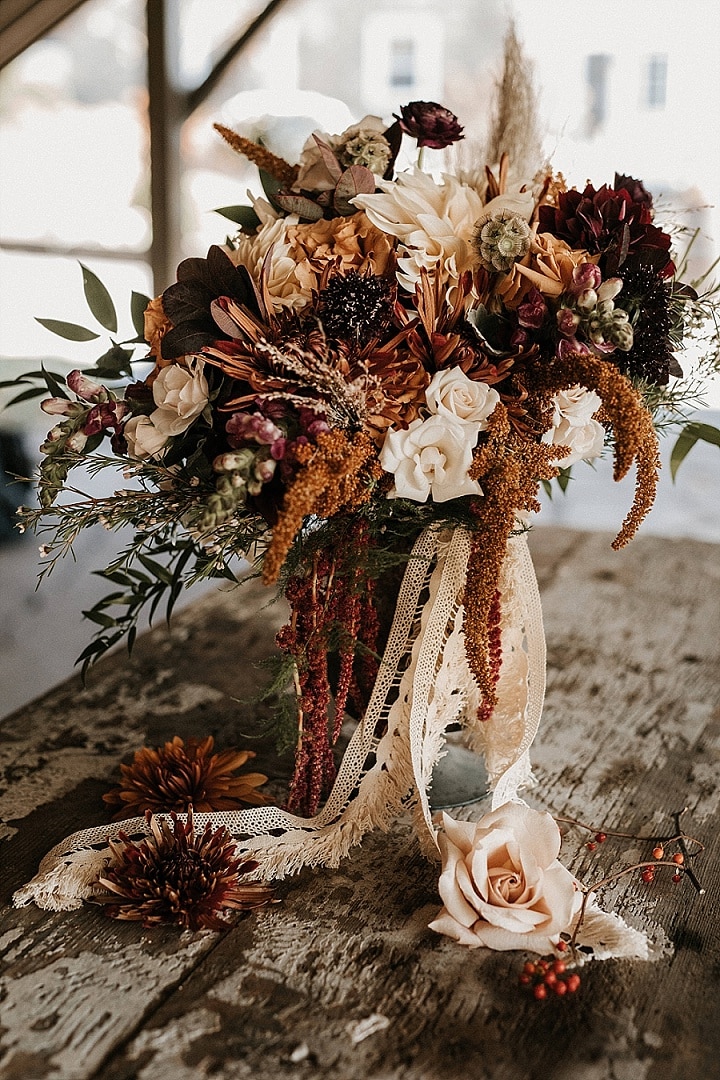 Read more wedding related news:
this is a collaborative post