Hello everyone and welcome to another fabulous Monday! How was your weekend? Mine was lovely. I feel rested and caught up with all my jobs, ready for the week ahead. As we enter week 7 of lockdown, let's hope there is some good news for us at some point this week. I am starting the week with this gorgeous fall farm wedding. I wanted to share it with you 1) because it is picture perfect and 2) To show those of you who have postponed your summer wedding to the autumn, that autumn can be just as amazing to get married in. The warm, rusty colour scheme, the soft tones, the gorgeous flowers and the rustic decor all pull together to make this the most stunning of weddings. Emily and Derek both look amazing, and the photos with their daughter are just the cutest ever! Big thanks to Tori Kelner Photography for the beautiful images.
The best day ever! A truly magical night with loved ones and close friends.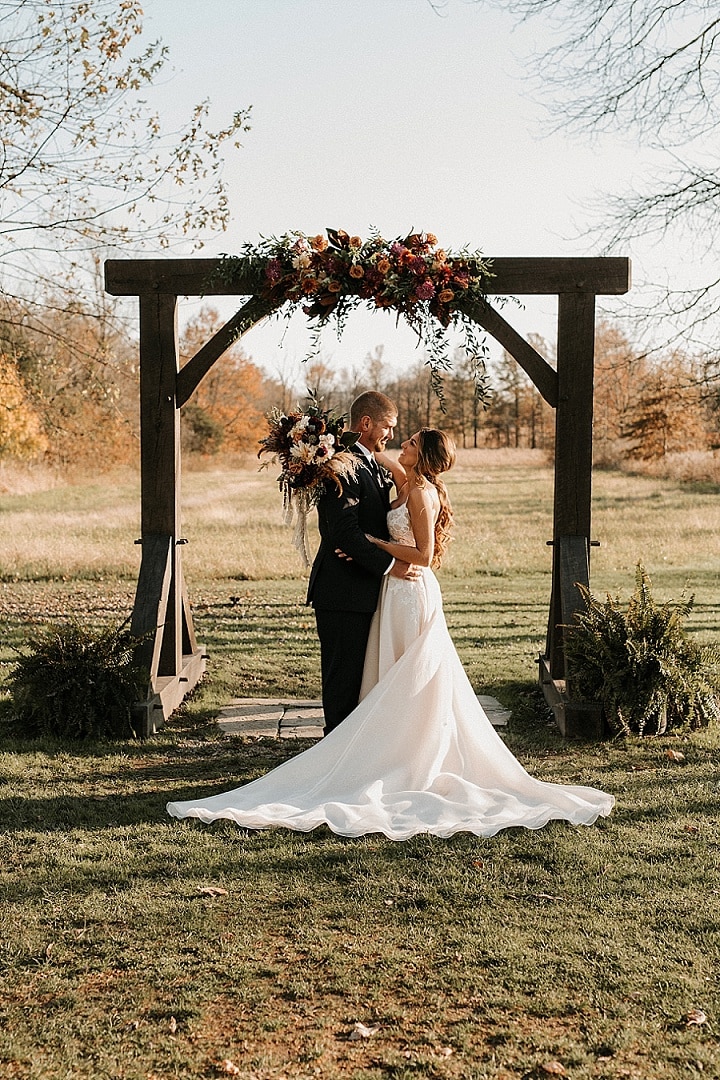 Emily and Derek were married on 2nd November 2019 at The Farm Bakery & Events in Quakertown, Pennsylvania. 'We were looking for a rustic/boho barn location that was able to accommodate both the ceremony and reception as well as all the visions we had hoped to make come true. we had 120 guests. We spent two years planning our wedding but most of the planning was done the year of.'
How they met 
Derek and I met through Instagram actually, and now we've been together five years and married for two of those (we married May 22, 2018 at the courthouse prior to our wedding)!
The proposal
We were taking photos for our family Christmas card an at the last photo spot Derek got down on one knee in the snow an proposed, it even starting snowing! I was totally shocked, it was really so amazing to have the proposal photographed and our daughter there to share the special moment. Derek did a damn good job secretly planning the whole thing.
How did you allocate your budget?
I had done research online about budgeting for the wedding first, getting the average price ranges for all the different services/vendors, then I set a individual budget for each vendor/service we were going to use. We didn't want to break the bank to have our ceremony especially since we were technically married at that point, so some services we nixed out all together. We did go over the budget I had initially set but we were fortunate enough to have family help pay for a portion.
Where did you splurge and where did you save?
Derek and I splurged on the things we felt were most important (food, drinks, and photographer). I am naturally a frugal person so I would say I saved everywhere that I could. To be more specific I limited the amount of floral arrangements, florals although they are beautiful, they are a one time use so instead of having arrangements on each table I did a simple garland an purchased twinkle lights, lanterns and flameless candles, I had the three bouquets (bride, MOH, flower girl) made more intricate (I saved those three an dried them out an use them as decor around my house now), an I did a medium sized arbor piece but that's it! Also having a smaller wedding party saves on hair/makeup, time needed to get ready, wedding party gifts, and having a smaller/more intimate guest list saves on invites needed/food/drink/an the amount of rentals.
How did you choose your photographer?
This was a long process because it was one of the most important things to me. I spent months googling, instagramming, and Pinteresting photographers. Then reaching out to the ones I found that matched what I had imagined. And let me tell you I am not a photogenic person, I'm quite awkward actually so finding someone that I was comfortable with was a big thing for me. Tori Kelner was the match made in heaven, I could tell immediately from her emails that she was so upbeat and down to earth. We booked her wedding package which had a free two hour engagement session and I kid you not she literally walked us through the entire process of everything. She gave us tips on what to where, helped us with our timeline for the wedding, and made all the photos fun!
The dress 
My dress was Paola by Tara Keely by Lazaro. I had a pair of earrings that were once my grandmothers who had passed away and I wore my oldest/favorite Justin cowboy boots.
The suit and bridesmaids
My husband and his brother/best man wore Joseph Abboud Navy Satin Edged Notch Lapel Tux. I got my daughters flower girl dress from Macy's and my sister/MOH got her dress from Lulus, I let her choose whatever style she wanted I just told her it had to be navy.
Theme or colour scheme
Theme was fall/boho/rustic/romantic and colour scheme was burgundy, navy, gold, sage green, burnt orange, just take a look at the bouquet that's the most accurate representation of the colour scheme haha

Flowers 
The flowers were breathtaking! I had toffee coloured roses, pampas grass, dahlias, seeded eucalyptus an other textured greens and lord a ton of others that I don't know the names of, you'd have to ask my florist.
Decoration 
Decorations were one thing we didn't go crazy on, the Farm is so beautiful in itself that other than our centre pieces we had some borrowed pumpkins, and signs but that's it, really quite minimal.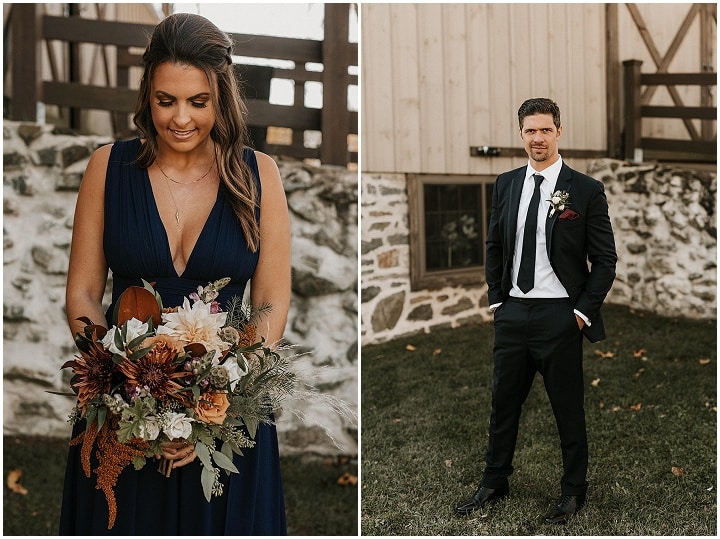 Food 
We had bacon wrapped filets, pulled pork, parmesan crusted tilapia, herb potatoes, Mac and cheese, green beans, and glazed carrots.
Wedding 
The Farm baked all our desserts, we did a small cutting cake only and an assortment of mini pies (salted caramel apple, pumpkin, and triple berry), bunt cakes (Lemon lavender), and cookies for guests (chocolate chip, oatmeal raisin, an snickerdoodle).

Entertainment
We had Chris Marx events as our Dj, as well as a bonfire with s'mores table (that counts as entertain right?)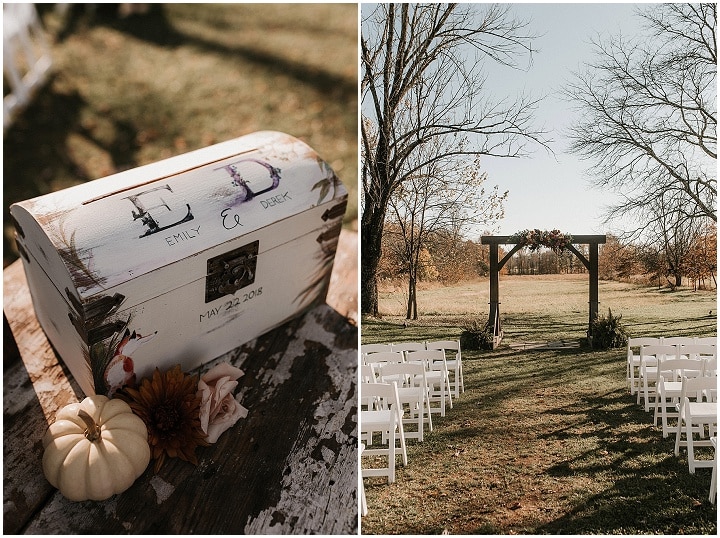 Who supplied the stationery?
Feel Good Invites
Where are you going on your honeymoon?
We have not booked or gone on a honeymoon just yet it's in the works but we aren't in a rush.
Personal touches
I supplied the lanterns and twinkle lights for centre pieces on the tables an a wooden sign for our sweetheart table that read "forever & ever amen" and we had a gift from Dereks uncle, a card box that was painted to match our invitations.
Special moments 
Definitely the first look with my husband, it was really nice to just get that time just the two of us before the craziness started. Also getting ready with my daughter, to see her excitement and having her be apart of everything is so special.
Advice for other couples
Don't feel pressured to do what others expect, this is you and your fiancé's day so make it exactly how you both imagined.
Biggest surprise
How smoothly everything ran day of! We couldn't have asked for a better team of vendors!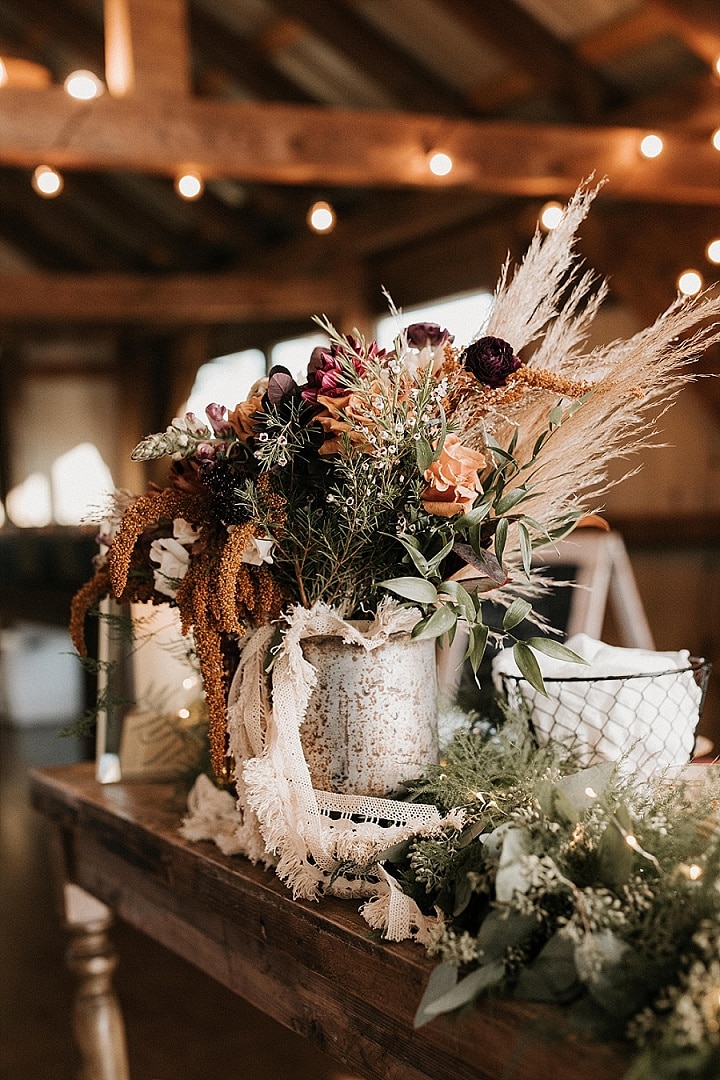 Supplier Shout Outs
For more information on Tori Kelner go to
www.torikelner.com / www.torikelner.com/blog / [email protected] / FACEBOOK / INSTAGRAM / PINTEREST
Tori Kelner is a wedding and elopement photographer based out of central New Jersey for quirky, nontraditional, adventurous couples. Her earthy and warm aesthetic lends itself to nature, and she has a passion for capturing wildly fun, raw, intimate love stories.