We have the most stunning Scottish wedding for you today, courtesy of The Curries. It's features an outdoor beach ceremony set on a rather windy autumnal day, but Ruth and David, made the most of their amazing backdrop and embraced the autumn weather, resulting in some stunning portrait shots. Mix these in with the wonderful venue, that they really went to town on, brightly coloured paper lanterns, personalized place names, amazing home grown bloms. Well the results are this fabulous, detail heavy and fun-filled, stylish wedding. I know you are going to love it.
The most perfect day ever. The most overwhelming feeling of togetherness and love, it was just wonderful.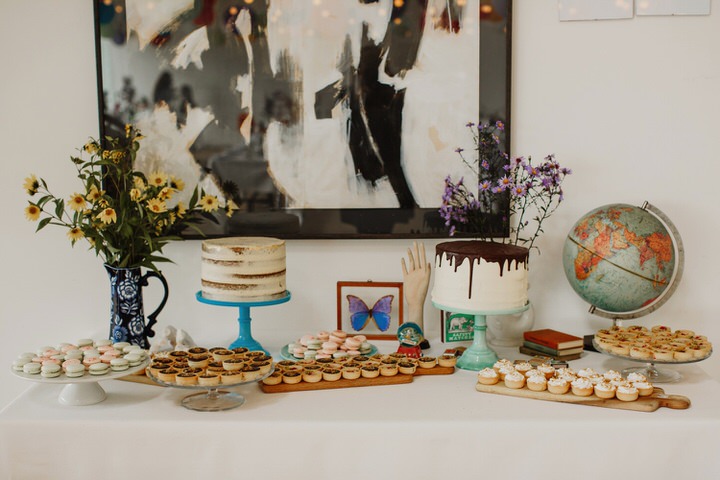 Ruth and David were married on the 8th October 2016 at Crear, Kilberry Scotland. 'We found Crear when I googled "Scottish, wild, wedding" it popped up and we thought it looked perfect so arranged to go and see it. I'm from Glasgow originally so we had already agreed to have our wedding in Scotland in the most beautiful location possible and Crear 100% met the brief.  We have a little baby (not so little now) so having somewhere close by to put him down for a nap was essential. Crear has x 6 beautiful rooms on the location so we had our closest friends and family stay in the house with us. We also didn't want to have too much of a 'weddingy' wedding and Crear has such a lovely relaxed feel and absolutely beautiful views of the coast and the isles of Jura & Gigha so was perfect. We wanted to get married on the beach but if it had been raining we had the option to do the ceremony in the reception room if we needed to. We had 80 guests. We took about 8 months to plan the wedding although it was over a period of about a year and a half.  I was on maternity leave at the time so there was a lot of juggling. We first saw Crear in the April 2015 and got married in October 2016. 
How they met
We had been together about 18 months before we got engaged and had been together just over 3 years when we got married. We actually met at Glastonbury festival in the backstage bar! We both work in music and had a mutual friend who I was telling about how I had fallen in a ditch the night before and managed to pull a 7ft security guard and my friend's boyfriend at the time into the ditch when they were trying to help me out. This made David laugh and we got talking and went to see The Rolling Stones together. We spent the next 12 hours together exploring Glastonbury and talking about all elements of life, we had our first kiss at the stone circle at sunrise. The rest is history!
The Proposal
They proposal was pretty epic. We were on a road trip in the US from LA to Alabama. We stopped off to go and visit the Grand Canyon. We went to find the perfect spot in the snow for a picnic with the most amazing view and where no one was around. David got down on one knee with the most perfect vintage diamond engagement ring and I nearly fell over the edge! I said yes of course. We saw wild deer just off the track on our way back to the car which was pretty cool too.
How did you allocate your budget?
Most of the budget went on the venue and the food but these things were so important to us we didn't really mind. I had budgeted £350 for shoes and ended up spending £20 on a pearlescent pair that were perfect!
Where did you splurge and where did you save?
We saved on the stationary as David designed it all which was nice and personal. My mum also did the flowers for the tables which saved us some money too although we ended up topping up from Pyrus. My dress ended up being less than I had thought, I had been obsessed with a dress which you could only get in Australia which was over 3 times the price of the dress I ended up going with. We worked out that our priorities were my dress, the pictures, the location and the flowers and went from there. Fortunately the venue came with an amazing chef and team which made things a lot easier. It meant we had less to organise which made things easier with little Milo taking up a lot of our time. We had a rough budget which we pretty much stayed within.
Why did you choose your photographer?
We did some research online and came across The Curries. We didn't want a traditional photos with posed set-up, for us it was really important for someone to document the day and really tell the story as it happened. The Curries did this amazingly and were also a lovely pair of people to have around on the day. We loved working with them and have recommended them. In fact David's Best Man is using them for his wedding this summer.
The Dress
Dress from House Of Vintage Bride, this is a beautiful little boutique in London. The first time I went there I didn't find anything but on my next visit I found my perfect dress. Marcia who works there has the most amazing selection of vintage dresses that she picks up from all over the world. I got a beautiful 1920s wax headpiece from Marcia too and then wore an amazing floral crown made by Pyrus for the reception. One of the first items I found was a little lace cape from Charlie Brear which I also wore for the reception. The Shoes were vintage, £20 from Absolute Vintage on Brick Lane.
The Suit and Bridesmaids
The suit was from Hardy Amies. The Bridesmaids dresses were from Other Stories, Zara and ASOS.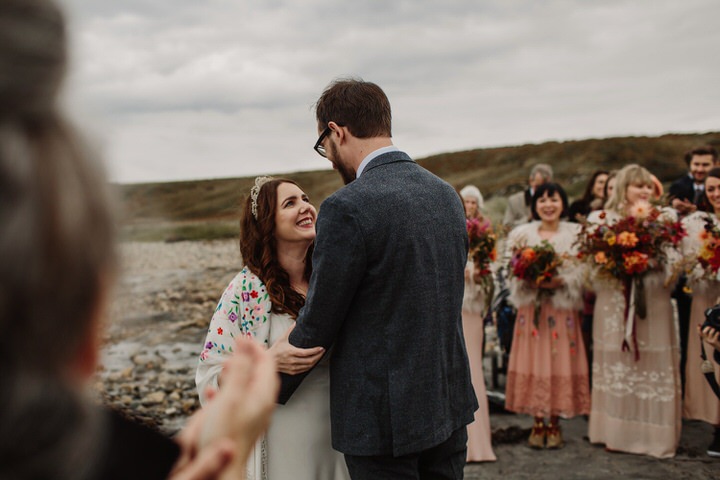 Theme or Colour scheme
We didn't have a colour scheme as such. We wanted the day to be colourful so we had some lovely coloured hanging lanterns from the Hanging Lantern Company and beautiful florals on the tables. The Bridesmaids ended up having a peach/off pink/nude theme but that was unintentional. They all wore different dresses and jumpsuits that suited their style and looked really cool on the day. I spent a bit more on their bouquets too as I love what Pyrus do and flowers were important to me.
Flowers
We had amazing bouquets and I had a gorgeous floral headpiece from Pyrus. I found their work online and completely fell in love with it. They create incredible wild looking seasonal bouquets which I just loved. They grow everything in their own walled garden just outside Edinburgh and are very talented girls. My mum is an amazing gardener and she grew flowers specifically for the big day. She did an incredible job and dressed the tables with her home grown flowers. We collected lot's of little vintage glass bottles and ended up borrowing some from Pyrus too as well as getting more flowers from them to make sure that we had enough on the big day. So a combination of Pyrus and my mum which looked fabulous. Mum also made confetti which was very cool.
Decoration
We ended up having a bit of a map theme, the invites and menus had a vintage map that David had found and then designed. We also had a big map of Scotland for the seating plan. Then we had lot's of little personal extras including vintage candle sticks, vintage glass bottles that were a combination of mine, my mum's, charity show buy's and some borrowed from Pyrus too plus the beautiful florals.
We decided to use white 7" sleeves as name places as we both work in music we thought it would be nice to have a bit of a musical angle! We chose different 7" records from my collection for each and every guest, trying to make sure to pick one that we thought they would like. They were a big hit on the day! This was David's idea and it worked super well.
We just wanted the wedding to feel like it was taking place at our place rather than feeling like a generic wedding, so we had things like Scottish bunting in the living room space, some Indian carnation colourful bunting I found at a shop in Chelsea and vintage babycham glasses with edible wild flowers. I got obsessed with buying babycham glasses on ebay and ended up getting x80. We had to split them between our family's cars to get them up to Crear but only half of them made it out of their box on the day. The thing with having a baby and being a bride is that you aren't quite 100% on the attention to detail – but that was ok!
Food
We had a lovely beef wellington which was one of Crear's signature dishes and Salmon for me and a lovely mushroom stroganoff for the veggies. The Crear Chef is amazing! We had sticky toffee pudding for dessert which was delicious. We had many discussions about what food to have at 10pm to top up our guests, we ended up going for pies from a place local to Crear, there was a macaroni pie and a steak and onion pie and they went down a storm!
Wedding Cake
David had a chocolate cake and I had a banana and salted caramel. They were both absolutely delicious. We also had mini cakes and macaroons which were amazing. We used a lovely little company called Big Bear Bakery in Glasgow who were great.
Entertainment
We had a ceilidh band which was a lot of fun. For our first dance we got everyone up to join us for Strip the Willow which was just incredible. It was literally the most fun ever, David and I couldn't stop laughing and smiling.
Stationery
David designed the invite, the website and the Save The Date email. It had an old Scottish map from the area where we got married. We used the same for the menu too.
Personal Touches
Lots of personal touches, we had old photos of our family in frames on the wall in one of the rooms. The 7" record was a nice little touch (David's idea) everyone got excited over which one they had and it got everyone talking so people who didn't know each other had an instant talking point.
My mum growing the table flowers and then making the table with an army of helpers the night before was really special. It was great having everyone work together to get the place ready. She made some homemade confetti too! David and I decided we didn't want traditional speeches so we did a joint Husband and Wife Speech. I'm so glad we did it, I was a bit nervous about talking but once I was up there I really enjoyed it and lot's of people commented on how nice it was.
Special Moments
The highlight was definitely the ceremony on the beach. By that point we both felt so relaxed and so happy that all of our friends and family were gathered with us on this tiny little beach on the west coast of Scotland, it felt incredibly special and personal. My dad did a reading which had everyone in tears, he spent months going through his poetry books and found the most perfect poem by W H Auden called 'Carry Her Over The Water'.
We had the Best Man do a reading of our favourite Nick Drake song 'Northern Sky' which was very special.
We also had everyone do a celtic blessing at the end of the ceremony which was a lovely moment we will never forget.
Advice for Other Couples
Just enjoy it! Make it your own, don't get carried away with the little details on pinterest, they literally don't matter on the day! Remember the bigger picture is getting your friends and family in one place and celebrating. Make sure you get a chance to speak to everyone and enjoy their company – it will potentially be the only time you get everyone in one room so make sure you savour and enjoy it. Stay relaxed about everything, I think having Milo made me a much more chilled bride, little details didn't matter to me so much on the day.
Biggest Surprise
The sunset! We had been praying for it not to rain as obviously Scotland is not the most reliable with the weather. On the day it was quite grey and overcast, it definitely had a moody romantic feel on the day although it was a little cold. Then during dinner the most incredible sunset happened, the sun had broken through the clouds, literally everyone got up and left their main course to go outside and watch the sunset. It was the most beautiful thing we had ever seen!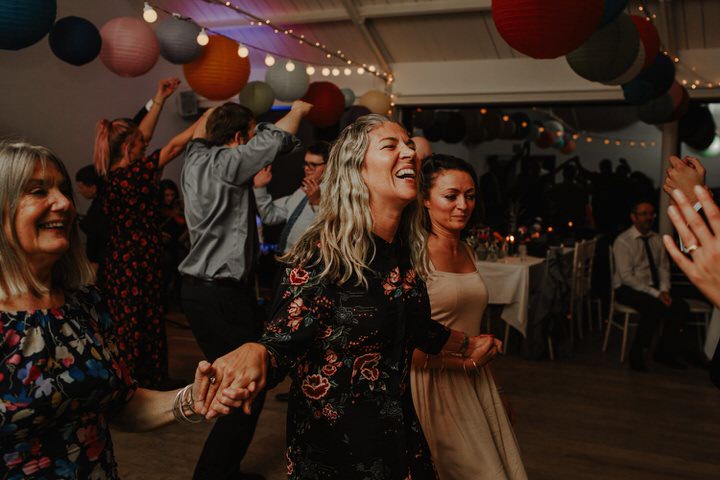 For more information on The Curries' work go to:
www.thecurries.co / www.thecurries.co/london-wedding-photographers-blog / [email protected]   / FACEBOOK / T: @the_curries / I: @thecurries.co / PINTEREST
Capturing weddings together for many years full time we have over 200 weddings in our experience (including our own!) this gives us a great handle on how to make things run smoothly & help you get the most from your photography. We whole-heartedly love what we do & feel very lucky that somewhere along the way this turned into our careers.