It is a very exciting time for us all here at Boho Weddings.  The new blog was launched yesterday and after a lot of work from Kelly H  and the web designers we are so pleased with the response we have received from you all!  It seems like you all love the new Boho Luxe theme, so it's looking great going forwaard with the new Blog design. Working with us on the the blog we have some wonderful wedding industry experts who are going to share with you their expert advice on a particular subject in the upcoming months.
Today I am pleased to bring Tracey to the blog.  Tracey from Campbell's Flowers who is our inhouse floristry expert and is absolutely amazing at what she does.  This post is full of beautiful Autumn inspiration.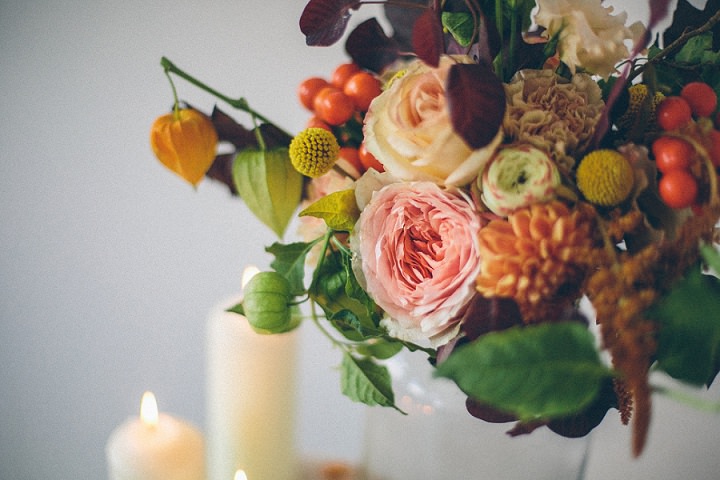 I'll pass you over to Tracey
Hello all!  As you might expect, I'm super excited and just totally over-the-moon to be asked to contribute regular features for Kelly's new uber-stylish redesigned blog.  We've always loved working together but I was so, so happy to be asked to write a flowery post when I met with Kelly a little while ago and she told me of her wonderful plans.  What was even more reassuring was it coincided perfectly with a meeting that Team Campbell's had had to embrace emerging trends and start to move towards a much more luxe look.  Being part of the wedding industry, it's so wonderful when someone you admire is talking on exactly the same wave length. Phew!
Anyway, the advent of the new academic term always seems to bring lots of changes, not least in the seasons, so today I thought a special post featuring Autumnal flowers might be rather timely.  As you all know by now I'm sure, seasonality is something which is very close to our heart here at Campbell's HQ and so we thought why not kick off our first feature with luxe prettiness which is available literally right now?
So put away those ditzy little jam jars and start thinking beautiful, blowsy blooms, because romance is back and we're bringing you design inspiration to die for in rich, Autumnal tones!
Venue Decoration
We're super lucky to work with really creative brides who are looking for something just a little different – with so many of our couples choose an outdoor ceremony or venue which lends itself to putting their own personal stamp on the decorations.  So think 'bringing the outside in' (perfect for our changeable British weather!) with a show-stopping piece such as a grand arch in full, rich, sumptuous, harvest festival feel.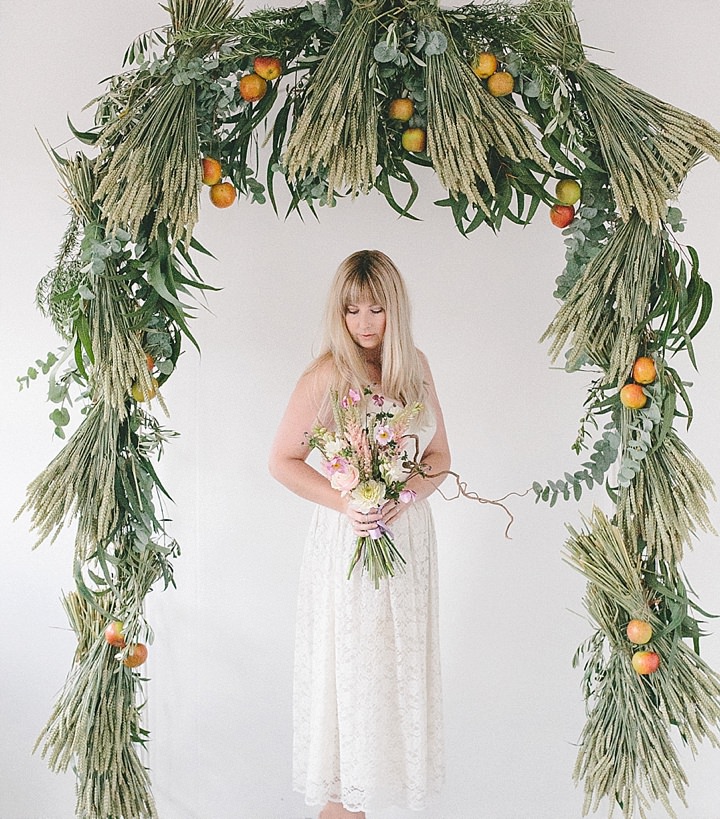 Luxe doesn't mean you have to take out a second mortgage just to pay for your flowers though! It's more about creating a look and feel which is beautiful, romantic and opulent, with blowsy blooms. There are plenty of tricks and ways to stretch your flower budget, one of the simplest being to move your ceremony flowers to your top table and pop a couple of vases either end to take your bridesmaids flowers.  If you've lots of bridesmaids – so much the better – you can intersperse the bouquet vases with little tea lights and church candles for a soft, romantic look, full of low-level light.
Think too about mixing and matching pretty, rich gold or copper containers with taller glass vases on alternate guest tables to create a bit of height – which doesn't obscure your guests view but does create a bit of drama and a fab wow factor. Perfect for an Autumnal wedding filled with gorgeous seasonal blooms such as physallis, hydrangea, rich Autumn roses and dahlias, all teamed with sumptuous foliage in rich aubergines and burgundies.
Bridal Flowers
For some while now, we've been incorporating sweet smelling herbs into our bouquets which we've noticed have become more and more popular recently. Never ones to stand still though, Team Campbell's are more than a bit in love with the whole concept of incorporating fruit into our designs for that really lovely rich feel. Think beautiful paintings in the 'Flemish Masters' style and you'll be on the right track! 
Buttonholes
Whether you choose a focal flower or a sprig-style design, be sure your buttonholes contain elements of the flowers you've chosen in your bouquet.  Luxe doesn't mean everything has to match exactly, it just means that your flowers should look like they come from the same 'family', so before you know it, everything will look effortlessly stylish!
So, as always I hope this feature has helped show the wealth of stunning flowers, seed pods, berries and much, much more which is available to anyone choosing Autumn as their special season.
Massive thanks go to the uber talented and ridiculously lovely Ellie Last of Ellie Grace Photography for her time and patience in taking all these wonderful shots. If you have any questions or want some specific advice on seasonal blooms which will work with your chosen colours, then do leave a comment at the bottom of this post and Kelly and I will be sure to get back to you as soon as possible.
As always you can find Campbell's Flowers in a number of ways
www.campbellsflowers.co.uk / Instagram / facebook / twitter / pinterest / YouTube

Tracey is an uber creative and multi-award winning artisan florist & lover of British flowers. Tracey adores individuality and is inspired by you and your special day.