Welcome along to another fabulous week on the blog, I hope you all had a good weekend? Mine was pretty chilled, but thoroughly enjoyable. With Halloween, bonfire night and then Christmas coming up the next few months are jam packed, so I am making the most of these last few weeks before silly season starts and every weekend is taken up with seasonal activities. So today I am taking you to Nashville for this boho inspired wedding with a twist of modern elegance. Diane and Dave  were married on 31st March 2022 in Nashville, Tennessee. Their day was filled with the most stunning decoration, beautiful flowers, elegant table settings and oh my what about their pet dog! The whole day is pure wedding heaven, big thanks to Wildwood Event Co for sending it to me and to Vow Collective for the beautiful photos.
Advice for other couples 
Get a wedding planner! Haha! But seriously, get a wedding planner!! I would've lost my cookies trying to do all of the planning, searching for vendors, re planning when the date had to be changed! Kris, being familiar with the Nashville wedding scene was able to provide great connections and suggestions based on the vision that I had. Seriously priceless!
What was one of the most stressful things about wedding planning?
Well, I feel like we are a unique situation. Since we moved to Japan in the middle of wedding planning all of the stress from preparing to move, finalizing as much as I could before I left, actually moving, and everything in-between just compiled. Having to jump through hoops because of travel restrictions to even make coming back to the states possible was BY FAR the most stressful aspect. It was something that was largely out of our control, and completely at the mercy of the US military.
I think if I hadn't had Kris as my planner though, having to cancel our original date and move everything to August would've been the most overwhelming hands down. Because of the 14 hour time difference, it made communicating during reasonable hours it wildly challenging. Thankfully, because Kris was my liaison and point of contact for all of our vendors it greatly relieved much of this stress! Like I said, hire a planner, just do it!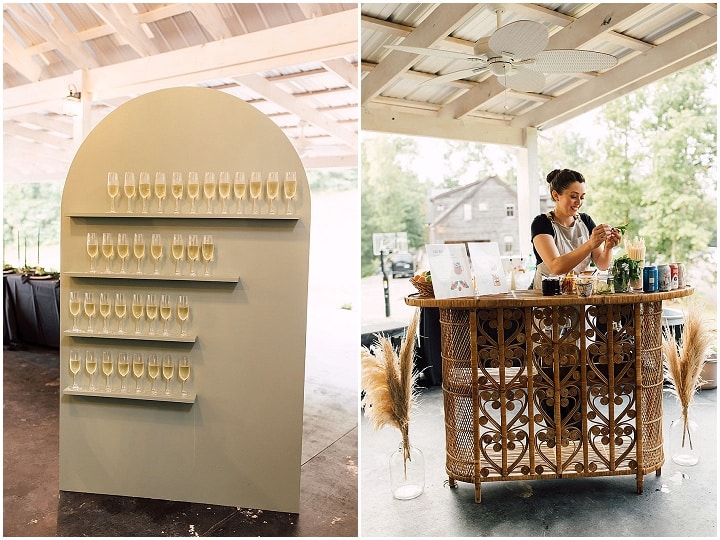 Supplier Shout Outs