Choosing the theme for your wedding can influence all aspects of your big day, and reflect both you and your partner's interests in a really personal way. Vintage themed weddings are beautiful and often share many elements of the Boho theme.
Creating a vintage wedding theme can be budget-friendly, and is a great sustainable way to reuse and upcycle existing items. It's also a great way to to tick of your something old and something borrowed, in some cases!
Blending a boho theme with vintage elements can make a unique theme and allows freedom to mix something old with newer vintage inspired pieces. In this article, we will show how to create your dream vintage themed wedding, what to include and where to source original and inspired pieces.
What is a vintage wedding?
Vintage can often be used to describe anything 'old'. It is often used to describe anything from the past, things that are used, or 'hand-me-downs. However, to be considered vintage, as opposed to retro or even antique, it has to do with time.
Vintage specifically relates to the decades between 1920 to 1970. Before this is antique, and more recently is retro. For weddings, taking inspiration from the roaring twenties or swinging sixties will mean you're having a vintage themed wedding.
Boho weddings take inspiration from the free-spirited sixties and seventies, so it's easy to see the overlap and similarities. A themed wedding can be subtle, with nods to the bygone era of your choice in your wedding dress, or fully embraced with venue, transport and everything in between.
How to have a vintage themed wedding
When infusing vintage or vintage-inspired elements to your wedding, you can go as small or fully-fledged as you and your partner (and your budget) feel comfortable with. Whether you want a floaty seventies wedding dress, or to arrive in a vintage car straight out of a black and white movie, have fun researching and sourcing your vintage props and decor pieces.
Finding Your Perfect Vintage Wedding Dresses
Picking your wedding dress is a very exciting part of the wedding preparation process. It can also take quite a while to find the perfect one, especially if you have a specific era you are trying to emulate!
Gathering images of your inspiration and ideal style will help you to focus on finding the one. It's also important to consider practicality, your style and what suits you. While a flapper-style dress might seem like your dream dress, it's drop-waist style is not always the most flattering. Similarly, a super-short sixties mini-dress might not be church appropriate.
Instead, focus on the key elements of what makes the dresses you love connect. Is it the type of lace, or beading? Is it the overall silhouette, or a certain neckline that really stands out to you?
Be open-minded to looking at original vintage dresses and newer dresses that take inspiration from the past, as these might be more suitable for you.
Picking timeless wedding jewellery
Chances are, if you've chosen a certain period as your wedding theme, it's one that you love and feel an affinity for. So, why not choose your wedding band, or other vintage wedding jewellery to fit within this theme!
Original vintage earrings are a beautiful addition to updo hair styles, and you can wear them afterwards to remind you of your special day. Vintage jewellery can also become heirlooms of the future, and be passed onto future generations. A pair of beautiful blue vintage studs could also count towards your 'something blue'!
For other wedding accessories, why not try a vintage-inspired designer? This will ensure you have practical pieces, like small clutch bags or matching necklaces for your bridesmaids, that still fit within your theme (and your budget!).
Set the scene
Going for a vintage theme could limit your venue options, right? Wrong! Choosing your dream vintage venue doesn't mean you have to find a place with original forties fittings or fifties features. You can create your vintage theme with props and  decor!
Sourcing scenery that fits with your theme for photo backdrops or table settings will transport your guests into your chosen period. Having decorative props, such as vintage cameras, photo frames or records placed around your venue, or as part of your table floral arrangements will keep the theme throughout.
Transportation yourselves to the past
Arrive in style with a historically accurate car! Whether you want a classic car for your thirties theme, an all-american mustang or a groovy VW campervan, set out your theme from the start by traveling to your wedding in a themed car to really get the party going.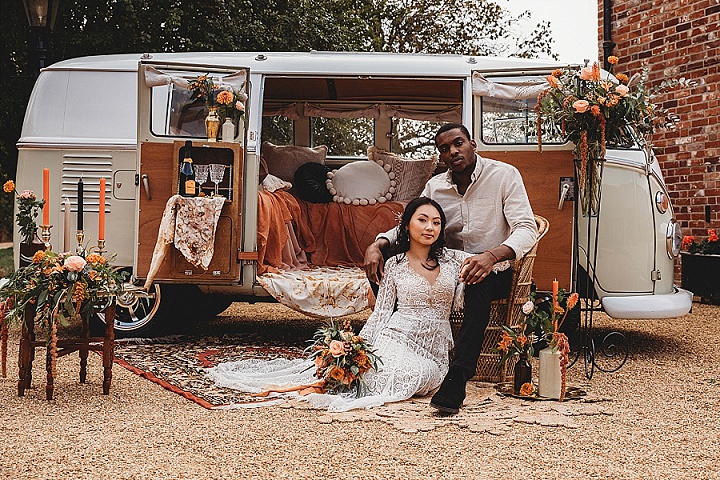 Share your vision with your suppliers
Make sure to communicate your ideas and inspiration with companies and people you are working with for your big day. Whether you're using a wedding planner or not, telling people as clearly as possible what you envision the day to look like, will mean you are all working towards the same goal.
Letting them know will mean they may be able to tailor certain aspects to fit the theme more. Your photographer may add sepia tones when editing your wedding photos, or be careful not to include modern technology in the background of shots. If they have a vintage-looking camera it's even better! Your venue may have crockery or glassware that suits your period. Creating a mood board that you can show your suppliers could really help to communicate this clearly and act as a reference for both you, and them.
Just because you're having a 'vintage wedding', doesn't mean that everything has to be exactly accurate. You can put as much, or as little influence of the past into your wedding theme as you want. You don't have to reject everything modern. Similarly, you don't have to keep all the traditions of weddings if they don't fit your beliefs. As long as you're happy with the final look and feel of the theme, and it reflects what you and your partner want, that's all that matters. Remember to soak in all the happiness of your vintage wedding day!
this is a collaborative post