Happy Monday everyone and welcome to another wonderful week on the blog. As we enter week 12 of lockdown I hope you all had a good weekend. Just 2 weeks and we will be able to meet up with friends and family outside and let people in our gardens again! Woo hoo! My weekend was as good as it can be, the normal walks, films and food. I am looking forward to doing something different, as I'm sure you are too! I am starting the week with the magnificent wedding of Sabeen and Mohammad. This gorgeous couple chose an intimate wedding that was Covid secure and full of personality. Sabeen brought her Pinterest board to life and filled her day with lots of beautiful pampas grass and stunning vintage plates and gorgeous flowers. They were lucky enough to hold the whole wedding at her parents home on their roof top, which made it super special and personal. The whole day is breathtaking, every last detail has been thought about, I know you going to love it. Big thanks to Lana Del Mar Photo  for the gorgeous images.
An intimate affair bringing together family and friends in a safe way during an especially difficult year. Taking place at home really made it feel special and we will always hold those memories there. It was my boho wedding I've always wanted and my Pinterest board finally came to life!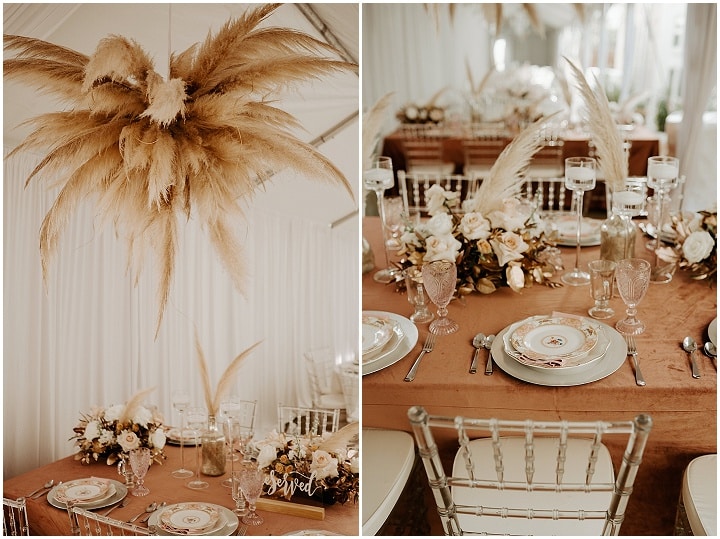 Sabeen and Mohammad were married on 27th November 2020 at their parents house in Richardson, Texas. They held a backyard tent wedding and the religious ceremony took place on rooftop terrace. 'When my parents decided to build our new home a few years ago, my sisters and I helped design every detail. We're originally from Pakistan and rooftop terraces are especially common back home. We found a way to include one in our new home and ever since then I always imagined my Nikkah (Islamic marriage ceremony) being done on the terrace. Covid also played a big part of wanting to do the ceremony outside and led us to deciding to have the reception in a tent in the backyard after the religious ceremony. We left half the tent exposed so it was an open setting and asked our guests to wear masks (we even hired a security guard to enforce it and check temperatures to help our guests find a little more comfort in attending). Traditional Pakistani weddings tend to have 300-500 guests (my older sisters had 900!) but the groom and I have always wanted to keep it as intimate as we could. Even with only inviting family we were at 100 guests and including close friends brought us to a headcount of 125 guests who fit spaciously in the tent fortunately. Deciding to have a wedding during this time was hard to come to given the risk of covid, but when we finally got comfortable we really wanted to do it sooner rather than putting it off another year and surprisingly planned it all in 6 weeks!'
How they met 
Our families have known each other for many years and I actually became friends with his sisters first when we ended up being in the same wedding!
The proposal
We went the traditional route in which the grooms family comes over to the brides house to formally ask for her hand in marriage. There are a ton of sweets eaten and pictures taken and I loved having all of mine and his family there!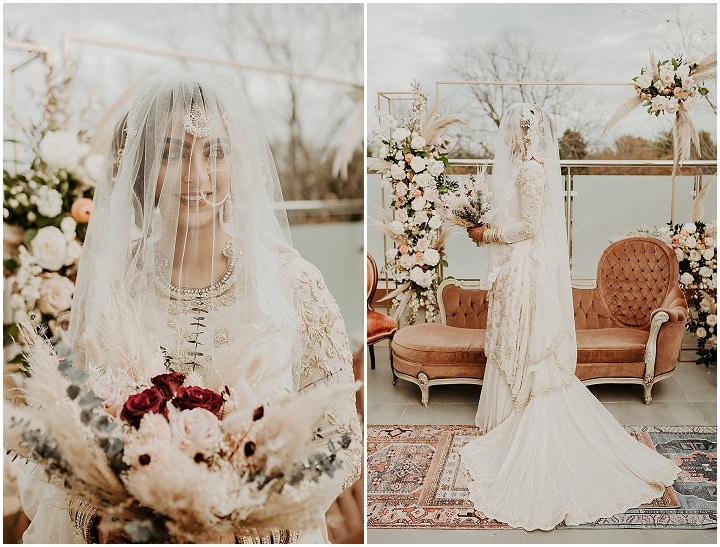 How did you allocate your budget?
We knew we wanted to focus the majority of it on decor and food!
Where did you splurge and where did you save?
I definitely spent more on the decor than I had originally allocated but wanted to make sure I didn't sacrifice my boho pampas vision/dream! Surprisingly a lot of decorators scared me with the pricing on tents that they had seen in their experience but I ended up finding an amazing vendor (Peerless Tents) who were very reasonable and extremely pleasant to work with and work with our budget!
How did you choose your photographer?
Instagram! As soon as I clicked on Lana's page I knew it was the one. Her Instagram spread was exactly what I was picturing in my head and she was so sweet when we first spoke that I didn't question the decision at all and stopped looking elsewhere right away!
The dress 
It was a traditional dress by Bareeka Bridal Studio in Houston. Given our timeline, I couldn't get one ordered from Pakistan so drove to Houston to do my shopping and actually drove back to Dallas the same day with my wedding outfit in hand! My accessories were from Elegance Boutique in Irving, TX and Sokora Jewels who I found on Instagram! My shoes were jimmy choo and my makeup and traditional jewelry/scarf setting was done by MsPaintedLady based in Dallas
Theme or colour scheme
The decor color scheme was velvet pink and pampas cream. My parents and sisters matched in mint green traditional wear and my nieces matched with my outfit in white with pastel pink and green embroidery.
Flowers 
My decorator fulfilled the florals and pampas and my bouquet was an arrangement from Fern and Sun Palm
Decoration 
A lot of pampas! The main focus was the pampas chandeliers and the floral arch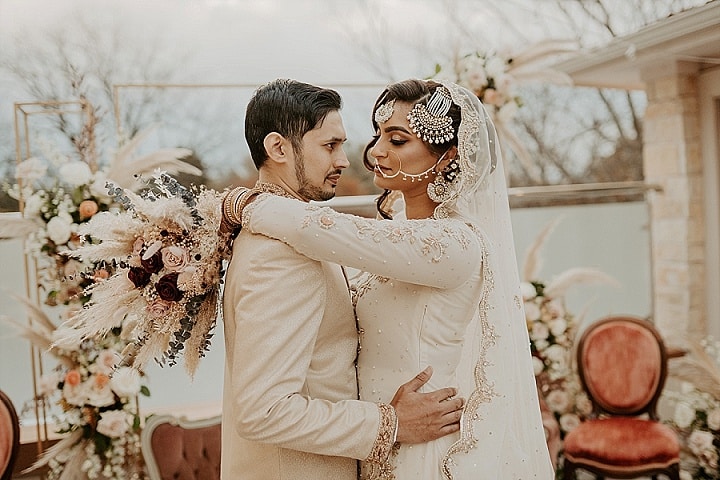 Food 
Traditional Pakistani food
Wedding cake
We had two flavors- strawberry and white cake with vanilla icing
Who supplied the stationery?
Surprisingly found a spread I ended up loving on zazzle!
Personal touches
Me and my family actually did all the table setups ourselves the day before! Since we had it in the house we had to get everything supplied from the plates to the forks and spoons. I had fun picking out the table setting but not as much fun setting it all up but thank god for family!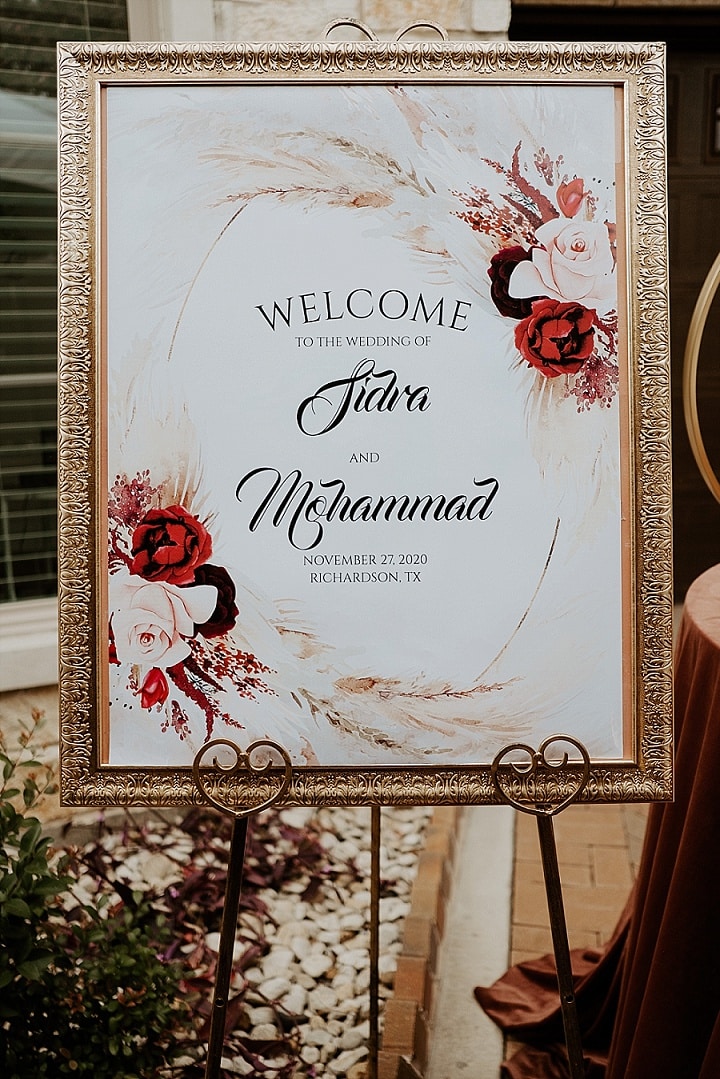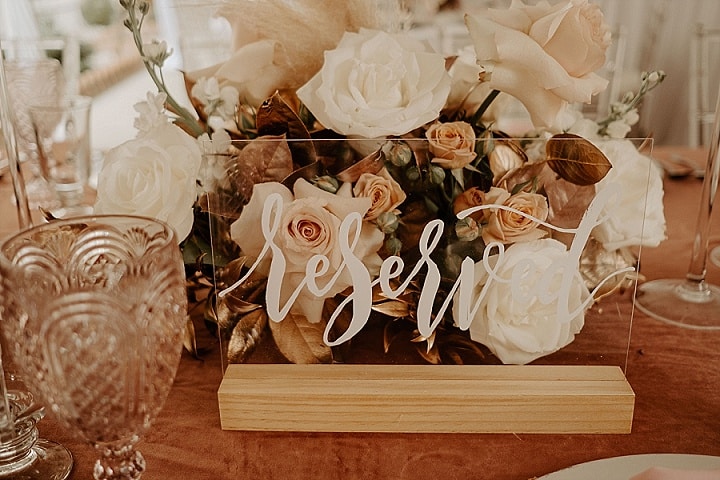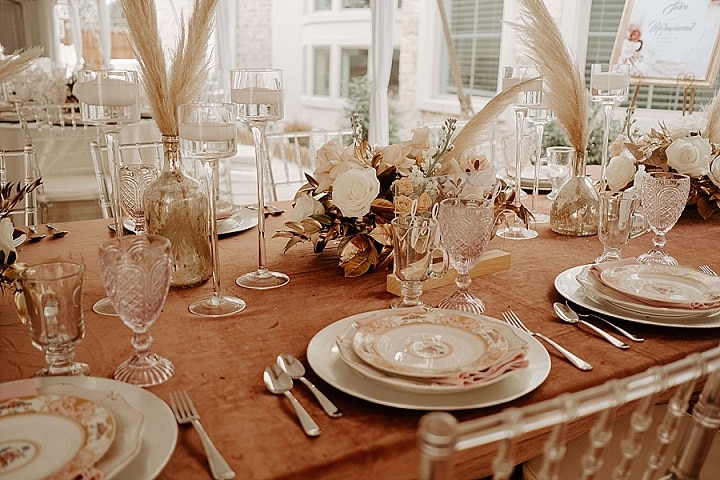 Special moments 
The religious ceremony on the terrace was my highlight just cause I had always pictured it there and seeing it all come together was really beautiful
Advice for other couples
Go the intimate route, know what you want and stick to it! Do your research and get the best price if you have a strict budget because most people will work with you! Also to the brides- it doesn't have to take a year or six months to plan, you can do it in six weeks even if everyone thinks it's impossible!
Biggest surprise 
My grandfather (90 years old) wrote a beautiful poem in Urdu (traditional language of Pakistan) and got up and recited it for us. It was very emotional especially because he has not been around extended family because of covid and to see him being able to enjoy the wedding safely and then surprise us with that just made the entire night so much more memorable.
Supplier Shout Outs
Deco: Belle Decor Dallas
Tents and Party Rentals: Peerless Events & Tents
Stage Furniture: Rent My Dust Vintage Rentals 
Photographer: LanaDelMarPhoto 
Makeup: MsPaintedLady
Bouquet: Fern & Sun Palm 
Outfit: Bareeka Bridal Studio
Jewelry: Elegance Boutique & Sokora Jewels 
For more information on Lana Del Mar Photo go to
 lanadelmarphoto.com /  [email protected] / 1(913)-302-1620 / FACEBOOK / INSTAGRAM / PINTEREST 
I am a boho wedding and lifestyle photographer based in Texas. My photography style is soulful, warm, and romantic. I am overjoyed to document couples who value connection and artful imagery.