Today's wedding is a bit of a personal one for me for two reasons. One it is set in my home town of Sheffield, in one of my favourite wedding venues Kelham Island Museum, a venue that I have featured quite a few times now on the blog. Secondly I spotted the wedding on Facebook as I am friends with the bride. As soon as I saw Donna-Marie's sneak peak photos I messaged her to ask if I could feature her stunning wedding. Thankfully, she said yes and here we are today! There are lots of friendly faces in this wedding, from the bridesmaids, to the guests, so many old friends. As well as a host of amazing Sheffield suppliers she has used, such a delight of a wedding. I just love Donna-Marie and Stephen's style. Her vintage inspired gown and veil, against the industrial background of Kelham Island Museum, mixed in with the eclectic Sheffield references and rustic decor is all fantastic. To see a couple you know so happy really is what this job's all about. Big love to you both, I wish you all the joy in the world, so pleased for you. Massive thanks to Mark Tierney  who did an awesome job capturing their day.
A surprisingly chilled out day. Filled with love, laughter, great food and music.
Donna-Marie and Stephen were married on 1st September 2018 at Kelham Island Museum in Sheffield. 'We met just round the corner from the venue so that area of Sheffield as always been close to our heart.  We didn't want to get married in a hotel and wanted somewhere which had a lot of character.  We looked round the venue after we got engaged 5 years ago and it had always been the place we both loved.  2 children later we decided it was time to finally get married. We had 90 guests in the day and 125 at night, it took 11 months to plan.'
How they met 
We met in Sheffield after a friend ask me if it was ok for another friend to tag onto a night out.  I assumed the person was a girl.  They came to my flat for pre drinks and I answered the door in my dressing gown to find a 6 foot 4 man stood there and I just said wow your tall! We bonded over music for the rest of the night and we've been together ever since. We've been together 11 years.
The proposal
As with most things Stephen tries to plan I ruined it.  We had been for my 12 week scan and once we knew everything was ok he suggested going out for a meal.  I was really tired and the stress of the last few months had taken it out on me so I said I wanted to go home for a nap first. I went to bed and he came up to wake me and said if I didn't get up soon it was going to be too late.  He was really pushing going out for a meal so I got really mardy and said can't we just stay in with a Dominos he said no, I said can't we just go to the local pub then as really can't be bothered to get dressed up.  He went upstairs in a huff and came down a few minutes later and got down on one knee and said this is why I want to go out for a nice meal. I burst into tears and said put it away do it again later but he said no this is it 'Will you marry me'.  We still went out for the romantic meal!  It turns out he'd had the ring for about a year and had planned do it a few times but things got in the way and it had never been the right time so that why nothing was stopping him this time.
How did you allocate your budget?
We weren't very good at this bit.  I looked at a few sites with a budget planner and I had an idea of how much I wanted to spend but it did go over.  Once we had the venue, catering band and photographer we knew those were the big spends (my mum was buying my dress).  Anything that came up after that we just assess if we could afford it. Stephen decided to throw a curveball when he decided to have his suit made which did blow the budget.
Where did you splurge and where did you save?
The band and Stephen's suit.  We did save by not having wedding cars as we just got taxi's down to the venue.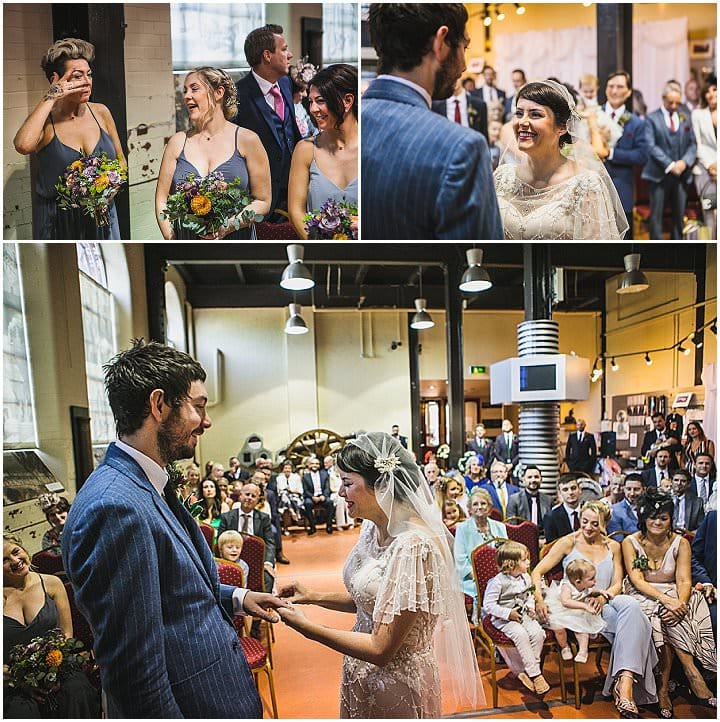 How did you choose your photographer? 
I'd seen Mark's photos before when googling Kelham Island as he'd photographed the venue a few times.  He just so happened to be the cousin of one my friends husband.  We decided to go and meet him and look through his portfolio and Stephen immediately clicked with him (we both did) but I felt it was important that Stephen did as he's really camera shy so I wanted him to feel comfortable.  Mark's style was just what we were after too, the documentary style of shooting which didn't feel too staged but also his eye for detail.

The dress
Dress True Bride, Shoes Rachael Simpson, Veil bespoke by KMR Bridal.  I really wanted a Cap style veil in keeping with my art deco style dress but couldn't find anything I wanted in any bridal shops and I met Kelly at a bridal fayre and she made one exactly as I wanted.  I didn't take it off all night.  Lisa my hairdresser did a great job of giving me vintage style hair to go with the veil.  My make up was by my friend Amy Holliday, we have been friends for years so I knew I was in safe hands.
The suit and bridesmaids
The suit was fully bespoke by Cock of the Walk in Hull.  Stephen is really tall and has quite narrow shoulders.  We went to a few suit shops and just nothing quite fitted him properly. He's always wanted a suit making and we thought it might be his only chance to have one done and he found a suit place in Hull.  He really had a specific look he wanted to go for and Gill who really is so talented and skilful made that possible.  He was so happy with it and I'm so glad that he felt special on the day too.
Bridesmaids were jumpsuits by Hailey Page.  One of my bridesmaid was hoping to be pregnant by the time of our wedding (she was too) so I had to consider that when looking at bridesmaid dresses and the jumpsuits were perfect for that as they had elasticated waistband and suited all my bridesmaids and I wanted them to feel comfortable in what they were wearing.
Theme or colour scheme
I wanted the theme to be relaxed and quite undone.  Once I had my dress which was quite vintage I knew I wanted a contrast to that and also wanted the venue to be in keeping with the industrialness of Kelham Island.  We had a bit of a made in Sheffield theme too, Henderson Relish, Sheffield Egg, Pulp as our first dance. I bet you look good on the dancefloor sign.
Flowers
The flowers were by Swallows and Damson and they were amazing.  Exactly what I wanted, I just told her that I wanted bright flowers, quite wild and relaxed and gave her some photos of flowers I liked and she did the rest.  I'd seen her work on Instagram and knew I wanted her, her style was exactly what I liked.
Decoration
We used Mark at Wild Wedding Days and he put lots of festoon lighting with lanterns, up in the rafters and fairy lights down the sides of the walls.  He also provided a big Henderson Relish sign (we had Henderson Relish as out favours and Pie with relish at night so it fitted in quite well)
Food
PJ paste who did the catering were fantastic, Tracey went out of her way to make sure the day ran smoothly.  The canapes were Pork Belly, Yorkshire Pudding with beef and horseradish, Brie and grapes in quinoa case, Moroccan lamb skewers and Paremesan and Poppy seed shortbread with goats cheese. They we all delicious.
For the wedding breakfast we had Bride and Grooms Afternoon Tea 'made in Sheffield theme'.  The ladies came with dainty sandwiches, quiche etc on three-tiered cake stand  the males had rustic sandwiches on slates and Sheffield Egg, pork pie with Henderson relish etc.  Mini deserts and scones etc for both.  The ladies drank prosecco and the males had Kelham Island craft beer.   For evening it was Thai or Pie.  A choice of Thai Green Curry or Pie and Peas with hendos.
Wedding cake
We had semi naked cake decorated with flowers from Swallows and Damsons and about 30 cupcakes. Each tier was a different flavour, Cherry Bakewell, Salted Carmel and Lemon.  It really was delicious.
Entertainment
We had a retro band called the Retrosettes.  We really felt that we wanted a band that we would want to go see ourselves and didn't want just your average wedding band.  We looked for ages and Stephen stumbled across them and we were just so happy when we knew we could book them.
Who supplied the stationery?
The Vow provided our invites, Order of the day, Table plan and a large 'I bet you look good on the dancefloor' sign in keeping with the Made in Sheffield theme.
Personal touches
We were supposed to have a lady doing our wedding venue dressing but she went bust two weeks before the big day and I had to do all the centre pieces etc myself.  I begged and borrowed lots of things including jars and bottles to put the flowers in and spent the Friday before the wedding doing it all with my bridesmaids.  The vow kindly lent us the big LOVE letters for the dance floor (along with loads of gin bottles). Mark at Wild Wedding days stepped in and did all the lighting etc.  In the end it was prefect, I'm just so glad that we managed to pull it off and it didn't spoil the day.
Me and Stephen have always loved music and that is why we decide to have a table plan based around the albums we love.  I found all the album covers I wanted and sent them to The Vow and they did a great job putting it together.
The made in Sheffield theme was really a little nod to the fact that we met in Sheffield had our children here etc.
Special moments 
Walking down the aisle to my favourite song Here Comes the Sun.
My Nannan being there as she only came out of the hospital the Wednesday before my wedding.  We nearly lost her a few months before and I really didn't think she was going to be well enough to come.
My little boy helping my dad does his speech (he was so proud). He also was the ring bearer (or ring burier as he keep calling it)
Advice for other couples
Enjoy it, it goes so quickly.
Don't do something just because it tradition. My parents are separated so I didn't want a top table and it worked so well.  A few eyes rolled when I said we were having afternoon tea and everyone loved it in the end.
If you are having kids their keep them entertained.  We knew we wanted children there so the great thing about Kelham Island Museum is that it has a play area.  For the children's favours I ordered them an activity pack which was bespoke to their ages and interests.  It really did keep them entertained and made the speeches etc go so much easier.
Biggest surprise
My dad asking me to get up and singing a nursery rhyme I won a talent completion with when I was about 3 (if you have heard my signing voice you would realise how funny that was)
Stephen going blank during speech and me stepping in and doing it (everyone thought we'd set it up) but after singing to nearly a hundred people I don't think anything would have fazed me.
How chilled and relax the whole day ended up being.  The week before and the morning of the wedding was so stressful and as soon I walked down the aisle the stress and worry just lifted and we just went with the flow.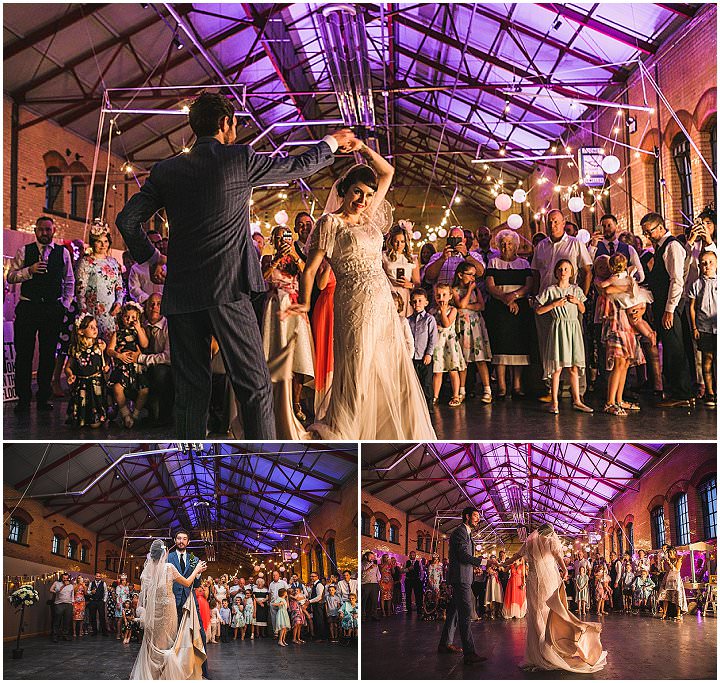 Supplier Shout Outs
FOR MORE INFORMATION ON MARK'S WORK GO TO:
www.tierneyphotography.co.uk / www.tierneyphotography.co.uk/blog / FACEBOOK / INSTAGRAM / TWITTER