As we grab hold of the last few weeks of autumn before winter is well and truly upon us, I am delighted to share this beautiful autumnal styled shoot with you. The shoot took place on 16th September 2020 at Apton Hall in Rochford, Essex, and has been put together by stylist Hollie from Your Love Rocks and a great team of wedding suppliers. Hollie wanted to represent the transition from summer to autumn. The change in light, the rich colours, the tones and the textures, and be as sustainable as possible, using up-cycled props and seasonal flowers. The result is this GORGEOUS shoot, which is full to the brim with the most amazing decoration and ideas. If anyone was having second thoughts about an autumn wedding, then you need to see these stunning images. The whole shoot is so well put together and thought through, a real inspiration.
'Earthy bohemian' is a shoot to represent the change in season the transition from summer to autumn and the connection to earth that you feel at this time of year as the nights draw in. I wanted to create something that felt autumnal yet still holding on to them last few moments of summer. A soft glow and warm romance.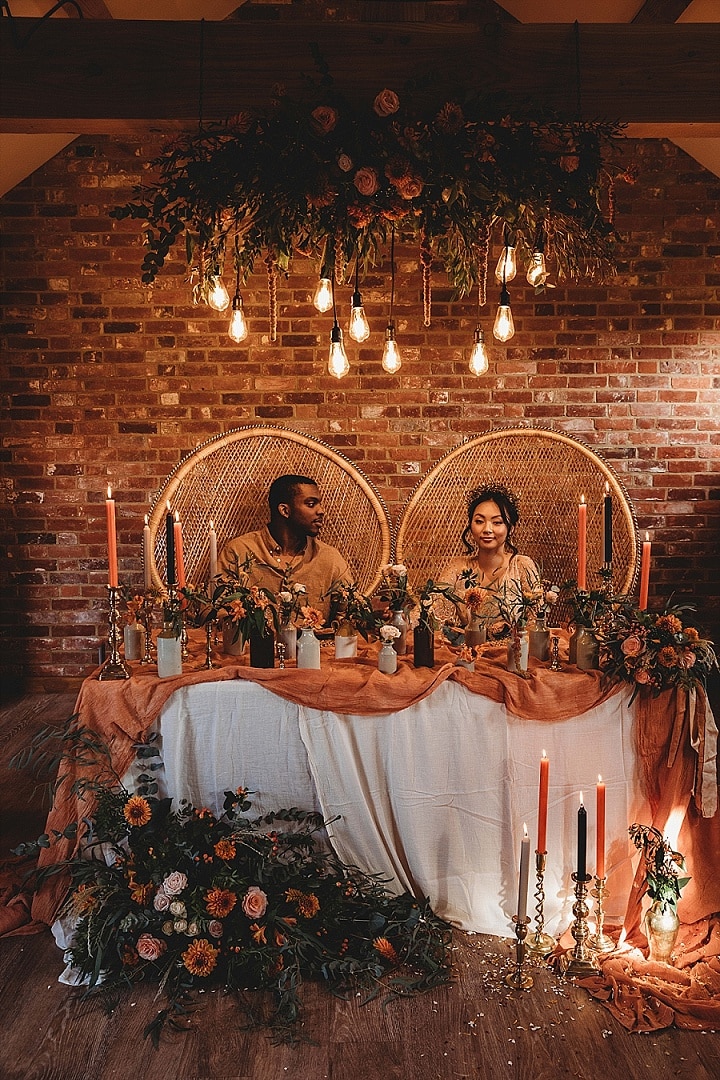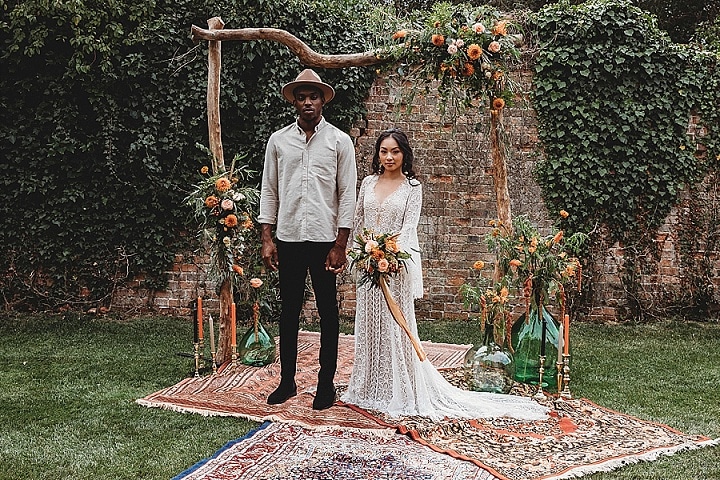 I absolutely love the tones and textures of this time of year and that was something I really wanted to capture in the look of a wedding theme. With the current restriction on weddings I wanted to create a style that felt cosy, intimate and romantic where the decor felt balanced and not overpowering but still left guests going WOW. I wanted the day to feel relaxed and really show the natural connection between the couple.
I drew inspiration from autumnal tones and the textures of this time of the year and twisted this with a
more traditional bohemian theme.
I really wanted to create a shoot that captured the change in season from summer to winter and the feeling of being closer to nature. There were 3 real points that the group of suppliers achieved really well.
1) Autumnal theme – This is all about the colours and I couldn't have asked for them to be anymore on point! I chose Apton Hall in Rochford as our venue as many of their buildings and garden walls have bare bricks and exposed walls which perfectly tie in with our colour theme. This is something that should really be considered when selecting a venue, is it right for your theme and how can the building and the surroundings tie in with your vision. The use of rich earthy tones: rust, honey gold and burnt orange represent the autumn months while still feeling fresh thanks to the pops of brighter oranges and vintage green glass.
The lighting was a key part of the shoot especially the table setups. The sun is a lot lower in the sky at this time of year and creates more shadows and autumnal hues this mixed with the Edison light fitting created the warmth that you need in the autumn evenings.
2) Connection to nature – I really wanted to get across that connection to nature that I feel in autumn and how wild the season can be. From the wild wooden arch and natural petal confetti to the dried flower hairpieces and semi-precious stone jewellery nature was present throughout. Many of the props were sustainably sourced pre-loved or up cycled. Drapes, napkins and table runners were created by the talented Mia Sylvia using regenerated textiles died with natural pigments and sustainable skills to ensure minimal impact on nature but also giving that further connection to nature. When it came to the florals we tried to be as sustainable as possible, Made You Look Flowers reused arrangements where possible. This is something that can easily be done at a real wedding to not only reduce environmental impact but cost too. The hand tied bridal bouquet was another nod to the wild season that autumn is.
3) Finally our real couple Grace and Joshua brought their own beautiful connection and were perfect for the shoot!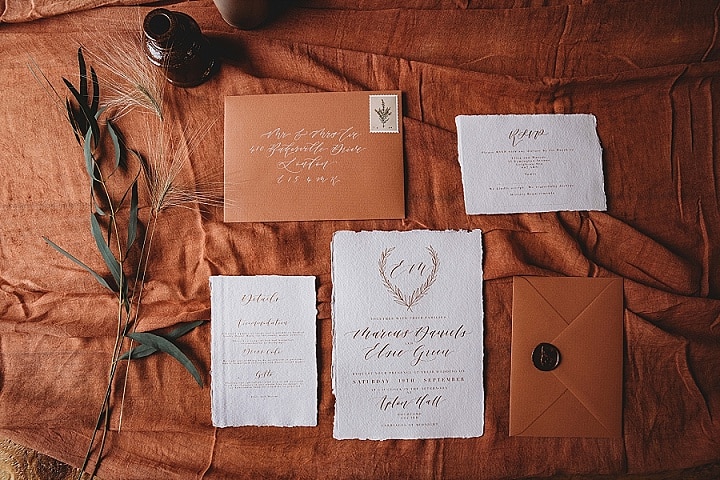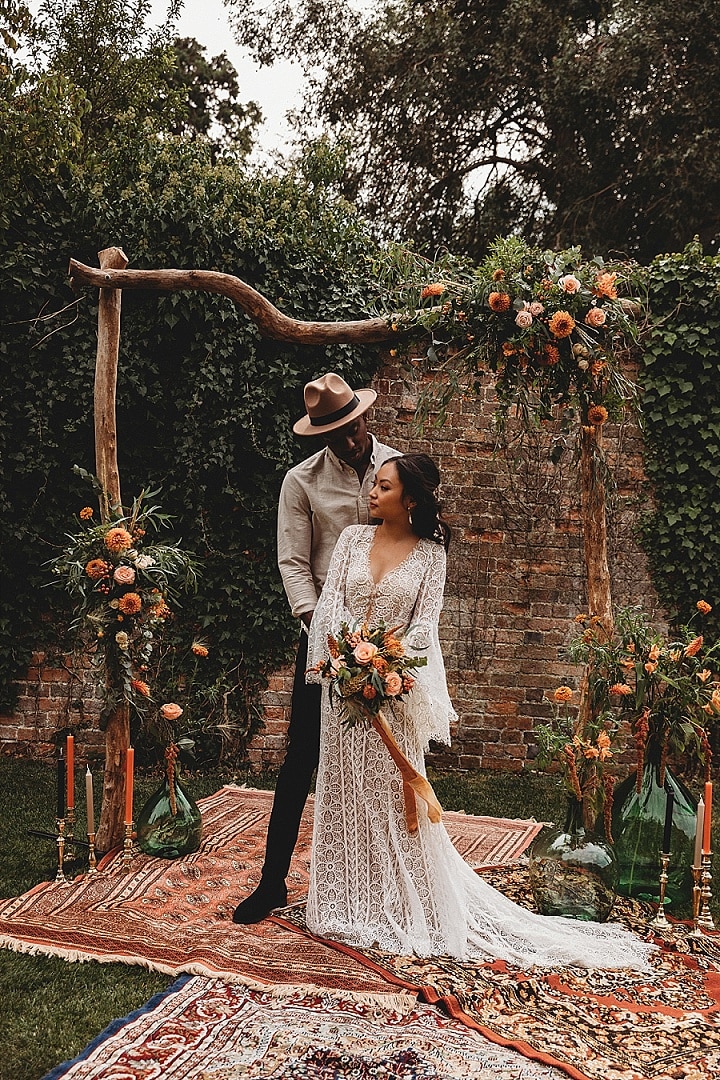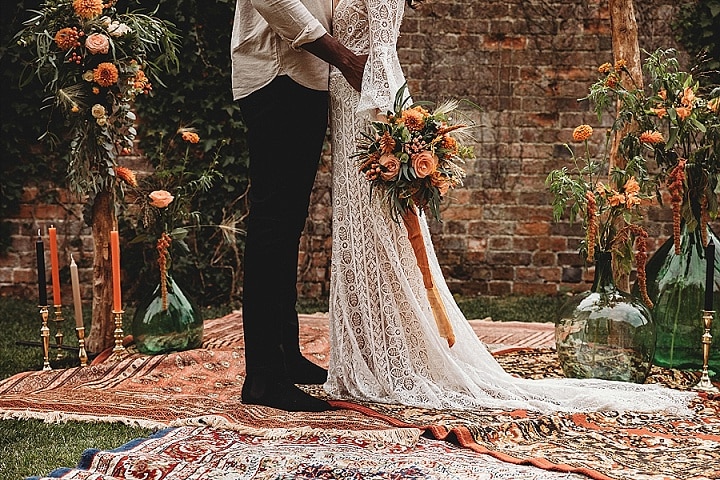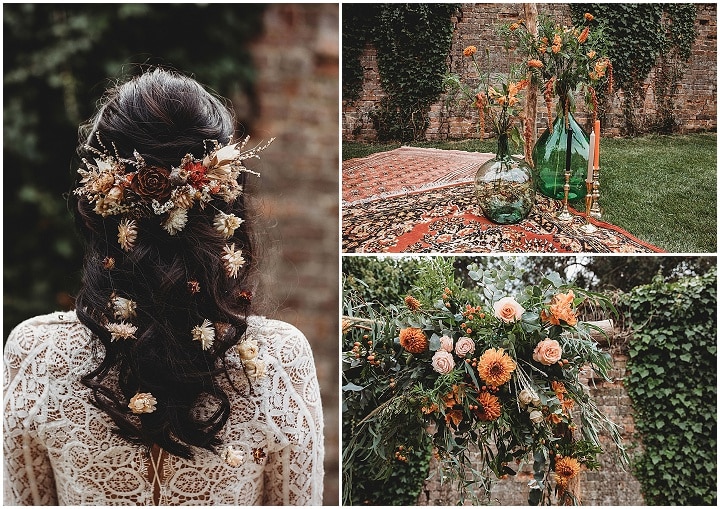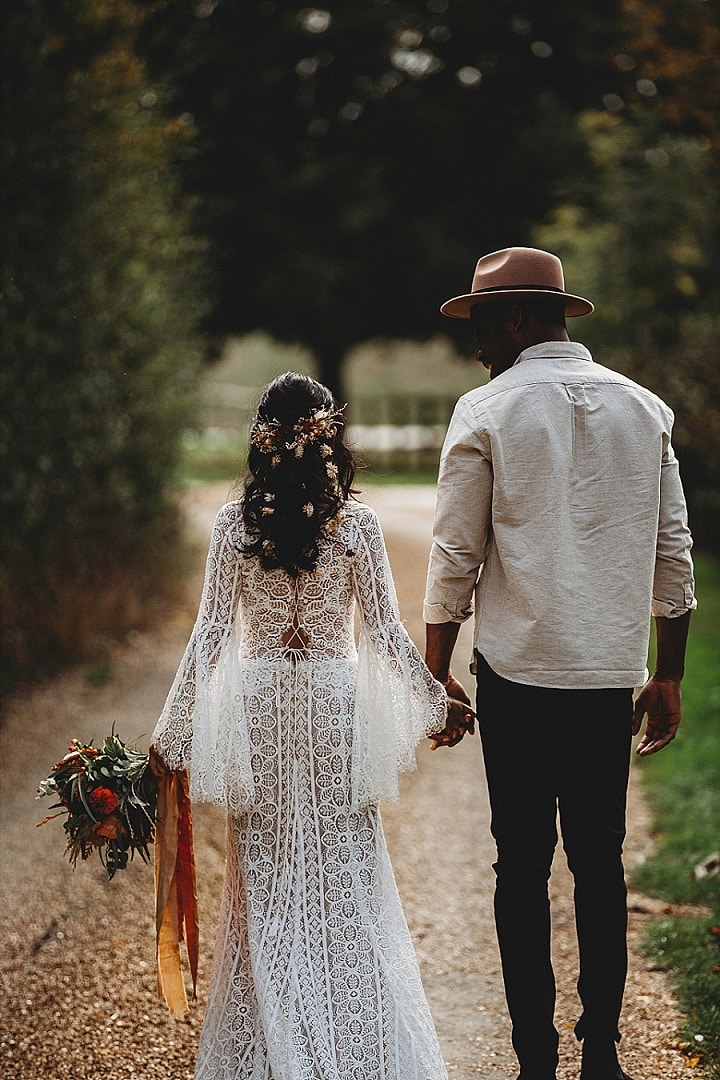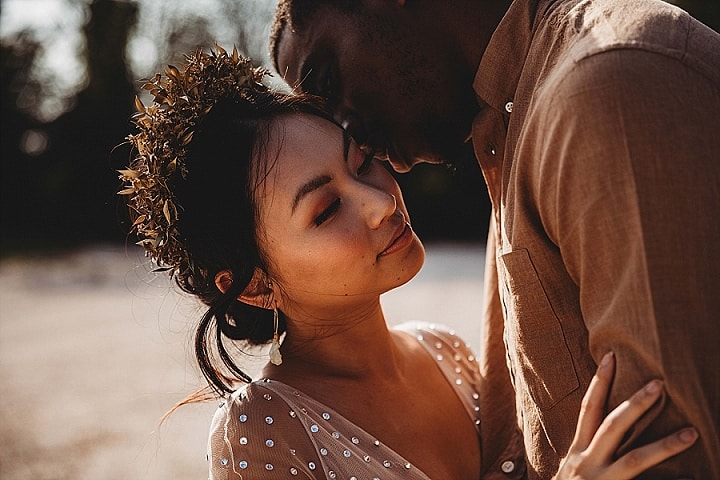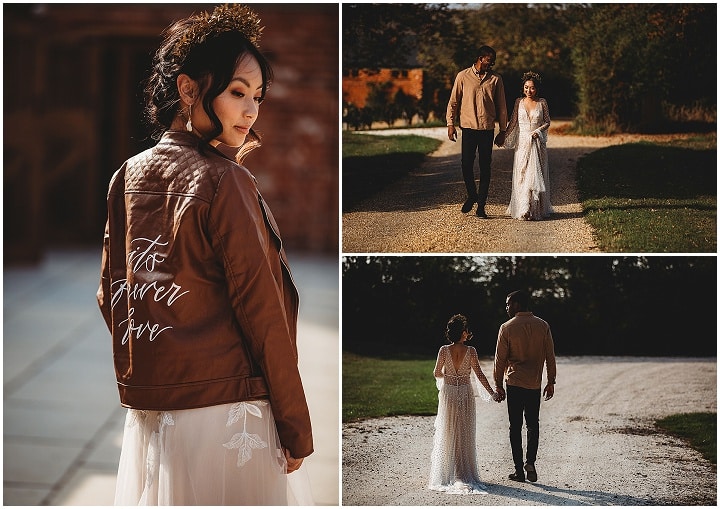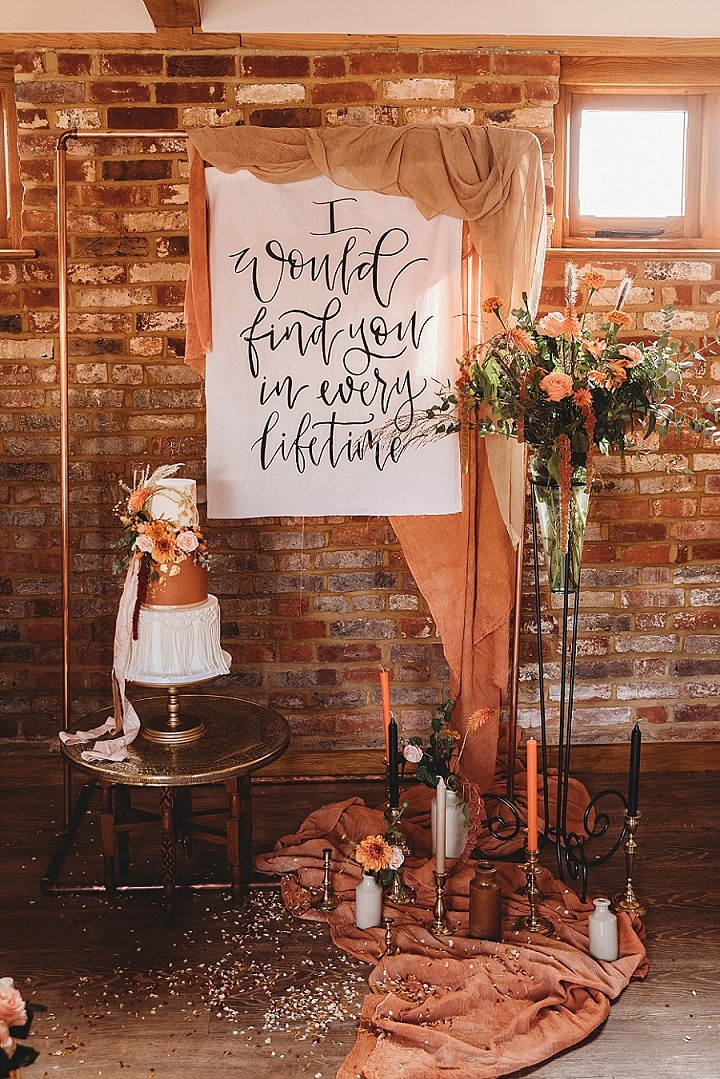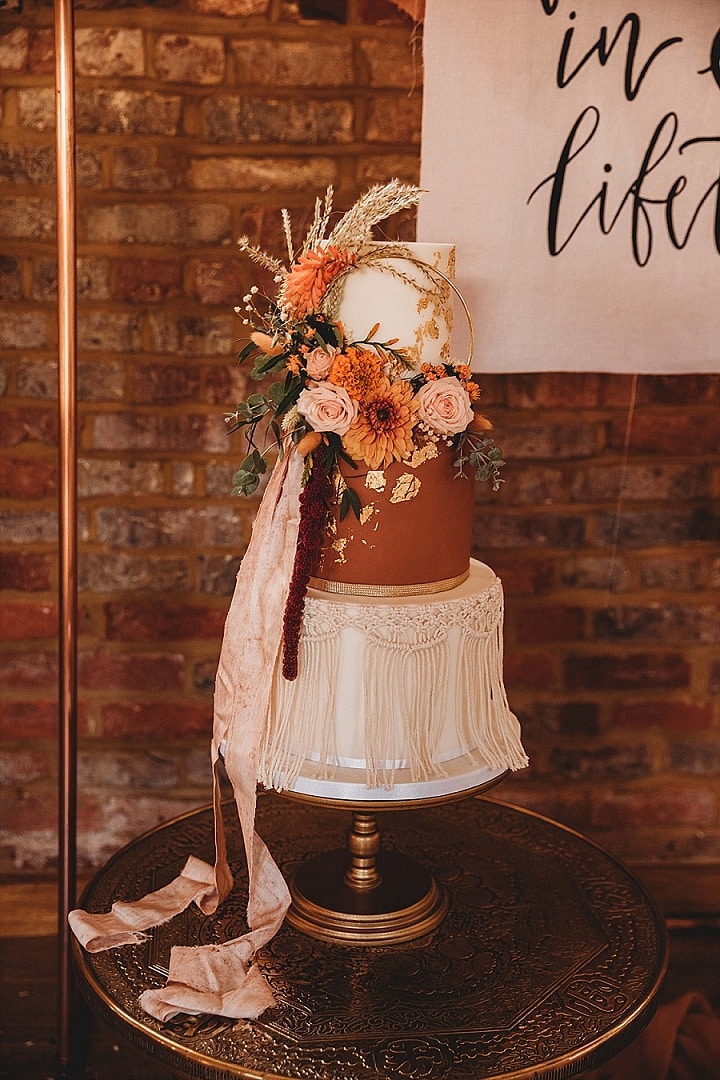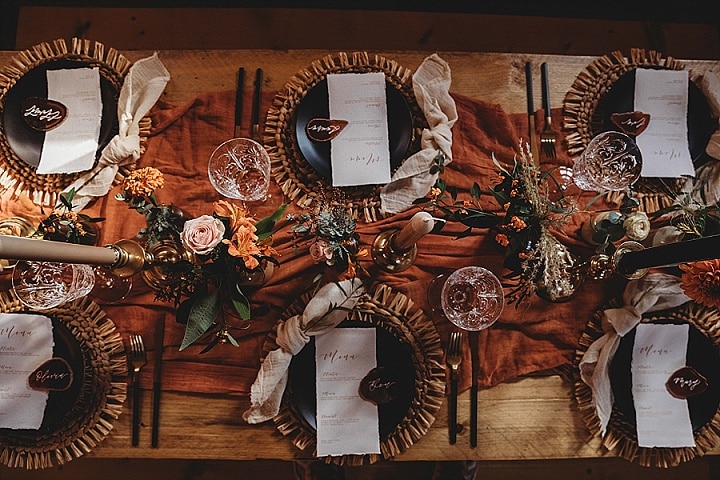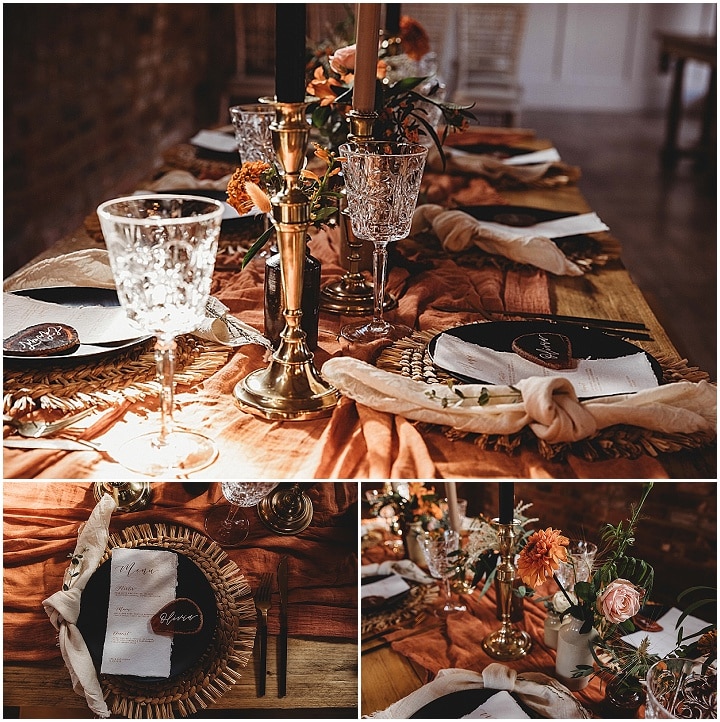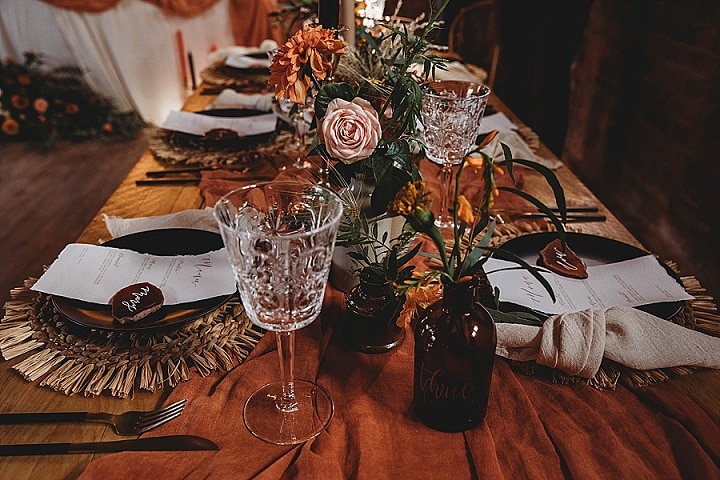 The suppliers who made the shoot possible 
For more information on Your Love Rocks Event Styling work go to 
www.yourloverocks.com / [email protected] / FACEBOOK / INSTAGRAM / PINTEREST
Prop hire, wedding & event styling and prop design.  At Love Rocks we supply & create unique props and event styling guaranteed to make your guests go WOW. We take the time to get to know our couples ensuring the day is truly you. For us, nothing is too much trouble, your Love Rocks so it deserves to stand out.