Today we have the cutest wedding for you. It's a vintage wedding and the attention to detail is wonderful, so many lovely decoration ideas, props, outfits and the most fun-loving couple. Katie and Drew knew that the Victoria Hall was the perfect venue for them as soon as they visited it, they are both musical, and lovers of all things vintage, so it ticked all the boxes for them. They set about with a long list of DIY projects to complete and the results are this beautifully quickly and vintage loving wedding. Prosseco in tea cups, escort cards made out of old keys, the list is endless! Oh and those light up letters, fantastic! Big thank to Craig at Mr & Mrs Wedding Photography for the images.
From the vintage bus to prosecco in teacups, it was all the little personal touches that made the day so special to us. Twirling under the fairy lights to the sound of swing in the beautiful Victoria Hall, we'll never forget those cherished moments we shared with all our favourite people.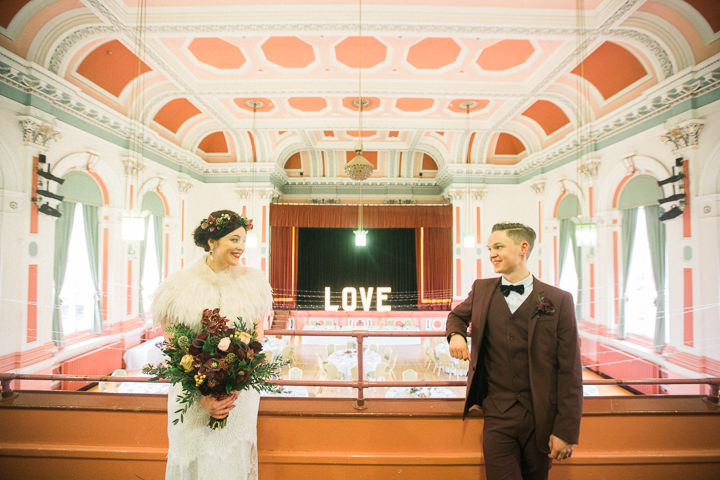 Katie and Drew were married on the 17th February 2017 at Victoria Hall, Saltaire. 'We were on the hunt for somewhere that really captured both of our personalities, when we visited Victoria Hall, we absolutely fell in love. We are both really musical and were always certain that we'd want a swing band at the wedding… so when we realised that there was a music hall with all of its original features from the 1800's, it was an immediate yes! The dreamy blush pink and rust high ceilings were also a factor! We had 120 guests (+30 for evening). We have such big families, and we were always sure that we wanted everyone to be there, even if it meant that we would have to skimp the costs on something else. The wedding took 18 months to plan.'
How they met
We have been together since 2011. We met at an open mic night at a lovely little pub called The Rook & Gaskill whilst we were both studying at university in York. We both had crazy hair at the time, I was trying to pull off an oversized beehive (and failing) whilst Drew had a half blonde and half black mop head! We were good pals for a while before we got properly together… After university Drew moved to Manchester with his band, whilst I was in Wakefield. We kept in contact, until the day after New Year's Day, January 2011 Drew took me for a ride in his new wheels and asked the big question; "You fancy going for a pint, just us two?" … and the rest is history.
The Proposal
Katie does not like surprises so it was very difficult to think of a way to catch her off guard with the proposal. I think she knew it was coming but had no idea exactly when. So, it was the morning after our baby girl Evelyn-Willow was born. I had been planning to propose before she was born but she surprised us all by arriving 5 days early, which scuppered my plans! I know that the way to Katie's heart is food! So I went to visit Katie and Evelyn in the maternity wing and brought us some breakfast from Costa, and proper coffee (something Katie had been missing during the pregnancy!), and I revealed the surprise box with the beautiful vintage ring and came right out with the question, and she said Yes!
How did you allocate your budget?
We had so many spreadsheets to help us keep on track with money and to help us remember everything we needed to buy. We read a lot of wedding blogs to help us gauge how much things would cost which helped a lot.
Where did you splurge and where did you save?
We chose a couple of things each that we were really happy to spend a little bit more money on, so for us it was all about the food and the band. We just felt that the two things would help us to create the best atmosphere and vibe on the day, it was so important to us that our guests had a blast. To save money we chose to do a lot of the arty and crafty bits ourselves… we sourced a lot of materials from Ebay, and in the end we made our own table plan, photo booth, favours & props ourselves, and they turned out great! We also took advantage of our talented friends/family to help us and paid them in hugs, and cups of tea. Our good friends James and Brenden helped us entertain the guests during the reception drinks with their magical singing & acoustic talents, and Ed played the piano as I walked down the aisle. We also called on my best friend Laura to do our invitations that turned out amazing – she's so talented!
Why did you choose your photographer?
Mr & Mrs Photography were really the only option for us. We'd began following the Mr & Mrs Instagram when we got engaged, and just loved Craig's style. We loved that Craig had previously shot weddings At Victoria Hall in Saltaire too, which helped us to envision what our photos would look like on the big day. I think we mostly loved how natural and fun the photos were in is portfolio… they were just as much about the guests as they were about the Bride & Groom and we LOVED that. Being a lover of all things vintage, I would definitely say that I really appreciated the attention to detail Craig had too… all the shots of all the little details with the decorations and accessories were really important to me.
The Dress
My wedding Dress was the Dixie dress by Claire Pettibone, and it was just the dreamiest gown ever – I bought it from Lace & CO and to this day I am still overwhelmed by how incredible the service was. A truly perfect little Bridal Boutique. Wedding shoes were the gold cross over flats from Russell & Bromley. Wedding Handbag – a 1920's styled embellished number by Jenny Packham. My blush pink ostrich feather bolero was also by Jenny Packham.
I also wore a bracelet that my mum gave to me for my something new, which was from Charlotte Mills – and it is a gold plated sixpence. I wore a real flower head crown that was made by the incredible florists at Leafy Couture – I cried when I saw this, it was so perfect, and exactly what I had wanted.
The Suit and Bridesmaids
The groom's and ushers' suits were the best bargain of the lot. We didn't have the budget for tailored suits, and I find it hard to find off-the-rail suits that fit properly, so we ended up looking online. And we found exactly what we were looking for on Asos, a lovely vintage style burgundy slim-fit suit. Jacket, waist coat & trousers for £105! The bow ties were FCUK black velvet.
As we had 6 bridesmaids, it was difficult to find 1 style of dress to fit all the girls properly, so we went for 2 different styles and went for black in the end. We finished off the look with a fox fur bolero wrap for each bridesmaid complete with a black beaded clutch, & big hair with a deep red lip. They looked divine.
Theme or colour scheme
We didn't go too matchy matchy on the colour scheme, but we did go for a selection of colours that went really well together, deep reds, black, gold & blush pinks, and olive green… we felt they captured the time of year really well. We were able to bring these colours together really nicely through the venue and the flowers.
Flowers
Oh my word. I just loved my flowers. I had asked for the most textured, and deep dark bouquet possible when planning with the florist. When I saw them on the morning I couldn't quite believe how perfect they were. The flowers in the venue, buttonholes and in the bouquets were made up of dark tones/colours of ranunculus, anemones, hellebore, roses, berried ivy and lots of green texture foliage. I also had a flower crown to match… which I loved so much.
Decoration
To tie in with the vintage theme, we hired a variety of different props from the amazing Add Vintage. We had old fashioned cameras, typewriters, hat boxes, vintage glassware & teacups.
Food
We went for a tasting day with GFS and gave them a few different things we said we'd like to try across their different menu packages, and it was all incredible! As we couldn't decide on just 1 soup we went for "His n' Hers" soups: a butternut squash & red pepper, and broccoli & stilton.
For the main we went for a herb-crusted rack of lamb with fondant potato and seasonal baby veg, the veggie / vegan option was pea, mint & asparagus risotto.
The dessert was a chocolate orange torte with red currant jus.
For the evening we chose their Ploughman's Buffet, it went down very well, a particular favourite amongst our guests were the delicious pork pies!
Wedding Cake
We both love cheese! So it had to be a cheese wedding cake! We had seen them at other weddings and thought they were right up our street. We used The Courtyard Dairy, which had 5 tiers including a goat's cheese, a cheddar, a stilton, a camembert-style and a Wensleydale-style, which we felt had something for everybody.
Entertainment
We hired an amazing swing band called Louis Louis Louis. Katie and her maid of honour, Laura, had stumbled across them at a bar in Leeds about a year or so ago and were blown away by their musicianship and captivating performance.
Stationery
Papier did all the stationary for the wedding day – we had hat themed tables, because I always wear hats, it's my trademark.
One of our best pals Laura Tomlinson who is a lingerie designer designed our invitations that were an animated portrait of myself, Drew and our little girl Evelyn Willow. They were amazing and very well received by our guests.
Personal Touches
To save money we did a lot of crafts ourselves!
Even on the day before the wedding we gathered 20 of our closest friends to come and help us set up the venue, we had hired a full vans worth of props, so we needed as many hands as we could get to make the venue look perfect!
We had a custom-built photo booth, which we made from MDF and an old photo frame. We decorated it with wallpaper and bunting & dressed it with suitcases, vintage cameras, a shaise longue, a vintage tall lamp and various other bits.
We also restored an old dressing table and used it as a sweetie table for the kids. We're both from big families and the children were a massive part of the day for us, so we wanted to cater for all the guests.
We restored a second dressing table that we used for our wedding cake.
We also decided to make our own seating plan. So we bought 120 individual brass keys, and found an old frame in a charity shop. We revamped the frame with some velvet fabric, and some gold paint. We hung the keys on in alphabetical order, the keys had little tags that told each of the guests where they were sitting.
Lighting was a big deal for us. We really wanted to make sure that the main hall felt cosy and not too empty, so we asked the venue to put up some fairy lights across the room which looked great, but we also hire uplighters and two sets of love stage lights which really added to the atmosphere.
Special Moments or Highlights
There were so many! When I saw my flowers for the first time I cried. After the ceremony Drew performed a song about our lives so far, that he had written and recorded with is groomsmen prior to the wedding. We loved our first dance, it just felt so special, all the different lights that we had hired looked amazing, we had chosen 'Lovely Day' by Bill Withers one of our favourite songs. We also loved the moment just before lunch, we went to see the main hall, all finished, it looked truly amazing and no-one had seen it yet, it really was such a lovely few minutes to appreciate all of our hard work and planning.
Advice for Other Couples
We would just say, be yourself. It's so easy to be swayed by the amazing wedding ideas that you see at fairs and in magazines, but it's so important to just focus on what's right for you. Anything is possible. TOP TIP: There is a lot to do, but if you don't have time to do something that you wanted to for your wedding day, it doesn't matter, because only you and the groom will know that you didn't do it…
Biggest Surprise
Drew performed a surprise song! After the ceremony, we were all drinking champagne in teacups without a care in the world, and Drew announced to everyone that he had written a song for me and that he was going sing it. With the help of his Best Man Tom on guitar they performed, for the first time ' The Story Of Katie & Drew'. It was amazing, and probably one of the best moments of my entire life. As a wedding gift, Drew had professionally recorded it so that I had a copy of the song, always. I listen to it all the time.
Supplier Shout Outs
FOR MORE INFORMATION ON MR & MRS PHOTOGRAPHY GO TO:
 www.mr-and-mrs-wedding-photography.co.uk / [email protected] / 07970299089 / FACEBOOK / PINTEREST / I: @mr_and_mrs_wedding_photography
Based in Saltaire, West Yorkshire we create artistic, creative wedding photography but with a friendly, laid back, natural approach that lets couples enjoy their day and spend time with their guests. Using a mix of digital, 35mm and a love of vintage lenses and all types of photography. We also love creating wedding films using digital and 8mm.