I have an afternoon post FULL of gorgeous wedding pretty today, courtesy of my good freind Debbie Carlisle and her new accessory collection, ' The Secret Garden'. Debbie and I started out in the wedding industry at the same time and we have been good friends since. It has been wonderful following her progression and seeing how much her business has grown over the past 6-7 years. Debbie's work is always beautiful, her attention to detail is second to none, she has an amazing way of creating something, pretty, delicate and very unique. Her work has a definite style but at the same time there is something in her collections for everyone. Weather you are looking for something small and subtle or a big show stopper, something glitzy or something of a bohemian style, Debbie has something to suit every brides tastes. The new Secret Garden Collection is absolutely stunning, I just know you are going to love it.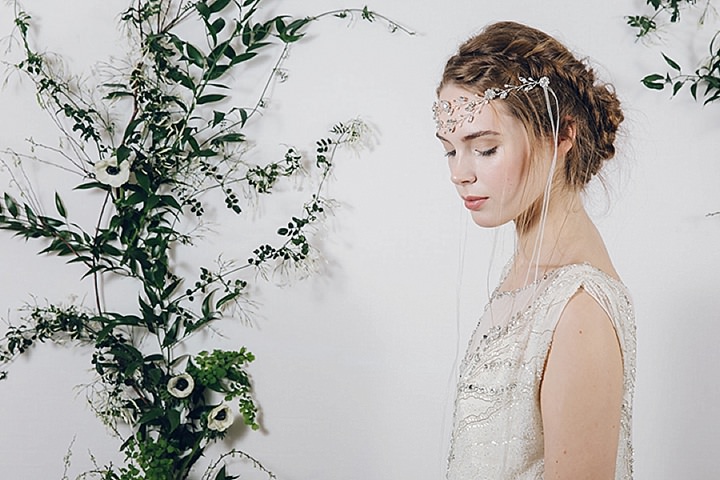 I'll Let Debbie tell you more about the collection herself.
Secret Garden is a sparkling collection of silver crystal and pearl floral wedding hair accessories inspired by the wild flowers and trailing vines of the English countryside. The collection includes intricate trailing wedding hair vines, bridal headbands, combs and hair pins and is perfectly suited to boho brides who love a touch of vintage sparkling style.
I have also updated my rustic ethereal floral Enchanted collection with some new designs – including adding a beautiful blush pink mother of pearl carved flower headband.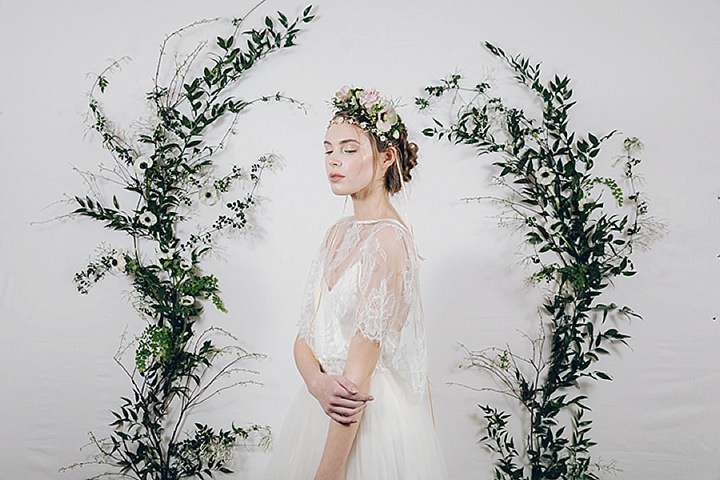 Elizabetta – £145

Left £125 / Right £145
Minna Braiding Set £125
All the pieces from within each collection are designed to be mixed and matched together to create new looks. Both include delicate hair pins which brides can use to dust their hair with a touch of whimsical sparkle – or to build new headpieces of their own design by teaming them with other pieces from the coordinating collections.
All of the designs are hand-wired to order in my UK studio and are designed to be flexible so they can be gently twisted and turned into and around your own hair style.
The trailing floral design of each collection gives a slightly deconstructed feel to the headpieces which makes them work in either relaxed settings or elegant black tie affairs. Like all my designs the pieces mix a bohemian vintage sensibility with a contemporary fashion-forward edge.
The Secret Garden collection is created from silver wire, sparkling flower and navette shaped crystals, and ivory freshwater pearls which are wired together to create a series of stunning looks – from the smallest hair comb and hair pins to the most dramatic of hair vine combs which trail around the head to create a different look from every angle.
Blanche – £195
Eleanora Double Hair Band (styled with Juliet Cap) – £265
Cora – £195
Eleanora Double Hair Band – £265
Estelle – £145
Isadora (bottom image styled with Juliet Cap) – £175
Estelle – £145
Etta – £195
The Enchanted collection mixes delicate carved ivory mother of pearl flowers with gently shimmering crystals and freshwater pearls. Every design is available in silver or antique gold – plus the new addition to the collection, the delicate blush pink Isabella mother of pearl headband. All of the pieces are designed to be as flexible as possible so brides have lots of choice about how to wear them – or can change the way they wear their headpiece during the day. The possibilities for styling these headpieces are endless!
One of the looks I loved creating for the images you see here is a fresh flower half crown which we styled with some of my jewelled headbands. This is such a striking look and also deals very well with the issue of your flowers wilting – if they do, just take off the crown to reveal the jewellery headband and you have a new evening look! The Saffron hair pins can be added to any of the other Secret Garden pieces to add extra sparkle. Adding just two or three pins to your daytime hair accessory will quickly transform it into a new, more dramatic evening look.
As well as being extremely flexible all of my hair pains make beautiful – and affordable – gifts for bridesmaids and attendants and come as gift-boxed sets. The new collection pieces range in price from £10 to £275 and are all made with my signature attention to detail and quality. All of the pieces are light and comfortable to wear and all headbands are wrapped in soft satin ribbon to ensure they don't rub or pinch.
Lucia – £85
Nora – £135
Nora – £135 (Right Image styles with a Juliet Cap)
Sybil – £275
Scarlett – £195
I have been designing for brides since 2009 and my headpieces are shipped all over the world and are available to buy from www.debbiecarlisle.com. I also offer private consultations in my Sheffield studio where I will help you select the perfect style for your gown and personal style. A selection of my accessories are also stocked in boutiques in the UK, US and Japan where brides can see, try and buy my designs in person. Every headpiece is made to order which means brides can also request bespoke changes – such as lengthening or shortening a piece, changing the colour of the headband a piece sits on, or even putting a comb or hair vine design onto a headband.
To find out more about Debbie and her work
www.debbiecarlisle.com / ww.debbiecarlisle.com/blog / FACEBOOK / PINTEREST /  T: @dcbouquets / I: dcbouquets
Suppliers involved in the shoot