I am so pleased to be able to bring you this amazing post full of so much pretty to the blog. Debbie is a great friend of Kelly H's and she is such an amazing designer. I have had the pleasure last year of photographing some of Debbie's pieces at the weddings I have attended. Debbie's attention to detail is second to none. She has this amazing way of creating something, pretty, delicate and very unique. I love her work so much and I was so excited when Kelly asked me to write this post for her. Her 2015 collection is stunning!  I think this is defiantly my favourite of Debbie's so far to date.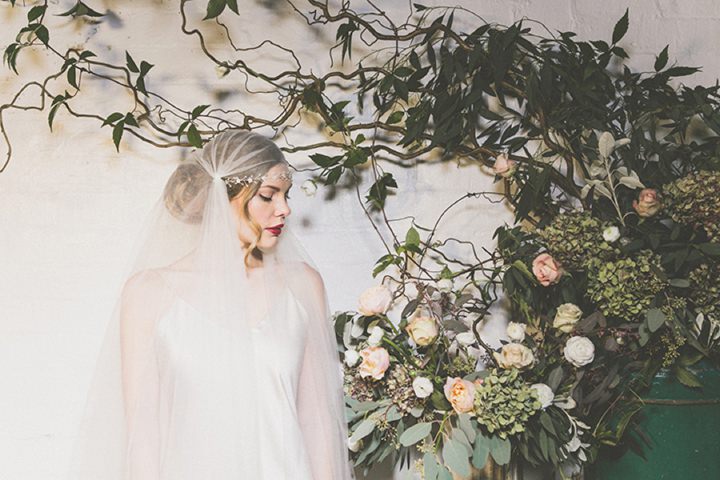 More From Debbie about the collection…………..
For my 2015 wedding hair accessories I decided to create two separate collections for brides to choose from.
The Enchanted Collection is perfect for boho, woodland and rustic brides looking for delicate and natural bridal hair accessories which still have a touch of elegance and sparkle.
Enchanted is all about intricate hand-wired beaded hair vines, circlets and combs inspired by natural florals and botanicals and is the perfect alternative to a flower crown – with the added bonus that you can keep it forever and wear it again! Every design is available in either silver or a warm antique gold tone and is made of materials with a subtle shimmer rather than full-on crystal shine.
The Limelight Collection meanwhile is all about the bling! The collection is inspired by old Hollywood style glitz and glamour and will appeal to vintage-loving brides looking for serious red carpet sparkle and shine from their wedding hair accessories.
The Enchanted collection contains my most versatile pieces yet. The wired wedding headpieces are designed to be worn as hair vines which will twist and turn around the head and nestle into, around and through the hair almost like real trailing florals or foliage. They can be worn in so many different ways that the possibilities are virtually endless – although I've styled them in lots of ways brides can also come up with their own way of wearing the designs to make them completely unique to them.
Most of the wired designs sit on combs and some have trailing strands which can be pinned into place through tiny hidden loops with Kirby grips. There's even a delicate halo circlet piece called Haillie which will just rest gently on the head – or you can pin it into place if you're likely to be doing a lot of dancing! I love this piece with a delicate veil sitting over it ready to be removed later on to reveal the halo in all its glory!
Anna Crystal Comb £115 with masked Veil £35           Annabel Headband £130 with birdcage Veil £35

Arabella Crystal Cuff £185
Arabella Crystal Headband £185  and Arabella Crystal Cuff £185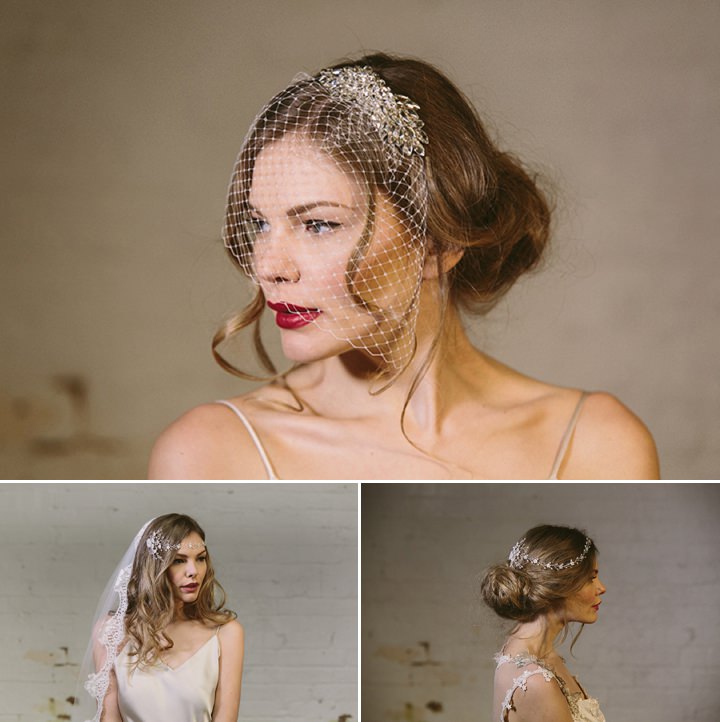 Astrid £185 silverhair vine comb
The hand-wired Enchanted designs use gold or silver-plated wire and intricately-carved pale ivory mother of pearl flowers which have a beautiful lustre and shine without being overwhelming. The silver options use clear faceted Czech crystals mixed with pale ivory freshwater pearls, while the gold versions use beautiful antique gold faceted Czech crystals which are partly glazed for a delicate and warm golden shimmer which creates a more unusual bridal look and adds to the natural rustic feel of the headpieces.
One of the things I love most about the Enchanted collection is the fact that they work so well with veils. The designs look amazing with a Juliet Cap veil and also with more traditional simple long veils. There's a delicate comb called Viola which can be worn above a veil at the back of the head, while a hair vine or circlet headpiece looks stunning gently shimmering under a gossamer-light veil. Even the biggest pieces, like the Sylvie and Astrid combs, are so delicate that they will complement a veil instead of overwhelming it.
The Limelight collection designs were inspired by vintage jewellery and would look perfectly at home on brides planning vintage weddings inspired by any era from the 1920s onwards. I used high-shine clear crystals to create red-carpet-worthy headbands, cuffs and belts as well as other hair accessories which were inspired by 1920s art deco jewellery.
Ava £145 Feather Headband
Top: Gold Olivia Beaded. Comb Bottom Left: Haillie £145 gold halo circlet Right:Ava Feather Headband £145 with mask veil £35
Haillie gold hal circlet £145
Imogen Gold Comb £95
Top: Imogen Silver Combs £95 each
The Anna and Annabel crystal bridal combs, along with the Ava crystal embellished feather headband were inspired by 1920s Great Gatsby style design. The larger Limelight pieces owe more to the vintage Hollywood glamour of screen sirens from the 1930s through to the 1950s, mixing geometric shapes with fluid lines to create pieces that have their roots in vintage design but with a contemporary feel.
All of the Limelight pieces are designed to be worn with my existing birdcage veil designs, and I've also added a new 'mask veil' made from the same soft fine French pale ivory netting which pins at either side of the head. The mask veil is a really simple way to wear a veil with a side tiara or headband because it can be easily removed later in the day without having to take off your headpiece. Alternatively the mask veil is also available as a set with two small crystal combs (the Anna combs) which can be used to pin the veil in place at each side.
To view more ways of wearing the headpieces in the collections, or to buy online, visit Debbie Carlisle's website at www.dcbouquets.co.uk
Bottom Right: Sylvie gold hair vine £225
 Sylvie gold hair vine £225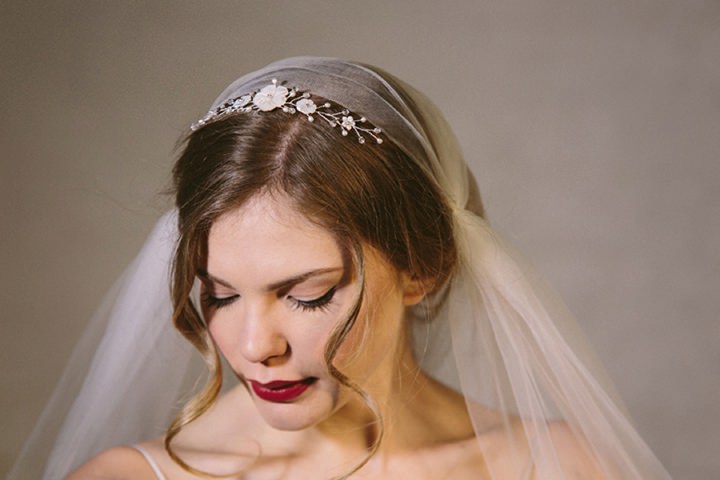 Bottom Left: Willow £125 Silver Droplet Hair Vine Browband
I'm sure you will agree that the new collection is absolutely stunning, there is something there  for all thypes of bride. We love Debbie's work here at Boho and I'm sure you do to.
For more information on Debbie's work go to:
www.dcbouquets.co.uk
www.dcbouquets.co.uk/Blog
FACEBOOK
TWITTER
The people who made the shoot possible
Due to an email issue if you have emailed me between the 2nd & 9th of December, please resend it.
X