Today I have something very special for you, as I'd like to introduce you to the new accessories collection from Debbie Carlisle. As you know Debbie is good friend of mine, so I am so proud to be able to share this STUNNING new designs with you all.
It has been wonderful watching Debbies business grow over the past 4 years, and see her go from strength to strength. Each year as well as her amazing bridal bouquets, Debbie brings out a new accessories collection, I thought last years was pretty awesome, but this years collection has trumped it, as Debbie pushes her designs that one step further. Debbie Brings you an amazing collection of beautiful headpieces and combs, and for the first time a beautiful collection of earnings, including 22 gorgeous designs.
Debbie has named her new collection The Adagio Bridal Collection as they have been inspired by the grace and beauty of the ballet and feature designs ranging from simple, elegant hair combs and headbands to statement headpieces and unusual hair jewels and circlets that can be worn in many different ways. Debbie's pieces all have a vintage-inspired style mixed with a more contemporary approach which suits brides looking for a unique way to accessorise their wedding gown. Prices rang from £15 to £85 for wedding earrings and from £35 to £165 for headpieces the collection offers something for brides of all budgets.
Debbie says 'While I'm always influenced by vintage styles and materials I wanted this collection to have quite a classic, contemporary and feminine feel and this led me to use the ballet as my inspiration. In ballet, Adagio refers to slow, fluid and graceful movement which I think really sums up the feel of the collection.'
Aurora
Aurora is available as a delicate wedding headband or as separate bridal hair combs. The headband features a central flower with a leaf trio on either side sitting off-centre on a black satin ribbon-wrapped headband in a side tiara position. The flower and leaf trio are also available as separate hair combs.
Headband £125, flower comb £55, leaf comb £30
Odette
The Odette wedding headband is the statement big sister bridal headpiece to the Juliet hair comb and fuses a cluster of leaves encrusted with glass seed and bugle beads with a glittering diamond-shaped crystal centrepiece that oozes glamour. The Odette bridal headband comes as standard on an ivory satin ribbon-wrapped headband. Other ribbon colours available.
£165
Juliet
Juliet is a simple and elegant bridal hair comb that will add a touch of delicate sparkle to a bride's wedding day look. Six leaves encrusted with glass bugle and seed beads give the piece a gentle shimmer while the clustered crystal centrepiece adds a touch of Hollywood-style glamour. Wear alone or add an optional birdcage veil for an edgy or vintage-inspired look.
Comb £75, birdcage veil £30
Darcey
This romantic diamante bridal circlet is extremely versatile. Wear on the crown as a wedding halo with the diamante cluster circles over the forehead or at the sides of the head. For added security the piece can be kirby gripped into place. Alternatively pin with provided grips and wear as a double-strand bridal forehead band or looped at the back of the head. Also available on an organza ribbon tie, suitable for wearing as a forehead band or circlet with the diamante clusters at the side of the head.
£145
Carmen
Carmen is a delicate diamante and pearl beaded wedding headband with an ethereal twist. Carmen sits on a slim 3mm wide ivory organza ribbon which ties at the back of the head or the nape of the neck for added comfort and perfect fit. Carmen is extremely versatile and can be worn as a forehead band as well as in tiara or traditional headband position.
£125
Coppelia
Coppelia combines the traditional bridal tiara with a more modern wedding headband style for a classic yet contemporary look. This diamante bridal headband comes as standard on a black satin ribbon-wrapped headband – other ribbon colours available.
£135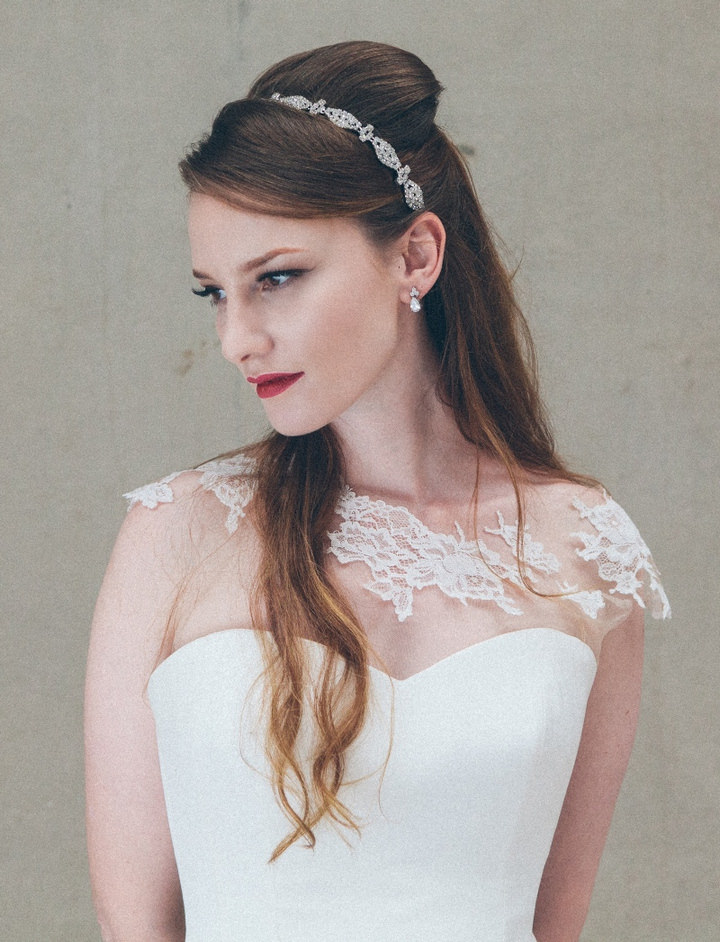 Margot
Margot is a simple and classic bridal comb perfect for the understated bride – or to delicately accessorise a bold statement gown. Equally at home on bridesmaids, the Margot wedding comb mixes round, oval and marquise-cut crystals to create this effortlessly elegant design. Add a birdcage veil to complete the vintage look.
Comb £35, birdcage veil £30
Ophelia
Ophelia is a romantic and ethereal bridal circlet which can be worn in many different ways. Ophelia's delicate silver-plated chain will sit gently on the crown as a wedding halo with the crystal cluster circles resting on the forehead or sides of the head. For added security the piece can be pinned into place with the provided grips. Alternatively Ophelia can be worn as a double-strand bridal forehead band or looped at the back of the head.
£95
Titania
The Titania droplet forehead jewel is a simple and delicate way to introduce a gentle touch of bohemian sparkle to a bridal look. A stunning droplet of Swarovski crystals and pearls dangles from a gold or silver-plated chain which can be pinned into place as a forehead jewel or at the sides or back of head.
£35
Earings
For the first time Debbie has also added a whole new range of accessories to her collection – 22 pairs of beautiful bridal earrings. 'For my wedding earrings collection I've come up with a selection of pieces that I think complement my headpieces and vintage jewellery bouquets and will appeal to brides who like my style. Whether brides are looking for vintage style clip-on earrings, classic bridal studs or a statement pair of bridal earrings'
So there you go, what do you think? isn't it all totally gorgeous! Debbie has done such an amazing job with each and every piece in this collection, I just love them all!  I'd love to know what your favorite piece is!
For more information on Debbie's work go to:
You can see the the full Adagio Wedding Headpiece collection HERE
You can see the full earrings collection HERE
www.dcbouquets.co.uk
www.dcbouquets.tumblr.com
FACEBOOK
TWITTER