I have a real treat for you today, something for all you lovers of glamour, sparkle and shiny things! courtesy of Debbie Carlisle. Debbie is a good friend of mine, she designs the most beautiful vintage inspired bouquets  as well as an amazing range of accessories which I featured back in October when it was first launched. And now Debbie has an equally pretty collection of new accessories made especially for bridesmaids!
'Give your best girls the gift of bespoke design with new bridesmaids accessories by Debbie Carlisle'

Debbie's new bridesmaid collection promises glamour, sparkle and a few textural surprises, perfect for brides and their maids who are looking for accessories with a bridal feel without being too obviously traditional or twee. The range fuses vintage-inspired glamour with a modern rock and roll edge and has been created to be worn by both brides and their maids.
Each piece is handmade by Debbie to order and can be created in different colours and sizes at no extra charge. The collection is designed to be as versatile as possible so bridesmaids can wear the same design in a variety of ways, such as s headbands, forehead bands, combs, dress clips, brooches or wrist corsages.
The range mixes traditional bridal materials like diamante jewels and organza ribbons with more unusual textures of soft leather and delicate sculpted silver-plated wire to create a soft but edgy collection that will appeal to style-conscious women who want something a little different to the bridal norm.
Debbie said: "When it comes to bridal accessories most designers tend to focus on pieces for brides which means bridesmaids often 'end up' with accessories that are either originally designed for brides – or with high street accessories that any wedding guest could pick up.'
"I thought it was about time style-conscious bridesmaids got a taste of bespoke bridal design for themselves with pieces created especially for them which can double as a special wedding day gift.'
"I wanted to create a series of pieces that were glamorous enough to make a bridesmaid feel truly special, yet delicate enough to avoid stealing the show from the bride! I loved the idea of mixing traditional bridal materials with more unusual textures not usually seen in bridal design and I think the result is something truly unique."
"I live and work in Sheffield – which is famous for its steel manufacturing and metalwork design – and I was inspired by my home city's heritage when designing this new collection. I work with silver-plated metal wire a lot when creating my bouquets and so it was a natural progression to introduce this material into my accessory designs."

Coco  – £35
Is a fine silver-plated metal mesh sculpted bow headpiece with a sparkling vintage style diamante centre that adds a delicate and fun look to any outfit which is striking without being overwhelming. This light pretty bow can be placed on a comb for ultimate style versatility or a headband depending on your maid's preference.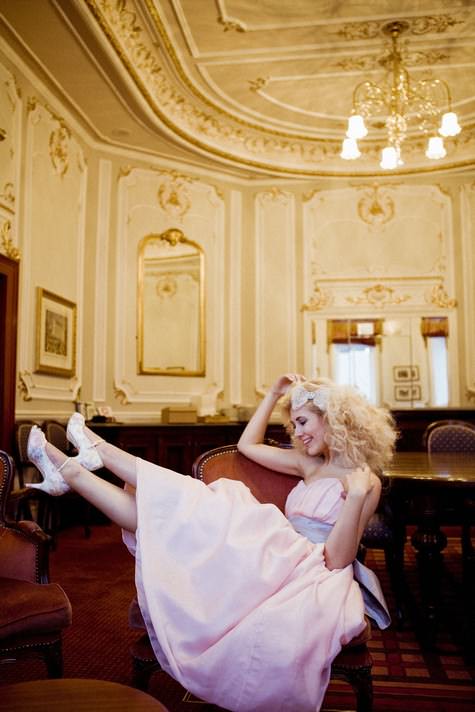 Giselle – £45 
Is a gossamer-light silver corsage with a diamante centrepiece which looks as light as chiffon – yet it is crafted from silver-plated wire which is knitted into a fine mesh and sculpted into the shape of a delicate corsage. This ethereal piece can be placed on a ribbon, comb, headband or clip and worn as a hair accessory, wrist corsage or pinned or clipped to a gown.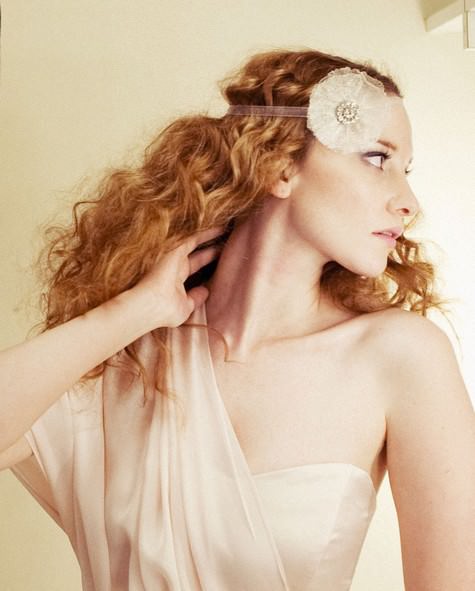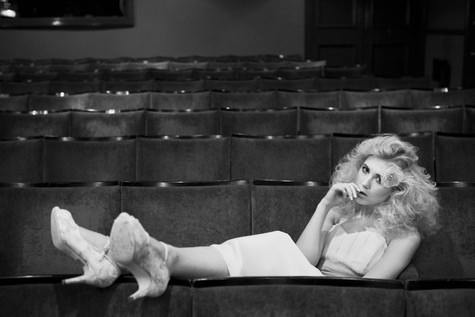 Lana – £100
Is a very special diamante forehead chain designed to suit both brides and bridesmaids. It can be worn by bridesmaids attending a bride who has chosen Debbie's more flamboyant Florence headpiece for their wedding day – or for brides who would like to wear a more delicate version of Florence.  Lana can be worn as a forehead chain, a headband or sitting on the hairline and is a very elegant yet fashion-forward style perfect for brides or bridesmaids wearing full-length gowns.
Bella – £60
Is a diamante flower headpiece with heart-shaped petals that work perfectly with gowns with a sweetheart neckline. It is pictured here on a thin soft black leather thong which allows the piece to be worn as a headband or forehead band. It can also be placed on an organza ribbon, satin-wrapped metal headband, comb or a clip or pin to attach it to a gown.
Minette – £60
Combines a moulded soft grey leather bow with a sparkling diamante centrepiece to create an unusual headband for bridesmaids. This can be created in a colour to complement your maid's outfit or shoes.
The collection, alongside Debbie's new 2012 bridal accessories range, is available to buy online now at www.dcbouquets.co.uk.
If you would like to meet Debbie and see the full collection then she is holding an accessories designer eveing on 3rd February between 3pm and 8pm at the White Room Bridal Boutique in Sheffield.
If you're not in the Sheffield area then a list of all the shows that Debbie is exhibiting at can be seen HERE  
For more information on her work go to
www.dcbouquets.co.uk
FACEBOOK
TWITTER
[email protected]
07719 034931
Follow Debbie's Diary www.dcbouquets.tumblr.com
Credits: