I am delighted to welcome back Laura from The Mrs Makes to the Blog for today's DIY Tutorial. Today Laura is going to be showing us how to make this super cute and super easy tissue paper tassel garland. It looks so pretty and is so easy to make, I think even I could manage this one. In fact the next party I have I may think about making some of these, so much quicker than bunting!
I'll pass the blgo over to Laura………
Paper tassels are great for all sorts of things, in all sorts of sizes. Attach them to a large helium balloon, you can use them as a photo display or you can decorate your chairs with them. They are super easy to make and very versatile.
STEP 1)  Take your paper sheet and fold in half length ways, then in half width ways.
STEP 2)      Cut the paper from the unfolded end into about 2cm strips leaving about 4cm uncut at the folded end.
STEP 3)      Unfold your paper and flatten all the strips out
STEP 4)      Start rolling your paper from the uncut centre section. Try to keep the tassel strips from getting tangled
STEP 5)      Twist the middle section to secure the roll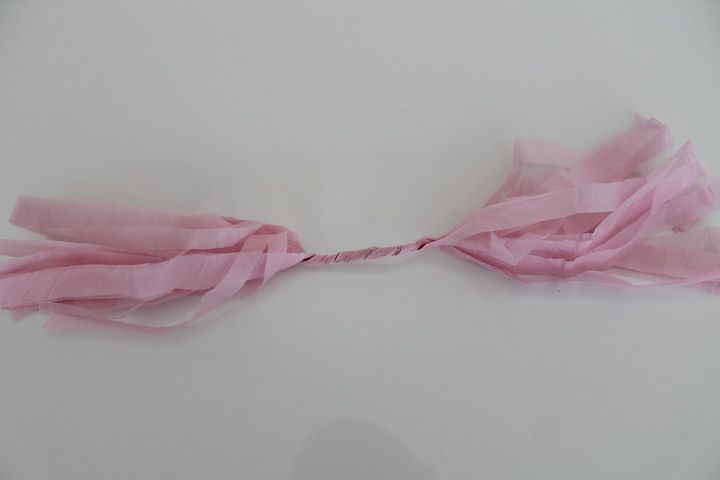 STEP 6)      Twist the middle around itself, creating a loop. If your paper won't stay in this position, add a dab of glue here.
STEP 7)      Thread the tassel onto some string.
And there you go, you're done! Wasn't that easy! Just keep on adding more tassels to your string to complete your garland. You can use the same colour, or mix and match your colours. Also adding tassels to a balloon string can create a super cute look and pretty up any wedding or party.
You can read more about Laura's DIY life on her Blog
www.themrsmakes.com
FACEBOOK
@TheMrsMakes