I have a gorgeous wedding for you today courtesy of the very lovely and hugely talented  Laura Babb . I featured Dennis and Aimee a few months ago with their London Bridge pre-wedding shoot HERE . It was a fun shoot full of personality, which gave us an idea of what to expect for the wedding. Yet again Laura has done a superb job with the photos and has captured this vintage inspired day perfectly. The wedding is full of gorgeous touches, lace, buttons, home-made and personal elements as well as some touching moments.
'The most fantastic day shared with the people we love the most.'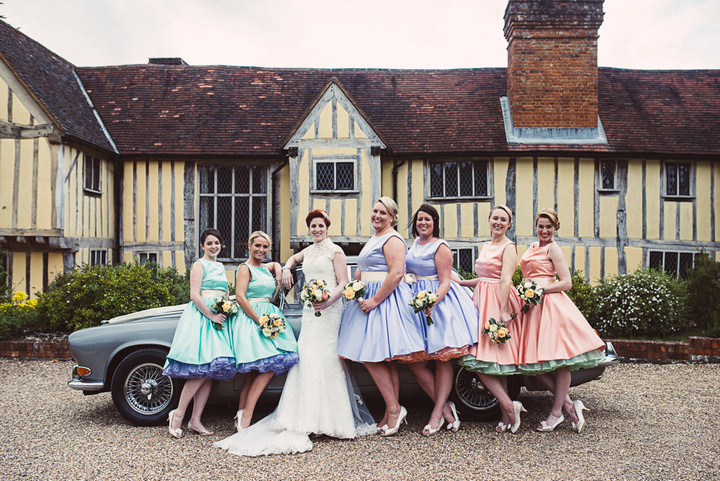 Aimee and Dennis were married on 22nd June at Cain Manor, Farnham, Surrey. 'Cain Manor is an intimate, beautiful country house with exclusive use. We didn't want to feel like we were having a conveyor belt wedding, one in one out. We had 70 guest to the day and another 30 to the evening and it took 10 months to plan.'
How they met
We met when Den was Musical Directing a production of We Will Rock You and I was dancing in the show. We've been together 4 years.
The proposal
To cut a long story short:Den had dropped in to conversation a few times at various dinners, 'So, shall we get married?' Or something not to dissimilar to these words. I wanted this to be a memorable experience as I hoped that I would only ever do it once! So…..
For Valentines day, I made Den a big love heart made of pin badges that related to me and him and left a space. I told him I wanted to buy an 'I LOVE N Y' badge from New York when went towards the end of February. I then had a handmade button created saying 'Marry Me?'. On the 29th of February, I gave him the badge and surprised him with Champagne and a lovely breakfast on a table full of heart plates, confetti, and roses.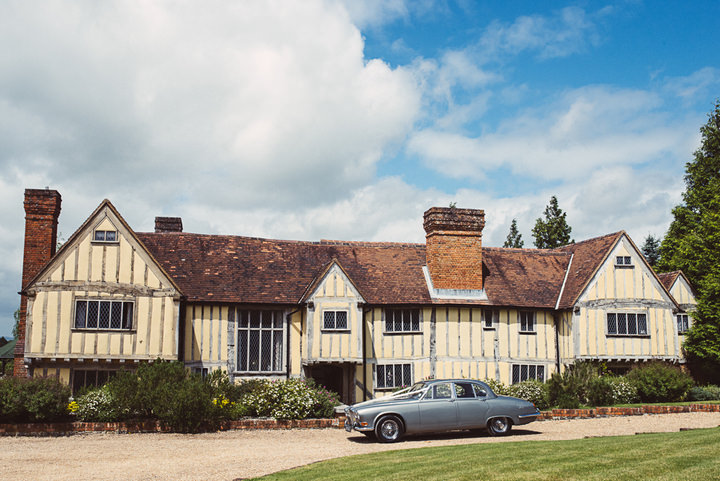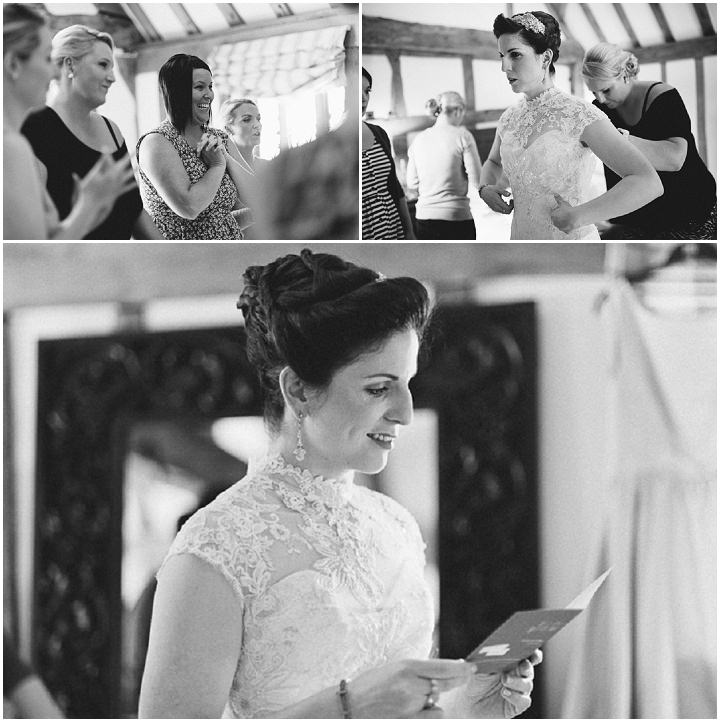 Why did you choose your photographer?
I looked at (what seemed like hundreds) of photographers online and Laura Babb caught my eye. Her photos are unique, creative and certainly anything but run of the mill which is how Den and I would like to think we are. We could not be happier with our photographs, they are quirky and captured all the important moments of the day without being intrusive. Just perfect.
The dress
The dress was by Justin Alexander, with Rachel Simpson shoes, Earrings from Fur Coat, No Knickers, Hair Piece, Halo & Co, I Borrowed a garter that I had bought for my best friend's wedding and wore my great grandmother's bracelet.
The suit and Bridesmaids
Marc Wallace for the suite and honeypie Boutique for the dresses.
Theme or colour scheme
Our colour scheme was mint and lavender until I fell in love with some beautiful peach avalanche roses. This colour then became a prominent choice of our colour scheme. We have two bridesmaids wearing lavender, two in peach and two in mint green. Our theme would be classic vintage with a hint of lace and buttons.
Decoration
We had white hearts which I decorated with our themed ribbon colour. In the hollow hearts I hung a key using invisible thread. I made a handmade sign to go outside the venue. We had lots of buttons!
Entertainment
We had The Salieri string quartet for our service, with members of Serendipity singing. We then had 'Serendipity' the group Den accompanies, playing after dinner – Den took to his faithful keyboard. We had a traditional Jazz band playing while the evening guests arrived. We then had Cain Manor's resident DJ for the evening.
Flowers
The bridesmaids and I had a rustic style bouquet filled with peach roses, flowering mint, lavender and Rosemary (mine had a white one to represent my granddad). My wedding organiser, who is also a great friend, arranged all the flowers in my jam jars which I had decorated with mint, lavender and peach ribbon and lace. Following the same theme as the florist. We had lavender for the table decs which I bought from the local lavender field and potted in ivory flower pots, finished with lavender ribbon. We thought that it would be nice that whoever took the decoration would be able to take it home and plant in the garden!
Personal and homemade touches
• I handmade all the place names with brown luggage tags and buttons.
• Tied ribbon around our 'forget-me-not seed' favours.
• Our main favour was a donation to the Alzheimers association, with a forget me not pin for everyone. (on behalf of my granddad)
• I handmade our table plan with vintage sheet music and picture frames which I painted – with help from my best friend
• Handmade vintage sheet music confetti cones with dried flower confetti.
• We framed pictures of our parents weddings which we had near our card box.
• Our card box was an old suitcase which I decorated with vintage wallpaper.
• We had a finger print tree..
• 3 huge balloons to represent the people that couldn't be with us
• Teacups for our peach bellinis!
• I absolutely loved our cake! (made by an old school friend of mine) It was just what I had envisaged and sat next door to it was our two little wedding birdies.
Special moments
Everything was fantastic and it's hard to pick specific things but the time I spent with my dad before the ceremony was very special to me. Seeing Den's face as I walked down the aisle. I loved saying our vows and our special photoshoot out in the woods with Laura. (although I ruined my Rachel Simpson shoes!)
Advice for other couples
The same as everyone says..enjoy it, it goes so quickly! It would be lovely to say don't stress about all the little things but if you're anything like me you will! I think the little things make the day personal to you both and your personalities.
Biggest surprise
How quickly it went!
Mr & Mrs Hooker from Jumping Spider on Vimeo.
Supplier Shout Outs
For more information on Laura's work go to
www.babbphoto.com
www.babbphoto.com/blog
FACEBOOK
@BabbPhoto