Today I'm delighted to welcome Nikki Cabezal from Jam Paper to the Blog. Nikki is going to show us how to make this super cute and super easy paper bunting, that is perfect for an outdoor wedding or an indoor wedding, party or just to pretty up your house!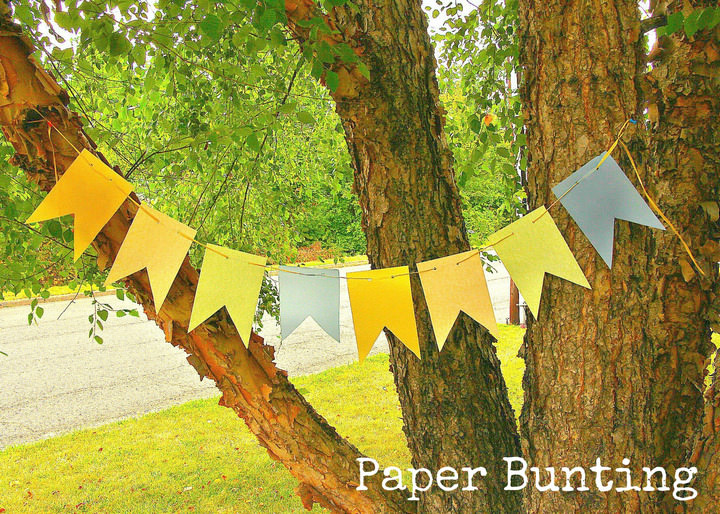 I'll pass the Blog over to Nikki………..
We're bringing you a simple and beautiful wedding DIY, because we want to help you with outdoor wedding ideas that are pretty as well as manageable.  This wedding paper flag garland is easy enough for anyone to replicate. Especially with our step by step tutorial. For our example, we went with a gold and light blue parchment palette for a look that's sweet and charming. You of course can choose any color or texture to match the theme of your wedding. The perfect DIY summer wedding decoration project, just gather the necessary materials and begin.
Step 1) Create the Template
Take a standard size sheet of cardstock or paper and fold it horizontally twice over – fold in the direction of the white dotted lines shown in the pictures.  This helps you find the center of the paper.
Unfold the paper once and line a ruler up with the center crease. Measure 3 ½" up from the bottom and make a mark. This will be the top point of your triangle.
On both sides of the center crease, angle your ruler and draw a line from the mark to the bottom corners of the paper. Then cut along the lines to create your template.
Step 2) Creating Flags
Take whichever decorative cardstock you've chosen for your banner and fold it horizontally once – the same way you first folded your template.
Line your template up with your folded cardstock and trace the cut-out triangle shape onto the cardstock.
Cut the triangle out, then unfold the cardstock and cut along the center crease. This creates two flags for your garland from one sheet of cardstock.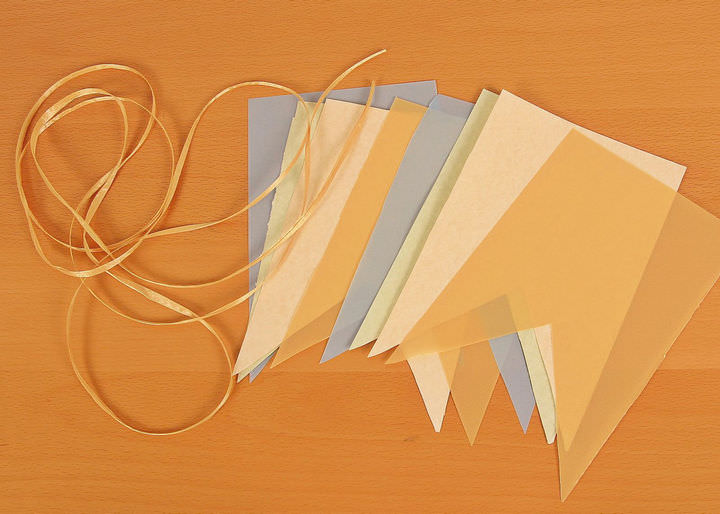 Step 3) Threading the Flags
Lay your ruler across the top width of one of your flags. Make hole punches at 2 inches and 4 inches.
Take your ribbon and loop it through the holes, alternating between the back and the front on the flags until they are all strung together.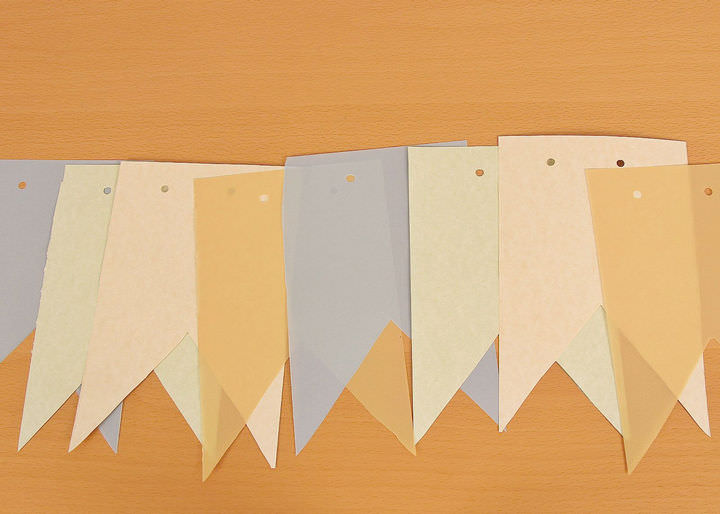 Lay the garland on a flat surface. Adjust the flags so they are about two fingers width apart. Secure the flags position with a small piece of invisible tape or glue.
Tie loops with the wraphia at both ends of the garland. This allows it to hang without tape or push pins.
There you have it. That's all you need to do to create this lovely and budget-friendly wedding adornment. We told you it would be easy. You can make one of these to hang over your wedding entrance. Or strewn multiple flag garlands all around your venue. Seems like too much work? Just gather some friends and family to help and have a little fun with the process. Your wedding will be coming along in no time.
For more information on Jam paper go to
www.jampaper.com
[email protected]
FACEBOOK
PINTEREST
@JAMPaper