I am delighted to welcome back Andrea Pittam from Kiss the Frog to the blog today. Andrea is a photographer as well as crafter and has already shown us how to make these cute Paper Birdcages as well as this Bubble Blower, both of which proved very popular with you all. Today Andrea is showing us how to make Fabric Bunting. Bunting is SO popular at the moment and it seems to feature in nearly every wedding I post on the blog, so I'm sure you will be interested to see how it can be made. Such a cheap and easy way to give any wedding that Boho feel!
STEP 1 ) Using the paper, pencil, scissors and ruler, make a triangle template for the flags of your bunting adding 0.5 cm seam allowance on all sides.
STEP 2) Pin your template to your fabric and cut two triangles for each flag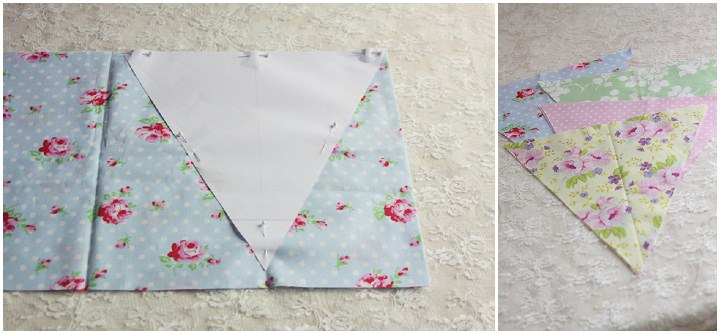 STEP 3) With wrong sides facing each other pin the two sides of the flag and sew.  Do not sew the top
STEP 4) Turn inside out and iron.
STEP 5) Cut your double fold bias tape to your desired length and pin your flags at equal intervals.
STEP 6) The double bias tape folds over the top of the flags and provides a neat finish.  All you need to do now is sew the entire length of the bias tape to finish your bunting.
For more information on Andrea's work go to
www.kissthefrogx.com
[email protected]
Etsy Shop
FACEBOOK
@KisstheFrogx
Andrea Pittam is an artist in the UK.  After starting out in portrait and wedding photography and also graphic design, Andrea became involved with an art event where she was commissioned to paint a life sized lion for charity.  Since this time Andrea has broadened her artistic portfolio which now involves many craft projects which are created for homes and suitable for parties.  Andrea's work is feminine, colourful and she is absolutely passionate about her artistic projects.