I have another gorgeous wedding for you today, courtesy of Rebecca Douglas. The wedding is full of 50's touches, gorgeous dresses, smoke bombs, afternoon tea, garden games, pretty pastels and lots and lots of fun! What more do you need for a wedding? A wedding where everyone pitched in to help and the results are a wonderful day full of character and an abundance of love!
'A day of fun in which everyone got involved. A day we will remember for the rest of our lives.'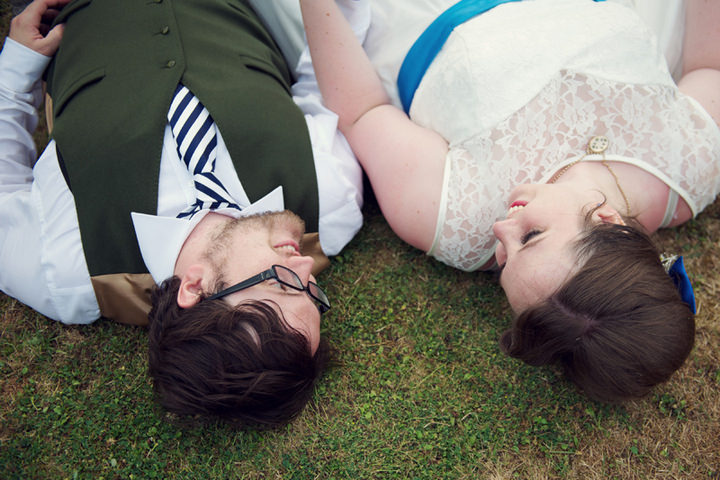 Leanne and Robert who were married on 20th July at Shenley Walled Garden 'As soon as we started planning our wedding it was pretty obvious that we weren't going to be able to have the wedding we wanted in a traditional venue. So we started looking round local village halls, and other places we thought would let us do the wedding we wanted to do. The walled garden had always been part of my life growing up, My nan used to take me there as a child. But it hadn't really crossed my mind when we were venue hunting. Luckily for us once Rob proposed my mum started making enquiries around the village about if it can be hired out and how you would go about it. It was so beautiful, clam and peaceful, Rob said he knew it was the place.
When we told people it was going to be in a walled garden, the phrase seemed to conjure up a lot of different ideas in people's minds with some people thinking it was going to be in someone's back garden, and others thinking it would be like a Victorian allotment. When it came to the day a lot of people who live locally told me that they did not know that the garden even existed. We had 150 gusts in the day and 200 in the evening, it took a year to plan.'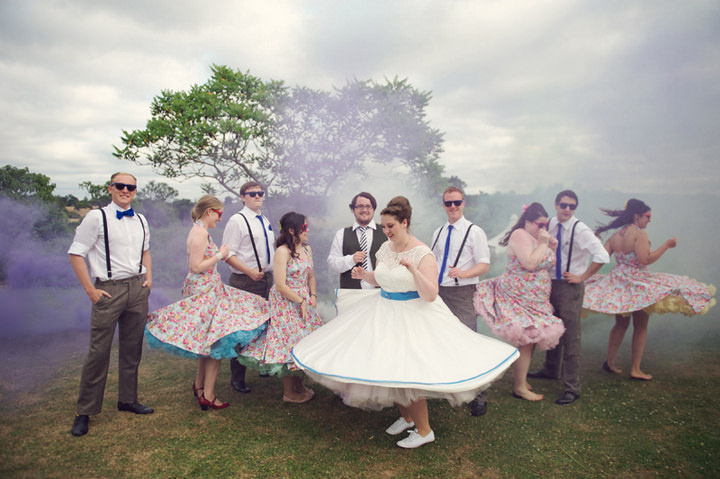 How they met
We met during my fresher's week and kept bumping into each other. Then one night while out at a bar Rob stole my drink and the next time I saw him I told him he owed me a drink and it went from there. We have now been together for 5 and a half years. We are not sure when to count our getting together from since we spent weeks insisting to friends that we weren't dating (even though it retrospect we obviously were)!
The proposal
I knew that Rob was going to propose. We were out shopping together when he spotted the ring he wanted to buy. About a week later I was at home and he had gone out. It was pouring with rain, when he came back he knocked on the door. It took me ages to find the key, so when I opened it he was soaking wet and he was down on one knee.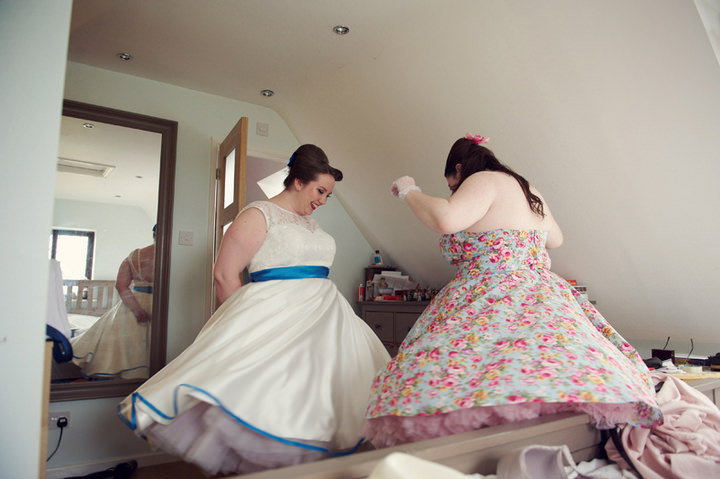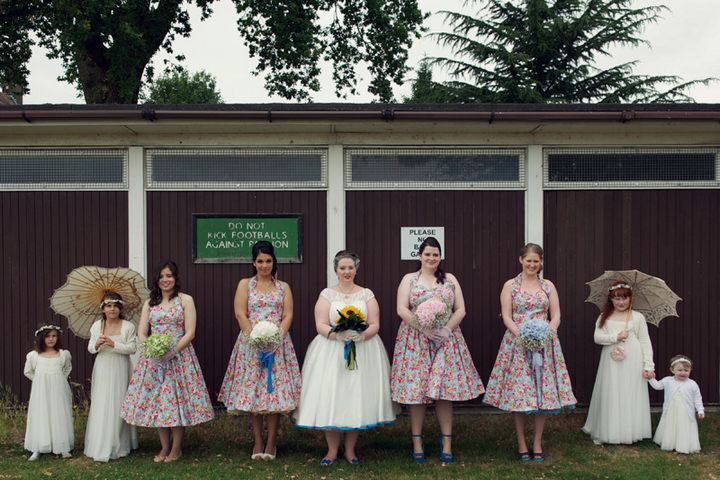 Why did you choose your photographer?
After the New Year I panicked slightly, realising that despite having gotten a lot of craft projects done we still had a lot of the big stuff left to plan. I looked around on various wedding blogs and stumbled across Rebecca. Looking at her photos she did the style that we wanted, from our first email exchanges she was so friendly and helpful. After our engagement shoot there was no doubt in my mind that we had chosen the right lady to capture our day. There was such a buzz of excitement after our engagement shoot with people asking are we having the same photographer for our wedding.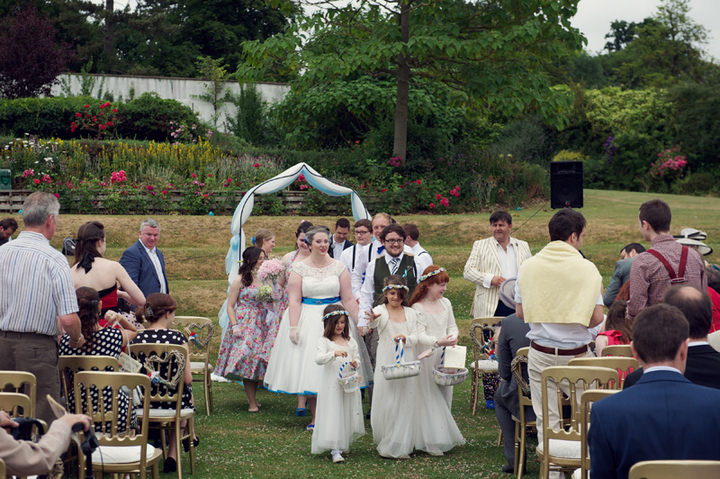 The dress
My dress was made for me by the lovely Katie at The Velvet Birdcage in Worthing. Once we got engaged and I started thinking about the dress I wanted. Initially I thought I wanted a tea length dress. However going into local dress shops there was not a wide variety of options and I began looking at floor length designs. None of these really felt right and I always felt too poofy in them.
The velvet birdcage is an amazing shop they have many dresses in the shop and you can pick and choose bits from one dress to have put onto another. Katie then measures you and 8-10 weeks later your dress is made. By this point I had a pretty clear picture in my mind of what I was going to look like, so between the 2 of us we turned this into a design. The blue trim and sash where a last minute choice as she finalised the design. A lot of people assumed I would not be married in white, including Rob, who thought my dress was going to be blue, so it was nice wearing something unique that I had help design that was more traditional then people thought I would go for, while still being slightly unconventional.
My shoes I bought online from shoes of prey and the blue bows I bought from ebay and added to them. I also bought white converse to change into for dancing.
I made the hair slide and veil myself.
My locket was a family heirloom that has been in my family for over a 100 years. It is traditional that when a woman from my family gets married they wear the locket for luck. My nan was looking after it however she suddenly passed away a month before we got married so it was very special to me to wear it to remember her by as well.
The suit and bridesmaids
In Keeping with the casual feel of the day, Rob opted not to wear a traditional wedding suit instead choosing a pair of tweed herringbone trousers and a green waistcoat that he found in Peter Percy menswear in Hemel Hempstead.
The groomsmen wore the same trousers and all had braces and there choice of ties or bow ties, though on the day it turned out only 1 of them knew how to tie a bow tie.
The bridesmaids dresses where from Vivian of Holloway each one had a different colour petticoat to reflect their personalities.
The little flower girls dresses where from Monsoon.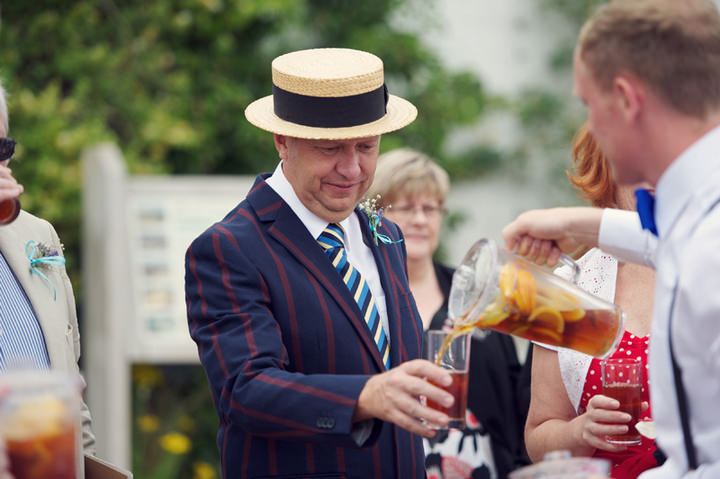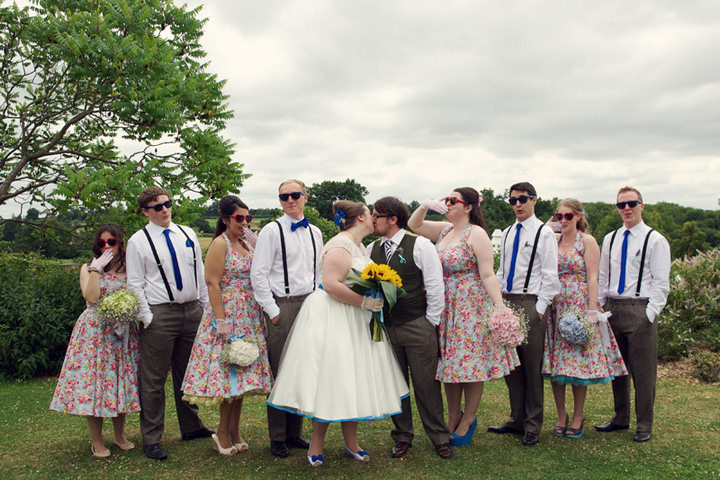 Theme or colour scheme
We didn't want a particularly strong colour scheme, especially because it was going to be outside in a garden full of flowers so we focused on floral prints. However when it was necessary to pick colours for Groomsmen's ties etc. I picked blues that matched the sash on my dress. Because of the setting, we decided to go for a vintage garden party theme.
Decoration
Around the outside of the marquee we had floral bunting and inside we made paper chains we made from old maps. Mid-January we were able to buy a lot of Christmas decorations cheaply so we made some garlands out of bubbles to hang behind where the band would be.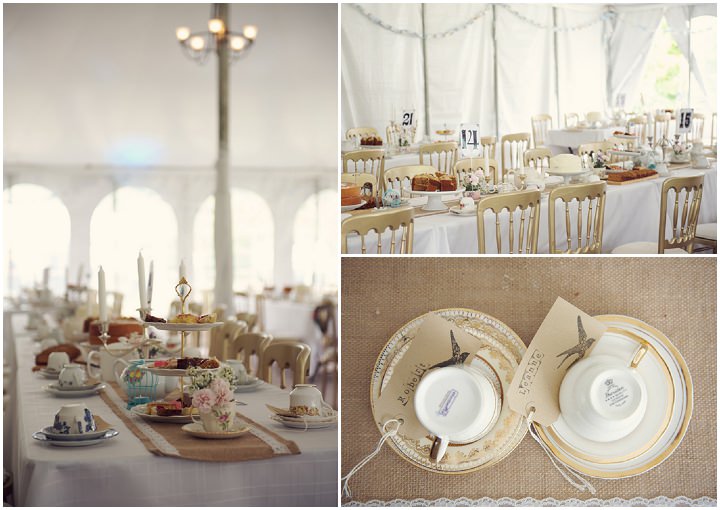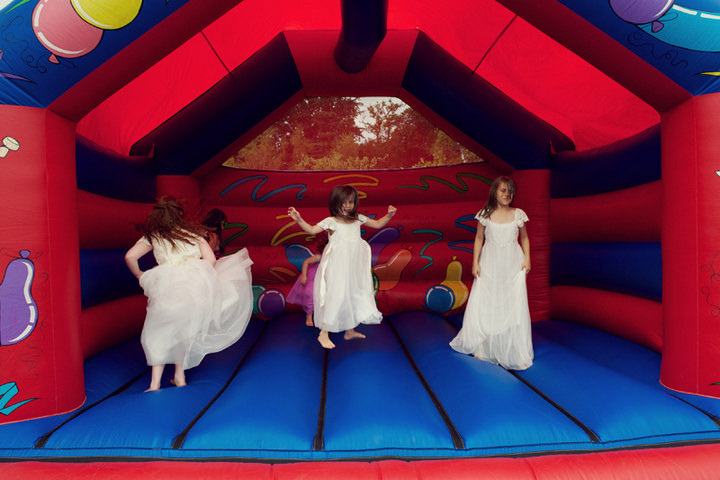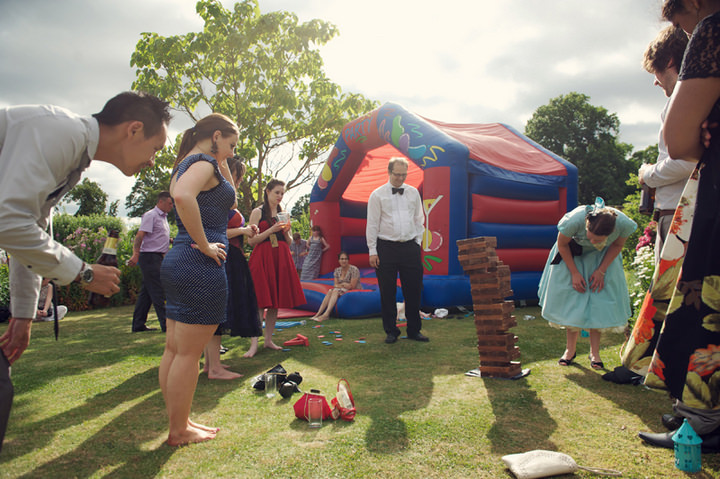 Food
The catering was handled by my new brother in law and a few of his friends. We had afternoon tea with a huge variety of amazing cakes! Then in the evening we had salad buffet and a barbeque. Everyone has been talking about how great the food is, so in light of this he has decided to start up a catering company www.madhattercatering.co.uk
Entertainment
During the afternoon tea we had a 2 piece acoustic band that my farther arranged. And in the evening we had an amazing band called Munch, who's music captured the mood of the day perfectly. We also rented/bought a variety of lawn games and a bouncy castle, which was primarily for the children, but ended up being taken over grown up children by the end of the night.
Flowers
Because the venue was outside we wanted to keep to flowers quite minimal. All of the arrangements were made by one of my parent's neighbours. The original plan was we would grow all the flowers we wound need, however due to the crazy weather we have had this year it didn't quite work to plan and we did not have enough so we went to Covent garden flower market the Wednesday before our wedding at 3 in the morning. I wanted to keep the flowers simple. Both my grandmothers have died within the last year and my last conversations with both of them where about the types of flowers we should have, with one of my nans suggesting Sunflowers. I therefore had a simple bouquet of sunflowers. We had lavender button holes and the bridesmaids each had a bouquet of hydrangeas that matched the colour of their petticoat. On the tables we had micro arrangements in teacups/teapots with daisy and carnations.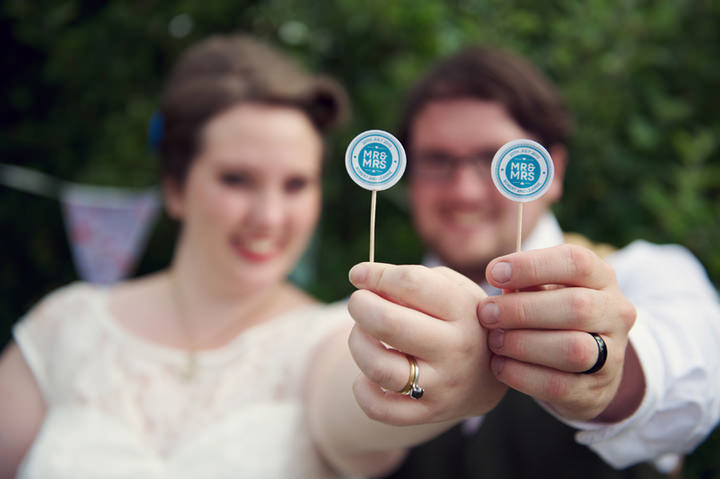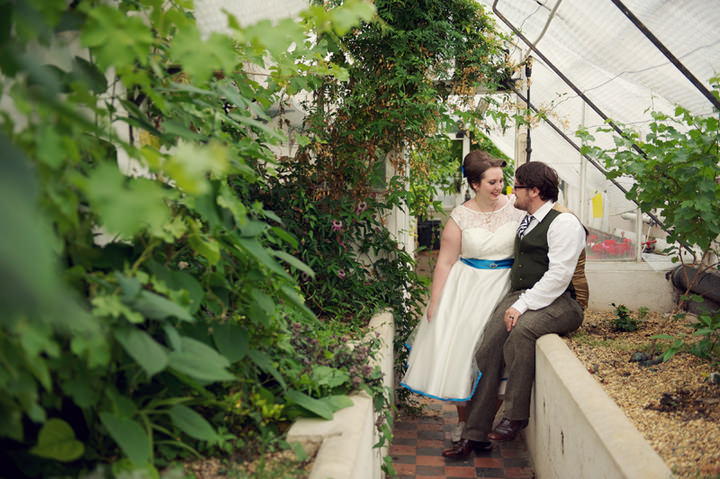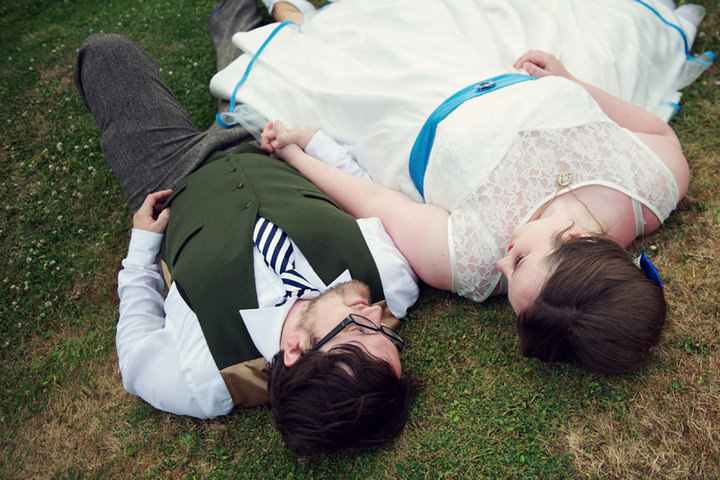 Personal / Homemade touches
• My cousin (who was also my bridesmaid) designed our wedding invites. Everyone loved them saying how unique they were. We were especially keen on making sure all the information that guests would need was on one sheet.
• I painted and decorated the Tug baskets for the flower girls myself to make them more unique I adding little bunting around the edges.
• We had decided to have afternoon tea instead of a formal sit down meal. Rather than renting our crockery we started sourcing it from charity shops, e-bay and car boots. Robs parents even went on a buying weekend. It was a lot of fun finding unique bits. However we quickly realised that we couldn't find many glass pedestal cake stands or inexpensive tired cake stands. Our answer to this problem was to make our own. We made tired cake stands out of nice plates buying the handles off e-bay and drilling the holes. We made our pedestal cake stands by buying muffin cake stands and gluing these to the bottom of a flat dinner plate.
• We bought lots of lanterns and tea light holders from budget stores at the end of last summer and spray painted them cream.
• Robs dad is handy on a sewing machine and he sewed our hessian table runners adding the lace as well.
• Paper chains – When we first got engaged we were looking on pinterest and stumbled upon paper chains made out of maps. We found old road atlas's in charity shops and Robs parents spent lots of evenings over winter guillotining them up adding double sided tape to them. We then made paper hearts to add to the look. The Friday before we had a small army of people sat for over an hour making over 200 ft of paper chains and assembling the paper hearts.
• Photobooth – Rob made our own photobooth for a fraction of the cost of hiring one. He then placed our computer inside and bought the spark booth software. We already had a lot of fancy dress hats around the house. I found on google lots of sites that offer free photobooth prop templates and made our own moustaches and bow ties on sticks. We then bought a couple of funky pairs of shades.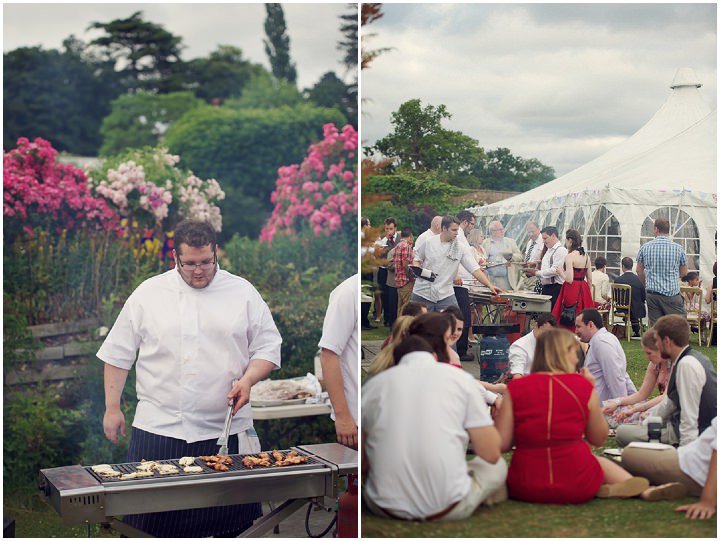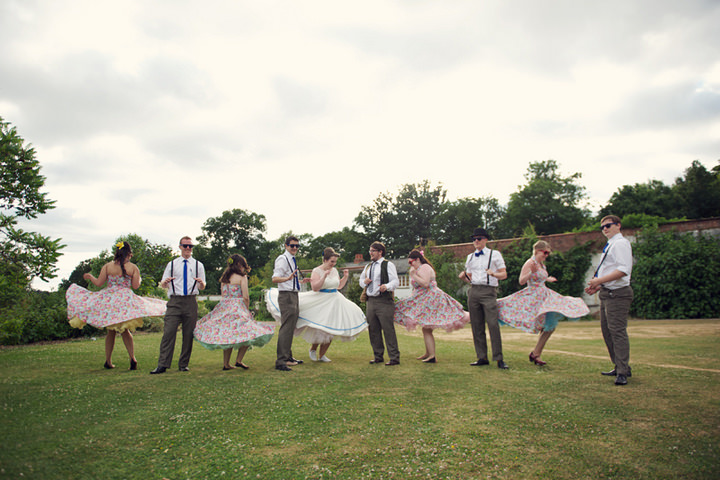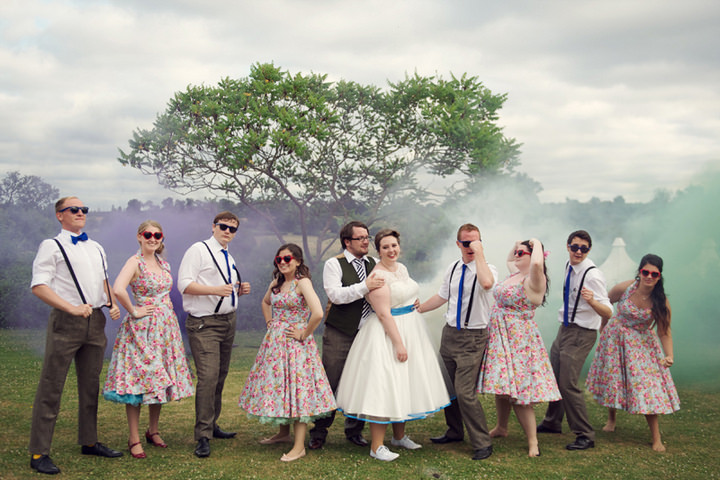 Special moments
• I loved our wedding ceremony which Rob wrote. We had kept the ceremony under strict wraps and only me, Rob and our 'officiate' Dan knew the content. It took months to decide on the right words and agonizing about having a song for people to sing. We decided to throw caution to the wind and sang the beach boys Wouldn't it be nice however Dan our officiate who had the microphone got a bit too excited and the opening line was him singing really loudly with the rest of the first verse being people laughing while trying to sing along.
• In the late afternoon, we headed up to the top tier of the garden with Rebecca to take some more shots with the bridesmaids and groomsmen and she produced some smoke grenades. We then had a mental 20 mins of people twirling around laughing so hard while the best man was running around us with the smoke grenades.
• I never realised that being a bride meant that small girls would be so fascinated with you. I had a lot of small girls coming up to me to ask questions and one in particular told me I was the princess of the day which was so sweet.
• Our first dance was so much fun. We choose everybody needs somebody to love from the blues brothers as the idea of awkwardly shuffling around a dance floor for 3 mins while everyone watches was not appealing. The dance ended with everyone joining us for a dance and singing along.
Advice
While we achieved most of the craft projects we set out to do there where some smaller things we just ran out of time with. I would say don't panic if things don't get finished. As long as you have the basics no one is going to know what everything should have looked like except you. We had sweet trees sat in the chill truck that where forgotten about until the next morning.
Biggest surprise
The weather! We took a big gamble with the weather for our big day and we couldn't have been luckier!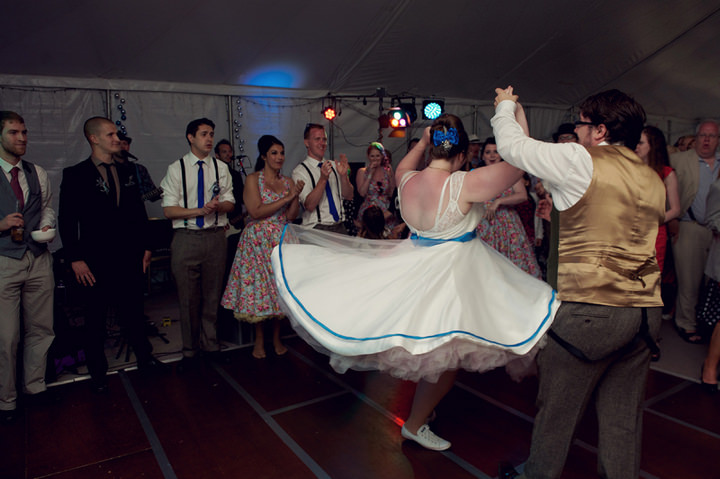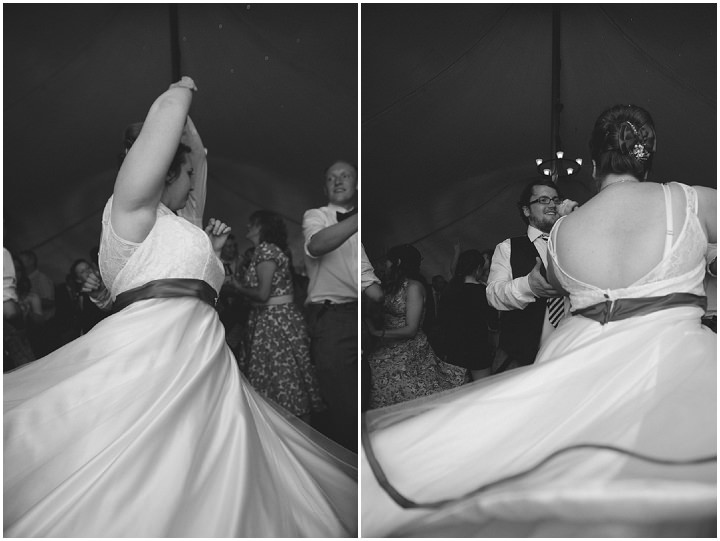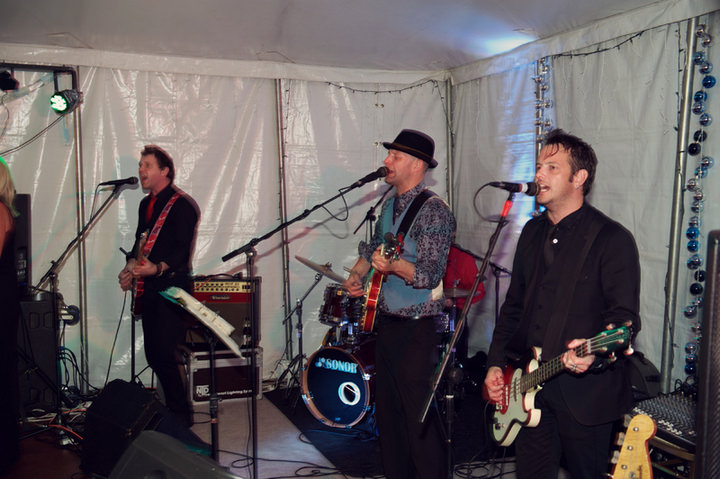 Supplier Shout Outs
Fore more information on Rebecca's work go to
www.rebeccadouglas.co.uk
www.rebeccadouglas.co.uk/blog/
FACEBOOK
@BxDouglas