We are in my home town of Sheffield today for this fabulous wedding which really shows off the city to it's best. Split between three venues this wedding is full of fun, food,  life, dancing and some gorgeous details. The main venue where the meal takes place is the wonderful chimney house, one of my favourite venues in Sheffield. It has an urban feel, with its exposed bricks and unique decor, and is perfect for any intimate wedding or event. Big thanks to Tierney Photography for capturing the day so perfectly.
'It was a magical day that reflected the two of us and all the things we love about Sheffield and our lives; eating, drinking, music and friendship and family. It was vintage, cool, and full of fun and laughter throughout the whole day, it was exactly how we had imagined it would be when we looked around at everyone enjoying themselves and the wedding.'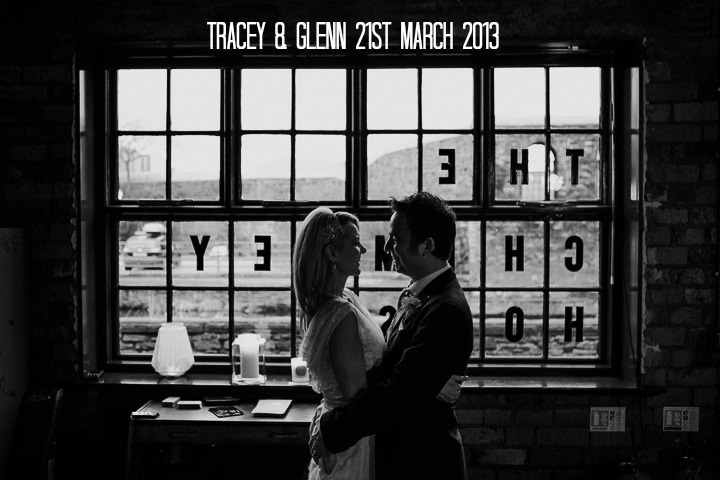 Tracey and Glenn Tracey were married on 21st March 2013. The Ceremony was held at The Leopold Hotel Sheffield with a Candlelit meal at the Chimney House Kelham Island Sheffield and the evening party Platillo's a retro wine bar in Leopold Square Sheffield. 'We love Sheffield and wanted our wedding to reflect these two quirky parts of the city. Kelham Island is steeped in Sheffield history and the Chimney House is so cool and unique, it's a grade II listed building, so we felt it was perfect for our wedding meal. We spend a lot of time in Leopold Square listening to live music, as Glenn is a musician and many of our friends are so The Leopold Hotel and Platillos seemed the perfect places to have the ceremony and evening party. We had an intimate ceremony and meal with just 48 of our closest friends and family then 200 came at night to party with us. It didn't take long to plan, about 6 months. We knew what we didn't want so it made it relatively easy to plan what we did want and all the venues were so easy to work with that everything just clicked into place.'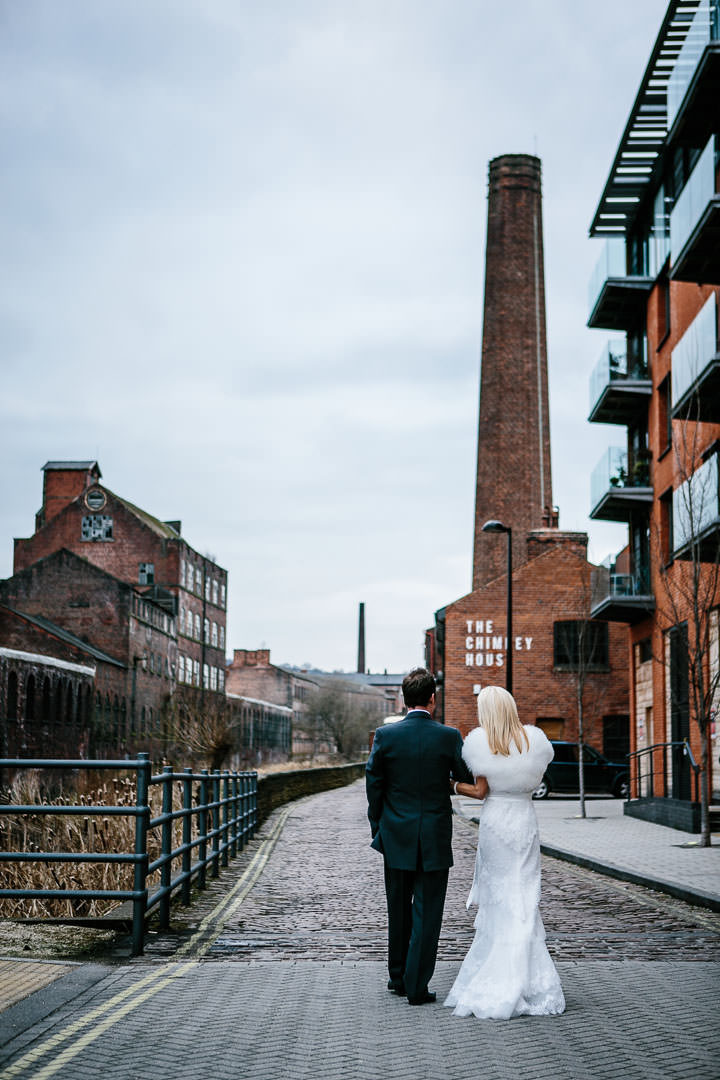 How they met
We met about 10 years ago through mutual friends and became best friends for a few years. This then developed into us realising we had found "the one" and have been together as a couple about 8 years now.
Tell me about the proposal
It was quite early into our relationship, as we had been friends for a while we just knew I think We were best man and maid of honour at a friend's wedding and Glenn proposed at the bar at the evening reception
It just took us about 8 years to get around to planning it!! I'm glad we did really as it all just seemed to be right on the day. I have 2 sons in their twenties and it was wonderful having them as part of the day all grown up and enjoying the vibe.
Why did you choose your photographer?
We wanted someone who would reflect the day and get the feel of our wedding. We looked at a few websites and Mark Tierney's photographs just caught our eye, they captured candid shots of the couples and their guests and it looked like no one even knew they were being photographed. We went to meet him and described our wedding and think we all just knew he would be fab and he was. Everyone said it didn't feel like he was there and he really captured the essence of our wedding.
The dress
After trawling around lots of bridal shops and the internet I finally found a stunning boutique called The White Room in Sheffield, again like the venues and Mark Chloe just understood the vintage vibe of the wedding and helped me find a dress that reflected this and my personality.
It was Gaillilee by Cymbeline with a fur shrug by Sasso and my shoes were bought on-line.
I had wanted a lace forties look and Chloe helped me achieve that. I felt so special on the day, yet it was floaty and easy to wear so I could eat, drink and dance in it which I did…until the very early hours.
The suit and bridesmaid
The Suit was from Ashley Rodgers Tailors in Sheffield.
My 3 bridesmaid my sister and 2 best friend all different so we agreed that we chose the gold colour palette and they then chose a dress that reflected them. They all looked amazing.
The dresses were from Phase Eight, Monsoon and 1 was bespoke from The Bridal House Sheffield.
Theme or colour scheme
The theme was vintage, lace, boho fun with a white/ivory lace and gold colour scheme. This kind of influenced everything.
Flowers
We wanted the flowers to look wild and in keeping with our vintage theme so my bouquet, the Chimney House flowers and button holes and bridesmaids bracelets' were a mixture of Gypsophilia, gerberas and some wild flowers Sally at the chimney House sourced.
Decoration
Just candles, candles, fairy lights and a vintage wooden sign saying "evening wedding party, drink, dance and have fun"
The venues were so unique that they spoke for themselves so just candlelight's and fairy lights were all that was needed.
Food
We are both foodies as are our family and friends and The Chimney House know how to get people around a table, sharing gorgeous locally sourced food so we were in heaven.
The menu we chose involved feasting over 3 hours…the perfect dinner party.
To start; Beetroot carpaccio with Yorkshire goats cheese, marinated mushrooms, Local Rivelin valley beef and salamis with vine tomatoes and parmesan, chicken liver parfait and home-made sticky chutneys and homemade breads and butter.
Mains; Local Free range chicken stuffed with garlic Rosemary and olive oil, filets of Lincolnshire trout with fennel and cucumber relish, roasted peppers and artichokes on basmati rice and crispy onions, spelt grain salad, dauphinoise potatoes and purple broccoli and carrots.
To finish; Cinnamon infused apple and rosehip jelly trifle and local cheeses with fresh bread and homemade biscuits.
No wonder people didn't want to leave.
At Platillos very late in the evening we had chip butties and bacon sandwiches, that guests loved after dancing the night away.
Entertainment
Glenn arranged all the entertainment, he is in a band and many of our close friends are musicians so live music and to be part of the "wedding after show party".
Harry Crawley a Sheffield rat pack crooner opened the party. Montuno a Sheffield funk band got everyone on their feet. The G men a Sheffield soul band rounded off the night with everyone singing and dancing. DJ Shaun Lee our friend played our play list until 2am
Personal / DIY touches
It was so important to us that our wedding was fun and a little bit different as Glenn plays at hundreds of weddings so we wanted ours to reflect us and Sheffield and it did
• Our friend Justine made the gold invitations that looked just like a gig ticket as we wanted our wedding to be a party and have lots of fun and live music.
• Becky Lord Designs made the fab luggage label and vintage keys place settings that we designed together and the menus and seating plan.
• My sister-in-law Nicola is a fashion designer but has a talent for baking so she made the fabulous wedding cake that looked like it was made out of lace, and the vintage parcels that contained a retro love heart sweet style cookie.
• Sally and Kirstin at The chimney House decorated the room stunningly. We spend most of our time listening to music and sat around at the dining tables with friends and family, loads of candles and wine and The chimney House captured all this.
• We had a photo slide show of all the guests on a big screen and all ours and theirs favourite songs on the iPod.
• We loved the vintage crockery and funky room, we had to tear our guests away at 7pm to go to the evening live music party.
• We loved the big cream old vintage bus that we hired from Sheffield museum that transported our guests between venues. They all regressed into small children especially the naughty ones on the upper deck.
Special moments
When I walked down the aisle and saw all our dearest friends and family beaming and seeing Glenn turned around to look at me and the look of love on his face.
We both had a moment in The chimney House when we looked around and everyone was eating, laughing drinking and we just looked and each other and said wow this was exactly what we imagined it to be like.
Advice
Just have the wedding you both want, as much as everyone wants their guests to enjoy it, don't get caught up in what is "expected" the best weddings we have seen on blogs, been to and our own was because they were special to the couple and reflected them and their individuality, and ENJOY it, the whole thing goes so fast.
Biggest surprise
Just how much everyone kept telling us what they loved about the wedding constantly throughout the day, and that they noticed and loved all the personal touches and the bus went down a storm
Supplier Shout Outs
All of these suppliers were amazing and we would love to thank them all as they made our wedding fantastic for us and everyone who came.
Fore more information on Mark's work go to:
www.tierneyphotography.co.uk 
tierneyphotography.co.uk/blog 
[email protected]
FACEBOOK
TWITTER
07981 347019