Happy Friday everyone and how are you all today? Looking forward to the weekend I hope. Today Tierney Photography is taking you to my neck of the woods, South Yorkshire. In fact the church that Jessica and Ben, todays gorgeous couple, got married in is only a couple of miles from me and is where we go for our Christmas Eve Christingle celebrations. It's a super cute wedding, held at a fab venue called Foxholes Farm. The guests were able to camp and Jessica and Ben were able to use the venue as a blank canvas, bring in the suppliers they wanted and really make the place their won. Filled with DIY decoration, friends and family helping out and a touch of rain from the great British weather, this wedding is a day full of smiles from beginning to end.
The most fun and perfect day surrounded by our wonderful friends and family. A perfect reflection of our lives as a couple
Jessica and Ben were married on the 21st May 2016 at St Nicholas Church, High Bradfield with a reception at Foxholes Farm, Low Bradfield. 'We met in Yorkshire and continue to live in Yorkshire so knew we wanted to get married here. We also both love the outdoors so wanted a venue to reflect that. Living in Sheffield, the Peak District was a perfect choice for us. Our dream was to have a reception venue where people could camp and stay over so we could create a festival style vibe. We also wanted somewhere where we could choose some independent suppliers ourselves and therefore put our own stamp on the day. Foxholes Farm had all those qualities in abundance. We knew that we wanted to have our ceremony in a church and so St Nicholas Church made perfect sense for this. We loved the fact that you could see the church from the venue. We had 100 guests for our meal and then another 20 in the evening. We invited our evening guests to the ceremony as well. We started planning once we got back from New Zealand in July 2015 so had 10 months in total to plan it all. We booked the photographer, caterer and venue initially then left wedding planning till a couple of months before the big day. I would have found it hard to plan it in any other way, I'm too laidback and too disorganised.'
How they met
We met at university and have been together just under 8 years.
The Proposal
We got engaged when we were travelling in New Zealand. We had hired a camper van for the 10 weeks we were there so we could make up an itinerary as we went along and stop at places if they looked pretty. We were North of Auckland driving along the coast and saw a little lane with a beach signposted. We decided to have a look and we were glad we did. It was the most beautiful secluded beach and it was there Ben proposed. Apparently he had been waiting for the perfect place to ask since we arrived in New Zealand so he did pretty well.
How did you allocate your budget?
We didn't particularly have a budget (still have no idea how much we spent) but wanted to have a lovely day without spending the earth. We did this by prioritising the aspects which were important to us and by not worrying about things which weren't. I think by doing this we created a day which reflected us a couple and was individual.
Where did you splurge and where did you save?
We wanted our guests to have good food, lots of drink and fun so generally we spent money on trying to achieve those things. We didn't have a budget for my dress or Ben's suit as we just wanted to wear something that we felt comfortable in. We borrowed a lot from family and friends so we saved quite a lot of money by doing that. We also made quite a lot of the decorations ourselves and got family members to help us out with different aspects of the day (Ben's Gramps picked about 3kg of sloes to make sloe gin for our arrival drinks). I bought our reception flowers from a wholesale market in Sheffield and we asked our mums to arrange them for us.
Why did you choose your photographer?
We wanted a photographer who was relaxed and who took documentary style pictures. We wanted to remember the wedding as it happened rather than in group shots. Mark was fantastic. Both of us are quite awkward in front of the camera and he made us feel at ease from the start.
The Dress
My dress was from Nora Eve Bridal Boutique in Chesterfield. I loved the shop as soon as I went into it. Everyone was so friendly and nothing was too much trouble. My dress was by a designer called Mori Lee, I knew I was the one from the first moment I put it on. I bought it fairly late on and it needed quite a lot of adjustments so we were quite pushed for time in getting it done. Luckily Rachel (Edith and Grey) took on the challenge and was absolutely awesome. So lovely and it fitted perfectly. The shoes I wore during the day were from Irregular Choice and I changed into gold sequin TOMS for the evening. Polly Jenson did my hair and makeup and she was incredible. She made me instantly feel at ease and I was so comfortable with how I looked on the day.
The Suit and Bridesmaids
We knew we wanted blue suits. Ben and the best man (Rich) had the same suit from Austin Reed. We asked the other ushers to wear any blue suit to fit in with those. We wanted green bridesmaid dresses but I also wanted my bridesmaids to have a dress which they felt comfortable in. I was happy for them to wear completely different dresses if it meant they felt great on the day. The bridesmaid websites seemed to be very restricted on returns so we decided to look on the high street. We eventually found a dress by Jolie Moi which they all loved so ended up wearing the same dress. It went perfectly with the rest of the colours that we had chosen.
Theme or colour scheme
We didn't want a really obvious theme but I guess our overriding link was travel. We had different countries that we had been to as table names and put some photos of us on each of the tables. Our table plan was a world map. I love bright colours and couldn't decide on a specific colour so we ended up just choosing all of them. It seemed to work really well and meant we could be flexible with the decorations.
Flowers
We knew that we wanted bright, wild flowers. We wanted a couple of elements that reminded us of our travels and wanted cornflowers (my engagement ring has a cornflower sapphire in it). Laura at Flourish in Crookes made our bouquets, buttonholes and my flower headpiece. She was fantastic all the way through and helped us to choose combinations that went well together. We bought the table flowers from the wholesale flower markets in Sheffield and asked our mums to help us arrange them. My mum is a keen gardener so made up some large pots with orange and pink flowers to bring a bit more colour outside. The flower arch in the church was created by the church florist.
Decoration
We decorated the marquee with bunting that was partly borrowed from a family friend and then my mum and dad made some more to link it with my bouquet colours. Our main linking theme was travel and maps. We used a world map as a table plan and bought vintage postcards from each country to put on each table. We wanted to use some elements from our travels so used things that we had bought when we had been away and printed off Polaroids of us in the different countries. Maps were heavily featured in the marquee too, we made some paper bunting out of an old map of the Peak District which hung near the bar and we bought some map fabric to decorate our cake table. We asked our friends to decorate the cake table the night before for us whilst we went to get changed and pack; and came back to multiple blackboards of cheese puns. We couldn't have planned it better ourselves.
Food
On arriving at the reception venue, we had packets of Yorkshire crisps for people to have with homemade sloe gin. For our main meal, we wanted a relaxed sharing board style food and both love barbecue, so we chose Big D's BBQ who did a fantastic job in creating a menu for us. The smoked venison was a particular highlight. In the evening, we asked everyone to bring cheese and cake and attempted to make the biggest cheese board in Yorkshire. We brought homemade chutneys and asked Jerry's bakery in Walkley to provide some unique bread to go with it. It went down really well and made a great breakfast the next day.
Wedding Cake
Our best man made our wedding cake. He had quite a task as me and Ben had opposing ideas on what we wanted for our wedding cake. It was a perfect compromise: half Victoria sponge and half fruit cake. Unfortunately because of the weather, the cake looked more like the leaning tower of Pisa when we came to cut it. Tasted delicious though.
Entertainment
We had a folk band from Crookes in Sheffield called Captives on the Carousel for our pre-drinks who were incredible. In the evening, we had a band called Back Beat. They managed to get everyone up onto the dance floor, including Ben which is a big challenge. We chose a folk song that reminded us of travelling to have as our first dance and had a playlist of our own songs in between the band sets.
Stationery
We designed our own stationery online in the end. Our 'Save the Dates' were a Polaroid photo of us in New Zealand. Our invites were loosely travel themed as well and designed online as a way to save money. We used luggage tags for our place settings.
Personal Touches
We did loads of it ourselves as it meant we could do things exactly as we wanted and put our own stamp on it. Lots of the decorations were borrowed or made by family members and we asked our mums to arrange the reception flowers. We made about 8 litres of sloe gin to use as our reception drinks and made some chutneys for our cheese and cake board in the evening.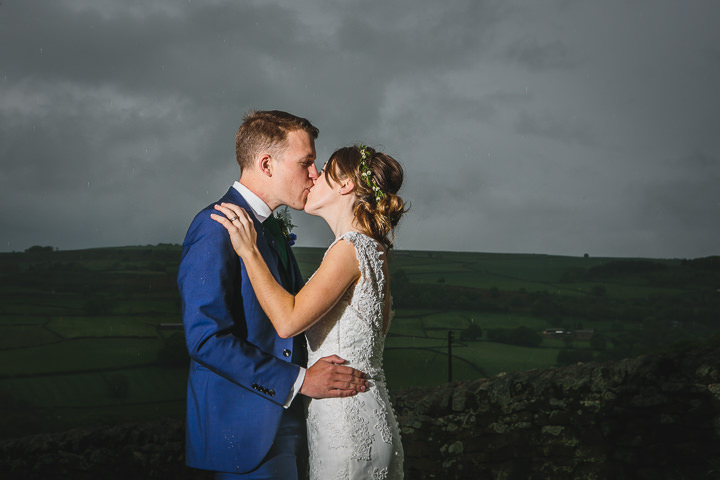 Special Moments or Highlights
It really was the best day of our life; we never truly realised how amazing it would be to have all of our wonderful friends and family there to celebrate with us. A few highlights for us were:
– The moment in the church when we first saw each other and realising what we had spent all the time planning for
– Taking Bertie the campervan on a drive around Damflask reservoir (after some initial mechanical difficulties). It was really nice to have a bit of time alone to take everything in.
Torrential rain putting a halt to the photo booth in the cottages so bringing the fancy dress box to the dancefloor
Seeing all of our friends and family having the best time despite the torrential rain
Advice for other couples
Think about the things which are most important to you about your day and focus on those. Try and save on the things that you're not bothered about. We tried to use suppliers that we totally trusted so we could leave things totally in their hands. It meant we didn't worry about anything as we knew we were leaving it in expert hands. Get friends and family to help you out, they'll love to be asked and it's lovely having a day that lots of people have contributed to. On the day itself, just relax. No one will notice when little things go wrong and you really wont care on the day. Just enjoy spending time with everyone who loves you.
Supplier Shout Outs
FOR MORE INFORMATION ON MARK'S WORK PLEASE GO TO:
www.tierneyphotography.co.uk / www.tierneyphotography.co.uk/blog / FACEBOOK  / T: @tierneyphoto