If you are currently looking for your wedding stationery then this afternoons post is just for you,  as I have invited Nikki from Knots and Kisses to the blog to tell us all about her 2 new ranges Graphic Prints and Rosie & Stitch. 
Nikki says about her work 'I aim to provide fun and vintage inspired wedding stationery for brides and grooms who want something that stands out from the crowd on their wedding day, whether that be one of my off the peg ranges or a fully bespoke invitation.'
Exclusive Boho offer
To launch her 2 new collections, Nikki is giving all Boho readers a 

10% discount on all stationery orders

.
The offer is available on all stationery orders over £50 until
The offer is valid until 31st July 2013
Simply add the reference BOHO2013 at the checkout to receive your discount
To celebrate the start of spring and summer (hopefully!) I was inspired to create 2 new ranges to add to my collections which were bright and full of sunshine!
The first collection:

'Graphic Prints'

continues my love of clean typography that I started in my Sketch range of stationery but with a cleaner, less rustic feel … using a modern band wrapped around the invitations in a choice of three graphic and slightly retro prints in a striking colour palette of Coral, Green, Grey and Mustard. Day & Evening Invitations come with matching printed envelope liners, but are also designed for clients to mix and match patterns as they wish!
Inspiration for this range came from my love of 1950s Swedish design and prints, and classic monochrome advertising and packaging.
The second collection

: 

'Rosie & Stitch'

and is full of bright summery colours and fun floral prints and stripes. A yellow and pink floral print contrasts with a china blue and summery green and is inspired by vintage floral china and old embroidery samplers and stitching.
Day Invitations come as either a simple folded invitation or as a pocket style with information card and rsvp postcard inside.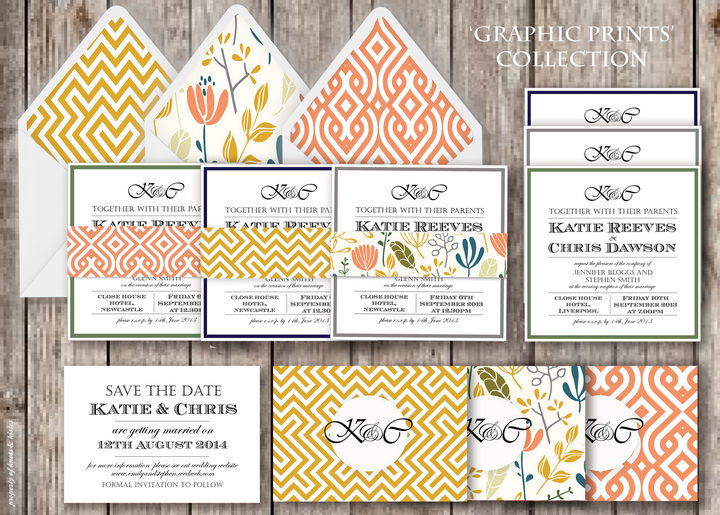 What made you start your business?
I'd been wanting to set up my own business for years and use my creativity from my Art background and my degree in fashion illustration, but hadn't had the guts to do it to be honest! I'd done the wedding stationery for my sister's wedding and a couple of work colleagues .. but the real spur was working on my friends wedding a couple of years ago … it just seemed the right time and I took the plunge and set up Knots & Kisses!
When did you start and where are you based?
I started in 2009 and I'm based in Devon.  I work Nationwide and Internationally on Request
What were you doing before?
I worked for years as a Visual Merchandising manager in fashion retail … doing display work and shop openings. I also had a brief stint as a travel consultant after spending a year traveling .. so I have been lucky enough to travel to some fantastic places and have inspirations from all over the world!
How would you describe your style?
Eclectic, Embellished & Vintage inspired
What is your biggest achievement so far?
Honestly I think growing my business through persistence and hard work over the last 4 years … my partner and I have done it entirely on our own without any financial help from the banks. Its been a slow process but with the fantastic support I've had on twitter and other social media the company is going from strength to strength!
What do you enjoy most about your job?
By far the best bit is being involved in a couples day …its such a privilege to be even just a small part of it! The absolute best bit is receiving thank you cards or emails after the wedding .. it makes all the hard work worth it
What sort of couple do you think you attract?
I generally find my couples are looking for stationery that's a little bit different and says something about them as a couple. They want their stationery to really reflect the feel of their day and give their guests an idea as to what to expect during the day.
Can you give me some information on your pricing structure?
Prices start from as little as £1.95 with prices increasing for larger more embellished Invitation Packs. All prices can be found next to each item on the website.
What is your ideal way to spend a day off?
A sunny day would be spent a big old National Trust property followed by seeing an open air production of a Midsummer Nights Dream with a picnic…obviously with my fantastic other half and lots of friends. If its raining … a big Sunday lunch in an old country pub or browsing the National Gallery in London. If I had a whole weekend off .. it would definately be spent at a festival!
What can you never leave the house without?
Mascara!
Who would be your 5 dream dinner guests dead or alive?
Audrey Hepburn, Dave Grohl, David Tennant, Stephen Fry and Debbie Harry.
What would you do if you won the lottery?
I'd buy myself a larger house in Devon and build myself a huge studio for the business in the back garden. I'd also take some time to travel to some of the places that are still on my to do list … at the top of the list is Nicaragua, Japan and Borneo.
If you weren't running your business, what would you be doing?
My other dream was to run a bookshop / coffeeshop with my other half somewhere … I would bake cakes and serve tea and people could sit for a few hours reading and drinking coffee and watching the world go by!
Don't forget the offer –  10% discount on all stationery orders.
The offer is available on all stationery orders over £50 until
The offer is valid until 31st July 2013
Simply add the reference BOHO2013 at the checkout to receive your discount
For more information on Knots and Kisses go to
http://knotsandkisses.co.uk
http://knotsandkisses.blogspot.com
FACEBOOK
@knotsandkisses