I'm a big fan of todays wedding, as it comes from Sheffield my home town! It's a wonderful mix of DIY mixed with city centre chic and a large portion of urban cool. Set in the wonderful Kelham Island Museum, This wedding brings colour, personality and lots of industrial references. The couples love for the city shines though with all the wedding decoration, most of which was lovingly made by Shelley the bride. Big thanks to Mark from Tierney Photography for the wonderful images.
'Our wedding was unique and personal to us. We wanted it to be fun-filled and memorable for both us and our guests'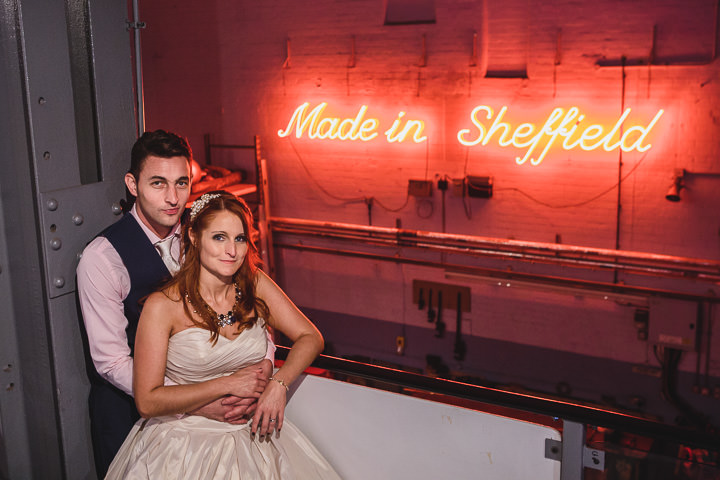 Shelley and Tony were married on Wednesday 28th October 2015 at The Upper Chapel, Sheffield for the ceremony and then Kelham Island Museum, Sheffield for the reception. 'Tony is a massive Sheffield Wednesday fan, so we always joked about getting married in Sheffield on a Wednesday. In the end, we thought why not. It suited my school holidays and made things a bit cheaper! When the church would not allow us to get married until 3pm, we knew the Wednesday decision was right, 3pm is kick off! We also later discovered the 28th October was also Tony's Nan and Grandads wedding day and it would have been their 65th wedding anniversary. We had 97 day guests and 62 further evening guests. We got engaged on the 7th May 2015 so we planned the whole wedding in just over 5 months. I am incredibly organised and would have hated having something so big hanging over me for a year or two. Unless you have to save up, I don't know why anyone would want to drag it out for so long!'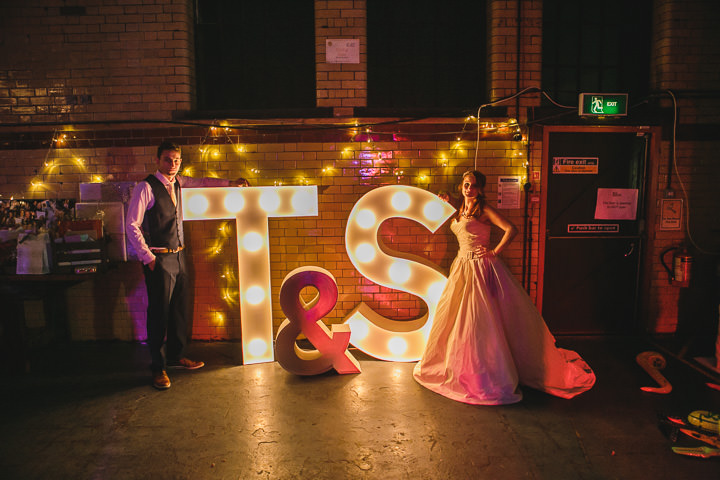 How they met
Tony and I met through the Internet (embarrassing!!!). Our first date was in Sheffield at the Forum bar. Tony was on time and I was late as I was too busy sticking double sided sticky tape in my shoes to keep them on! He thinks I was just late to show off in my car. That was the 1st October 2010, so we have been together just over five years.
The Proposal
Tony really did go all out! It all started when I got a text from Tony to go to the florist straight after work to collect something. When I got there, there was a massive bunch of flowers and a card. When I got home, Tony wasn't in. Instead, I found two balloons on the kitchen table, with the words 'you' and 'me' written on them, and another card telling me to go where we first met and to take the balloons with me. Again, I did as I was asked, but Tony also wasn't there. Instead, I met Tony's mum, who had another balloon, with the word 'will' on it and another card asking me to go to where we would choose to get married. We had always talked about the Upper Chapel so I knew exactly where to go. As I got there, standing outside was Tony with another balloon, this time saying 'marry' on it. He got down on one knee and produced a beautiful diamond and sapphire ring in my late Grandma's ring box. How could I say no to that!
How did you allocate your budget
We made a list of everything we wanted without really thinking about cost! Thankfully nothing we wanted was too expensive and the only time we had to consider budget was when we had to decide on a caterer. Getting married on a Wednesday also meant that some suppliers gave us a discount.
Where did you splurge and where did you save
Being a Yorkshire couple we didn't really splurge on anything! However, we were desperate to have the band Beato Burrito, so we probably paid more for our entertainment than we originally planned. I made a lot of bits for the wedding but this wasn't really about saving money. I love making things and being a DT teacher, I had access to knowledge and facilities a lot of people don't have. I also don't delegate very well so making things myself was just easier!
How did you choose your photographer
Tony and I really didn't want a traditional wedding photographer. We both hate big, staged family/friends shots and wanted our photos to look natural. Real smiles, not fake ones. Mark was a perfect choice. He photographed a friend's wedding, a couple of years before and her photos were beautiful and just what we wanted. He also has an eye for the unusual and with us getting married in the centre of Sheffield and then our reception at an industrial museum we knew it would be right up his street.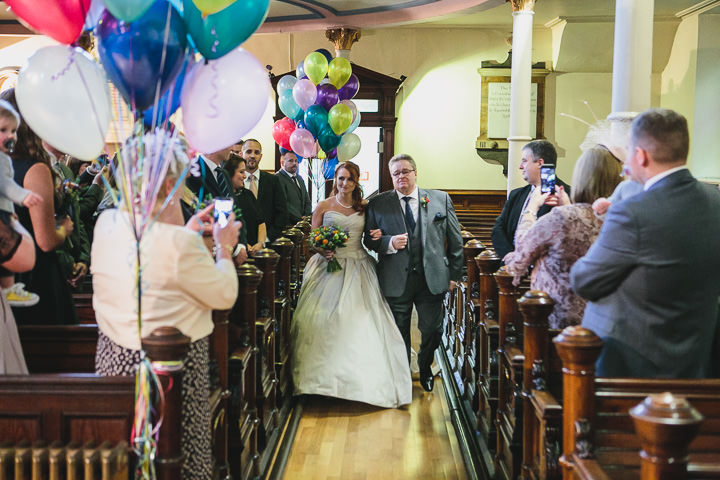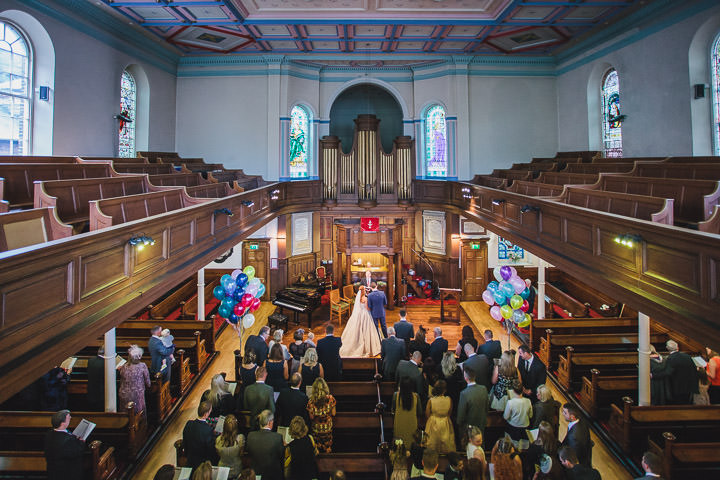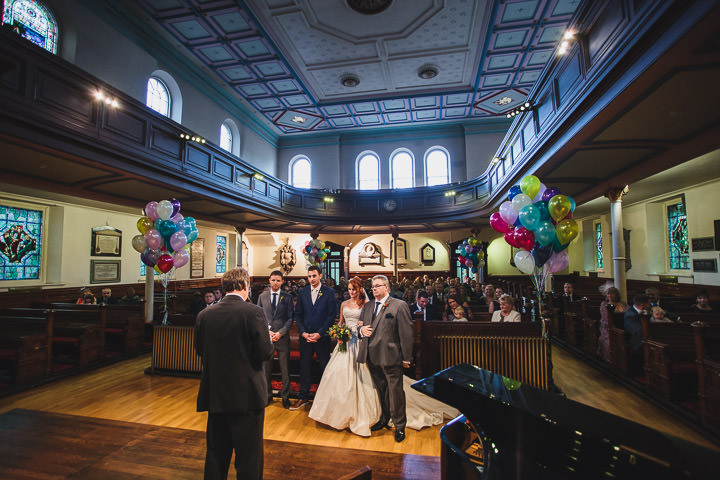 The Dress
My dress was Blueberry Hill by Ian Stuart. I bought it in Pale Gold which was a total pain to match anything to but I loved the colour and it just didn't look the same in the other options. My shoes were by Kurt Geiger. I knew I wanted blue shoes, and my intention was to wear Blue Manolo Blahnik, as worn by Carrie Bradshaw in Sex & the City. However, once I decided on a longer style dress I couldn't justify having such expensive shoes! Instead I stepped up my accessories. I wore my nan's pearl necklace and Tony bought me a Vivienne Westwood bracelet as a wedding present. I also had a veil and headdress specially made by Lou Lou Puchalka. For the evening I also had a pair of sparkly Converse waiting under the top table and another necklace to swap in to.
The Suit and Bridesmaids
Tony's bought his suit, which was from Ted Baker. Being a Sheffield Wednesday fan it was only ever going to be blue! He teamed this with a pink shirt in memory of his recently passed Nan. The groomsmen and Father of the Bride wore similar suits in grey, with blue ties, hired from Moss Bros. The bridesmaids wore matching 50's style dresses from Lindy Bop with grey underskirts to give them a kick. I really didn't want the girls to be in typical bridesmaid dress as it just didn't seem to suit our day.
Theme or Colour Scheme
There wasn't really any theme or colour scheme. We knew we wanted bright balloons and flowers but then we let the City of Sheffield and Kelham Island take over. We love the city and we let this shine through in the stationery and table plan. The colour blue did turn up a lot due to Tony's passion for Sheffield Wednesday.
Flowers
I didn't want traditional flowers for the wedding and I in fact went to my first meeting with Tracey at Campbell's, with the description of 'I want flowers like the ones that grow in the central reservations in Rotherham!' Not quite what she was expecting! However, Tracey knew just what I meant and it turns out the wild flowers that grow in Rotherham are actually specially designed. The flowers Tracey arranged for the day had that 'just picked' look in lovely jewel colours.
Decoration
We didn't really want flowers in the church as we often think they are wasted and are only seen for an hour or so. Therefore we opted for a small centrepiece in the church which was then taken to Kelham Island for the top table. We instead decided to go mad with balloons in the church. At Kelham Island, again decoration was kept to a minimum. We decided to fill our reception venue with fairy and festoon light. We also arranged for a giant T & S to be placed by the dance floor. The table centre pieces were again kept simple. Just glass jars I had collected with flowers and paper windmills I made from maps of Sheffield. The table plan was based around areas of Sheffield that had a personal meaning to either Tony or I. I again made this myself from an old Sheffield map and lots of patience!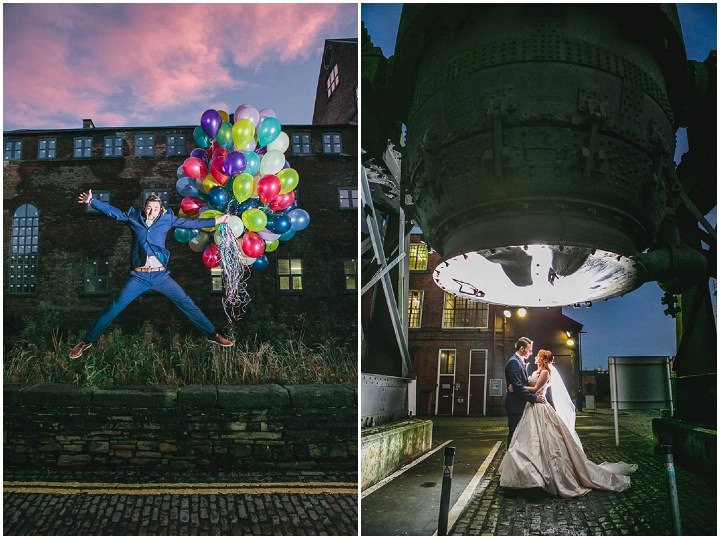 Food
Tony and I always knew we didn't want a three course dinner for the wedding, so again linking it back to the slight football theme, we went for pie and mash with mushy peas. The caterer also made sure there was plenty of Hendersons Relish, a staple in a Sheffield kitchen. For dessert, I wanted a massive cake table with loads and loads of choice. I spent months collecting cake stands and bowls and on the day we had an unbelievable amount of cakes, some made by friends and family and some bought. Unfortunately, some of our guest got a little carried away at the cake table as a few have mentioned having 'cake sweat' from eating too much sugar!
Wedding Cake
My mum made my wedding cake, as she has been making cakes for years. Again, neither Tony nor I wanted a traditional cake or cake topper. The bottom layer was a lemon cake covered in white chocolate ganache and the top layer was chocolate cake with a chocolate ganache. I had full intentions of making the cake topper myself on the laser cutter at school but in the end I ran out of time and ordered it from Folksy. The flowers were all made in sugar paste to match my bouquet.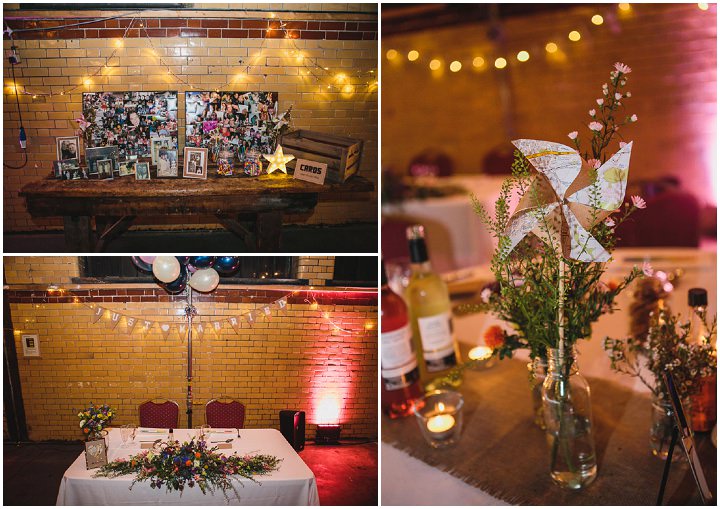 Entertainment
Our entertainment included the England Supporters Band outside the church, Beato Burrito at our reception venue and a DJ arranged by Jonny Ross Music. We also had a photobooth for three hours on the evening which was constantly busy and really made us laugh the next day when we looked though the album they put together throughout the evening for us.
The Stationery
I designed and made all the stationery myself. I loved every minute of designing and making it and really think it represented Tony and my style perfectly. Not girly, just simple and to the point.
Personal or Handmade Touches
I made just about everything! Invites, RSVP's, order of service, table numbers, table plan, windmills, table names, photo boards, photo frames with photos of family members on their wedding day. We did however, have a bespoke peephole board painted for us by local artist, Rikki. He did an amazing job, incorporating loads of our favourite Sheffield landmarks as well as personalising the bride and groom to our professions.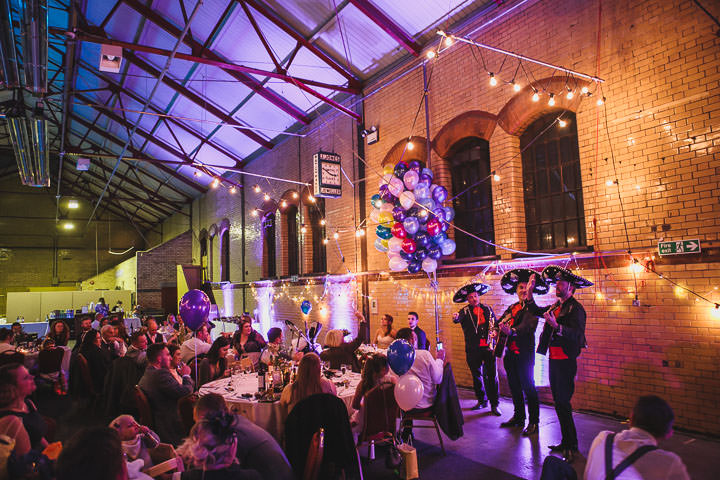 Special Moments
Both Tony and I loved every minute of our wedding, however we do have three special moments that really stick in our memory. The first being the flash mob sing of 'How long will I love you' in church. My friends and I had been planning the flash mob nearly as long as Tony and I had been planning the wedding. Only my singing friends, the photographer, the minister and I knew what was going to happen after the vows and when the first set of ladies stood up to sing, it really took the whole congregation by surprise.
The second special moment was another surprise I had arranged for Tony. he Sheffield Wednesday band is also the England Supporters Band and as Tony and I stepped out of the church, the drum started and the trumpets played. Tony's face was an absolute picture. People were stopping in the street to watch and listen and the football supporters in the congregation couldn't help but bounce along to the beat.
Finally, our third special moment was another musical treat. Tony and I spent ages looking for a band for our wedding but nothing really stood out and we didn't want to pay loads of money for a band that was not what we really wanted. We then found Beato Burrito! Again, it started as a joke with both Tony and I giggling on the sofa at videos of them singing 'Don't you want me' however the more we watched them the more we wanted them! We didn't tell anyone else about them and so when they strolled our singing 'All about the bass' in full Mexican accents, I don't think anyone really knew what was happening. They performed brilliantly all evening, personalising songs to our guests. They even serenade Tony and I on the Kelham Island bridge, when no one else was watching.
Advice to other couples
Do what you want to do! Don't let anyone tell you that's not right or that's not traditional and stick to your guns. Our wedding was about us. Not what we thought a wedding should look like or what other people wanted. On the day itself, take every minute as it comes and savour it. The day goes in the blink of an eye and before you know you will be climbing into bed wondering what happened! Try to eat if you can too!!
Biggest surprise
I love organising surprises, so really it was all about the surprises I arranged for Tony. The flash mob sing and the England Supporters Band were both amazing parts of our wedding and totally unforgettable!!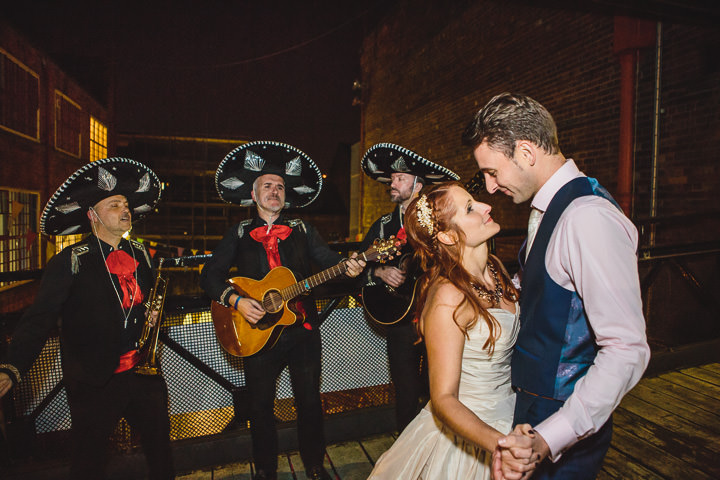 Supplier Shout Outs
For more information on Mark's work please go to:
www.tierneyphotography.co.uk / www.tierneyphotography.co.uk/blog / FACEBOOK / @tierneyphoto