My oh my, do I have a treat for you today! I have been wanting to feature this wedding for a long time now, and today is the day that I get to share all this amazing pretty with you! You'd be forgiven for thinking that this was a style shoot the images and details are so perfect, but in fact it is a the real wedding of Emma and Alistair who are all kinds of awesome! I featured their engagement shoot last year HERE. I'd like to say a HUGE thank you to Shelly from Toast of Leeds for letting me feature the wedding, I'm sure you will agree with me when I say she has done a blooming amazing job! I don't know which my favourite part of the day is, there is so much to choose from. Maybe the portrait shots with the balloons, maybe the shot of Emma in the bath, maybe the amazing details and decorations………..I really can't decided  all I know is that this couple have years of happiness together, what a great start to the rest of their lives!
'A whirlwind of emotions. A eclectic day of love, family, friends and dancing, culminating in two exhausted but utterly smitten newlyweds.'
Emma and Alistair were married on 2nd August. 'Our ceremony was at East Riddlesden Hall in Keighley, and our reception was at Bramsche bar in Todmorden. We wanted to get married somewhere intimate, historic and beautiful, but – on a practical level – affordable. The Great Hall at East Riddlesden ticked all those boxes. I'm from the Wirral, but West Yorkshire is our home, so it had to be here. We had 30 guests at the ceremony and about 130 at the reception.We began planning our wedding in January 2012 and were married six months later. Not quite long enough for a DIY bride and groom on the go.'
How they met
We met at The Mill, a club in Bradford where I worked behind the bar. It was a Halloween fancy dress night and Ali was wearing a banana suit, so the story goes… My friend convinced me to get over my shyness and give him my number, or we might never have had our first date. Thanks, Nik!
The proposal
It was our two year anniversary and I'd been out all day Christmas shopping. When I got home, Al had prepared dinner with a sprinkle of romance. I was so hungry that I didn't spot the new dishes. After much conversation I finally noticed some words on the bottom of my bowl. They read: "I love you more than everything and want to be yours forever. Will you marry me?" I said "Yes!", of course.
Why did you choose your photographer
While we were searching for venues online, I spotted some kick ass photographs featuring a beautiful tattooed bride. We knew right then that it had to be Toast of Leeds. We soon discovered that Shelly is as awesome as her photographs. Wedding photography with soul, indeed. And a whole lot of heart.
Theme or colour scheme
Our two venues had a very different feel. Our ceremony venue was romantic, green, and pretty, all stone and mahogany; so we stuck to pastels, wild flowers and herbs in terracotta pots on vintage crates with tea lights. Our reception venue was a burst of colour with mid-century modern touches, teal and teak (yum!) We DIYed the décor there, and our only rules were: Can we make it? Will it look good?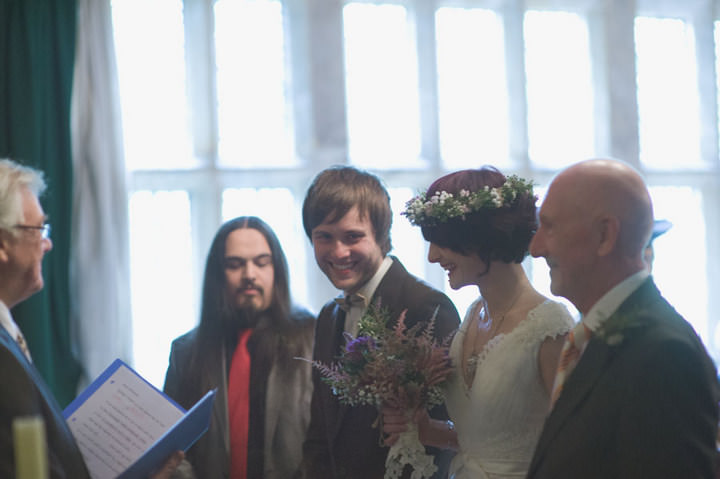 The dresses
My dress was by Anasul Y; my flower garland was by Stems Design; my shoes were by Call it Spring at Debenhams; my 'Let's Rock' bangle was from Urban Outfitters; my peace symbol earrings were from TopShop; my bow necklace was from Accessorise and my 'Mrs Thom' necklace was from Tatty Devine.
The Suit and bridesmaids
Alistair's suit was from Oxfam Originals. My 'bridesmaid' was my oldest friend Pete, and Alistair had two best men! We didn't tell them what to wear (we wanted everyone to feel comfortable, and no one out of pocket).
Food
A big vegan buffet, which I barely touched – I was so giddy and nervous (and busy!)
Entertainment
We made a huge playlist of our bestest songs, but our musical highlight was the New York Brass Band. Everyone was tightly packed into a small space on a warm summer night, but no one cared. Oh how we danced. I strongly recommend booking them for all your parties. Your friends will love you for it.
Flowers
We love succulents so we brought them into everything. My mum painstakingly grew tray upon tray of them for our wedding. At the ceremony, we wanted wild flowers and herbs, with lots of soft colours. Stems Design did an incredible job with the flower garland and buttonholes, our centrepiece, and all the floral touches in the Great Hall at East Riddlesden. It was beautiful. For the reception, we went flower shopping a few days before the wedding, bought whatever we liked the look of, and our talented friends arranged them in little glass jars and bottles. I was mega impressed with the results. So pretty.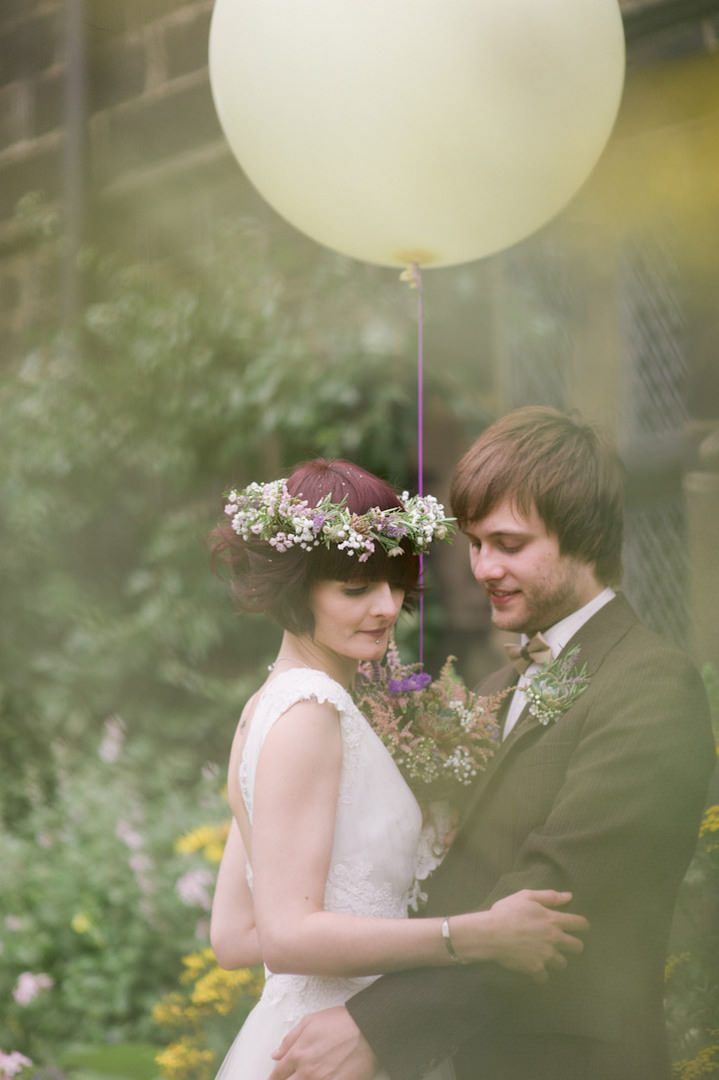 Decoration and DIY Touches
• At the reception venue we hung dotty garlands, tissues poms and paper lanterns from the ceiling.
• One of Ali's best men made cranes from old Beano comics, which we hung and placed around the room.
• We draped fabric and fairy lights from the windows to keep the outside, outside, and bunting adorned the balcony overlooking the river.
• We bought vintage bottles and painted old jars to use as flower vases and candleholders, and filled yet more jars with sweets.
• We made pretty paper fans and stuck them to the wall above the dessert table.
• We bought an old library card drawer and filled it full of postcards that we'd picked up at car boot sales and antiques shops for people to scribble messages on. We asked our guests to peg them to picture frames that we'd hung around the room.
• We made handprinted tags for jars, washi tape pegs, I Spy wedding cards, pinwheels and more… there were lots of little touches, laboriously DIYed in the months before the wedding. I loved it, I'd do it all again in an instant.
Special moments
The getting married part! We were so emotional that we shed a whole heap of tears between us, but knowing that we were experiencing the same feelings of excitement, nervousness, relief and love, made it all the more special.
Biggest surprise
No big surprises, but we met a friendly little kitty who decided to join the party and needed escorting back home. Ali's a total cat person, and I think that kind of made his day.
Advice
If you're a DIY kinda gal (or guy) and especially if you don't have much time, decide on a few key details to make, then if you have time, do more. We had so many ideas and ended up with so many half finished projects because we just ran out of time. Please, please remember that décor and details are great, but they're nothing compared to marrying the person you love. When you're drowning in your to-do list, grab hold of some perspective. Oh, and invest in a good photographer who gets you. They're responsible for your memories, and no one wants bad memories.
Supplier Shout Outs
Everybody did an incredible job, but big hugs go to Shelly from Toast and Lynne from Stems. Not only did they supply us with beautiful blooms and breathtaking photographs, but they freely gave their support, advice, and some much needed levelheadedness. We love them. My mum and dad were really impressed with the White Lion. They pulled out all the stops and my family had a really enjoyable stay in Hebden Bridge. Recommended A++++ (eBay, anyone?)
For more info on Shelly's work go to:
www.toastofleeds.co.uk
http://toastofleeds.com
TWITTER
FACEBOOK
[email protected]
0113 3560157