I have decided to post less engagement shoots and pre wedding shoots on the blog and try to focus more on the actual weddings, BUT when I saw a couple of shots from this amazing pre wedding shoot that my friend Shelly at Toast of Leeds had featured on her Facebook page, I knew straight away that I would make the exception.   Shelly really does get to work with some amazing couples and this couple chose the place they first met to hold their pre wedding shoot, and thank God they did as it's one of the coolest venues I've seen for a while!
The couple are Emma and Alistair who's pre wedding shoot took place on May 4th at The Beehive pub and The Mill club – both in Bradford. The wedding is booked for 2nd August 2012 at East Riddlesden Hall with the reception at Nelson's Wine Bar in Hebden Bridge. I'm sure you will agree with me that Shelly has done an amazing job as ever at adding her own touch of creativity to the shoot, helped along by this fab venue and amazing couple!
How would you describe your shoot in 2 sentences?
(Emma) We really wanted to go somewhere meaningful, and we couldn't be more happy with the locations that we chose. Shelly is an absolute legend, and her creativity with light and colour is astounding.
(Alistair) Our shoot was absurdly fun, from the characters we came across in the pub, to the character that is Shelly from Toast. Seeing the results for the first time brought butterflies.
How they met
(Emma) We met at The Mill on 31 October 2009 when I was working behind the bar. Al was out with his friends, and because it was a fancy dress night, he was decked out from head to toe in a banana suit! We caught each other's eye, and (despite the outfit), I thought he was beautiful. After a couple more nights at the club and several cups of (perfectly executed) earl grey tea at the bar, I finally plucked up the courage to give him my number. Endless text messaging was the precursor to our first date, on 3 December 2009 – we've been inseparable ever since. The dear friend who helped me pluck up that courage still tells me that she can't believe I fell in love with a banana!
The proposal
(Alistair) It was the anniversary of our first date, and as has become tradition, I was dutifully preparing a romantic Italian meal for two while Emma was out decoration shopping for our first Christmas together in our house. Little would Emma know that under her dinner, the proposal would be penned to her plate. Little did I know that the ceramic paint required so much time in the oven to bond to the surface. So hours later, and few grumpy phone calls begging to come home in from the cold, the candles were lit, and the food was finally ready to be served. Sat across from her, I trembled as I could see parts of the message emerging from beneath the pasta. The trembles became giddy frustration as she started to complain about being full (I wonder if she found a wee snack while she was killing time at the shops!?) so, my only choice was to demand she kept eating. With a raised eyebrow and a shuffle of sauce, the proposal was read, and what ensued was a yes (phew!), followed by massive cuddles around the kitchen.
Tell me one the thing you love most about each other
(Emma) Ali is, unquestionably, unconditionally, and absolutely, my best friend. He is the perfect person in every situation; from the giddy heights of our often puerile behavior, through romance, to the warmth, patience and guidance I need when life gets a little tough.
(Alistair) It's impossible to comment on what I most love about Emma, because she's simply incredible in every way to me. Her beauty, her principles, her sense of adventure and her affection continually woos me. I can't imagine spending my life any other way than beside her.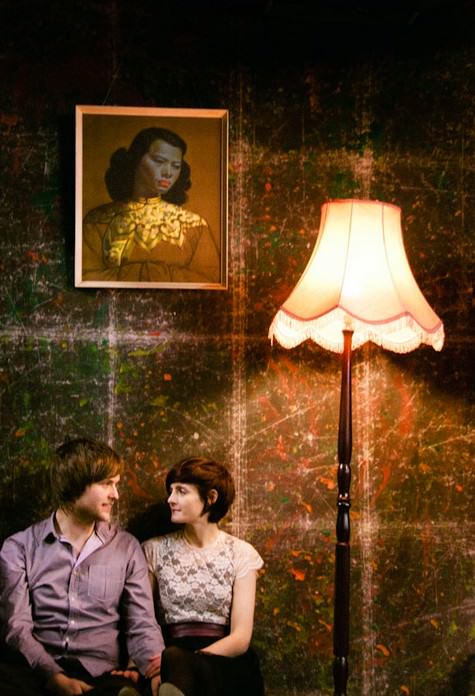 Do you have a theme for the wedding?
(Emma) We haven't really stuck to a theme; instead we've gone for a mix of everything we like, and that which feels true to who we are. Now we're just hoping it will all come together on the day. We've tried to avoid cliches, but they always sneak on to the Pinterest board when you're not looking! The two venues have very different vibes – one will be understated pastels, with wild flowers and just a hint of modern vintage, while the other will be vibrant with warm red and purple hues, and an abundance of candles and fairy lights.
Which part of the wedding are you looking forward to the most?
(Alistair) Celebrating a new chapter of our lives alongside loved ones at the biggest party we'll ever have will be pretty outstanding, but I must admit part of me is looking forward to being able to indulge in biscuits without the fear of outgrowing my suit.
(Emma) Becoming Mrs. Thom, of course. But apart from the obvious, I'd have to say that getting to spend the day with all our family and friends will be pretty awesome. Everything else is just icing on the giant cupcake.
For more info on Shelly's work go to:
www.toastofleeds.co.uk
http://toastofleeds.com
TWITTER
FACEBOOK
[email protected]
0113 3560157