Today I am delighted to share with you another wedding from my good friend Shelly from Toast of Leeds. Shelly is a regular to the blog and I love featuring her work! Today's wedding took place at the stunning East Riddlesden Hall in Yorkshire, a wonderful venue with amazing grounds and a very flexible approach to the way they do weddings! Laura and Richard chose an autumnal theme with a red and grey colour scheme. Laura also chose some absolutely stunning flowers both for her bouquet and for the table decorations. There was also an underlying theme of whisky with whisky bottles as vases and place names as well a little hip flask of whisky given to Laura by  Richard as a wedding present!
'Surprising, in that everything went off completely without a hitch. A big and really fun party with all of our closest friends and family… and a golf buggy.'
Laura and Richard were married on the 13th of September at East Riddlesden Hall. 'It's a beautiful venue that allowed us a lot of control over what we wanted rather than selling us a "one size fits all" package. We had 90 guests and the wedding took us just under two years to plan because I (Laura) live in Madrid.'
How they met
We started work in the same intake of graduate engineers. It took Rich about six months to convince me to go out with him. That was five years ago.
The proposal
Rich took me on a "birthday treat" weekend to Chester. We went to the zoo with a picnic, but it was drizzling and full of people so we saved the food and had our picnic on the hotel room floor. I was happily tucking into cheese and biscuits and didn't notice the little box he'd put in front of me.
How did you allocate your budget?
We identified things that we really didn't think we needed and cut them out completely – we didn't bother with a wedding car, for instance – and used that money on the important things, like food.
Why did you choose your photographer?
Trawling through websites of local photographers as well as the venue's preferred photographers. Shelly really stood out, with fantastic use of light and a great journalistic style.
The dress
My dress was Honour by Stephanie Allin, bought from the White Room in Sheffield. Shoes were from a bridal shop called El Tocador de la Novia in Madrid. I wore pearl and silver earrings from J.E. James in Sheffield and a bracelet my brother had bought me years ago.
The suit and bridesmaids
Suits for Rich and the best men were from Slaters in Leeds. The bridesmaid's dresses were made by my very talented sister-in-law here in Madrid. My other talented sister-in-law is a jeweller and made the necklaces for the bridesmaids and cufflinks for the groomsmen, which used silver sixpences given to Rich by his grandfather.
Theme or colour scheme
The idea was a vaguely Autumnal feel, with different hues of red. Somewhere along the line some greys started showing up as well so we ran with that.
Flowers
I had a long list of flowers I'd never heard of before that Emma of Emma's Home and Garden introduced me to. Roses, gloriosa lilies, trailing amaranthus, dahlias, hydrangeas, crepsedia, wax flower and asparagus fern to name a few.
Decoration
Very little other than the table centrepieces, as the barn really needs little dressing up. We put flowers in whisky bottles to provide both the table names and the centrepieces, and candles in jars. It was all pretty simple.
Food
The nice people at GFS made us a Lancashire Cheese and Apple Souffle, Roast Fillet Steak, and a trio of desserts. The steak was absolutely spot on.
Cake
Exceptional cupcakes made by Rich's sister.
Entertainment
We had recorded music for the ceremony and wedding breakfast, and DJ Randyman for the evening party. My brother, uncle and friend played a short acoustic set as well.
Buy or DIY your Stationery?
Stationery was all DIY. It was one of the things that we identified to save money, and I wanted to make it really personal. I trained as an architect and sketch regularly as part of my engineering work so I drew the rose window of East Riddlesden Hall, and used that as a motif on all of the invitations and placecards. Instead of Thank you cards we sent postcards from our honeymoon in Canada.
Personal or handmade touches
• Instead of a wedding list we asked for honeymoon contributions, but felt it needed to be something more than a box to drop cash-stuffed envelopes into. So we made lego representations of some of the fun stuff we wanted to do on the trip, and asked people to put coloured stickers on their envelopes to select what they contributed to. It seemed more personal than a wedding website (and there was no one taking a cut of the gifts!).
• My brother filmed the day, and set up a second camera for people to record messages for us, a bit like a photo booth but on film and without props. We've not seen the video yet, but judging by the number of people who have since apologised about their messages it should be pretty interesting… He does a great editing job on the events he films as well, so we're really looking forward to seeing it.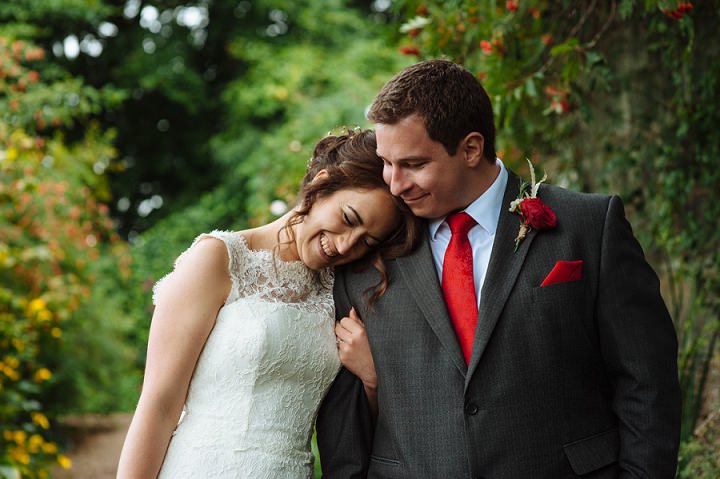 Special moments or highlights
The moment where we turned to walk back down the aisle, to see all our friends and family standing in front of us, smiling and clapping, was just magical.
Biggest surprise
Rich had bought me a beautiful antique hip flask, which he'd managed to get cleaned up and re-plated in silver amidst all the madness of the week before the wedding. That appeared in my room while we were getting ready, full of a rather nice whisky.
Advice for other couples
Relax! The idea is to enjoy it. Don't make things so complicated and elaborate that they get in the way of why you're doing it all, and be prepared to do without more or less anything (bar the one you're marrying). The other thing is to remember that it is a shared responsibility to organise the wedding. Wedding suppliers that are otherwise wonderful can be very prone to only talk to the bride – I was constantly forwarding emails on to Rich – but the day is about both of you. Make the big decisions jointly and split up the tasks and it gets a lot easier.
Supplier Shout Outs:
For more information on Shelley's work go to:
www.toastofleeds.co.uk
http://toastofleeds.com
FACEBOOK
@Toastofleeds

[jprel]