Today we are off to Peru for wedding number 21 of our good friends Lisa and Alex from 2 People 1 Life. If you're not aware of what Lisa and Alex have been up to I'll explain in brief. Over the space of two years they are traveling round the world getting married in every country they visit, you can read more about their adventures HERE.
In today's wedding we will learn all about the Traditional Andean wedding ceremony which took place at Luna Rumi lodge, a tiny village an hour outside of Cusco called Urubamba. It is set in a beautiful position surrounded by snow capped peaks. The next day Lisa and Alex had a shoot at the Mosnaterio De Santa Catalina and then into the mountains and across to the beach.
I'll let Lisa Explain all about her day and more about the ceremony………….
We stood and eagerly watched Carlos prepare the area for the ceremony. He carefully laid the cloth over the stone table, set out his wine, glasses, oils and trinkets he had collected at the market. He filled bowls with corn, coca and other 'ingredients' and began to light a fire in the small clay pot. We were sent to get ready and as always, by now we were frantic with panic. We had a TV crew coming to film the wedding, the journalist had travelled to the wedding with us and we had quite a few guests compared to some weddings! Alex helped me into my beautiful gown created by Fatima, who I really wished could be there and Alex buttoned up Yirko's stunning white suit and fastened the brightly coloured tie in place.
We were soon ready and more nervous than ever. We stood fidgetting in our room waiting for the magic to happen! I pottered around the room in my beautiful gown while Alex ran around trying to find an internet connection to tell you all what was going on, also trying to calm himself for the wedding. There was a quiet knock at the door and in walked Luis with Carlos. Luis was giggling and excited and had come to explain how the ceremony would work to us.  I was led one way and Alex the other. We awaited our signals to go…and the music and the ceremony began.
I walked around the side of Luna Rumi and as I entered the garden I saw Alex approaching opposite me. Although we had been apart for mere seconds I was overwhelmed with happiness at having him back by my side again. We met in front of the table to the sound of traditional pipe music and drums being played at the side of us and waited for Carlos to indicate for us to sit. We sat and listened to Carlos speaking in a soft musical chant as he addressed us and the items in front of us on the table. The small fire burned beside him on the floor and two glasses and a small cup were in front of us on a brightly coloured cloth. One glass held a dark wine and the other chicha. As Carlos spoke he poured some of the wine into the cup and onto the floor around us. To our left and to our right and then repeated the same with the Chicha.
Carlos finished this particular prayer and then swept our bodies clean using a bunch of herbs like a brush, he swept from our hearts out to our finger tips and down to our toes, ridding our bodies, and then our minds of any ill spirits. The smoke was passed over us to complete the cleansing and the blessing began. Carlos poured a splash of scented oil into our palms and asked us to rub our hands together and to inhale the scent. As the feeling sunk in we sat back down and watched, listened and absorbed as Carlos prepared our offering to Pachamama. He laid out a clean white cloth and started to unfold tiny parcels that were wrapped in paper covered in fast paced curly writing. As Carlos unwrapped each item he placed it carefully, always praying, onto the cloth in front of us. My eyes filled with tears as I watched the offering take shape in front of us. 2 small figures, a man and a woman simply shaped in biscuit (I think) were the lower centre of the page. Around 'us' so many things were added. Corn, thread, beads, buttons, colourful sugared sweets, silver and gold leaf, seeds and charms, rice and beans…so much and all with its own meaning and blessing.
The music continued as Carlos finished adding treasures to the cloth. He ever so carefully wrapped the offerings together into the crisp white linen and then placed it inside a more beautifully decorated cloth with brightly coloured tassles on each corner so that we could hold it with ease. As the parcel sat on the table wrapped in love, prayer and hope, Carlos asked us to give one another an offering. I was to offer Alex coca leaves in representation of the strength, intelligence and what he needed to bring to our marriage and then Alex offered me corn to represent fertility and the ability to provide for our family, friends and all of those around us. We were offered and drank a mouth full of chicha each and passed the rest to Carlos for him to drink too. It was such an emotional moment and filled with so much meaning I fought back the tears and Alex insists it was the sun in his eyes that was making them a little glassy! The oils we had previously had poured into our hands was then poured onto our heads which trickled down our necks and then tiny yellow petals scattered over it also on top of our heads.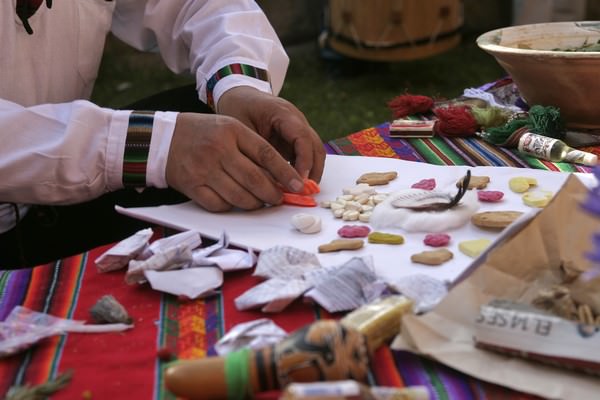 We held each others hands all the way through the ceremony and as petals rained down from our heads our hands were tied with ribbon to represent our unity and to signify our marriage. Our offering on the table was covered with rose petals and coca leaves and handed to us. We held out our tied hands, palms up and took it carefully over to a hole that had been dug into Luna Rumi's ground near a rose bush. Here was were we placed our offering to Pachamama. We covered it with yet more rose petals, coca leaves and the tiny yellow petals fell from our heads onto the parcel as we poured the remaining chicha and wine in around the offering. Carlos finished his prayers and covered the offering with the dirt from the hole and we could finally kiss! Everyone; Fernando, Patricia, Roxana, Freddy, Luis, Julio and more, they all whooped and cheered and the music played louder as we were told we now had to dance! Dancing is not a strong point of ours and with our arms tied together to the elbow it couldn't have been more awkward but it was still a special moment. The moment we could finally take the time to look into each others eyes and silently tell each other how much we love one another.
We laughed away the tears and hugged and thanked everyone for being a part of our very special day. Freddy bought us a copy of the CD of the music that had been played live for us at the ceremony and we were about ready to collapse when the film crew asked us to say a few words for the TV. Once the interview was over we all went to eat! We were all worn out, excited and definitely hungry so we all sat together and enjoyed the aftermath of the ceremony.
2PEOPLE1LIFE – Andean Ceremony from Freddy Luna – Lara & Luna on Vimeo.
Video – Feddy Luna 
Photography – Luis Chiang Chang-Way
If you have missed any of the previous weddings you can catch up HERE,HERE , HERE, HERE, HERE, HERE and HERE
To follow Lisa and Alex's journey go to – http://2people1life.com/blog/
♥  You can see more Destination Weddings on the Blog HERE  ♥