Happy Bank Holiday everyone! I hope you are all having a lovely Easter break? I have a fabulous wedding for you on this Easter Monday and it's from regulars to the Blog Lisa and Alex from 2 People One Life. I featured the video of wedding 14 a couple of weeks ago on my Saturday Cinema feature HERE and I promised you then that the photos would follow shortly, well they are here for you today and I have to say they are STUNNING!
The Shoot is split into two sections the pre wedding shoot which is taken around the streets of Antigua a few hours before the wedding itself and then the actual traditional wedding ceremony. All the photos are amazing and beautifully taken by José Pablo Martínez . I am loving the yellow paint around the streets of Guatemala, as well as the amazing church! What a beautiful place!
Lisa has given us some more information about the Antigua shoot as well as the actual wedding. (If you have missed any of the previous weddings you can catch up HERE, HERE and HERE.)
Here's what Lisa had to say about the wedding……….
The Hotel Meson De Maria had kindly placed 2 dozen roses in our room the night before the wedding and I asked Anita if she would mind if I used the beautiful flowers for my bouquet. She said she would be happy for us to use them so I made up a posy and buttonhole and I was ready to go! Normally we rush around getting ready in the van so having a room was true luxury!
We were mixing things up a little and heading out into Antigua for some photographs before the wedding as we wanted the wedding to be at sunset to make the most of the stunning view at Hotel Meson de Maria.
We set off onto the cobbles strolled up the middle of beautiful streets and posed under the stunning lemon yellow arch and leant against rustic terracotta walls. We even got coo'd at by a bus load of French tourists, they told us we were beautiful and wished us luck.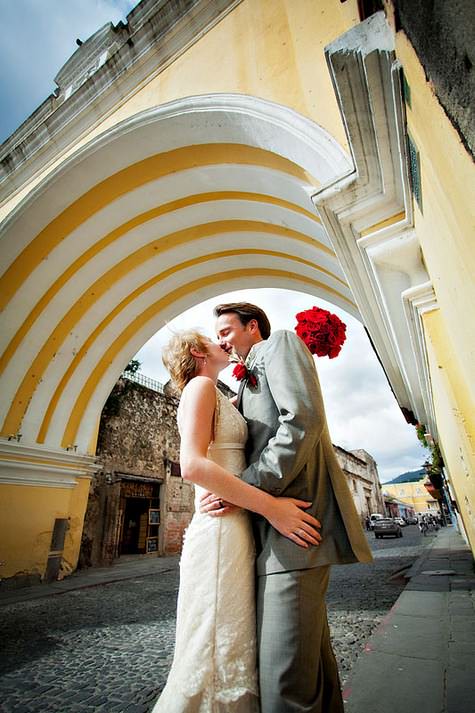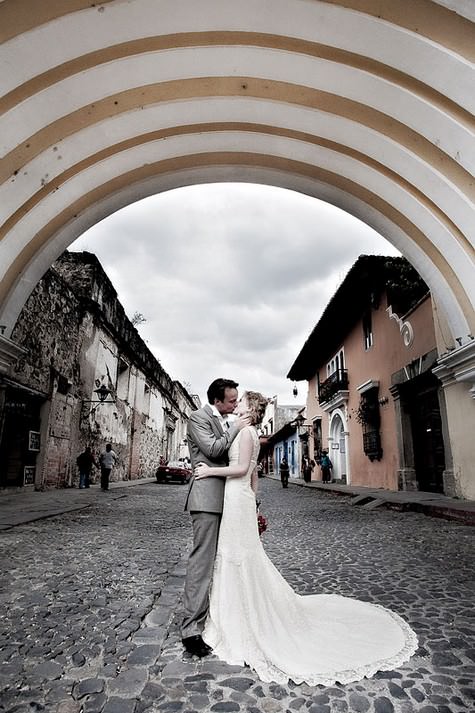 We turned the corner and were face to face with the local school out on a day trip. They giggled and clapped and almost immediately started chanting in unison 'Beso, beso, beso'. not really knowing what they were saying, Jose told us they were shouting 'Kiss, kiss, kiss' so we did and they applauded and then started chanting again It was one of those floating on a cloud feelings and one we have not experienced anywhere else. It was like our happiness and love was infectious and everyone on the streets around us could feel it too, it only made us love Antigua more!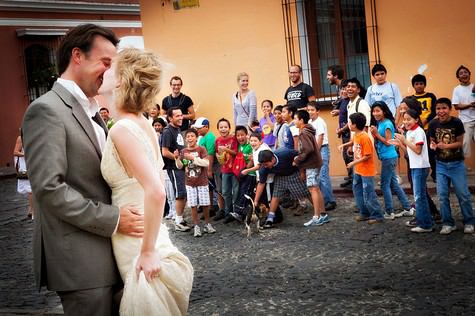 We were outside the impressive La Merced Church. It's beautiful colour and spectacular baroque style facade takes your breath away. we had stood in front of it with our mouths hanging open the night before on our night stroll and were so happy to have a picture taken there. Jose's idea for the photo-shoot was to capture the true Antigua in our pictures and we loved it.
After the church pictures Jose had another bright idea, he suggested we run into a flock of pigeons! This is another one of my pet hates,  Anyway, never one to say no to a great idea (?) I sucked it up, Jose, Maria and Mariano threw birdseed like mad people and they came a-flocking. We stood and held hands and waited for Jose to get into position and did as we were told. The shot came out perfectly and it is one of my favourites.
We popped into the market next and posed with some great handmade masks and materials and our last stop on the photograph trail was the bus station.
Most of you will probably know that the buses that run through central America are called chicken buses. This is because people transport ANYTHING on them…including chickens! When on route they are normally crammed full to the rafters of people, chickens, bags, children, dogs,and there is still always room for 'Uno mas'! Luckily we were looking for an empty one so popped in the station, we had a great audience there and it was great fun!
After all of the excitement we were so ready for the wedding, we just had to got changed first!!!
We rushed back to the hotel to be greeted by Anita's mother Maria. Maria collects original Guatemalen clothes, artefacts and knowledge, she just loves everything Maya, she even named one of her daughters Maya! We can definitely understand it as the more we learn the more we love the culture. She had gladly agreed to dress us in traditional Guatemalan Maya clothes for the ceremony…and thank goodness as we had NO idea of how to put them on! Maria told me as she wound a beautifully coloured belt around my waist that the embroidered edge represented whether the wearer was single, married or had inherited the skirt, the thinner the stip, the less available!
Alex was next and he was fastened into a similarly weaved waistcoat and a belt like a cummerbund was wound tightly around his waist. He was topped off with a bow-tie, a very stiff hat Alex looked so handsome and I was so proud to be next to him as we walked up the spiral stairs to the terrace where all of our guests were waiting. Anita had invited some friends too so it was so lovely to see everyone there! The Xaman was ready and waiting for us and before we lost too much light the ceremony began.
The Xaman Tijul, explained that he would perform the ceremony in Mayan and then translate it into Spanish so that Anita could translate for us. It was the long way around but we didn't want to loose the meaning of the ceremony by asking him to do it in Spanish.
"The Mayan Wedding Ritual is based in the Maya's connection with the universe and their gods, which is described in their sacred book the Popol Vuh, the ceremony brings the couple to the four cardinal points (north, south, east and west) to unite them to the feminine Mother Earth and the masculine Cosmic Energy, symbolized by a central sacred candle."
Tujil had arranged a small fire pit with cigars facing the four Cardinal points as offerings to the Gods, there was a large candle in the centre of the ring and lots of thin white handmade candles created a circle around the offerings.
Tujil had laid out a row of thin candles in 9 different colours, he told us that each colour represented an important factor in our lives, from love to health to work and economy.
He asked us to choose candles relating to the areas in our lives that we felt we needed support or that we would like to wish for. Tujil invited our guests to do the same which was really touching. He chanted the prayers to the skies and in time asked us to add our candles to the flame whilst praying for our wishes to be granted. Our guests were invited to do the same.
He told us he could tell from the flame that we would be happy and that the Gods were happy with our union as the flame filled the pit and it is a good sign. He explained that if the flame dies it is a bad sign.
It was such a moving ceremony, we felt truly blessed and genuinely touched by Tujils words. He asked us to kneel as he blessed our union. We are so lucky to have experienced this truly unique ceremony and to have met the people that made it all possible.
After the ceremony we said goodbye and thanked Jose, Maria and Mariano for a fantastic day, they must have been worn out because we were and we had just stood there all day!! The pictures as I'm sure you will agree are stunning. Antigua is such a beautiful city, Jose a fabulous photographer and we loved his idea to capture the romance of the city in his images, which he did without a doubt!
We continued our celebration in true Guatemalan style with traditional tacos and a bottle of their spectacular rum but that's a whole new story!
For more information on Jose's work go to:
José Pablo Martínez – Fotografía
www.jpmfoto.com
[email protected]
502-5583-1503
FACEBOOK
TWITTER
I'm José Pablo Martínez, a professional photographer based in Guatemala, Central America.  I have been photographing weddings since 2005. Regarding my photography stile, I would describe it as natural and spontaneous.  I like to represent my clients as they are, having fun and showing their true personalities. I keep an eye on all the small details that make every wedding different from each other.
To follow Lisa and Alex's journey go to – http://2people1life.com/blog/