It's been a while since we talked honeymoons, but now that the nights are drawing in and the weather is pretty rubbish I thought it's the perfect time to start thinking about breaks away and planning your honeymoon.  Today I am delighted to welcome back Exsus Luxury Travel to the Blog as they talk about The Ultimate Italian Honeymoon.

An amazing honeymoon should all be about timeless romance, spending quality time together and tasting the finer things in life. Sure, many couples jet off on long flights to distant tropical islands, but when it comes down to it, surely there's nowhere in the world more classically romantic as coastal Italy?
There are a host of things to see and do in this gorgeous country, plus there is nothing more enjoyable than sitting on a terrace in the early evening, nibbling on nuts and olives, and sipping on a glass of sparkling prosecco. The drama and glamour of the Amalfi Coast was made for honeymooners, and here are some ideas of how you could spend this precious time of your lives.
Re-live your stag and hen parties together in ravishing Rome
A city break may not be your idea of the perfect honeymoon, but this is, after all, the city of romance. Cast a wish for your married life together in the Trevi fountain and party the night away together in one of the hottest night spots in town.
Take in the horizon in Ravello
The buildings of the achingly pretty town of Ravello are sprinkled down the rugged cliffs of the Amalfi Coast like confetti. A bevy of beautiful hotels draw the rich and famous as well as honeymooners from all over the world to gaze out to sea and luxuriate in its gorgeous surroundings. Hotels such as Hotel Caruso are hot property, thanks to its position 'floating' above the sea. Like many hotels here, the building dates back centuries and this was once an 11th century palace. The infinity pool here has to be one of the best in the world.
Dine on seafood in Positano
Still an active fishing village, if an incredibly glamorous one, Positano commands an outstanding location on the Amalfi Coast. There's nothing better than dining on that day's catch – perhaps lobster and oysters – in a fine restaurant overlooking the Marina Grande where fishing boats moor up for the night. The town's carefully crafted terraces lift it up the cliffs and the Moorish architecture with its pink and honey hues make it a uniquely beautiful spot for a few days of relaxation and indulgence.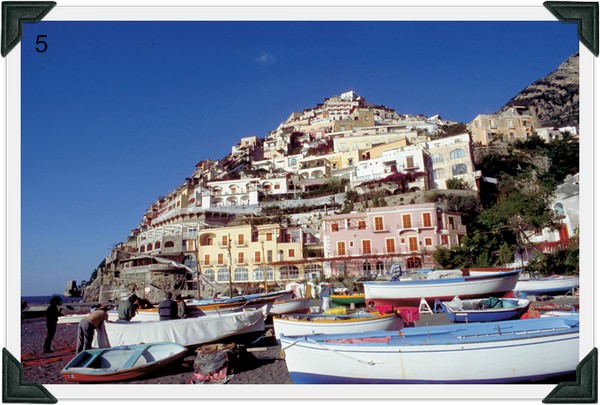 Splash out in Capri
Capri is a millionaire's island. It's an enclave of luxury and the ideal place for splash out for a few days. If you can't spoil yourself on your honeymoon, when can you? Although the 'Blue Island' is a small one, there is plenty to do. Wander the fashionable boutiques of the lanes and take a tour in one of the island's signature white, 1950s taxis. Book in to somewhere such as the Capri Palace Hotel – a stunning resort-like hotel where nothing will be too much trouble. Go for the Hepburn Junior Suite for a hint of Audrey's signature style and a panoramic terrace with sea views. Other suites feature private pools and all are spectacularly furnished for a very sexy honeymoon.
Article by the Luxury holiday and honeymoons experts Exsus Luxury Holidays
For more information on other honeymoon ideas go to:
Exsus Luxury Holidays
www.exsus.com
[email protected]
FACEBOOK
TWITTER
020 7337 9010
Photo Source: Photo 1,  Photo 2,  Photo 3,  Photo 4,  Photo 5,  Photo 6,  Photo 7,  Photo 8
If you are a holiday company and would like to share your honeymoon tips with my readers please get in contact at [email protected]